by Tom Gaylord
Writing as B.B. Pelletier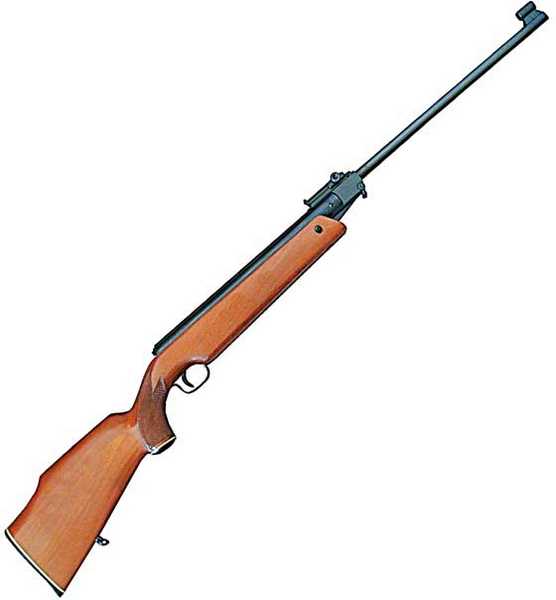 This FWB 124 Deluxe is not the exact gun I'm writing about, but it is the same model.
This report covers:
To scope or not?
Long sight-in
JSB Exact RS
Air Arms Falcon pellets
That's it
Open sights versus a scope
Summary
Before we begin I have sad news. A reader who often commented on this blog, Wing Commander Sir Nigel Tetlington-Smythe, passed away on Jun 24. He had an accident a week before and suffered a brain injury that overcame him. He will be missed on this blog.
Today I scope the FWB 124 and shoot it for accuracy at 25 yards. We last looked at this rifle on June 12, and it was tested with open sights at 25 yards. In that test JSB Exact RS pellets gave me a 0.889-inch ten-shot group and Air Arms Falcon pellets put 10 into 0.874-inches. Today we will see what effect scoping the rifle has. Many people believe it will be even more accurate, because most of the aiming error will vanish.
To scope or not?
Scope sights do improve your precision when aiming. But they introduce a bag full of their own problems at the same time. The trick is to get the precision without the attendant problems. That's why I used open sights when I first tested Geo791's Diana 34P. I didn't want the additional problems associated with mounting a scope to interfere with my assessment of the rifle's accuracy potential. Once that potential is established, though, then mounting and using a scope can improve things — as long as it is done correctly.
I mounted my new Aeon 8-32X50 scope on the rifle. This 8-32 is as short and small as most 4-12 scopes. I bought it from Pyramyd Air recently because it is a superior optic. I mounted it in BKL 2-piece high rings. FWB 124s are difficult to find scope rings for but the BKL rings fit them perfectly and do not slip when the gun is fired.
Long sight-in
For this test the sight-in period lasted a long time. While it took just 5 shots to get on target at 25 yards, I fooled around with trying to shoot the FWB 124 rested directly on the sandbag. This rifle shoots so smooth that it reminded me of my Tyrolean R8 that's able to be shot that way. But the 124 has a long piston stroke that needs the artillery hold.
I discovered the best hold is resting the rifle on the palm of my off hand when it is back touching the triggerguard. Believe me, I tried many holds before coming to that conclusion. As a result of all my shooting, I had fired the rifle 24 times before the first serious shot was taken.
JSB Exact RS
Group one was with JSB Exact RS pellets. In the test with open sights I put 10 of them into 0.889 inches at 25 yards. This time with a scoped rifle 10 went into 0.917-inches between centers. That's right — I shot a tighter group with open sights! All theory aside — it happens!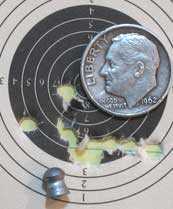 Ten JSB Exact RS pellets went into 0.917-inches at 25 yards. This group is larger than the one I shot with open sights in Part 4.

I wasn't too concerned about the RS groups, because that wasn't the most accurate pellet. That title fell to the Air Arms Falcon that I felt would also do best in today's test.
Air Arms Falcon pellets
Falcons were next and also last. In the test with open sights 10 of them went into 0.874-inches at 25 yards. The scoped rifle put 10 into 0.693-inches at the same distance. That's what I expected to see today.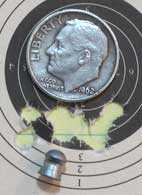 Ten Air Arms Falcon pellets fired from the scoped rifle went into 0.693-inches at 25 yards.
That's it
There you have it. The FWB 124 is accurate. It did about as well as expected, though time spent with a Beeman R8 does make this one seem like more of a powerhouse that's harder to control.
Open sights versus a scope
This also serves as an excellent test of the same rifle fired with both open sights and a scope. As you can see, there is nothing magical about a scope. It does help you see the aim point better, but it does nothing for your hold, which is where accuracy lives. Learn to trust those open sights and they will work well for you.
Summary
This is the last report I have planned for this rifle. I would like to remind you all that Pyramyd Air sold this to me at the Findlay airgun show, after it sat on their table with no interest for 3/4 of the show. They were asking $250. I bought it because it was a bargain, plus I have a soft spot for 124s.
I have no plans to sell this rifle. You can buy it at my estate sale, when I won't need it any longer. But this is another not-so-gentle reminder to get out and attend those airgun shows!!!!!! The bargains like this one are found there more than anywhere else. The Kalamazoo show will be on Sunday, August 20, and the 2017 Texas Airgun Show will be Saturday, August 26.