by Tom Gaylord
Writing as B.B. Pelletier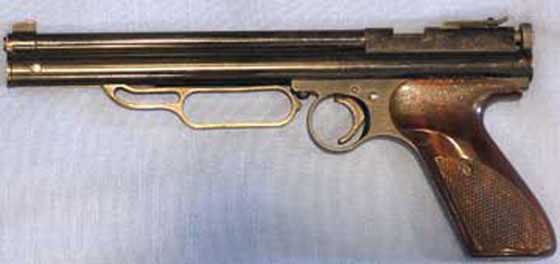 Crosman's 105 is a .177 caliber multi-pump air pistol.
This report covers:
Test 1. How many pumps?
Test 2. RWS Hobby pellets
Test 3. Sig Match Ballistic Alloy pellets
How stable?
The pump stroke
Pump force
Rear sight fix
Trigger pull
Summary
Today we look at the power and velocity of the vintage Crosman 105 Bullseye multi-pump pneumatic pistol. I said in Part 1 that I would be surprised if this pistol breaks 450 f.p.s. Well, surprise, surprise! It didn't even go that fast. And, that is what today's report is all about, so let's get started.
Test 1. How many pumps?
I looked through my library and didn't find a manual for the 105. Crosman has a PDF online, or what they call a manual, but it's just  a parts list and disassembly procedure. But in that document they do say to test your valve by filling the gun 6 pumps and then looking for bubbles around all the exit places. Oddly I found that 6 pumps is one too many for this particular gun. Let's see now.
Crosman Premier 7.9-grain pellets
Pumps………Velocity
3……………….187
4……………….224
5……………….246
6……………….254 air remaining
7……………….241 a lot of air remaining
The first test tells us that this pistol wants no more than 5 pumps per shot. You can pump the gun with or without cocking the bolt — it makes no difference to the velocity. Also note that the velocity fell back with 7 pumps. That means the valve is locking up from too much pressure inside. Also notice that after 5 pump strokes the velocity went up slowly.
This test also demonstrates the value of a chronograph. If the gun performs this way with one pellet it should perform the same or close with all pellets. But just to find out, I conducted tests 2 and 3.
Pumps………Velocity
3……………….202
4……………….242
5……………….267
6……………….276 air remaining
Pumps………Velocity
3……………….228
4……………….267
5……………….304 air remaining
6……………….326 more air remaining
So, the gun does act pretty much the same with other pellets, though with lighter pellets more air remains inside after the shot. That's because a heavier pellet provides more back-pressure on the valve, keeping it open longer to exhaust more air.
How stable?
To find out how stable the gun is I conducted another test. I pumped the gun the maximum number of times, which we determined was 5 strokes, and shot the same Crosman Premier Light pellet 5 times. Look at what I got.
Shot…………..Velocity
1……………….245
2……………….246
3……………….239
4……………….233
5……………….236
The average was 240 f.p.s. for this string. The maximum spread went from 233 to 246 f.p.s., which is 13 f.p.s. That's not terrible, but it's on the high side for a multi-pump. I expected 4-5 f.p.s. maximum.
The pump stroke
Reader Siraniko asked me what kind of sound the pistol makes when pumped. I told him it's smooth and nearly silent. But he was also asking about when the brass pump lever hits the gun at the end of the stroke. That makes a click, just like you might expect. So the 105 is not silent.
Pump force
The pump force required is not that much, even with 5 strokes. It takes maybe 20 pounds of effort to close the lever at that point.
Rear sight fix
Several readers noticed that the rear sight blade is bent back and down. They guessed it was done by a former owner who was trying the bring down the shot group, because you always move the rear sight in the direction you want the shots to go.
I needed to fix this, because as it was I could not see through the notch. The adjustment screw filled the notch. Reader GunFun 1 suggested that I just remove the adjustment screw, which I did. Now I can see the front sight clearly in the notch and this is how I will test the gun for accuracy.
Trigger pull
The trigger on this pistol is single stage and pretty stiff. It released at between 6 lbs. 3 oz. and 6 lbs. 10 oz. That is amplified by the thin trigger blade. As I mentioned in Part 1, it is a direct sear trigger and pretty easy to access and work on. I might put some moly on the contact surfaces if I decide to keep the pistol.
Summary
Am I pleased with the 105 so far? Yes, for the most part, I am. I knew it would be weak, although not quite as weak as we have seen today. Like I said in part 1, owning a vintage airgun like this is like owning a vintage car. There are quirks you need to learn and to tolerate to operate it. But it rewards you with the satisfaction of having something few other airgunners can boast. I sure hope it's accurate!