by Tom Gaylord
Writing as B.B. Pelletier
Part 1
Part 2
Part 3
Part 4
Part 5
Part 6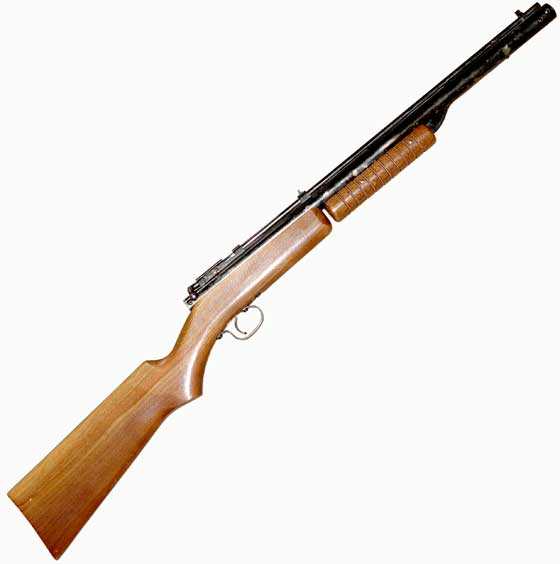 A Benjamin 310 multi-pump BB gun from 1952.
This report covers:
The test
Avanti Match Grade shot
Hornady Black Diamonds
4.45mm balls
Beeman Perfect Rounds
Summary
Today we start looking at the accuracy of the vintage Benjamin 310 multi-pump BB gun. I want to remind you that this is a smoothbore and not to expect too much accuracy from it. That being said, I remember that the ancient Benjamin 700 repeater surprised me. Let's see if that trend continues with this single shot 310.
The test
I shot the gun at 10 meters off a sandbag rest. I used the one-pump system I developed that stabilizes the velocity around 390-400 f.p.s., depending on the type of shot. I tested both steel BBs and lead round balls, and, knowing that the larger shot were more stable in the gun, I tried to test with them.
I only shot 5 shots per target because of the time the pumping took. But I did test 4 different projectiles to make up for it.
Avanti Match Grade shot
First to be tested were five Daisy Match Grade Shot. These are the largest steel BBs I know of (0.173-0.1735-inches in diameter), as well as the most uniform. If any steel BB will shoot well in the 310, these should be the ones. At 10 meters five of them went into a group that measures 1.873-inches between centers. They landed low and to the left. The 310 has no adjustment for height but the rear notch can be drifted left and right, so I lightly tapped it to the right after seeing this group.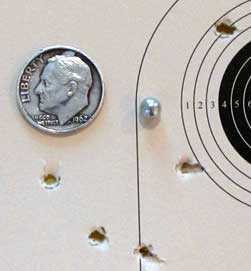 The Benjamin 310 put 5 Daisy Match Grade shot into 1.873-inches at 10 meters.
That wasn't as tight a group as I had hoped. But please remember, the 310 is a smoothbore BB gun that I would normally test at 5 meters. I'm only testing this one at 10 meters because I will also be testing the accuracy with pellets in the future.
Hornady Black Diamonds
Another larger steel BB that's also very consistent in size is the Hornady Black Diamond. This time, though, they didn't come through. Five went into 1.685-inches at 10 meters. It's a little better than the Daisy Match Grade shot, but not that much. I had adjusted the rear sight to the right but the group was still to the left. It may have been a little higher on the target, but not that much.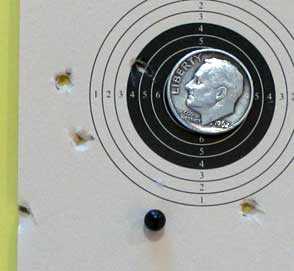 Five Hornady Black Diamonds went into 1.685-inches at 10 meters. The group is still low and to the left.
This time after looking at where the group landed I really moved the rear sight. I was able to see the sight move, and I thought this would bring demonstrable results.
Next up are two lead balls that are larger than either of the steel BBs I have tried thus far. These were both faster than steel BBs in the velocity test, which tells me that, while they may be considerably heavier than the steel BBs, they are also fitting the bore tighter. That can mean accuracy in a smoothbore. Let's see.
4.45mm balls
First up are the 4.45mm lead balls from H&N that I bought for testing another BB gun. These are 0.175-inches in diameter, which is the size shot Daisy went to after they abandoned the original 0.180 lead BB just after the turn of the 20th century. I had to buy them on Ebay, as Pyramyd Air doesn't carry them. That made them expensive, but when you need them you get them.
Five of these lead balls went into 0.828-inches at 10 meters. Now, that is a good group for a round ball in a smoothbore! The best group the Benjamin 700 made was 0.867-inches, so these are right in there.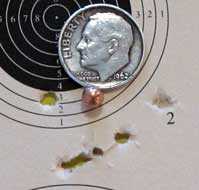 Five 4.45mm lead balls went into 0.828-inches at 10 meters. The group is more centered but still low. However, if you consider that the aim point is 6 o'clock on the bull, these balls are actually hitting close to spot-on.
Beeman Perfect Rounds
The last round ball I tested was the 4.5mm Beeman Perfect Round. These are no longer available, but since H&N used to make them, you can buy an H&N 4.5mm ball that will be the same thing. Five of these balls went into 0.713-inches at 10 meters. That is the smallest group of this test.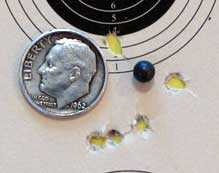 The Benjamin 310 put 5 Beeman Perfect Rounds into a 0.713-inch group at 10 meters. That was the smallest group of the test.
Summary
Well, I said I wanted to see how the 310 compared to the Benjamin 700 I tested earlier this year. This was a good test, and the 310 is clearly the more accurate BB gun.
The 310 did a little better than expected with lead balls and a little worse with steel BBs. But that's not the last of the test. We still need to see how it does with darts and pellets. There is more to come from this old beauty.