by Tom Gaylord
Writing as B.B. Pelletier


Springfield Armory M1 Carbine BB gun.
This report covers:
Different mag
The test
Air Venturi Steel BBs
Close to the aim point
Smart Shot
Discussion
Hornady Black Diamond
Gas management
Air Venturi Dust Devils
Summary
Today we look at the accuracy of the new M1-Carbine from Springfield Armory. I think you'll be surprised, because I certainly was!
Different mag
You may remember from Part 2 that I had difficulty loading several different brands of CO2 cartridges into the magazine. They were just too fat to fit in easily and I had a problem getting the first one out after it was used up. One brand that was particularly difficult to load was the Crosman cartridge. So, Tyler Patner from Pyramid Air sent me a different magazine, and I returned the magazine from this rifle, along with the Crosman cartridge that was too big. That way he can see what I've seen and, if there is a problem, maybe they can fix it. Tyler also sent me a new box of Crosman cartridges that I started today's test with. There was no problem loading them into the new magazine. I don't think you will experience the same problem I had, although if you do, Pyramyd Air now knows about it.
I will say this–-I still had to screw down the piercing screw an extra two turns to seal the cartridge. If you remember, I mentioned that in Part two with the first magazine.
The test
Today I shot the Carbine from 5 meters while it was rested on a UTG Monopod rest that is almost as steady as a sandbag sitting on the shooting bench. I was prepared to sight the gun in with the first BB, but when you see what happened you'll understand why I didn't.
Air Venturi Steel BBs
First up were Air Venturi Steel BBs. I started sighting in with them, but when I saw what they did I didn't change the sights — I just finished the group. Ten BBs went into 0.804-inches at 5 meters with 8 of those shots in .362-inches. Now, that's a group! When I saw that I knew this day was going to be special!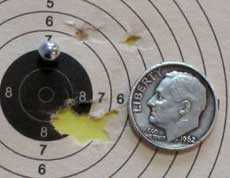 The new M1 Carbine put 10 Air Venturui Steel BBs into 0.804-inches at 5 meters. Eight of them are in 0.362-inches.
Close to the aim point
The main group with this first BB is so close to the aim point (6 o'clock on the black bull) that I decided not to refine the sight picture. The other BBs are probably not going to the exact same place. The rest of the test was shot with the same sight setting as was used for this target.
Smart Shot
Next to be tried was the Smart Shot lead BB from H&N. These fed through the Carbine mag as easily as any other steel BB used in this test. Ten of them grouped in 0.533-inches. And, while they aren't in exactly the same place as the Air Venturi Steel BBs, they are very close! By the way, this is the smallest group of the test.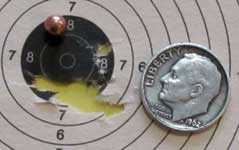 Ten Smart Shot lead BBs went into 0.533-inches at 5 meters.
Discussion
I have to tell you that shooting this Carbine is addictive. The trigger breaks so cleanly and the recoil is so realistic! And the accuracy is pretty amazing, too. I have no way of knowing if all M1 BB-firing Carbines are this accurate, but I can tell you that this one isn't going back to Pyramyd Air! This one is a keeper! It even out-shoots my expensive Swiss K31 trainer made by Hammerli.
Hornady Black Diamond
I loaded 10 Hornady Black Diamond BBs into the Carbine magazine. In many BB guns this BB is the most accurate. What would they do in this gun?
Ten Black Diamonds went into 0.764-inches at 5 meters. Note that this BB shifted its impact to the center of the target, making it appear that the gun was purposely sighted-in for it. But I told you the sights were never adjusted throughout this entire test.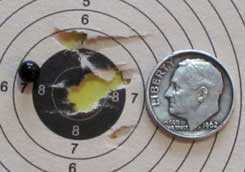 ` Ten Hornady Black Diamond BBs went to the center of the bull in a 0.764-inch group.
Gas management
We learned in Part 2 that this gun has perhaps 35 good shots on a CO2 cartridge. At this point in today's test there were a total of 30 shots on the cartridge, but it did leak some gas when I installed it, so it is probably low.
I went ahead and loaded 10 of the next and final BB, but the power dropped off sharply at shot 36. The final shot (number 40) barely made it out of the barrel and dropped to the floor before making it to the target. So I removed the spent cartridge and installed a fresh one to test the final BB.
Air Venturi Dust Devils
The last BBs I tested were Air Venturi Dust Devils. I expected them to shoot tight, as well, and they did, though not as tight as the one that went before. Ten made a group that measures 0.768-inches between centers. Not much larger than the Black Diamonds and still quite small for a BB gun.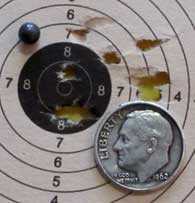 Ten Dust Devil BBs made a 0.768-inch group at 5 meters.
Summary
The M1 Carbine I am testing can shoot! In fact it is one of the most accurate BB guns I have ever tested. I think I'm going to test it again at 10 meters to see if the accuracy holds that far. I won't do that for awhile because there are so many guns being tested right now, but since I'm keeping the gun, I will get back to it.
This lookalike is not cheap, but it functions well and is worth the investment. It shoots better as a BB gun than my M1 Carbine shoots as a firearm. To quote the 18th century British seaman, "I am impressed!"