by Tom Gaylord
Writing as B.B. Pelletier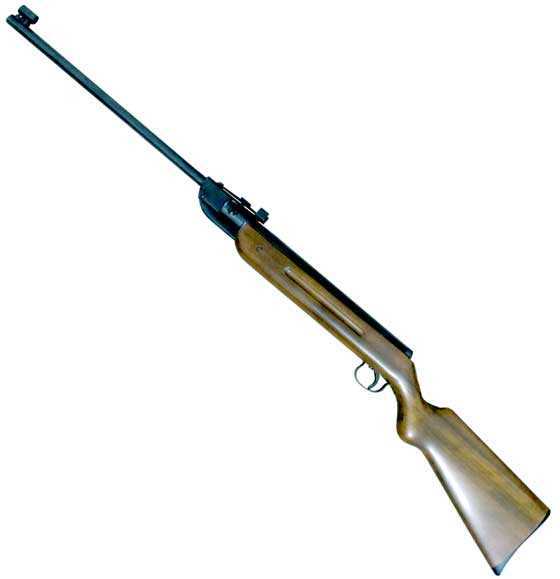 Diana 35 pellet rifle.
This report covers:
Older 35
What was the 35?
Soup-up
The spring isn't the thing
Back to the Diana 35
This Diana 35
Trigger
What to do?
Summary
Today begins a long report on the Diana 35 air rifle. If you just found this blog, here is how we came to this point. Several months ago I tuned a Winchester model 427 (really a Diana 27) breakbarrel air rifle for reader Michael. That 9-part report is pretty thorough and worth a read. At the end I told everyone that Michael's rifle is now the smoothest spring-piston air rifle I have ever experienced and I thought it would be nice to acquire the larger Diana 35 and tune it for smoothness. That would give me an adult-sized breakbarrel that was as perfect as can be — or at least I think so.
One of our readers, Carel from the Netherlands, contacted me, telling me he had a nice Diana 35 he would sell me and after a short conversation I bought it. I also bought his Diana 26 that I had never heard of and a Diana 27S that I also never heard of. I have already reviewed the Diana 26 and the 27S is still to come. But this Diana 35 is the gun that I really wanted to examine and tune.
Older 35
Carel's Diana turned out to be a lot older than the one that I once owned. It has a finger groove along both sides of the thinner rounded forearm instead of checkering on a thicker squared-off forearm. That's the European influence, rather than the more westernized forearm that came later. If you own a Blue Book, this rifle is something like the rifle that's shown in the book, with one major difference. The rear sight on this rifle is unlike any I have ever seen. I'm going to show you several pictures rather than try to describe it — except to say there are no plastic parts anywhere on this sight. It is 100 percent steel!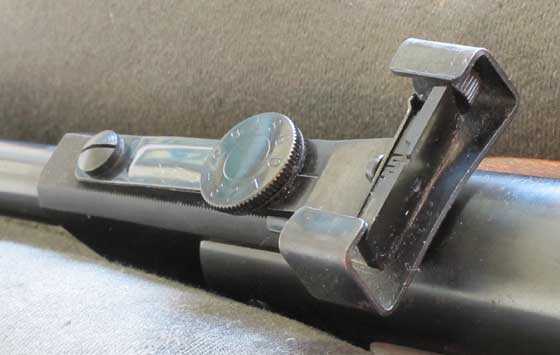 The rear sight on this Diana 35 is one I have never seen before. The notch is protected by steel ears.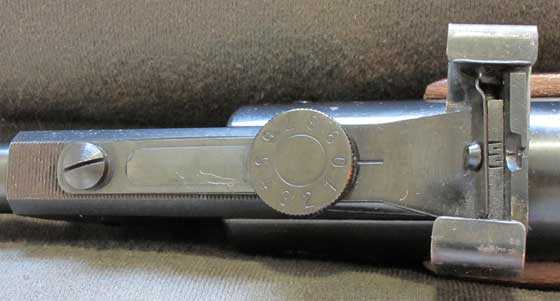 Looking down on the top of the rear sight you can see how different it is. The elevation wheel is polished and blued steel!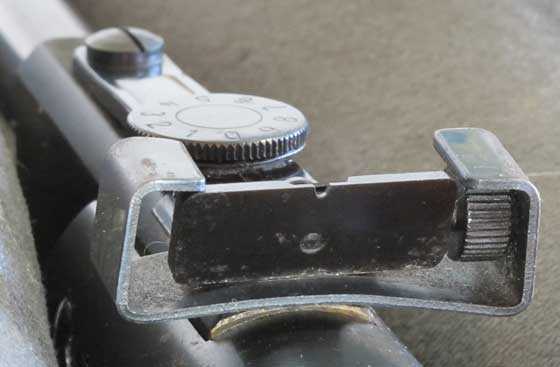 And this is what it looks like from the shooter's perspective.
The front sight is a hooded post that's fixed. The post is tapered, but it fits into the rear notch well, and, because the notch is so small, it should prove easy to sight well. We shall see!
What was the 35?
The Diana 35 was the older brother of the Diana 27. It was produced from 1953 through 1964, when it was revised into a modernized version that lasted through 1987. So, that's 1953-1964 for the first run, of which there are several variations and 1965-1987 for the rifle that most Americans will know. It was supposed to be larger, heavier and more powerful than the model 27. It is both larger and heavier without a doubt, but the power, while greater, isn't that much greater. It's not enough to justify the difference in size and weight — at least in my opinion. And the additional cocking effort is a real put-off.


The Diana 35 (top) isn't much longer than the Diana 27, but the thicker stock makes it feel larger.
Soup-up
Back in the 1970s when the 35 was being made the "velocity wars" were just getting started and airgunners around the world were starting to learn how to modify their guns for more speed. Everybody "knew" that adding a more powerful mainspring was the way to increase velocity and we all suffered through a learning curve that lasted several decades. Feinwerkbau taught us all that a long piston stroke was the best way to get higher velocity, but that didn't stop each of us from learning the lesson the hard way.
I was one of the ones who learned and I did so with the Diana 35. But I was late to the party, because experienced airgunsmiths already knew about longer piston strokes and the Diana 34 was silently revolutionizing the world of breakbarrels. Meanwhile, I was building a rifle that cocked like the bow of Hercules, yet didn't increase in velocity.
The spring isn't the thing
I will cut to the chase and tell you that I once owned another air rifle that was based on the Beeman R1, yet was 25 percent larger and heavier, yet did not increase the velocity one iota! I wrote about it in a report titled, Steel Dreams. That rifle taught me a lot about airgun power and where it comes from. I now know that it isn't just the mainspring or the diameter of the piston.
Back to the Diana 35
Now let's get back to the Diana 35. The 35 never delivered the power we expected it to, but the Diana 34 that followed it (1984-present) was everything the 35 wasn't. It had the power, though at first it was quite raw and uncivilized. Over the years Diana has refined the powerplant until today the 34 is quite refined.
But I already own a 34, and it's a very nice one that I have tuned quite well. I don't want another gun like that. What I want is a vintage 35 that's as sweet to shoot as a Diana 27, though in a slightly bigger package.
This Diana 35
This rifle is 43.5-inches long overall, with a barrel that's just under 19 inches. the pull measures 13.5 inches, which is identical to the pull of a Diana 27. The stock is thicker than a Diana 27 stock, though this particular rifle has a stock that's thinner than the stock Diana switched to in the 1980s. The buttplate is black plastic with horizontal ridges to prevent slippage. It works — sort of — though a soft rubber butt plate would be better until it hardened over time.
This rifle weighs 6 lbs. 15 oz. That's about a pound more than the 27. It's still a lightweight air rifle by today's standards, but not so light that it feels insubstantial.
The rifle is nearly 100 percent wood and steel. Excluding the buttplate, I don't think there is another piece of synthetic on the outside of the gun.
Trigger
The trigger is the classic ball-bearing trigger. On a 35 the trigger has one additional spring guide that I will show you when the time comes, but other than that the parts are quite similar, if not all interchangeable (most are) — due to the difference in the spring tube diameters between the 27 and 35.
What to do?
So I now have the rifle. It came to me with a breech seal that's in need of replacement. Carel told me all about it before I bought the rifle and, knowing that T.W. Chambers carries the parts I need, I ordered them.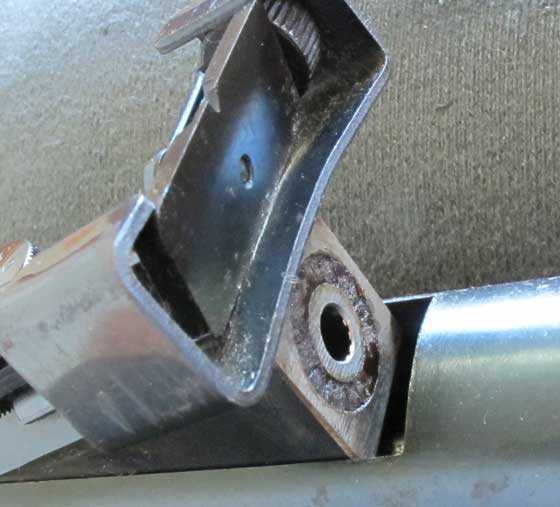 This leather breech seal is shot!
I have shown uncharacteristic restraint by not firing a single shot from the rifle until that breech seal is replaced. I now have the new synthetic breech seal I need, plus a new mainspring. It should put 7-grain .177 pellets out at around 650 f.p.s., if everything is in order. If not, I will strip it and replace the mainspring but only lubricate it sparingly. That way we can see what a new Diana 35 should shoot like before I get into tuning it the way I want. That assumes the piston seal is okay, which we won't know until we look at it.
I won't overwhelm you with back-to-back reports on this rifle like I did with Michael's Diana 27 or the RWS Diana 45 I tuned a couple years ago. Not everyone is as enamored with these vintage breakbarrels as I am, so there will be other old airguns mixed in to keep everyone happy. But I wanted to get this rifle started, now that the parts are on hand.
Summary
We are about to embark on another journey to tune yet another vintage Diana spring-piston air rifle. Yippie!