by Tom Gaylord
Writing as B.B. Pelletier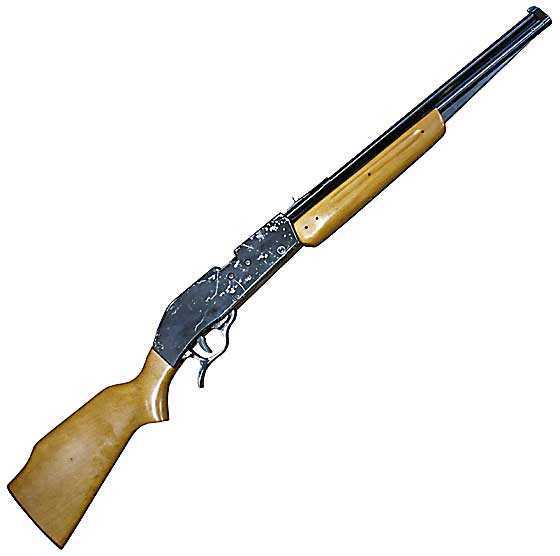 My S&W model 77A rifle. The black paint is flaking off the aluminum receiver, but the steel and wood parts are both in good condition.
This report covers:
Number of pumps?
Scope
Bug Buster?
Rings
Sight-in
The test
First Hobby group
Second Hobby group
Discussion
Eley Wasps
"Oh, somewhere in this favored land the sun is shining bright…"
Summary
I have what will be a quick report today, but it will also be one of great interest, I think. This will be my last look at the Smith & Wesson 77A multi-pump pneumatic unless I refinish it.
Number of pumps?
Reader Pgray said he had found a manual for this rifle online that said not to exceed 20 pumps. We were already hearing from several sources that 20 was the maximum, but this came from a manual, so I felt I had to test it for you.
Remember, the RWS Hobby pellet had gone 631 f.p.s. with 14 pumps. So today I tested the same pellet with 20 pump strokes. I only shot three shots, because I still think 20 pumps is a lot for a rifle as old as this. Here is what I got.
Shot……Velocity
1………….684
2………….690
3………….700
I checked the gun after each shot and no air remained in the reservoir. Looking at that short string, it seems to me the pump seals are warming up. I bet if I was to shoot 10 shots the average would be in the low 700s. But I'm not going to do that. Now we know, and that's enough.
Scope
Several of you felt the rifle deserved a scope, so I mounted one and that's what I will shoot today. The scope I mounted is one you cannot buy today. I have found it to be a superior scope for many special applications, including scoping this 77A. It's a UTG 1.5-4X28 scope with a 100-yard fixed parallax. But with just 4-power who cares where the parallax is set?
The closest you can get to the scope I used is the UTG 1.5-6X44 scope. Both scopes have a generous eye relief that allows flexible scope positioning on the rifle.
Bug Buster?
Why didn't I mount a Bug Buster scope? Simple — it didn't fit. The places on the scope where the rings have to attach are much closer together than the 11mm dovetails on the rifle. I might have been able to make it work with offset scope rings, but I didn't want the fuss. And the scope I selected is one of my better optics.
Rings
The scope has a 30mm tube, so I selected UTG POI rings with 11mm bases. I shimmed the rear ring with a piece of credit card to elevate the rear and I didn't tighten the rings too tight to keep from damaging the scope tube.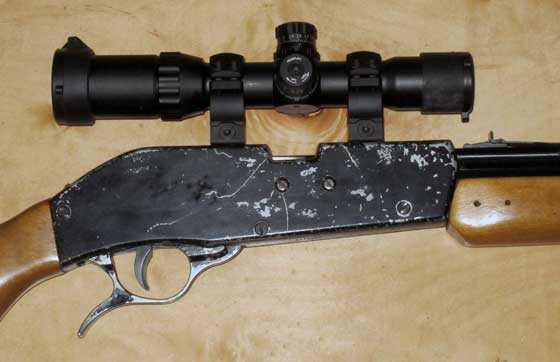 The 77A scoped. I didn't have to use high rings, but when it was time to shoot the scope eyepiece was where I wanted it to be.
Sight-in
The first shot from 12 feet hit the target at 6 o'clock on the bull. So I backed up to 10 meters and shot again. It took a total of 5 shots to sight in the scope. However, I felt the Hobby pellets might not be accurate enough to sight in with less than 5 shots (in other words, shoot a group). I just got that feeling while sighting in.
The test
I shot from a rested position at 10 meters. I pumped the rifle 6 times for each shot. The rifle was rested directly on a long sandbag rest with a second rest under the buttstock. So the rifle was absolutely still for every shot.
With the scope mounted it was impossible to hold the rifle the way I wanted during pumping. I held it back at the top of the pistol grip. If it wasn't so easy to pump this would have been a problem.
First Hobby group
The first group of Hobbys showed me the rifle was still shooting a little to the right after sight in, though the elevation seemed okay. Five Hobbys went into 0.75-inches at 10 meters. That's three-quarters of an inch.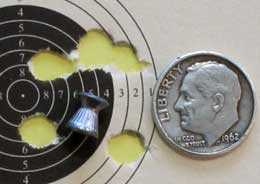 The 77A put 5 RWS Hobbys into 0.75-inches at 10 meters when scoped.
After seeing that first group I adjusted the reticle three clicks to the left and shot a second group.
Second Hobby group
The second group of Hobbys measures 1.134-inches between centers, with four of the five in 0.613-inches. That one high shot was the third in the series of five and I watched it fly up there with a mind of its own. So, in my mind the closeness of the other 4 shots is pure luck.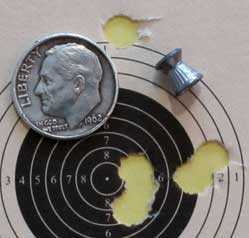 The second time five more Hobbys made this 1.134-inch group at 10 meters, with four in 0.613-inches.
Discussion
At this point it was obvious that a scope didn't really make any difference. I had gotten all the accuracy from the rifle and this pellet with iron sights. And that's good because I don't like scopes on multi-pumps. Unless they are something special like the Daystate Sportsman Mark II I once owned or a Seneca Aspen that is made for a scope, multi-pumps don't need scopes.
Eley Wasps
I wondered whether a different pellet would help? Now that there was no question about the sights was the perfect time to see. I had thought after Part 3 testing that an oversized pellet might grab the rifling better. What is the largest .22-caliber pellet I have? The 5.6mm Eley Wasp. The next group would be shot with Wasps.
"Oh, somewhere in this favored land the sun is shining bright…"
The first Wasp went into the bull at 7 o'clock. How about that? I was right! Then shot number two hit at two o'clock, an inch and a quarter from the bull. No, I wasn't right. In the end, five Wasp pellets crowded into a tight 2.234-inches at 10 meters. I could probably do better with a slingshot while spinning on a barstool!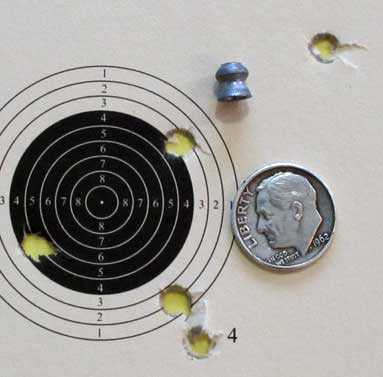 Where is the inside of that barn when I need it? Five Eley Wasp 5.6mm pellets are in a super-tight 2.234-inches at 10 meters.
But there is no joy in Mudville — mighty Casey has struck out!
Summary
In the end what we have in the S&W 77A multi-pump is a horse of a different color. For a multi-pump it's solidly built, powerful and unique. But this one isn't accurate — at least not with the pellets I have tested. I remember that at the same time this rifle was produced some of the Crosman barrels were also a lottery. The barrels on their 160 and 180 CO2 rifles were usually pretty good, but the tubes on the 140 and 1400 multi-pumps were always a gamble.
I could keep on testing different pellets, and perhaps I will, but unless one proves stunning, I won't show it to you. I am finished testing this rifle.