by Tom Gaylord
Writing as B.B. Pelletier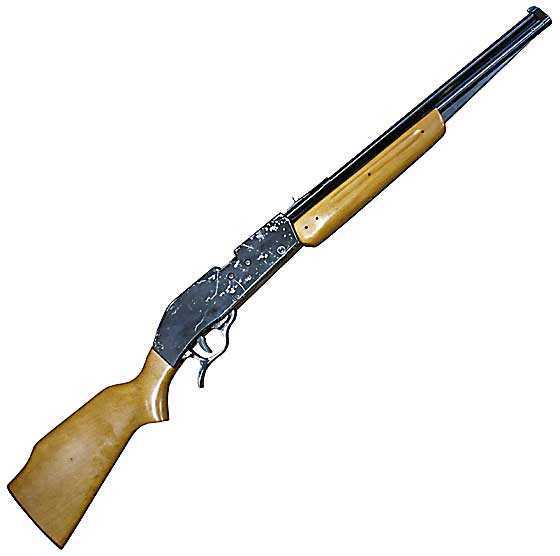 My S&W model 77A rifle. The black paint is flaking off the aluminum receiver, but the steel and wood parts are both in good condition.
This report covers:
How healthy is it?
GunFun1
S&W 77A trigger pull
Pump stroke
Pump is loud
Velocity
Crosman Premier
Repeatability
RWS Hobby
H&N Baracuda with 5.50mm head
Final test
Pump effort
Summary
Today we look at the power of my new/old S&W 77A multi-pump pneumatic air rifle. Many of you said you liked how this rifle's action operates. It cocks via the triggerguard swinging down and that gives a satisfying feel and sound to the operation.
How healthy is it?
I got this rifle in a trade at this year's Texas Airgun Show from one of our readers, Pgray who goes by the name of Pat. Here is what he told us:
"Before trading with Tom I had that rifle for about three years. Picked it up at Seth's airgun show in Arkansas. The paint was in the same shape then as now. I like to think I take good care of my guns. Even though it came up in the rotation for shooting and I really liked the design and build quality. It never became a favorite. That's why it ended up as trade bait at the show. No accounting for taste and all that. Maybe it's the long throw of the pump arm."
It seems pretty healthy from just firing it into duct seal and seeing the penetration, but today I will put it over the chronograph so we all know. According to the Blue Book of Airguns the velocity should be around 600 f.p.s. It's a .22 caliber, so that would put it roughly in the same power category as a Benjamin 392. We shall soon see.
GunFun1
Reader GunFun1 asked several questions that merit more than a simple answer, and I would like to begin there. Here is what he asked:
"I'm guessing it's a steel barrel right. It looks like it might be soldered though.
But it's a cool gun. I like how it cocks. And is it a 2-stage trigger or is it like some pumpers that build trigger pressure the more it's pumped up?"
The first question has a simple answer. The barrel is straightforward rifled steel. I'm not sure I know what a soldered barrel is, but it seemed to me that he meant a thin "soda straw" barrel liner inside an outer tube. This isn't that. This barrel is solid and attracts a magnet.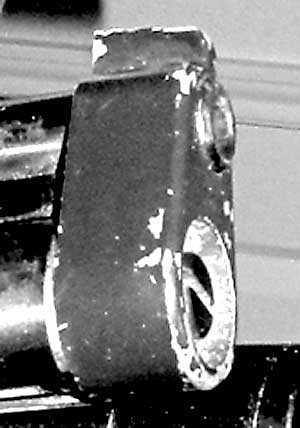 I don't know if this shows it too well, but the 77A barrel is solid steel. The muzzle cap is aluminum.
The second question is worthy of discussion. As far as I know, only one kind of pneumatic valve affects the trigger by making it harder to pull as the number of pumps (and the pressure inside the reservoir) increases. I have called that valve the "blow off" valve in my writing, but whatever you call it, it's the kind that's in the Crosman model 140 and 1400 multi-pumps, as well as the 130 pistol.
You never cock those rifles because they don't have a hammer. Their triggers block the exhaust valve from blowing open, and as a result the trigger pull gets harder as the pressure inside the reservoir that presses on the exhaust valve increases. As the gun is pumped it is automatically "cocked" through the blocking function of the trigger.
Crosman used this valve in the 1950s and beyond to overcome the problem of valve lock. Some owners were over-pumping their guns, thinking that made them more powerful, when it actually did the reverse. It made the valves unable to remain open long enough to exhaust all the air inside and ultimately it ruined the gun.
These are not common pneumatic valves, but there are other airguns that have them. The Sharp line of multi-pumps uses this kind of valve, which is why I found the trigger so surprising on the Sharp Ace Target I tested for you. The trigger pull did increase as the pumps went up (see that in Part 2) but even at the maximum 10 pumps the trigger pull was just under 10 ounces!
S&W 77A trigger pull
Since the 77A is cocked via the triggerguard, we know that it has a hammer that has to be cocked. Therefore its valve is a common knock-open one and the trigger pull never increases as the gun is pumped. I tested the rifle on two pumps and the single-stage trigger broke at 5 lbs. 12 oz. On 10 pumps it broke at 5 lbs. 10 oz. It's definitely a hammer-fired pneumatic with a conventional trigger.
Pump stroke
Pat mentioned the huge pump stroke this rifle has and I agree. Let's look at that now.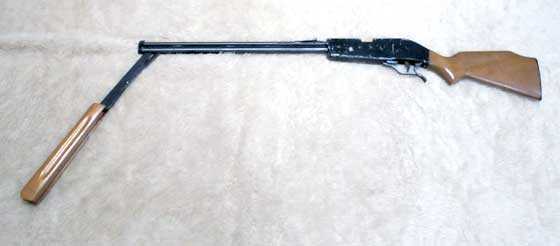 The pump swing of the S&W 77A is long and the pump lever is also long. It makes for a huge stroke.
Pump is loud
The pump handle clacks loudly with every stroke. There is no sound-deadening material under the wooden pump arm to quiet it. But S&W put a spring-loaded lock in the end of the receiver to lock the pump lever in place when it's stored. Unlike many multi-pumps the handle on this one should never drop down.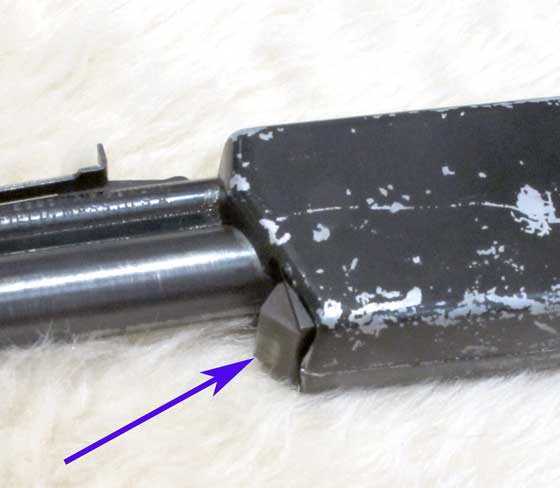 A spring-loaded pump lever lock (arrow) in the end of the receiver locks the pump handle up when it is stored.
Velocity
Okay, let's look at the velocity of my test rifle. Since it is a multi-pump it will be tested in a different way. With apologies to Smith & Wesson who no longer market pellets under their brand name, I will start the test with the 14.3-grain Crosman Premier pellet.
Crosman Premier
Pumps……..Velocity
2…………….236
3…………….318
4…………….376
5…………….409
6…………….469
7…………….503
8…………….532
9…………….542
10……………539
11……………547
12……………545
S&W recommended a maximum of 10 pumps. I went a little beyond because some people on forums are reporting pumping their guns many more times — as many as 30! But looking at the curve in this string you can see that for this pellet the maximum number of pumps that accomplishes anything is 9, not 10. Yes, more pumps does make it shoot faster, but the increase is minimal. Why subject your airgun to stress for such paltry results?
Repeatability
Does the gun continue to shoot as we have seen here? For that I pumped it again and chronographed these results.
Pumps……..Velocity
4…………….308
6…………….466
9…………….532
I noticed in this test that I was pumping a little faster at the start of each shot, so I did the test again and slowed down to a very deliberate pace. Here is what I got.
Pumps……..Velocity
4…………….370
6…………….475
9…………….537
And here are the first test, the second test and the third test laid next to each other.
Pumps……..Velocity1…Velocity 2…Velocity 3
4…………….376……….308……….370
6…………….469……….466……….475
9…………….542……….532……….537
RWS Hobby
The rifle is fairly repeatable. Let's now see how it does with a lightweight pellet — the RWS Hobby.
Pumps……..Velocity
4…………….417
6…………….511
9…………….576
10……………592
11……………604
12……………620
13……………629
14……………631
That is as far as I'm going to push this old rifle. I have no desire to break it, but I did want to see what it would do above 10 pumps. There was no air left in the gun after even 14 pumps, so the valve is exhausting all the air. And the gain in velocity is significant. Nevertheless, the gain from additional pump strokes isn't worth the effort and strain on the gun, in my opinion.
H&N Baracuda with 5.50mm head
The final pellet I tested was the H&N Baracuda with a 5.50mm head Here is what they did.
Pumps……..Velocity
4…………….298
6…………….384
9…………….471
10……………479
11……………495
12……………500
13……………503
14……………522
Once again the velocity continued to increase after 10 pumps, and once again the gains were significant. I still stopped because of the risk.
Final test
The last velocity test I conducted was to return to the Crosman Premier pellet and try it at 9 pumps and the 13 pumps.
Pumps……..Velocity
9…………….538
13……………594
The velocity on 9 pump strokes is remarkably similar to all other tests. Here they all are together.
Pumps………Vel…..Test 2…Test 3…Test 4
9……………542……532…..537…….538
But on 13 pumps the velocity went up to 594 f.p.s., where it had sort of stuck around 540-545 in the first test. Why the difference?
I think what may have happened is the seals inside the powerplant heated up and became more efficient from all the pumping as I conducted this test. If that is true, I think if they were rested for 24 hours the velocity would go back to where it was in the beginning.
HOWEVER — I did lubricate the pump piston head with ATF Sealant before starting today's test. I wasn't going to tell you about it unless it made a difference. At this time I can't say that it did. But, if the rifle still shoots ultra-fast on 13 pumps tomorrow (in the vicinity of 594 f.p.s. with Premiers), then the ATF Sealant is the reason — not exercising the seals by pumping.
It could also be a combination of both things, in which case we would perhaps see a 13-pump velocity of 575 f.p.s. or so in that test because the pump mechanism will not be warmed up. That test will be interesting! You'll see the results on Monday.
Pump effort
Here is what it takes to pump the rifle.
Pumps……..Effort in lbs.
1………………9
2………………9
3…………….13
4…………….16
5…………….16
6…………….15
7…………….16
8…………….16
9…………….17
10…………..16
11…………..18
12…………..17
13…………..17
14…………..17
Each pump stroke was slow and deliberate. Pumping faster would have spiked the effort considerably.
I measured the force on my bathroom scale where I measure the cocking effort of spring guns. Don't ask me why the effort numbers went up and down — I just recorded what I saw.
This is far less than a Benjamin 392 or Sheridan Blue Streak, whose 8th pump would be about 35 lbs.
Summary
I think my S&W 77A is probably performing as it should right now. I may refinish the outer metal but not refresh the powerplant in the future. But before I do anything we want to see how accurate it is. I will use both the factory sights and that UTG Reflex Micro dot sight. I am also thinking I will try it with a scope after that. So, stay tuned — there is more coming.