by Tom Gaylord
Writing as B.B. Pelletier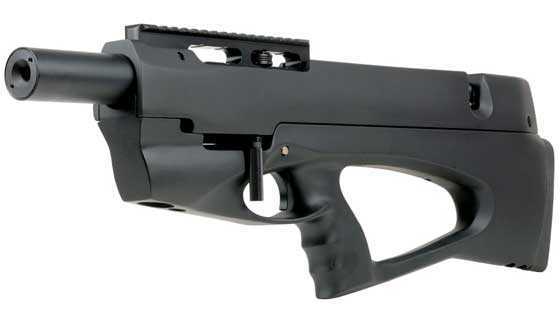 Ataman BP17 Soft Touch bullpup PCP air rifle.
This report covers:
The test — 55 yards
Wind
Aeon scope
Excuses, excuses!
One pellet — JSB Exact Jumbo
Trigger
Group two — JSB Jumbo
Group three
Discussion
Summary
Today I take the Ataman BP17 PCP bullpup air rifle out to 50 yards for the final accuracy test. Instead of shooting many pellets I shot the one it did best with in Part 3. That turned out to be a good decision because there were several other challenges on this day.
The test — 55 yards
I wasn't at my usual rifle range so I had to set everything up. I paced off the distance to the target, and when I ranged to it I discovered it was actually closer to 55 yards. And, the way the range was set up, I had the sun in my face, so I had to shade my non-sighting eye.
Wind
I got a late start so the wind had picked up, as well. I faced gusts to 10-12 m.p.h which doesn't sound bad, but when you are shooting to 55 yards with pellets any wind can be difficult. I waited the gusts out and tried to shoot only when the wind was 0 to 5 m.p.h.
Aeon scope
You will remember from Part 3 that the Aeon 8-32X50 SF scope was mounted. That proved to be another challenge on this day because I was outdoors and the bullpup rifle was hard to benchrest. The Aeon scope has a very short distance in which the image is visible through the eyepiece, then it goes dark. Too close is just as bad as too far away. Indoors it is easier to hold the short rifle so the image is visible, but outside it proved difficult.
Excuses, excuses!
It sounds like I'm building up to report a failure, but I'm not. I'm just telling you all I went through to shoot this rifle accurately at 55 yards. I think bullpups are easer to shoot offhand than conventional rifles, like when you are hunting, but harder to benchrest than rifles with conventional stocks.
One pellet — JSB Exact Jumbo
The pellet I selected for today's test was the .22 caliber JSB Exact Jumbo that did so well in Part 3 at 25 yards. That gave me more time to learn how to shoot the rifle from a rest.
I fiddled around, adjusting the scope's zero for about 10 rounds and then shot the first serious group. Because there were 4 pellets left in the clip after sighting in, I shot a first group of 11. At 55 yards 11 JSB Exact Jumbo pellets went into 1.223-inches. It's not that good because I was still learning how to hold the rifle. I allowed the crosshair to move around too much while shooting this group.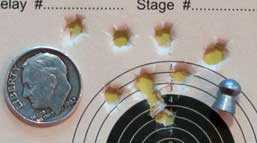 Eleven JSB Exact Jumbo pellets went into 1.223-inches at 55 yards. It's an okay group, but I knew I could do better.
Trigger
The rifle's trigger is both light and nonspecific. I never knew when it was going off. That sounds better than it is. If it had a definite stage two I would have been able to concentrate more on the release point, but this trigger is like juggling nitroglycerin. You never know when it's going off!
Group two — JSB Jumbo
On the second serious group I held the rifle much better, though the trigger was still surprising me. This time 6 of the 7 pellets went into 0.78-inches at 55 yards. But one pellet landed way below the group, opening it up to 1.723-inches. I don't know which of the 7 shots it was because they all looked good through the scope.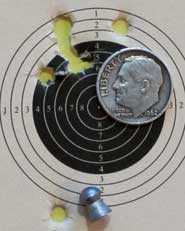 Seven JSB Jumbo pellets are in 1.723-inches with 6 in 0.78-inches at 55 yards. So close!
I almost called it quits after this group. I was hot and sweaty and had been shooting for about 90 minutes. But I really wanted to see if I could hold 7 for 7.
Group three
So once more I loaded the clip with 7 Jumbos and tried to shoot to the best of my ability. This time all 7 went where I wanted and produced a group that measures 0.577-inches at 55 yards.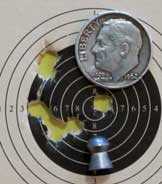 That's more like it! The Ataman put 7 JSB Exact Jumbo pellets into 0.577-inches at 55 yards.
Discussion
The Ataman functioned well throughout the 4 parts of this test. The clips never failed to feed. And the rifle is accurate without a doubt.
I must comment that outdoors the rifle is a lot less noisy than it seemed indoors. It's still not ideal for small back yards, but if you have a couple acres it's fine.
The trigger is light but not positive. That bothered me when I was trying to hold on a small target.
I still am not a fan of bullpups, but this is a very good one. So, if compact size and light weight appeals to you, the Ataman BP17 is a rifle to seriously consider. Mount a lower-powered scope that has a wider field of view and a more forgiving eye-relief. Perhaps a Bug Buster 3-12X32 would be ideal.
One last consideration — since this rifle needs a 300 bar fill, consider either a carbon fiber air tank or a Nomad II air compressor. Either one will do the job.
Summary
That's our last look at the Ataman BP17. I hope this series has helped some of you make a decision.