by Tom Gaylord
Writing as B.B. Pelletier


Air Arms S510XS Ultimate Sporter with Laminate Stock.
Part 1
Part 2
Part 3
Meopta MeoPro Optika6 3-18X56-scope: Part 1
Part 4
Part 5
This report covers:
The tests
H&N Hollowpoint
H&N Baracuda with 5.50mm head
JSB Exact Jumbo
JSB Exact Jumbo RS
Big test number two
Ten-shot group of 5.52mm heads
Ah-HA!
Ten shots of odd-head sizes 5.50 to 5.53mm except 5.52mm
Summary
Boy, did BB learn a lot today! This will spill over into tomorrow in a way you probably can't guess.
Today I did the final accuracy test at 25 yards. I'm still learning about the Air Arms S510XS Ultimate Sporter with Laminate Stock that will become mine for reasons I will share later. Today I tested the rifle with 4 pellets I hadn't tried yet, plus I also shot two groups of pellets that were sorted by the Pelletgage. Let's go!
The tests
I shot 5-shot groups at 25 yards with the four new pellets, just to see if any were worth further testing. Then I shot two 10-shot groups of Pelletgage sorted pellets. I will tell you more about that test when we get to it, so now lets look at the first 4 groups.
H&N Hollowpoint
The first pellet I loaded was an obsolete H&N Hollowpoint. It looks like nothing in the H&N .22 caliber line. The first pellet loaded very hard when I pushed the sidelever forward and it landed at 6 o'clock on the target. The second pellet hit the same bull at 12 o'clock and I knew something was up. Shot number three hit the clip holding the target to the backer board and the test was over. I shot the other two pellets into the backstop away from the target sheet.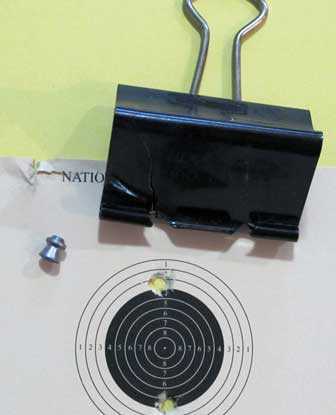 The S510 threw shot one low, shot two high and shot three broke the target clip at 25 yards. Over!
H&N Baracuda with 5.50mm head
Next I tried five H&N Baracuda pellets with 5.50mm heads. They went into a vertical group measuring 0.577-inches between centers. Also not the pellet for this rifle.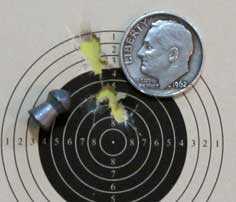 Five H&N Baracudas with 5.50mm heads made this 0.577-inch group at 25 yards. Nope!
JSB Exact Jumbo
The next pellet I tried was the JSB Exact Jumbo pellet that is quite similar to the Air Arms 16-grain Field pellet that has done so well with this rifle. And these didn't disappoint. Five went into 0.221-inches between centers at 25 yards. Yippie! I have another good pellet for the rifle.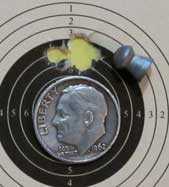 Five JSB Exact Jumbos made this nice round 0.221-inch group at 25 yards. Yep!
JSB Exact Jumbo RS
Next I tried five JSB Exact Jumbo RS domes. These are often surprisingly accurate — including in this S510! Five went into a 0.220-inch group. That is so close to the size of the heavier Jumbo group that either one could be better. Or both could be the same. Well done Air Arms!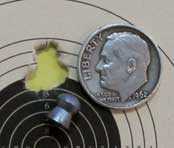 Five JSB Exact Jumbo RS pellets went into 0.220-inches at 25 yards. Who can really tell which group is best? Yep, again!
Big test number two
Now it's time to test pellets that are sorted by head size against pellets that are not sorted. I say they're not sorted, but the way I selected them, they really ARE sorted in a backward way. And just wait to see what happened.
I sorted the Air Arms 16-grain domes that have done so well in testing up until now. I got pellets with heads measuring 5.50. 5.51, 5.52, and 5.53mm. Most of them (11) were sized 5.52mm, so that was the group I set aside to shoot as the sorted group. Then I chose the remaining 10 that measured anywhere from 5.50mm to 5.53mm. The only pellets that were not in this group were those with heads measuring 5.52mm. This second group is not random. It is selected from pellets of all sizes except 5.52mm. That will be important in a short while.
Ten-shot group of 5.52mm heads
I shot this group with the same extreme care that I have used throughout this test. That fabulous Meopta Optika6 scope is so clear that I know I wasn't making errors of more than one one-hundredth of an inch! In other words, where, over the 10-dot of the bullseye, is the illuminated scope reticle dot (THAT APPEARS TO BE THE SAME SIZE) positioned?
I envisioned a group of 10 shots so small that it would hold a pellet. Instead, I was getting what for this pellet was a mediocre group. The first nine are in a hole that measures 0.363-inches between centers. HOWEVER! Shot number 10 landed down and away from the group, causing me to say, "Huh?". That shot — which was done with the same precision as the other nine, opened the group to 0.425-inches between centers. Whaaaaaaat?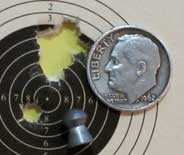 Huh? Ten Air Arms 16-grain domes with 5.52mm heads went into 0.425-inches at 25 yards. That wasn't supposed to happen!
Ah-HA!
And then it hit me. I wonder if you have guessed what now seemed clear to me?
Just because there were more pellets in the tin with 5.52mm heads didn't mean they were the best for this air rifle! I may have, in fact, selected the absolute WORST of these fine pellets to test this way. Duhh! Ha, ha, ha (laughing to keep from crying). Perhaps the next group would tell?
Ten shots of odd-head sizes 5.50 to 5.53mm except 5.52mm
Same pellet, assorted sizes with 5.53mm being the next most plentiful size. I think there were five of them.
And, the shots kept going to the same place! When it was over 10 pellets had gone intro 0.292-inches at 25 yards. Well, well! Didn't old BB learn something?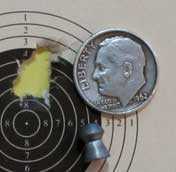 The second group of 10 pellets of different sized heads measures 0.292-inches between centers.
Summary
I will summarize now, but this lesson isn't over. I will be back tomorrow with more to add, though it won't be anything you expect — I hope!
What I learned from this exercise is that sometimes the best pellet is not the one that's also the most plentiful in the tin. A better test would have been to sort until I had enough pellets to test each head size. I have done that in the past, but this time I rushed things and look what happened. Still — I learned something very valuable. Did you?