by Tom Gaylord
Writing as B.B. Pelletier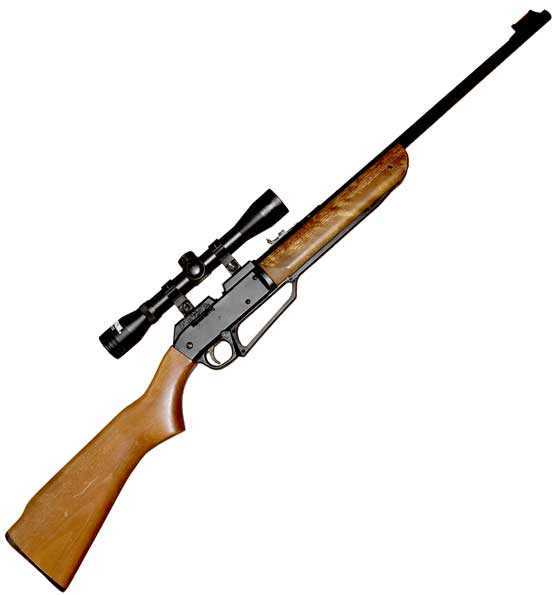 Daisy 22SG.
This report covers:
Old 22SG
Warmup
First 10-pump shot string
Oh, oh! What happened?
Did it need more oil?
Variable pumps
Help!
Fixed
Second 10-pump shot string
Variable pumps again
Heavy pellet
Trigger pull
Pump effort
Summary
Well! If the comments are any indicator I would say that this report has struck a nerve! Apparently if you don't currently own a Daisy 22SG now you used to, or you wanted to, or you own/owned an 822 or a 22X, which are the same rifles without the scope. I saw the same kind of enthusiasm on the internet in general. The 22SG is an air rifle people remember!
Today is the day we test velocity, but I'm going to make it something a little more than just that. Several of you are asking me about the automatic transmission sealer that I tout for fixing the seals on old pneumatics and gas guns. You say I don't specify what exactly it is. Well, I'm doing so right now. The stuff I use is called Bar's Leaks (that's the name of the company) Transmission Stop Leak Concentrate. I have written about it numerous times, including the report titled A proven CO2 fix for leaking guns.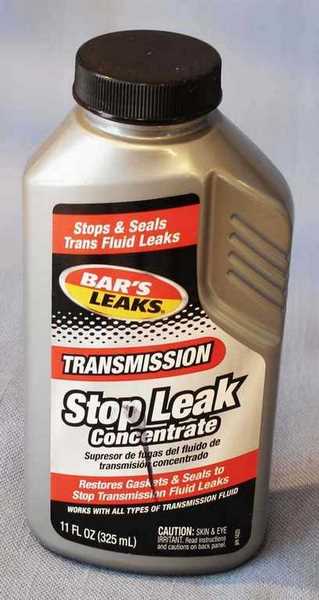 This is the stuff. It works.
Old 22SG
I tell you this because my Daisy 22SG is not new and fresh anymore. I reported on it 14 years ago, and it hasn't really been shot since then. So it's got some age and the seals could be starting to harden. ATF sealant does soften their surfaces so they seal better, but we have learned another trick to keep pneumatics running well — we flex their seals by partial pumping! I will do that today as I test this fine airgun. Let's go!
Warmup
The 22SG valve and firing mechanism doesn't allow partial pumps the way I have been doing with other airguns, because if this gun isn't cocked all the air from each pump rushes out the barrel. I had to devise another way to warm the pump cup. So I decided to shoot a first string where the gun was pumped 10 times for each shot. I started the tests with RWS Hobby pellets.
First three shots
Shot……..Vel
1…………537
2…………545
3…………554
At that point it seemed like the gun was warm, so I shot a 10-shot string. Still shooting Hobbys. It looks like this.
First 10-pump shot string
Now I shot the first 10-pump shot string.
Shot……..Vel
1…………558
2…………552
3…………550
4…………549
5…………531
6…………530
7…………518
8…………519
9…………521
10………..506
Oh, oh! What happened?
Something in the pump mechanism or valve is not functioning as it should. This is a rare occurrence, but a very useful teaching tool, so let's discuss it.
The average from this string is 533 f.p.s., but as you can clearly see, something went wrong. You can really see it after shot number four. This is another classic example of the value of a chronograph for testing your airguns. At the average velocity for this string the Hobby pellet generated 7.51 foot-pounds. But this average isn't representative of the gun at the end of firing.
Did it need more oil?
I looked at the pump head before shooting the gun the first time and noted that it was still wet from the previous application of ATF sealant. However, to leave no stone unturned I oiled it again with the same stuff. And this is what I got with the same Hobby pellets.
Shot……..Vel
1…………513
2…………510
3…………507
Variable pumps
Okay, it's clear the gun has degraded in some way that oil alone cannot fix. There is another test I can do that will tell me more about how much it has degraded. This time I will shoot the same Hobby pellets with variable pumps from 3 to 10, and watch the velocity.
Pumps……Vel
3…………342
4…………404
5…………450
6…………476
7…………495
8…………511
9…………513
10………..518
See how this test reveals more about how the rifle is performing? Daisy said in the manual (available on the Pyramyd Air website) that the rifle got 625 f.p.s. on 10 pumps. To the best of my recollection that number is close to correct. Of course they don't tell what pellet was used, and that makes all the difference in the world. I was using Hobbys which are the standard lightweight lead pellets in .22 caliber.
The velocity for three pumps looks about right, and on up to 6 pumps it looks good. Then the velocity increase starts slowing down. From 8 pumps on there is almost no increase. So something is happening after 6 pumps.
I noticed for the first time that the pump handle was springing back after 6 pump strokes. With a multi-pump that's an indication there is pressurized air that hasn't entered the compression chamber. The culprit is the pump cup that isn't bottoming out in the compression cylinder. In some more expensive multi-pumps there is or used to be a way to increase the stroke length of the pump cup. Gene Salvino told me that the older Daisy 880s had that feature.
Help!
I placed a call to Gene Salvino and we talked about this for a while. He told me there is no pump cup. He told me the pump piston of a Daisy 880 and this 22SG is sealed with a 113 o-ring. I have a huge assortment of o-rings, so replacing that was no problem. I didn't think the valve was a problem because the rifle still fired with relatively good power.
Fixed
I fixed the rifle in about the same time that it took me to write and edit this next paragraph. Two screws and the wooden forearm slabs (one on either side) came off. The pump mechanism was not retained by anything beyond that. I had the pump mechanism out of the rifle in two minutes, and the o-ring exchanged in 15 seconds. Back together in two more minutes and back to the chronograph.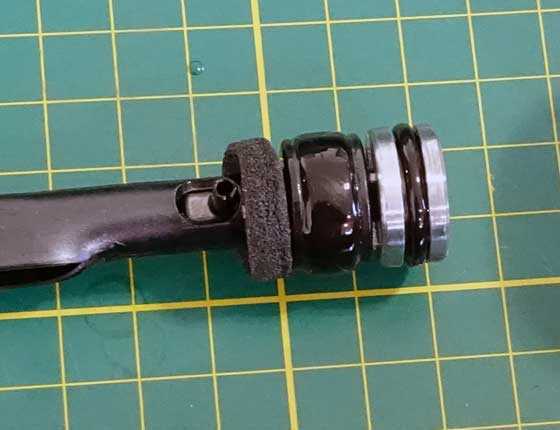 The 22SG piston is sealed by a 113 o-ring.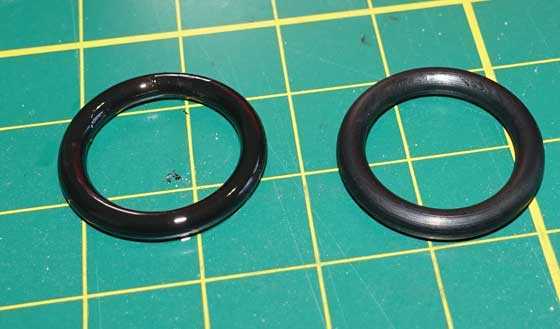 The old ring is on the left. It is still soft and pliable but I can see a difference in their sizes. The new ring looks fatter.
Second 10-pump shot string
When I inserted the pump piston back into the pump cylinder there was greater resistance than before. Did that mean the new o-ring was doing its job? One way to find out! I did not warm the gun in any way. Just went right to shooting for record. And I'm still shooting Hobbys.
Shot……..Vel
1…………552
2…………513
3…………535
4…………549
5…………541
6…………541
7…………546
8…………549
9…………548
10………..544
What do you think? I think the new o-ring did the trick. Maybe you could get a little more velocity with a complete rebuild, but that will either cost me $125 (shipping both ways and repair costs) or I will have to try to get the parts from Daisy. I think I will leave it as it is. The average for this string is 542 f.p.s. and that generates a muzzle energy of 7.76 foot-pounds. This average isn't much better than the first time, but this time the numbers are stable at the higher end.
Variable pumps again
Remember the variable pump test I did? Let's do it again see how it does.
Pumps……Vel
3…………353
4…………414
5…………462
6…………498
7…………514
8…………535
9…………552
10………..558
I will say the rifle is back, and performing as it should. I don't have any historical data that I'm aware of, so this will have to be the baseline.
Heavy pellet
We have looked at a lightweight pellet; now let's look at a heavyweight. For this test I used an obsolete Beeman Kodiak that weighs 21.14 grains. First a string on 10 pumps.
Shot……..Vel
1…………469
2…………456
3…………468
4…………469
5…………474
6…………476
7…………470
8…………473
9…………470
10………..473
The average for this string was 470 f.p.s. The spread was 20 f.p.s., but exclude shot number two and it's 8 f.p.s. At the average velocity this heavy pellet generates 10.37 foot-pounds at the muzzle.
Now let's see how this heavyweight does with variable pump strokes.
Pumps……Vel
3…………293
4…………338
5…………374
6…………400
7…………426
8…………449
9…………462
10………..480
Trigger pull
None of these airguns (Daisy 880, 820, 22X) have good triggers. They are all single-stage and creepy. This one fires with a pressure of 6 pounds 5 oz., though the creep makes it feel heavier. There is not a lot that can be done with the trigger. There are You Tube explanations of how the trigger is assembled, but when you look at them you will see that, because of its design, the Daisy 880 trigger does not lend itself to tweaking. Just get used to it and do your best.
Pump effort
I talked so much about the light pump effort that I thought I should measure it for you. Here goes.
Pumps……Pounds
1……………2
2……………5
3……………9
4…………..11
5…………..14
6…………..14
7…………..14
8…………..14
9…………..15
10…………15
I have to say it felt heavier than that from pump 5 onward. I think the resistance builds higher the faster you pump. But I also think a fast pump stroke is more efficient.
Summary
There we have it. My older Daisy 22SG was a bit tired but was revived by a simple o-ring swap that took five minutes. Other than using ATF sealant, that is the quickest fix I have ever performed!
I'm satisfied with the rifle's power now and will proceed with this series as planned. Accuracy is next.