Marksman model 70 breakbarrel air rifle: Part 9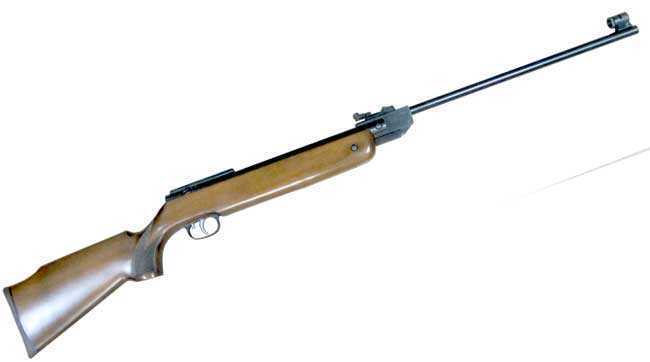 Marksman model 70 breakbarrel rifle.
Part 1
Part 2
Part 3
Part 4
Part 5
Part 6
Part 7
Part 8
This report covers:
The test
Sight in
Predator Polymag
Baracuda Match 5.53mm head
RWS Meisterkugeln
H&N Baracuda 18
The Baracuda 18
Summary
Today we look at the accuracy of the Marksman model 70 breakbarrel whose mainspring has now been cut to the point of very little preload.
The test
This will be a quickie, because it isn't the end goal. I'm simply testing the rifle now because a couple readers asked me to.
I shot the rifle off a sandbag rest at 10 meters. The rifle rested directly on the sandbag, which we discovered in Part 4 is slightly more accurate than using the artillery hold. I shot 5-shot groups and I tested 4 pellets. One of them is brand new and will be part of future tests.
I wore my reading glasses to see the front sight blade sharply. And beyond that I had a good time.
Sight in
Normally there wouldn't be a sight in for a gun shooting factory sights, but the barrel has been off this rifle since I last tested it. And that apparently made a difference!
I started with Predator Polymag pellets for no good reason. The first shot was an inch high and 1.5-inches to the left of the center of the bull. I adjusted the rear sight down one notch, which was as low as it would go, and also cranked in several clicks of right adjustment. My second shot was in the bull. Good enough!
Predator Polymag
Five Predator Polymag pellets went into a 0.349-inch group at 10 meters. I'll take it.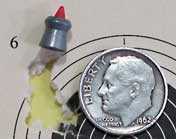 Five Predator Polymag pellets went into 0.349-inches at 10 meters.
Baracuda Match 5.53mm head
The next pellet I tested was the H&N Baracuda Match with a 5.53mm head. I adjusted the rear sight several clicks to the right, but it was already set as low as it would go, so that stayed the same. Five shots went into 0.838-inches at 10 meters, with 4 of them in 0.526. This pellet had been the best in the Part 4 test, so something has changed. Also note how low on the bull they hit. This rifle seems to want to shoot wherever it wants to at this time. So I stopped adjusting the rear sight.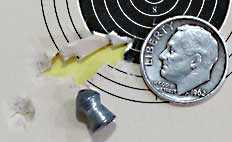 The Marksman 70 put 5 Baracuda Match into 0.838-inches at 10 meters, with 4 in 0.526-inches.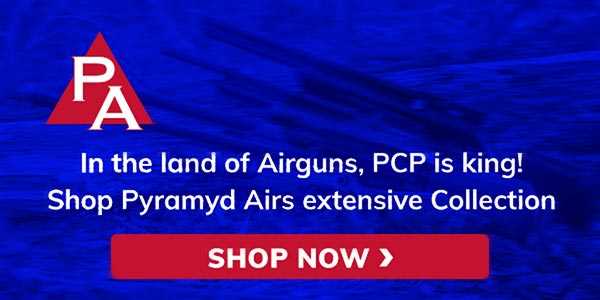 RWS Meisterkugeln
The next pellet I shot was the RWS Meisterkugeln wadcutter. Five of them went into 0.634-inches at 10 meters. It had done slightly worse in the Part 4 test, with five in 0.765-inches
–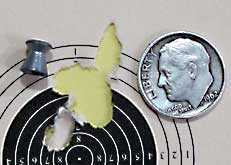 Five RWS Meisterkugelns went into this 0.634-inch group at 10 meters. The group looks larger because of paper tearing.
H&N Baracuda 18
The last pellet I tested was the new H&N Baracuda 18. I didn't know what to expect, but I was eager to find out! To my surprise, five of them made a 0.441-inch group at 10 meters.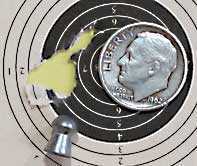 Five Baracuda 18 domes went into 0.441-inches at 10 meters.
The Baracuda 18
I didn't know what to expect from this pellet. It's a dome that's lighter than the other Baracudas, but it's still a heavier middleweight. The dome is more rounded and less pointed than the regular Baracudas and has a thinner skirt. They do seem to come in head sizes and the ones I'm testing are 5.52mm.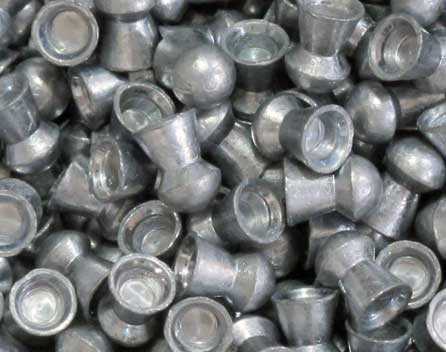 The H&N Baracuda 18 looks similar to the Baracudas we know, but the nose isn't as pointed and the skirt is thinner.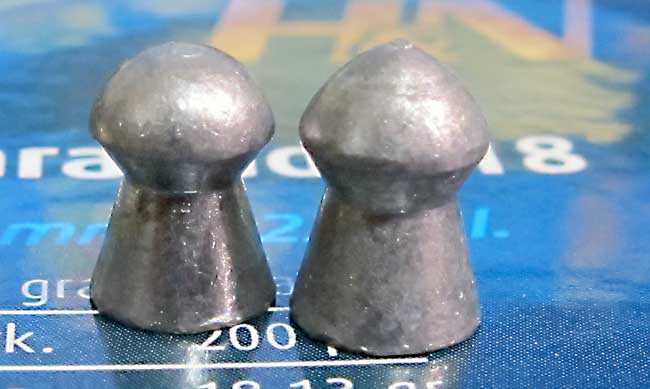 The Baracuda 18 on the left has a more rounded nose than the Baracuda Match on the right.
Summary
Okay, I tested the rifle and saw no change in accuracy. That was what I expected. Though it is easier to cock and smoother shooting, the barrel has not changed. Hence accuracy remains the same.
I will say that I like how the trigger is adjusted. There is a positive second stage and a crisp release.
Next up will be shimming the mainspring with preload and seeing where that takes us.
Tags In
Tom Gaylord is known as The Godfather of Airguns™ and has been an airgunner for over a half-century, but it was the 
Beeman
 company in the 1970s that awoke a serious interest in airguns. Until then, all he knew were the inexpensive American airguns. Through the pages of the Beeman catalog, he learned about adult airguns for the first time. In 1994, Tom started
The Airgun Letter
 with his wife, Edith. This monthly newsletter was designed to bring serious reports about airguns to the American public. The newsletter and
Airgun Revue
, a sister magazine about collectible airguns, was published from 1994 until 2002, when Tom started
Airgun Illustrated
-- the first American newsstand magazine about airguns. Tom worked for three years as technical director at
AirForce Airguns
, the makers of the 
Talon, Condor, and Escape
 precharged air rifles. Today, he writes about airguns and firearms for various publications and websites. He also makes videos, and you'll find short clips embedded in some of his artices on Pyramyd Air's website. Tom is a consultant to Pyramyd Air and writes under the name of B.B. Pelletier.