The Steve Corcoran-made custom HW 30 stock.
What BB did
Part 1
Part 2
Part 3
Part 4
This report covers:
Background
How does it do?
The test
First target
Second target
Blew up
Was it worth it?
Summary
Today I report on the custom stock Steve Corcoran made for my HW 30S. There is more in today's report than just a look at a pretty stock, because pretty is as pretty does. So, make a double pot of coffee or tea. This might just be a two-doughnut day!
Background
You may recall that this all started when I realized that I could not see the open sights on the new HW 30S I bought. On April 21, 2021 I said, "All throughout this test I had a hard time maintaining my sight picture. I really felt that if I had a rear peep sight I could shoot better. That wasn't the test today, though, so I toughed it out. But at some point in the future I do want to try this rifle with a rear peep sight. However that won't be next."
I said that in 2021. In May of this year (2023) I said this about the HW 30S, "Okay, if the Diana 35 is not the right rifle for BB, what is? Well, I knew I had the Weihrauch HW 30S that I bought new and tested for you extensively a few years back. Many readers said the 30S was the rifle I should consider, but when I said I would consider it one of our readers, who's name I can't recall, told me to heft the 30S and see if I can see the front sight. Yeah — I can see the front sight. In fact when I hoist the 30S to my shoulder naturally I can not only see the entire front sight but also about two inches of the barrel in the notch of the rear sight! In other words, the comb of the HW 30S stock is too high! What to do?"
Those remarks were in reference to finding one airgun in my pile that I could count on for pests. I wanted one with open sights and a known best pellet and I wanted a rifle that shot where I aimed — OFFHAND! In that same report I also said this,"Well, in the report titled, Should I? I floated the idea of either me modifying the HW 30S stock myself or having a custom rifle stock made for it that is more like the stock Weihrauch used to put on the rifle. That way is the most costly, but I end up with the air rifle I want rather than some ultramodern tacticool monstrosity created for couch commandos.
My decision was to go the custom stock route. I contacted Steve Corcoran and he is currently considering my request. A conventional (read that as old school) rifle stock is not his normal product, but he told me he would give it a try."
That was what started the series What a difference a stock makes. I did buy a used HW 30S stock of the older style in the interim and that was the stock I had on the rifle for the Part 4 report.


The HW 30S barreled action is in the older stock. The new style stock is below.
I had ordered the custom stock from Steve Corcoran before the reader told me about the old-style stock that was for sale, so I kept my order open. I figured it would be nice to see how a custom stock shapes up against the older style stock Weihrauch used to sell.
I told Steve what my problems were with the newer-style Weihrauch stock and apparently I'm not the only person with this problem. Several readers have said they have difficulty seeing the rear sight with the new-style stock. Weihrauch says they have tested it and don't have any trouble with seeing both open sights, but I can Gumby-up and say the same thing! I want a stock that fits me conventionally for a rifle I plan to depend on.
I didn't want a stock that looks like an electric guitar, which is the bulk of what Steve makes because that's what shooters want today. But he can make anything and we discussed what I needed. The picture at the top of this report is what he produced.
How does it do?
I installed the barreled action in the new stock and have to tell you it fit like a hand in a glove. In fact, it was so tight I thought it might not go in, but in the end it fit perfectly. But the proof of the pudding is in the tasting. We all want to know how this new stock tastes/holds.
I hoisted it to my shoulder. Lo and behold, the sights are in perfect alignment. So, Weihrauch, a stock doesn't have to look like a sniper stock to work. It can look traditional and do the job quite well.
But just looking through the sights isn't the whole story. How does this stock support BB Pelletier when he stands on his legs and shoots with open sights?
The test
The test was five shots per bull from 10 meters. I shot offhand with my left leg against a chair. It touched the chair just above the left knee to slow the wobble. I held the rifle the same way I held it in the Part 4 test — I held the butt tight into my shoulder and rested the forearm lightly on the palm of my off hand, way out at the end of the stock. I waited until the front sight was where I wanted it and then deliberately pulled the trigger.
I shot the JSB Exact Heavy pellet, because testing showed it is the most accurate pellet in this air rifle. On reader RidgeRunner's recommendation I bought a leather Wilkens pellet pouch that I can keep with the rifle so I always have the best pellet when I need it.
First target
The first group was five shots in 2.612 inches at 10 meters. Ooops! I won't show you the group, but trust me — it was bad. That's not an improvement. What went wrong?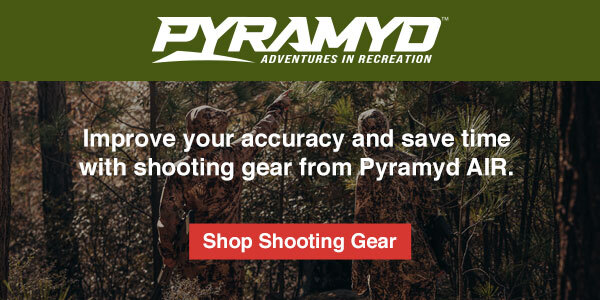 Second target
I started shooting the second target the same way I shot the first. But it wasn't what my hands wanted to do. On both shots I had to correct my off hand that wanted to balance the stock in front of the trigger guard like I was shooting a 10-meter target rifle. Those two shots dropped down and away from the bull I aimed at.
Then I thought — why not try shooting it that other way? This is a different stock; maybe it wants to be held like this.
The next three shots went into a group that measures 0.19-inches between centers. I used a dime as the comparison coin, but these three shots deserve a trime.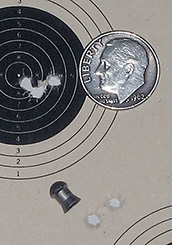 Five shots are in 1.253 inches between centers but the three I shot using a 10-meter hold are in 0.19-inches!
Blew up
After seeing that group, I blew up. I was done for the day. But now I know that this Steve Corcoran custom stock works very well! It doesn't make the rifle any more accurate, but it seems to make it easier for me to be accurate with the rifle. Does that make sense?
Was it worth it?
Most of you won't go the custom stock route. And this is probably the last custom stock I will have made, though I do still need a nice stock for my TX200 Mark III.
I spent $460 on this stock, including shipping. That's more than I paid for the rifle, so from that standpoint you might not think it was "worth it".
On the other hand, I've also invested money in a tuning kit for this same rifle, and a used older-style stock to see whether the HW 30S is the right pest rifle for me to shoot offhand, plus a handmade leather pellet pouch from the UK to keep the one best pellet with the rifle, so the price rises up even higher.
I now have an air rifle that I can use to dispatch pests at a moment's notice. Sure, I could have done the same for a lot less money invested (CZ/Slavia 634?), but look at what I now have. Talk about an heirloom! In my opinion it was worth every penny I spent on this project.
Summary
This has been one of the most fun blog series I have ever written. Best of all, you got to watch