Posts Tagged 'Diana model 27'
by Tom Gaylord, a.k.a. B.B. Pelletier
Today's report goes out to all those readers who are just getting into airguns, as well as those who have been in airguns awhile but feel there are many things they're either missing or don't fully understand.
We have a new blog reader who goes by the name Essbee. For the past week, he's been asking the kind of specific questions that tell me he doesn't understand something as well as he would like to. Then yesterday, he sent in this set of questions:
Thanks. How does The Benjamin Marauder compare with German guns (RWS & Weihrauch) in terms of quality and durability and ease too. No doubt the Germans are pricey in PCP hence ruled out but their quality is no problem. Could I have a report for or against on the quality of Benjamin Marauder as compared to German technology and craftsmanship.
What are the chances the gas will leak on PCP guns. If it does how will it be fixed and at what cost? In contrast the air springers have no such problem. What do you say on this? What is the record at your end of PCP repairs vs air springers?
Hence I was comparing an RWS 34, RWS 350 Magnum and RWS Air King 54. Considering the cocking effort, weight and velocity it seems RWS 34 stands up very well in .22 with longer barrel. Am I correct? For hunting which is the best?
How do I answer this?
If you read the questions, you'll see they're a combination of technical questions and requests for my subjective opinions. I find it very difficult to answer questions like these because they require more time and space than we have available. So, what I do is try to guess about who's asking the question, then answer from that standpoint as best I can.
New airgunners come from a variety of backgrounds. They can be youngsters who have never really sampled the shooting sports at all. Everything is a mystery to them. Or they can be adults who may know about the shooting sports but have never really participated in them. You might think that would make them the same as the youngsters, but it doesn't. Adults do have some life experience to relate to, so they can understand things that youngsters haven't experienced yet. My answers to adults have to be slightly different than the same answers to youngsters.
The questions can also come from adults with lots of shooting experience but who are just getting into airguns. When that's the case, we have a common basis of shooting upon which to build, but they still won't be familiar with things like the artillery hold or with canting issues at close range.
Some of these adults may have served in the armed forces and may be even more familiar with firearms than most people. That makes my answers even more difficult because there are things about airguns that the military never thought of.
Some of the questions come from law enforcement officers, both retired and active duty. They'll have an even different viewpoint, and my answers will have to be presented differently.
So — how do you get into airguns?
I obviously can't answer everyone in the same way. But I do think there are fundamental things that ALL new airgunners need to think about. So here we go.
1. Start small
Don't buy that super-duper ultra-magnum that you see advertised. Forget the advertising hype, unless all you want is something to brag about. If that's what drives you, go somewhere else because I can't help you. I'm in this for the enjoyment of the hobby — not for posturing, looking good or counting coup.
Get a weak but accurate airgun as your first gun, and then learn to shoot it. Forget scopes unless you're almost legally blind. Learn to shoot with open sights. Learn to follow-through on every shot. Learn to call your shots, which is to state where they went before you look through the spotting scope.
I would tell you to get a Diana model 27, but they don't make them anymore; and many of you would rather purchase a new gun. Okay, get an Air Venturi Bronco. That rifle was created to be the modern equivalent of the Diana 27. Is it? Probably not, because there are too many things that aren't the same. But the Bronco is accurate, it has a good trigger, it's both light and easy to cock, and it comes in .177 caliber so the pellets are cheap. And the rifle, itself, is a great bargain.
Want a different choice? Okay, consider a Stoeger X5. For around $90, you get everything the Bronco has except the great trigger and some of the accuracy. But it's very good and is a wonderful way to break into airgunning. Find something like that.
Want an air pistol? How about a Beeman P17? Oh, you can find bad reports about this pistol if you look, but they number in the dozens, while thousands of pistols have been sold. I have had 2 and both were quite reliable. One was a test gun from Pyramyd Air and I bought the other one after returning the test gun. The one I have now has many shots on the clock, as well as many years on it, and still performs as good as it did when it was new.
Want a spring pistol? Try the Ruger Mark 1 pellet pistol. It's inexpensive, accurate, easy to cock, and the trigger–while heavy–is manageable.
The point
I said to start small with a low-powered pellet gun and learn how to shoot it. That's the best advice I can give anyone who wants to get into this hobby. Yes, the powerful guns are neat and the super-accurate guns are a ball to shoot, but they also require some understanding that only comes with practice. I want you to get as much trigger time as possible, and a lightweight, inexpensive, accurate gun is the way to do that.
2. Buy good pellets
I know that saving money is a good thing, but I don't want you to miss out on the thrill of a lifetime just so you can save a dollar a tin on bargain pellets. Stop kidding yourself that you can buy good pellets at a discount store. That was never the case, and today it's quite far from the truth. You might be able to buy some adequate pellets at a discount store, but where does that leave you? With a Bronco that shoots 1.5-inch groups at 25 yards instead of one that shoots 3/4-inch groups. Is that what you want? You know the best way to save money is to never shoot at all. If you're going to shoot, give yourself a chance of hitting.
3. Stop fighting the trends and start applying yourself
A popular definition of a crazy person is one who keeps doing the same things and hopes for different results. I see shooters who aren't using the artillery hold because they say it's too hard. Well, of course it's hard, but all the best shots do it. Don't you want to see what kind of shot you can be? If you try to buck the trend and avoid things like the artillery hold, you're acting like a NASCAR wannabe who doesn't like cars that are set up for the racetrack. Sure they're hard to drive, but they're also the only kind of cars that win the races!
You want to shoot groups at 100 yards, but you don't want to use a scope level. Great. That's like an ice-skater who wants to be in Hush Puppies all day because the skates hurt his ankles. You can't shoot tight groups at 100 yards without leveling your rifle for every shot. So, if you don't use a scope level, you'll have to find some other way of doing it.
4. Shoot
I know it sounds simple, but just shoot. That's why you decided to get into airgunning in the first place. It's so easy to shoot at home. I fire from 100 to 1,000 rounds each and every week.
The more you shoot, the more chances you have to improve. Not that all people do improve, mind you, but at least you have the chance.
I've found that 20 shots on your own is worth a lot more than 20 conversations about shooting on the internet. Go on and have the conversations — but do the shooting, too.
Summary
This is what I would tell a new airgunner. Too often — always, in fact — they come to me with their eyes sparkling with thoughts of buying this or that mega-magnum rifle, I know they're heading for disaster. I cringe when I see this because I know the conversations we're going to have much later when all they've done finally sinks in and they realize this wasn't the way to go.
Here's a little story to illustrate what I've been saying. I watch certain internet gun sales websites and from time to time certain guns are listed. Let's single out the Smith & Wesson 500 Magnum for this story. When I see the ad, I can guess what it will say. This fine gun is almost new in the box. It's only been fired a few times. Comes with a fresh box of ammunition and only 6 cartridges have been fired. Now, why do you suppose that is?
by Tom Gaylord, a.k.a. B.B. Pelletier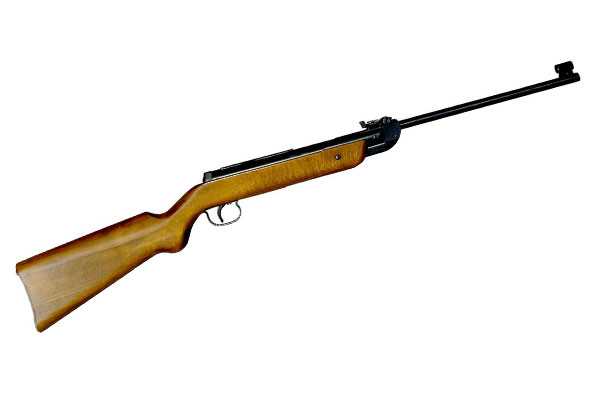 The Diana 25 (this one says Winchester 425) was made for decades. It is at the top of the youth line of air rifles from the '50s through the '70s.
On Friday, I tested the Chinese Fast Deer sidelever rifle at 25 yards, and in doing so I started the juices flowing again for the vintage airguns. One remark I made in the report was that I thought the Fast Deer might be more accurate if I fitted a peep sight in place of the open sights that are on it now. That got me thinking about other low-powered spring guns I've recently tested — including the Winchester 425, which is a Diana 25 by another name.
I tested the 425 at 10 meters because it has open sights and also because of the low power level. It's a .22-caliber spring rifle that shoots in the low- to mid-400s, and long-range accuracy is not its strong suit. But after seeing the Fast Deer perform, I began to wonder how the 425 might do if I tried it with a peep sight. Kevin recommended trying it, and I was happy to take his suggestion. We always talk about how peep sights improve the aiming situation, so a peep sight ought to have some impact on even a rifle like this one.
As it happens, I have a peep sight that attaches to the rear sight base on many vintage Diana air rifles, including this 425, so it was easy to remove the open rear sight and attach the peep. I left the open sight in place until the peep was firmly anchored to the base, then I looked through the peep and adjusted it until the open sight picture looked perfect through the peephole. That told me the peep was looking at the same place as the open sight, so no special sight-in procedure was required.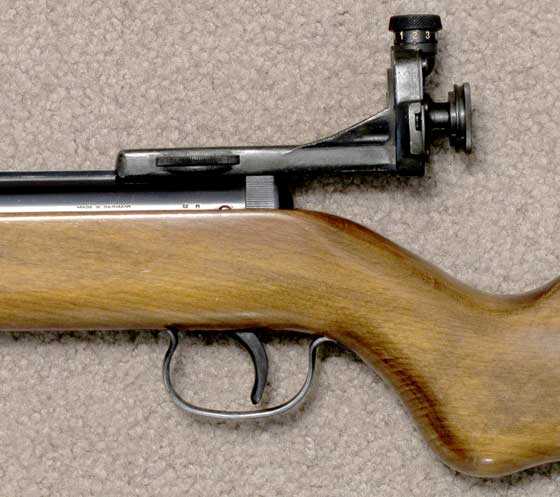 The Diana peep sight fits the model 25 as well as many of the larger models. It looks simple but delivers on target!
The Diana peep sight is vintage and appears less sophisticated than the target peeps we see today; but when you use it, you soon learn that it's as nice as any of them. It has crisp detents with very visible scales for both adjustments plus the directions are also on the adjustment knobs. They're in German, though, so they're the reverse of American adjustments. The sight sits low on the spring tube and is shaped to conform to the contours of all Diana rifles, so there's very little clearance between the sight and the gun. The sight does extend back, which is helpful, but as small as the 425 is, I still found it difficult to get as close to the eyepiece as I would have liked. That's because the stock's pull is a sporting length instead of a target length that would be several inches shorter.
JSB Exact RS
Since JSB Exact RS domes had proved to be very good at 10 meters, they were the first pellet I tried at 25 yards. I trusted that the pellet would go to the point of aim and it did. The first shot was right on target, but there was a small problem because I was trying to use 10-meter rifle targets and the bull is too small for me at 25 yards. So, I replaced the target with a 10-meter pistol target and afterward everything was fine.
The first group of 10 pellets measures 1.059 inches between centers. Now, that sounds like a big group; but if you look at the target, I think you'll see that it really isn't so bad. Seven of the 10 pellets landed in 0.545 inches and that's good.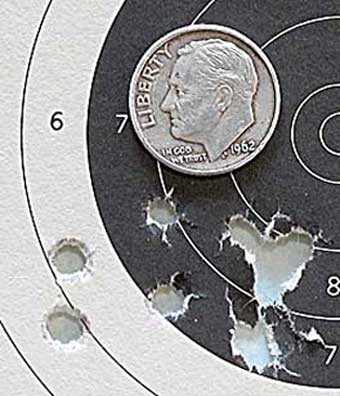 The JSB Exact RS pellet made a large group, but there's a much smaller group within. This shows promise.
RWS Superdomes
Another pellet that did relatively well in the 10-meter test was the RWS Superdome. And this is where the difference between 10 meters (11 yards) and 25 yards really shows! Ten Superdomes went into 1.349 inches, and the group appears scattered left and right. This is not a pellet I'd use in this rifle at this distance.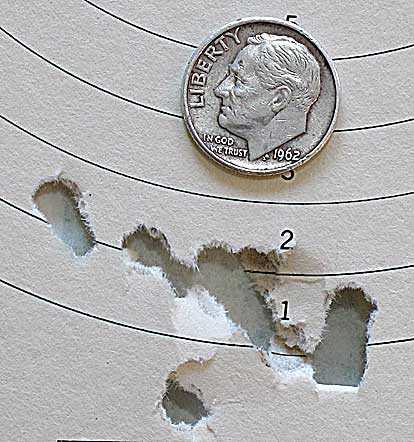 RWS Superdomes were generally scattered left and right. Not a pellet to pursue.
Here is another example of why a 10-shot group is so much more valuable than several 5-shot groups. You could get lucky with several 5-shot groups and never know how well the rifle really shoots, but a single 10-shot group tells the tale very clearly. In the end, it saves time and pellets.
Notice that Superdomes struck the target lower than the JSB RS that preceeded them. So, I adjusted the rear sight to hit higher on the target following this test.
JSB Exact 14.3-grain domes
Next, I tried some JSB Exact Jumbo Express 14.3-grain domes. Since the RS pellets had done so well, I thought these might do well, too, even thought this pellet has disappointed me very often in the past. For some reason, the RS and 15.9-grain pellets shoot rings around this one, and I don't quite know why.
The Diana 25 doesn't like them, either. Though the group is well-rounded, the shots seem scattered within it. The group measures 1.288inches between centers and there is nothing to give much hope of any better performance.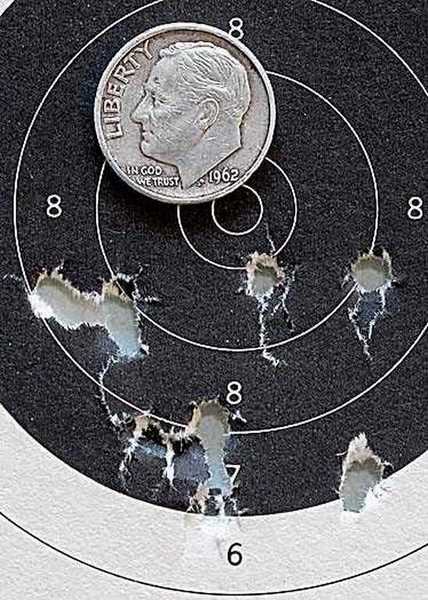 JSB Jumbo Express group is even more scattered than the one made by the Superdomes. Another pellet to remove from the list.
At this point in the test, I was starting to lose confidence in the rifle. True, the RS pellets had shown some promise and deserved another chance, but instead I had a thought. What about Crosman Premiers? I normally don't shoot Premiers in vintage Dianas because I like to use only pure lead pellets, but it sounded like it was worth a try.
The pellets loaded snugly into the breech, but they weren't quite what I would call tight. The firing behavior, though, was quite different from all the other pellets I'd shot in the gun. It was harsh and a bit buzzy, which tells me the powerplant isn't being cushioned sufficiently by this pellet.
Down at the target, though, the story was quite different. Premiers made the second-tightest group of the test and were so good that they looked like they warranted a test all their own. The vertical dispersion was 1.09 inches between centers, which is slightly larger than the group made by the JSB RS pellets. The lateral dispersion was only 0.491 inches! And the group was way below the bull, meaning that this pellet dropped many inches from the impact point of all the others. In fact, I'm not certain that all 10 shots landed on the paper because the ragged hole they tore doesn't tell me how many pellets passed through. It just looks like they all went there.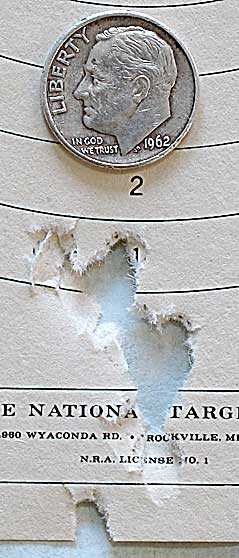 Crosman Premiers also made a large group, but they were tight side-to-side. This is a pellet to consider further! Sideways dispersion is the gun's fault. Vertical error is more of an aiming issue or perhaps a wild velocity variation.
Premiers struck the target much lower than the JSB pellets before them, so the feeling upon firing is also evidenced in the velocity. Remember, I'd already adjusted the rear sight higher to compensate for the Superdomes, so this second adjustment jacked it up a lot from where we started.
Observation thus far
The addition of a peep sight to the Winchester 425 was a great idea. It took an accurate and easy-shooting rifle and stretched the useful range many times. I don't know that a scope would give results that are any better, though it might be fun to try!
by Tom Gaylord, a.k.a. B.B. Pelletier

The Diana 25 (this one says Winchester 425) was made for decades. It's at the top of the youth line of air rifles from the '50s through the '70s.
Today, we'll learn how accurate a vintage Diana model 25 breakbarrel air rifle, in the form of a Winchester model 425, can be. I have to tell you, days like this are pure candy to me! Shooting a smooth vintage air rifle is so relaxing. Since they're no longer sold, I don't have to scramble to shoot my best, because only a collector will ever buy one. On the other hand, these lower-powered spring guns mostly out-shoot the modern guns anyway, at least at short distances, so even shooting relaxed I do pretty well.
We all agreed that the model 25 is a close-range plinker, so I shot from 10 meters. I used a 10-meter pistol bull since I was using the open sights that come with the rifle. By strongly lighting the target and keeping the room I'm shooting in dark, the sights appear sharp against the target. I normally don't like the German Dachkorn-type front sight, which is a V-shaped post; but under these circumstances, it worked very well. Incidentally, I've always referred to this as a Perlkorn; but while researching this report I discovered that the Perlkorn has a bead on top of the tapered post.
Sitting down at the bench to shoot reminded me of just how easy this little rifle is to cock. The barrel goes down butter-smooth, and it takes only about 14 lbs. of force to do it. But when I brought it back up after loading, I discovered that the pivot bolt was a little loose. The barrel wouldn't stay in one position after the rifle was cocked. It flopped back down again. That's a sign that the pivot is too loose, which leads to a loss of air at the breech. I decided to tighten it, and that lead me to another wonderful feature of the Diana 25 — the pivot bolt has a locking screw!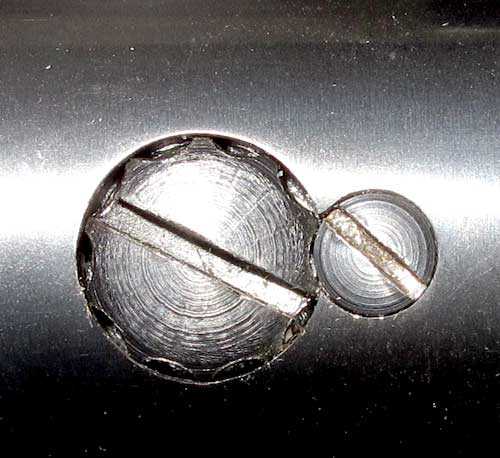 The head of the barrel pivot bolt (larger slotted head in the photo) is cut out around its edge to receive the smaller head of the locking screw. Once set, this bolt will not get out of adjustment.
The pivot bolt has cutouts around its edge to accept the head of a smaller locking screw. Once you set the bolt where you want it, put the locking screw in and the setting will never move. This is one of those seemingly insignificant features that we overlooked when rifles like this were new, yet  today even the most expensive pellet rifles don't have it! In fact, a good number of the current guns don't even have a pivot bolt — they use a plain pin that can never be tightened.
RWS Superpoints
The first pellet I shot was the .22-caliber RWS Superpoint. I mentioned in an earlier report that I like the Superpoint for its thin skirt that gets blown out into the sides of the bore when the rifle fires. Other pellets are either too hard, or their skirts are too thick to deform with the relatively light puff of air from the model 25′s piston. The Superpoint, though, should work well in a gun like this.
The distance was 10 meters and I shot from a rest, so this report is about the rifle's capability and not the shooter's. That crisp ball-bearing sear was a real pleasure to use, and I didn't waste a lot of time setting up each shot.
I used the sights exactly as they were set when I got the rifle. Remember that my friend Mac was the former owner, so it came as no surprise when the pellet landed exactly at the aim point — a 6 o'clock hold on the bullseye. After seeing the first pellet was where it needed to be, I didn't look at the target again until the 10th shot had been fired. What I saw then was a surprise — even when I had been expecting good results. Ten RWS Superpoints went into a group that measures 0.613 inches between centers. It's a one-hole group that looks smaller than it really is because the pointed pellets allowed the paper to return to its normal dimensions after they pass through. This is the same kind of accuracy I used to get from the Hakim trainers at the same 10 meters.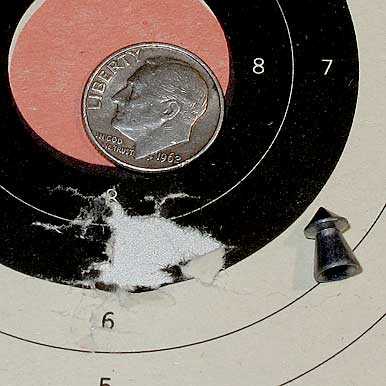 Ten RWS Superpoints made this 0.613-inch group at 10 meters. It's larger than it looks because the paper flapped back after the pellet passed through.
The next pellet I tried was the RWS Hobby. This is another pellet that's often very good in rifles that shoot at lower power. And by being fairly light, at 11.9 grains, it has the advantage of traveling faster than most other pellets. Ten Hobbys grouped in 0.538 inches between centers. It was another one-hole group. Nothing to do but to smile and hope the rifle continues to shoot like this!

Ten RWS Hobbys are even tighter, making this 0.538-inch group.
The last pellet I tried was the JSB Exact RS dome that weighs 13.4 grains. I hoped that this pellet might shine in the little 25 in the same way the .177 version does in my Beeman R8. Well, shine it did, putting 10 of them into a group that only measures 0.38 inches between centers. Does that explain why I like shooting these little vintage spring guns so much?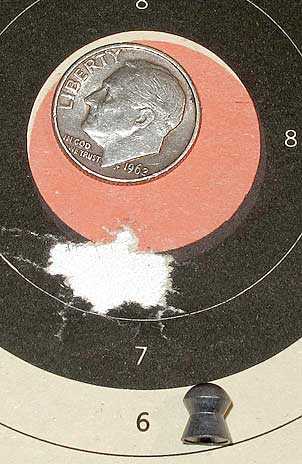 The JSB Exact RS dome was the best pellet of all. Ten made this 0.38-inch group at 10 meters.
Deformed pellets?
The Diana breakbarrels all have slanted breech faces; and when the barrel is closed, if the pellet isn't seated flush all the way around the skirt, it can catch on the action and slightly bend the rim of the skirt when the barrel's closed. This was happening with all three pellets used in this test. So I shot a fourth group of 10 with the most accurate pellets (JSB Exact RS) seated deep in the breech. I wanted to see what effect this would have, if any.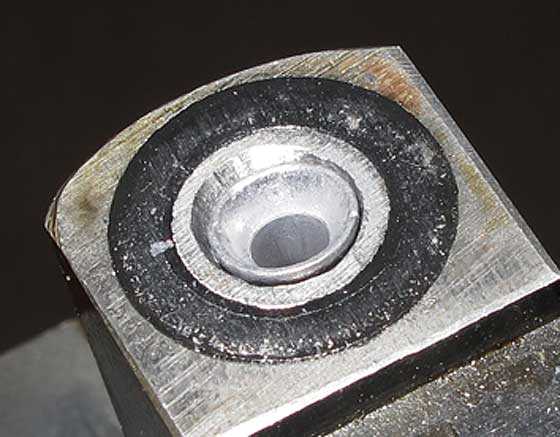 Because the breech face is slanted, the tip of the pellet skirt sticks out like this when the pellet is seated.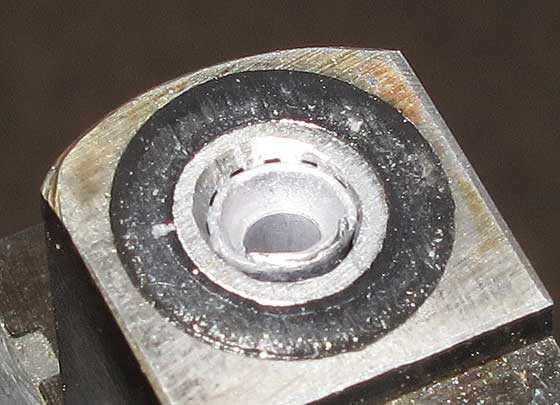 When the breech is closed, this is what happens to the pellet. It doesn't seem to hurt accuracy.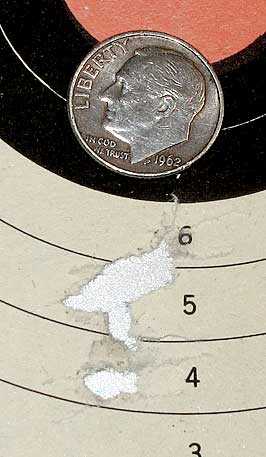 Seating pellets deep in the breech (JSB Exact RS used) opened the group up and also dropped the point of impact about one inch at 10 meters.
Deep-seating didn't work this time. The group of 10 JSB Exact RS pellets opened to 0.615 inches. It also dropped the point of impact about one inch at 10 meters. Doesn't seem like it's worthwhile.
The end?
I sure hope this isn't the last report I get to do on this air rifle. What a joy it is to shoot something that's accurate, has a great trigger, is quiet and is easy to cock. I know you have to buy these used, but it's worth the effort, in my opinion. It doesn't replace your modern magnum air rifles, but it gives you something to do when you just want to shoot without a lot of fuss. If you've enjoyed reading this report, remember that there are three different models of the Diana 25. Only two of them have the ball bearing sear, so be careful when you look for one.
by Tom Gaylord, a.k.a. B.B. Pelletier
Happy Thanksgiving! This is the day Americans set aside to remember the things we're thankful for as we eat a feast of traditional turkey.
A couple days ago, blog reader Rob asked for my list of most-favorite spring guns and why they're my favorites, so I thought today would be a good day to do that. So, here goes. I'm doing only the springers, because that's what he asked for. What you're about to read is by no means a complete list of airguns that I like.
Diana model 27
I bought my first Diana model 27 air rifle from a pawn shop in Radcliff, Kentucky, when I was stationed at Fort Knox in the 1970s. It was tired-looking and rusty but still shot like every 27 does — smooth and straight. This one was a Hy Score 807. I never tuned it because I didn't know about such things in those days. I just shot it offhand as a plinker. That rifle cocked so easily that shooting it was like eating peanuts — I just couldn't stop! I never did figure out the trigger, though. It wasn't until I read the owner's manual for a Diana 35 about 20 years later that I figured out how to adjust the trigger on this rifle. Today, I own 2 model 27 rifles and a model 25 rifle that I've been testing. And these are some of my favorite airguns.
FWB 300S
Because of my involvement with airguns, I've owned quite a few target air rifles over the years. There have been some real beauties, including FWB 150 rifles, Diana 75 airguns and Anschütz 250 air rifles. Because I'm always buying and selling, there have been several of each. But the FWB 300S, which I got a couple years ago from my good friend Mac, has come to stay. That's because it's the most accurate air rifle I've ever owned. By "most accurate," I'm being extremely critical. I'm talking about the last thousandth of an inch. I have other 10-meter air rifles that are very accurate — and over the years, I've had many more that were also very accurate — but for some reason, this particular rifle is the best one I've come across.
Beeman R8
Okay, here's where I'll have a problem as a writer. I've just said the FWB 300S is the most accurate air rifle I've ever owned, yet this R8 is a phenomenal shooter, as well. You last saw it in the report titled First shot: Yes or no?, where I fired 10 first shots at 25 yards to see how accurate they would be. But I did a three-part report for you back in 2010, where I showed the rifle to you. This rifle was a special gift that came at a particularly rough time in my life, and just the thought that came with it is enough to make it a favorite. But the way this finely-tuned rifle shoots makes it a keeper on its own merits. It cocks easily and puts each pellet exactly where I want it to go. The Tyrolean stock fits me very well, and I just smile every time I pick this one up. I cannot say enough good things about it. I've never even seen a plain Beeman R8 before, so I have no idea if they're worthwhile or not. All I know is that this tuned one is a keeper!
Whiscombe JW75
I bought the Whiscombe air rifle to use as a testbed for airgun articles, and that's how it's been used over the years. You've seen it several times — most recently in the 11-part Pellet velocity versus accuracy test. Unlike my other favorites, I don't shoot the Whiscombe that often. The size and weight of the rifle plus the need to cock the underlever three times per shot makes it less than convenient. But I rely on it a lot and would not like to be without it.
Air Arms TX200 Mark III
One spring rifle I own and love that is still available new is a TX200 Mark III. The Air Arms TX200 is simply the finest spring rifle being made today, in my opinion. It's heavy and can be considered hard to cock; but it has the best trigger on the market, and the rifle is deadly accurate. This is another air rifle I don't shoot a lot anymore, but that's because I'm always testing something else. There is no time left to enjoy the stuff I really like. This is the last spring rifle I used for field target competition; and as far as I know, it's second to none in that capacity. The thing I like best about the TX200 is that I know I can recommend it to someone and they won't be disappointed. Right out of the box, it shoots like a finely tuned air rifle.
Daisy 499B
Daisy has changed the name of this BB gun several times over the years, but the Avanti Champion 499 is the gun I'm talking about. It's a BB gun that can put 10 shots through a quarter-inch hole at the regulation competition distance of five meters — offhand! Like the TX200, the 499 is still available and is one of the best buys in airgundom, in my opinion. Adults can shoot it and have as much fun as the kids for whom it was built.
Air Venturi Bronco
I would be remiss if I didn't include the Air Venturi Bronco on my list. This is a rifle I had a hand in creating, and I did so with the Diana 27 in mind. I wanted a modern rifle that incorporated as many of the 27′s fine features as possible and still held the price low enough to enjoy. The Bronco certainly is that rifle. The two-bladed trigger is especially clever and tells the shooter exactly when the shot is going off. I know some folks don't like the blonde stock or the Western lines, but I personally like both features. There are too many air rifles with muddy brown stocks on the market, and every one of them seems to have a Monte Carlo comb. But not the Bronco. It's an individual air rifle that stands on its own.
The one that got away
There's always at least one, isn't there? This one came and delighted me while I had it. It's the Sterling HR-81 that I got in trade at the Roanoke airgun show. It wasn't working well when I got it, but Vince fixed it for me; and afterward, it was a wonderful shooter. This rifle had sights that were cheap and prone to break, and the ones on my gun were already gone when I got it. But a scope fit well, and the low recoil of the gun made securing it to the rifle an easy task. The trigger is light and (after Vince looked at it) crisp.
The firing behavior is good, though the rifle has a pronounced forward jump. Besides that, the rifle lies dead in the hand when it fires. And the accuracy is quite surprising — fully equal to my Beeman R8. When you cock the underlever, the spring-loaded bolt pops open giving access to the loading trough, making loading very easy and convenient.
What the future holds
I currently have the Falke 90 stock being restored, which will be a blog of its own. If the job turns out well, I can see that rifle becoming a favorite. It started as a gun that was practically forced on me at an airgun show. It was so dog-ugly that despite the extreme rarity (fewer than 200 are believed to have been produced) that even collectors who know very well what it's worth declined to even make an offer on it when I had it for sale at this year's Roanoke show. So I thought, what the heck, I'll have it restored and then we'll see what people think. Blog reader Kevin turned me on to a wonderful stock restorer who has the entire rifle now. There are a huge number of critical faults with the stock, so he's really up against it; but if he can do even half of what I see he's done for other damaged stocks, this project will turn out very well.
What I didn't include
What about the Beeman R1? I wrote a book about it, for gosh sakes. Surely, it has to be one of my favorites! Sorry to disappoint, but no, it isn't. I still like it a lot, but it isn't the gun I pick up when I want to have fun.
What about an HW55? They're so accurate! Why aren't they on the list? Don't know, for sure. They just aren't.
OMG — I overlooked the FWB 124! No, I didn't. I thought about it a lot, and it just didn't make the cut.
Rob asked me for my favorite spring airguns, and I've listed them. Maybe I forgot one, but I don't think so. No, there aren't any spring-piston pistols that I consider to be favorites.
Among my firearms, I have several rifles that are tackdrivers. Then there's my dog-ugly, but nearly-new No. 4 Enfield. It's not super-accurate and certainly no beauty. But for some reason, I can't bear to part with it. So, it remains in my collection, getting shot once a year or so. Something I can't define makes it a favorite, and I guess that will just have to suffice.
I have one last thing to say. Two years ago, I was recovering from a serious illness that brought me pretty close to the brink. I still had a drain in my pancreas, and there was an undiscovered hernia festering in me that wouldn't surface until the night I was due to fly to the 2011 SHOT Show. My eyesight was degraded from dehydration and serious anemia, plus I was suffering from undiagnosed Type 1 diabetes. In short, it was a bad time.
You readers banded together and supported Edith and me for the long months it took to get through this tunnel of horrors. You put up with a lot, and we owe all of you a debt of gratitude that cannot be repaid. For what you all did for us, we are very thankful.
Happy Thanksgiving!
by Tom Gaylord, a.k.a. B.B. Pelletier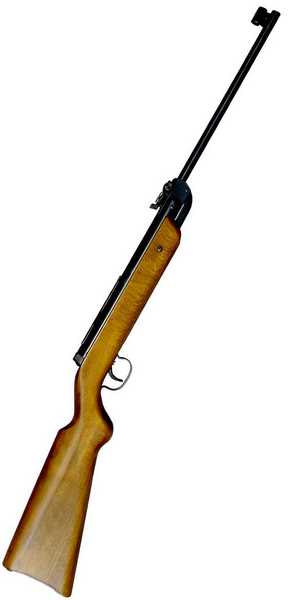 The Diana 25 (this one says Winchester 425) was made for decades. It's at the top of the youth line of air rifles that were made from the '50s through '70s.
Today, I'll test the Winchester 425 (Diana 25) breakbarrel air rifle for velocity and power. When I shot the rifle, the ultra-smooth firing behavior suggested that it might have been tuned. And a faint whiff of burned grease confirmed it. I shined a tactical flashlight down into the cocking slot and saw the mainspring is coated with a thin layer of black tar — proof positive the innards have been breathed upon!
The second clue as to its past is that the rifle was owned by my friend Mac before I got it. I know he loves this platform and does not fear taking one apart to make it better.
Finally, the trigger is adjusted to perfection. Mac knows how to do that, as I described in Part 1 of this report. The trigger is two-stage with a very long first stage that stops at a definite second stage before breaking crisply at the shot. I would not call it a glass-rod trigger, because the excessive overtravel after the trigger breaks makes it feel less precise than it really is, but if you've never sampled a fine sporting airgun trigger, this one would amaze you. The only aspect that might put some people off is that the first stage has to be very long for the second stage to be crisp. You can try to shorten stage one if you like — but then stage two disappears, and the trigger becomes a guessing game.
The trigger return spring on this rifle is heavy enough to give the first stage a 1 lb., 1 oz. pull weight. Stage two breaks at 2 lbs., 15 oz., and I doubt you'd guess it to be that much.
Cocking effort
One reason I love little breakbarrels like this model 25 is their light cocking efforts. This rifle has a ball-bearing detent that makes the barrel break open easier. Then just 14 lbs. of force are needed to cock the rifle. That's so little that pre-teens will find it easy. Of course, this particular example is as smooth as they come because of the tune it's received, but even a rusty old relic that's been sitting up in the loft of a barn for 30 years will still cock pretty easy.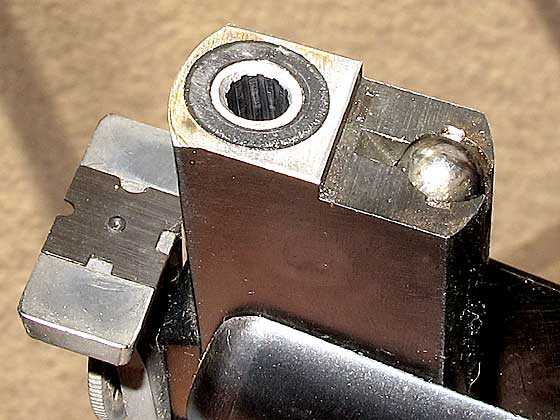 Instead of a chisel detent that has a powerful spring behind it, the Diana 25 barrel is held closed by a spring-loaded ball bearing. It is much easier to open and close the barrel, yet it stays shut when the gun fires.
Remember, this is a .22-caliber air rifle — not a .177. This is a case where the smaller caliber probably would have been the better choice, but folks with large fingers will still appreciate this one for the ease with which it can be loaded.
RWS Hobbys
The first pellet I tested was that old standby — the RWS Hobby. In .22 caliber, this wadcutter weighs 11.9 grains and typically offers the highest velocity of any of the lead pellets. In the test rifle, Hobbys averaged 440 f.p.s. The spread went from 421 to 458 f.p.s., which is a fairly broad 37 f.p.s. range. They loaded firm, as if fitting the bore well, so I expect them to do well in the accuracy test. At the average velocity, Hobbys generate 5.12 foot-pounds of muzzle energy.
Deep-seating
From what we learned while testing the Hy Score 801 rifle that has a pellet seater built into the barrel, deep-seating pellets can sometimes increase velocity and also stabilize the overall range of velocities achieved. I tried seating the Hobbys deep into the breech. The result was a large loss of velocity — from 382 to 408 f.p.s. for the deep seating! That tells me the model 25 doesn't like its pellets seated deep, so I didn't try it with the other pellets.
JSB Exact Jumbo Express
The next pellet up was the JSB Exact Jumbo Express dome that weighs 14.3 grains. This is a pure lead pellet, and it fits the rifle's breech very nicely, going in easier than the Hobbys. These averaged 417 f.p.s. and ranged from 414 to 422 f.p.s. That's an incredibly tight 8 f.p.s. spread across 10 shots! I want to note that this pellet also went deeper into the breech with just finger pressure. That means the skirt was not subject to damage when the breech was closed — something I can't say for the other two pellets I tested. This pellet produces 5.52 foot-pounds of energy at the muzzle.
The last pellet I tested was selected for a very specific purpose. I've found in the past that taploaders that have large holes through their taps — such as the Hakim trainer — need a soft lead pellet with a very thin skirt so the light air blast will flare the skirt out to contact the bore and seal it against air blowby. Even the RWS Superdome has a reinforcing ledge inside its skirt that prevents this from happening. But the RWS Superpoint doesn't. The Superpoint skirt is very thin, soft and pliable; and it seals better than any lead pellet I've ever used. I like to at least try them in low-powered spring guns like this model 25 air rifle because they often give very good results on paper.
In the test rifle, Superpoints averaged 377 f.p.s., and the spread was from 373 to 383 f.p.s., so only 10 f.p.s. The Superpoint weighs 14.5 grains, so at the average velocity the muzzle energy was 4.58 foot-pounds. With the first two pellets as a comparison, I wouldn't call this a great performance.
How does the 25 compare to the Diana 27?
For no better reason than the fact that I was curious, I then tested my Diana 27 (Hy Score 807) with the same pellets. I figured it would be a little more powerful than the 25, but not a lot.
Where Hobbys averaged 440 in the 25, in the 27 they went 495. The JSBs that averaged 417 in the 25 went 449 in the 27. And the RWS Superpoints that only went 379 in the 25 actually went 458 in the 27 — exceeding the JSB pellets! I think that result was that thin soft skirt kicking in, and the 25 probably doesn't have quite enough power to blow the skirts out like I mentioned.
Impressions so far
I wish this rifle was still being made so more of you could experience it. It's a delight to shoot. It cocks so easily, and the trigger is a dream to use. Let's all hope the accuracy is there, as well. I'm not looking for tackdriving accuracy at 25 yards this time — just nice round groups at 10 meters because the Diana 25 is a plinking air rifle — first, last and always.
by Tom Gaylord, a.k.a. B.B. Pelletier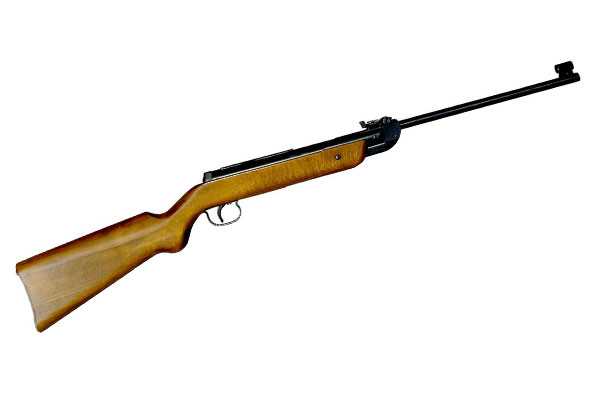 The Diana 25 (this one says Winchester 425) was made for decades. It's at the top of the youth line of air rifles from the '50s through '70s.
Before we begin, I owe you an explanation. Although the title of this report says the Diana model 25, the rifle we'll look at is actually a Winchester model 425 — Winchester's branding of the model from the 1970s. I used the Diana 25 model name because there are many times more Diana 25 air rifles than just the few thousand that carry the Winchester name. That way, all who read this will know the root airgun. If they ever need parts, they'll know what to look for.
At most airgun shows, I buy and sell as much from/to the other dealers as I do to the public. I'll often sit at my table with my eye on a certain gun for almost the entire show before making my move. I bought David Enoch's Gamo 68 as we were packing up to leave the Malvern show. I'd wanted it all show long and hoped it would still be there when I sold something and had the money to buy it. When I did have the money, I found my self unable to open my wallet until David started packing it up to go.
The Fast Deer I bought at Roanoke this year is another example of the same thing. I had the money, but still I putzed around for no reason, arguing with myself over a $40 purchase!
And all the while we were at this show, I watched Mac's Winchester 425 (Diana 25) sitting on the table next to me. He had it marked at $200, which is a very good price, because this is the model 25 that has the three-ball trigger. I had a Winchester model 427 (a Diana 27) for sale for $225, which is also a good price for that model, but people were overlooking my gun and focusing on Mac's 25. His rifle is even cleaner than mine and frankly, at $25 less, it looked like a better deal.
Finally, after much agonizing and hand-wringing, I either bought Mac's rifle or traded for it. I think we traded, which is always better, because then you never know for sure who got the better deal. It's the old two $2,500 dogs for a $5,000 cat routine.
Every time I buy an airgun, I'm always justifying it by thinking that I'll write a blog about it, which I almost always do. Sometimes, like the case of my Falke 90, I get so involved in the gun that I start investing even more time and money just because I get caught up in the story and want to see how it turns out. And, FYI, the Falke stock is on its way to the refinisher to get a new lease on life. The results of that will be coming in a separate report some time in the future.
Back to my report. So, I acquired this Diana 25, and now I want to share it with you. For years, Mac has told me that the 25 is just a 27 that's a little shorter. I wanted to test that. Mac has had a whole collection of these guns, including several 27 and 25 airguns. He sold a 27 at the Roanoke show the year before, and I was sad to see it go — even though I have two of them myself and do not need another. Mac's had more of these rifles than I, so I listen to what he has to say about them.


Diana 27 (top) was just slightly larger and more powerful than the 25.
The 25 stands out because there were several different versions of the same gun, built over the decades the model was being manufactured. There's the 25 that has a more or less simplistic trigger with a direct sear. That one isn't adjustable, as far as I know. It's not a bad trigger, but it doesn't compare to the model we're examining here.
Then, there's the model I'm testing for you that has two adjustment screws for the trigger — only one of which actually adjusts the pull. The other screw is nothing but a lock screw that holds the adjustment in place. People who are not familiar with the trigger adjustment process of the 25/27/35 will invariably mess up the adjustment and get a trigger-pull that's single-stage, long, creepy and vague as to the let-off point. They'll declare the trigger to be junk and get rid of the rifle when it could so easily be adjusted to a very fine pull if they only knew the secret.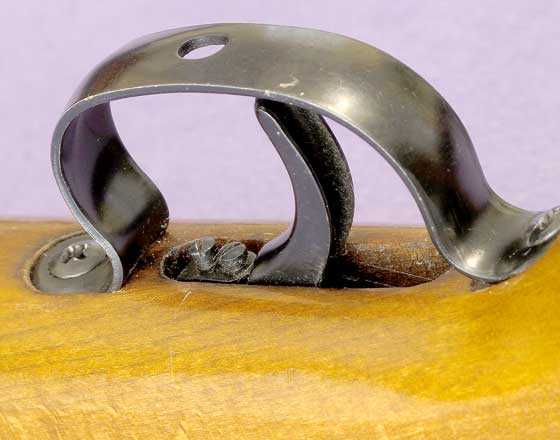 The presence of two screws on a Diana 25 air rifle trigger signifies a ball-bearing sear trigger. The front screw (left) is just a locking screw.
Adjusting a two-screw, three ball-bearing sear Diana trigger
Here are simple instructions for adjusting the Diana 25/27/35 triggers that have two screws. The front screw is just a lock screw. Loosen it and then screw the rear screw in as far as it will go (that's clockwise). Then, turn it back out two full turns and try cocking the rifle. Be careful not to let go of the barrel, because some guns may be adjusted to the razor's edge this way. If yours is and you need a little more sear engagement, try turning the screw in or out just a quarter turn until the sear holds well. Next, tighten the front screw, and the job is done. You'll have a long first stage followed by a definite stop and crisp stage-two break when the gun fires. You only have to experience one of these triggers adjusted correctly to know how nice they all are.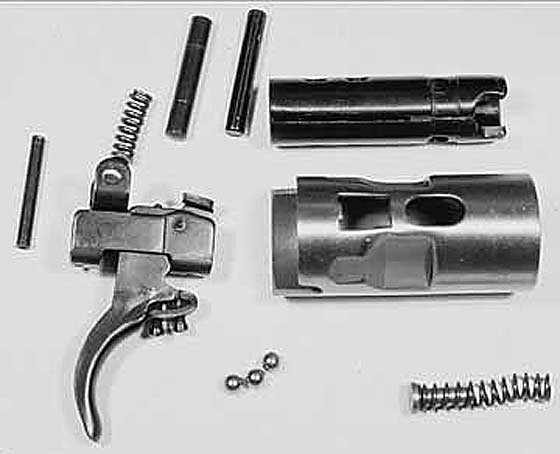 This trigger assembly from a Diana 35 is identical to the one found in the model 27 and the model 25 we're examining. These parts are held together inside the gun by the spring tube. Assembly requires a lot of tacky grease to hold these parts together until they're safely contained inside the spring tube.
There's one more variation of the 25, and that's a rifle with just a single trigger screw. It's a later design that did away with the need for a locking screw by virtue of having the adjustment screw pass through more metal and be less resistant to movement. This one is much easier to adjust because there's no chance of making a mistake with the locking screw since it isn't there.
The rifle is small, being made primarily for youth. At just 37-3/4 inches overall, it's sized like a carbine, though the proportions look more like those of a rifle. The pull is just 12-7/8 inches, which is short for an adult but about right for a teenager. Today, these rifles are more often used by older shooters than their builders intended. As Mac stated, they're viewed as smaller model 27 air rifles — especially when they have the ball-bearing sear. The barrel is shorter than the one on the model 27, at 14-1/2 inches. The rifle still cocks easily because the mainspring isn't that strong.
The stock is beech, which is stained very differently than the darker model 427 shown for comparison. There's actually a pleasing grain that isn't common to beech. The butt has a single rubber "button" at the top that confuses airgunners all the time. It's there to keep the wooden butt from sliding across the floor when the rifle is stood in the corner. There's a slab-sided profile to this 25 stock that isn't seen on the 427. It just means they started with a thinner blank.
The metal parts are all well-polished and deeply blued. Today, the finish looks exceptional; but when this rifle was made, it was considered standard for the time.
The rifle weighs 5-1/2 lbs. on the nose. It feels like a gun you could carry and shoot all day.
This model came in both .177 and .22 caliber, though all the Winchesters I've seen were in .22 caliber. That's a pretty large pellet for such a small powerplant, and you can expect velocities somewhere in the 400s with light- and medium-weight pellets. That sounds pretty anemic to those who are accustomed to supersonic velocities, but the fact is that these are pretty accurate at close range and a lot of fun to shoot.
Sights
The 25 and 27 air rifles have fully adjustable rear sights and hooded front posts that are fixed. There's also a serrated ramp on the back of the spring tube that accepts a Diana peep sight, should you be fortunate enough to find one.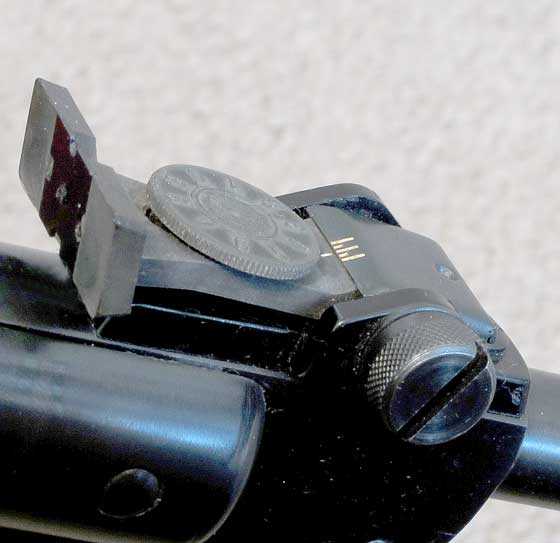 The rear sight adjusts in both directions. It's crisp, clear and an example to all airgun makers today.
I'm testing this rifle because Mac has piqued my interest over the years. Normally, I would say the Diana 27 is the epitome of lightweight spring guns, but there might be something here that I haven't yet seen. At any rate, it'll be fun to find out!
by B.B. Pelletier
Well, we all wondered a month ago whether the Roanoke show would run this year after the passing of the organizer, Fred Liady, but it did run exactly as planned. Fred's widow, Dee, made sure that the show went off exactly as Fred would have wanted it, which was her memorial to his memory.
All of the attendees had Fred foremost in their minds as they set up in preparation for the doors to open. Dennis Quackenbush conducted a short but heartfelt ceremony a few minutes before the doors opened on Friday for all of the attendees to remember not only Fred but other noted airgunners who left the building this year. There weren't many dry eyes in the crowd when Dennis finished his short eulogy in front of the Fred Liady memorial table at the front of the show hall. Then, everyone filed past Dee and told her how much they missed her husband. I was surprised she had the strength to stand there and greet over 100 people who'd known Fred for so many years. At the end of the ceremony, the mood in the room was one of quiet remembrance that lasted until the doors finally closed the next day.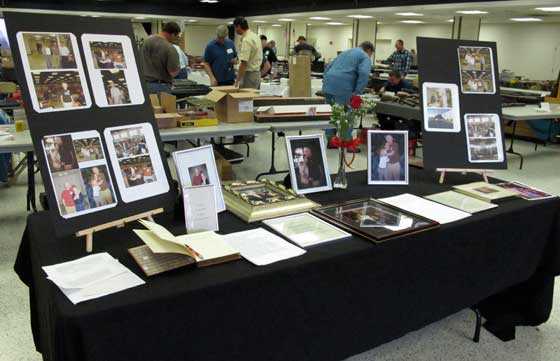 The show was dedicated to the memory of organizer Fred Liady. Attendees were invited to sign his memorial document, and there were numerous people who signed in from the internet.
Roanoke was different this year
Besides the somberness under which everything operated, this was a very different show. It was quieter, slower and more reflective of the current economic times. By that remark, I mean to imply that the prices on airguns were lower than I've seen them for many years! That'll come out in this report, but I'm going to take a different perspective, because to me, this show also happened very differently.
Instead of me flitting from table to table and deal to deal, the show literally came to me. Most of the deals I made were thrust upon me rather than me having to seek them out. Allow me to explain.
Marv Freund, a good Maryland friend for many years, told me he had a strange airgun at his table that he thought I'd be interested in. He wasn't certain of the name, but by the time we walked over to his table I'd pinned it down to Falke, a German maker of classic springers. And of the many models that Falke (falcon in English) made, the model 90 underlever was the top…and Marv had a Falke 90 to show me! They don't get much harder to find than that. This was the first Falke 90 I have ever seen at any airgun show, and I've been attending shows since 1993!
The wood stock has been worked over by a budding folk artist. When I finally show it to you, you'll see that the stock has definitely been folked-over, but the metal seems to be in good shape and it's all there. Marv named a price that would have been good for 1980, and I acquired my first airgun of this show.
Back at my table, I was marveling at my good fortune when several blog readers walked up and introduced themselves. Most of those I met have not yet commented on the blog. I encouraged them to do so, but it was just nice to meet them and put faces on more readers. Then, Fred from the People's Republic of New Jersey (FredPRoNJ) arrived. I've met him before and he's kept in touch this year following my hospital stay. With him was his friend, Tom, the former Navy SEAL, who I suspect is starting to warm up to airguns from constant exposure through Fred.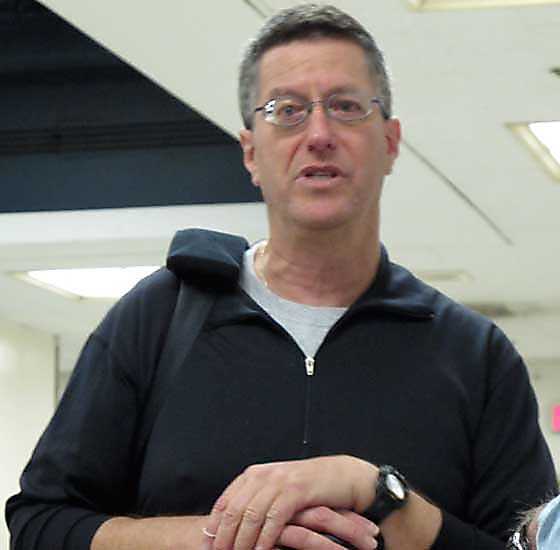 Reader Fred, from the People's Republic of New Jersey, was the first to spot my table.
He handed me the logbook for his new Benjamin Marauder that showed the work he'd done to get the valve as stable and conservative as possible. The data I saw were quite impressive, and I know that when he finishes his experiment we'll all be treated to an excellent guest blog. But Fred had some guns he wanted to buy and one RWS 350 he wanted to trade or sell, so I bid him well as he wandered off in search of his dreams.
Then strange deal No. 2 happened. Richard Schmidt, a dealer from New York, came by my table and we chatted about airguns in general. Back at my first airgun show in 1993, I bought a Hy-Score model 807 (Diana 27) from him at the Winston-Salem airgun show, which was the forerunner of the Roanoke show. I still have that 27, and you can read about it here. Anyway, Richard knows I have a weakness for 27s, so he offered me a nice one he'd brought. When he showed it to me, I was very pleased at the overall condition. He named a price that was mid-1990s, and I reached for my wallet. But Mac broke open the barrel and pointed out that the breech had some bad damage that was not repairable. Richard was as surprised as I was, and he took the gun back for a barrel replacement after the show.
A couple of hours later, I was relating this story to Mac and to blog reader Lloyd. As I was lamenting the loss of a good model 27 a man walked up and said, "You want a Diana model 27? Here's one for you! I'm sorry that this one says Winchester 427 instead of Diana 27, but you know they're the same guns."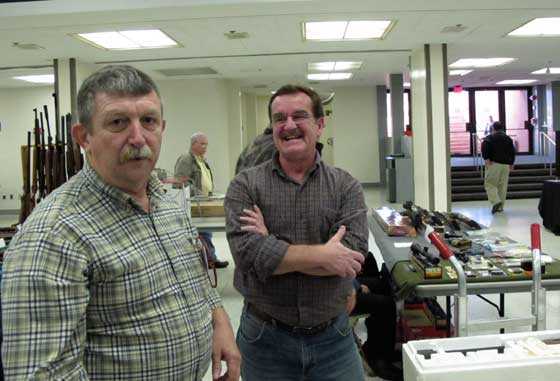 Mac on the left and reader Lloyd were ready for a great show.
Well, a Winchester 427 is the top of the Diana 27 hierarchy. It's like saying you're sorry that this is a Rolls-Royce instead of a Bentley! I told him I would like to pay the price I had negotiated with Richard Schmidt and he agreed. After a quick once-over, I couldn't get the money out fast enough — and my second purchase was history.
Elsewhere in the show there were deals spilling off dealer tables — literally, in one case, when a gun rack dropped all of its vintage guns into the aisle. Not once, but twice! If you wanted a Feinwerkbau 124, the show was loaded with them. Prices started at $170 for a standard model in good shape and never got up to $400. If the same guns had been advertised on the Yellow Forum classified ads, they'd have sold in a day.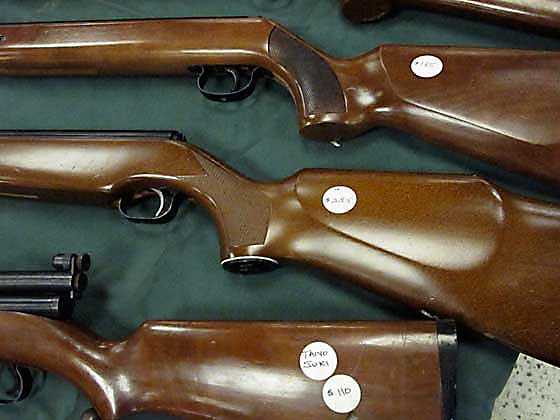 That FWB 124 in the center is a deluxe model going for only $285!
But is wasn't just 124s that were hot. I saw hundreds of vintage guns at prices that reminded me of 20 years ago. How about a Diana model 66 target rifle for $350! Or a new-in-the-box HW 55! I didn't catch the price of that one, but it was NIB, so who really cares!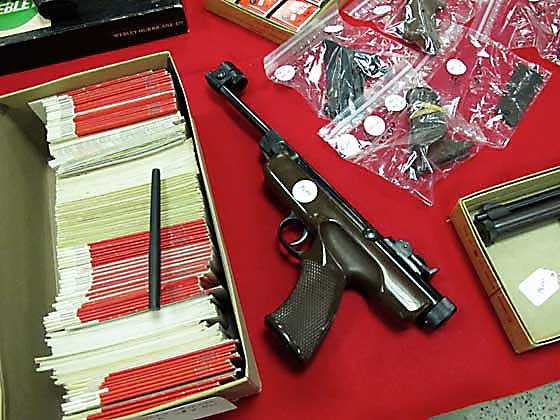 How about a Diana model 5 pistol from RWS for just $75? It was like new.
Then there were the REALLY old airguns. Cased air canes and dart guns from the 1700s. A cased butt-flask rifle with all the tools. Yes, they weren't cheap because they never are, but they were there — and in profusion. A serious collector could not have discounted this show. But something was different.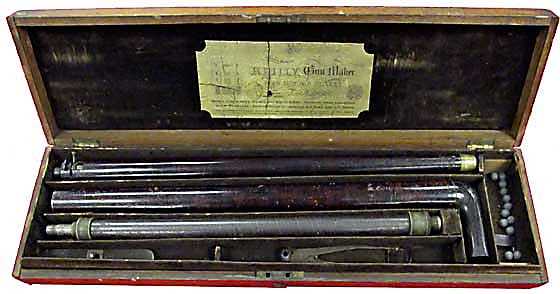 This cased air cane with the pump and all the tools was made by Reilly of London. One of many fine antique airguns at this show.

A dart gun from the late 1700s was one of a pair. The set trigger could be fired by blowing on it.
In years past, I've witnessed deals involving huge sums of cash at this show. But I didn't see any of that this year. And, when people talked about it, they all seemed to say they had money to spend but were less willing to spend it than in years past.
Some were frustrated by not finding exactly what they came for. The R7 was high on many lists this year, but there seemed to be a shortage of them at this show. However, Fred from the PRoNJ did connect with a Beeman model HW 50S that satisfied him quite well. I expect him to let us know how this rifle meets his needs.
He got it in a super deal from Pyramyd Air, which had four tables of guns, pellets and accessories and was always busy. Mac bought a Daisy model 25, one of the new ones I'd just finished testing, for a super deal! And, he bought as many pellets as he could carry in a super dented-tin sale they had. Pyramyd Air Tech Manager Gene Salvino was doing anything and everything to sell guns and equipment to anyone who dropped by their tables. Blog reader Lloyd bought a great AirForce scope from them to use on a Benjamin Discovery he also picked up.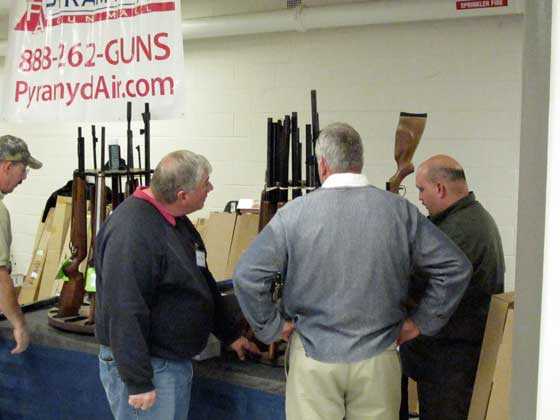 Gene Salvino (right) the Pyramyd Air tech manager, shows a rack of precharged rifles to interested buyers.
I returned half a truckload of test guns to Pyramyd Air at the start of the show. Some of these went back as far as three years.
I was back at my table when a tall gentleman stopped by to say hello. When I heard him say he was our very own reader Kevin, I came out from around the table and hugged him, which I'm sure embarrassed him to no end. Months ago, when I was flat on my back, Kevin and several other blog contributors, including Lloyd and Fred, virtually took over the duties of answering the questions that came in. This blog would not have functioned as well as it did without their help, and Edith and I will never forget what a wonderful thing they did for us all.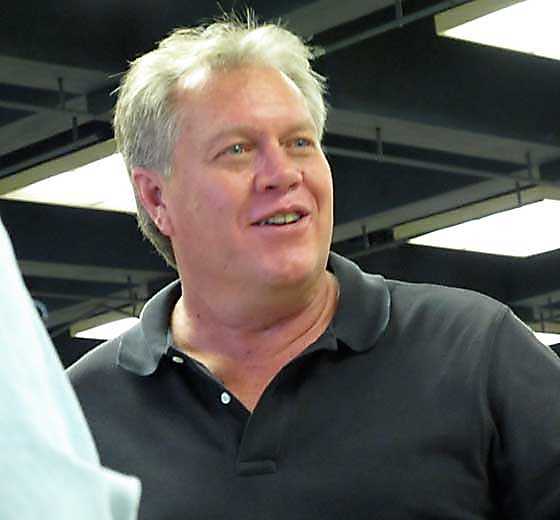 Reader Kevin arrived on day one and toured the show floor.
Toward the end of the first day, Paul, another contributor and guest blogger, stopped by the table to say hi and we talked for a bit. He's got another guest blog coming together, but it may be a while, as building a new house is on the front burner in his life right now. However, Paul's still an airgunner, and he revealed that he'd seen a gun he thought would be perfect for his needs. But the outcome of that story will have to wait my report about day two.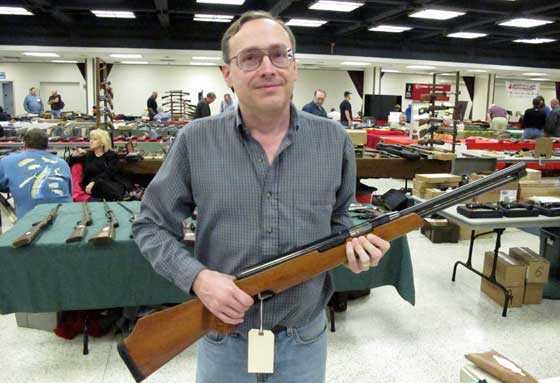 Reader Paul holds a BAM B40 at my table. He stayed for both days and found a couple of nice airguns.