by Tom Gaylord, a.k.a. B.B. Pelletier
Does the pellet matter? Part 1
Today's report is a continuation of the test we started last week, when I asked if the pellet matters (as far as accuracy is concerned). That test wasn't quite as dramatic as I would have liked, and several readers chalked it up to my Beeman R8 being an inherently good shooter. No doubt it is, but that still doesn't explain the good results I got with pellets that I wouldn't normally recommend for that rifle.
Today, I'm using a target rifle that's hands-down the most accurate .22 rimfire I've ever owned, seen or shot. It's a Remington model 37 Rangemaster from before World War II, and it's fitted with the "miracle trigger" that Remington once sold. This trigger has no perceptible movement and releases with just an increase in finger pressure. It's much like an electronic trigger, only this one is all mechanical.
The rifle has a Redfield 3200 target scope. It magnifies 24X and has parallax corrections down to extremely small increments out to 50 yards.


Remington's model 37 is a world-class target rifle.
I've put 5 shots from into a quarter-inch at 50 yards with this rifle using peep sights.
But this time, I'll shoot 10-shot groups because they're the ones that show a rifle's true potential. For this test, I used 13 different .22 rounds. Most of them weren't target rounds, but that doesn't matter. They're all different, and that will address today's title question.
Best round first
I had no idea how this test would turn out. I knew certain ammo shot well, but this was the first time I'd shot 10-shot groups with the rifle at 50 yards. The best round turned out to be CCI's .22 Subsonic Hollowpoint. Ten of them went into a group that measures 0.504 inches at 50 yards. That's as good as some top-quality air rifles at the same distance, and I was pleased with it.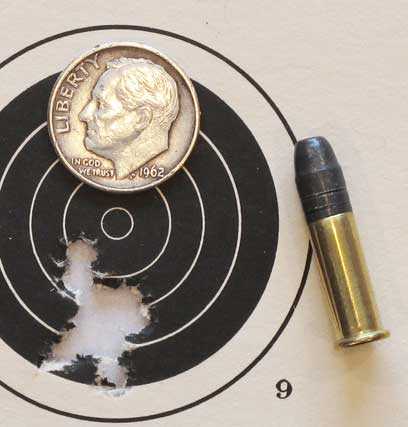 Ten CCI Subsonic HPs went into 0.504 inches at 50 yards.
Worst round
The worst round was Remington's Target ammo — a standard-speed round that Remington recommends for formal target shooting. How's that for irony? Ten of them went into 1.766 inches at the same 50 yards from the same super-accurate rifle! If that doesn't make believers out of you, nothing else I can say will. Look at this group. These bullets didn't even attempt to go to the same place!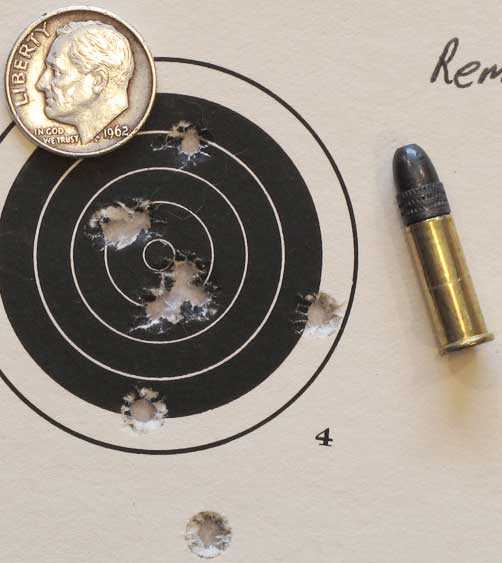 Ten Remington Target rounds went into 1.766 inches at 50 yards.
Another poor round was Winchester's Wildcat high-velocity ammo. Ten of them went into 1.395 inches at 50 yards.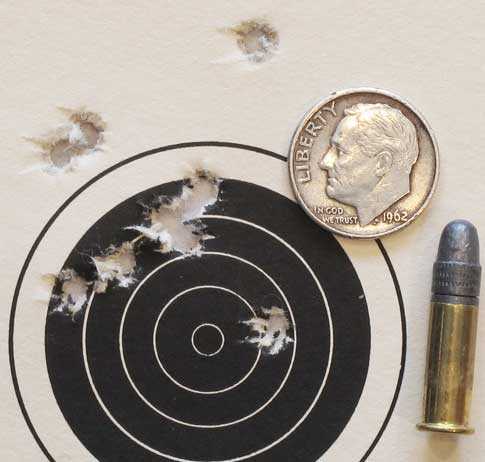 Ten Winchester Wildcats went into 1.395 inches at 50 yards.
Surprise!
I expected the high-velocity ammo to do worse in this test because that's what everyone says. They say once you break the sound barrier, .22 rimfire ammo loses its potential. So, the large Wildcat group didn't surprise me. But the Remington Viper group that measures just 0.924 inches does. Vipers are hyper-velocity rounds whose 36-grain lead bullets leave the muzzle of a 24-inch barrel at 1,410 f.p.s.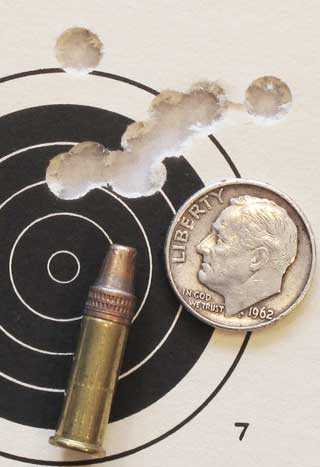 Ten Remington Vipers made this 0.924-inch group. This was not expected.
Remington Cyclone rounds are also hyper-velocity. They leave the muzzle at 1,410 f.p.s. — yet, 10 of them went into just 0.882 inches. According to popular belief, these should have been among the least accurate round in any .22 rimfire rifle.

Ten Remington Cyclones made this 0.882-inch group. Another unexpected result!
Close, but no cigar
Another subsonic round almost made the second-best group. Ten Remington Subsonic Hollowpoints went into 1.206 inches, but 9 of those bullets made a 0.548-inch group. The one round that's not in the group is below it, and this tells me what probably happened. Rimfire ammunition has one big weakness. The priming material is sometimes not evenly deposited around the rim, and that causes misfires and poor ignition. This shot looks like it came from a round that wasn't ignited well and probably went slower than the others. Of course, I can't prove that without velocity data that I don't have, but poor ignition is the bane of .22 rimfire target shooters.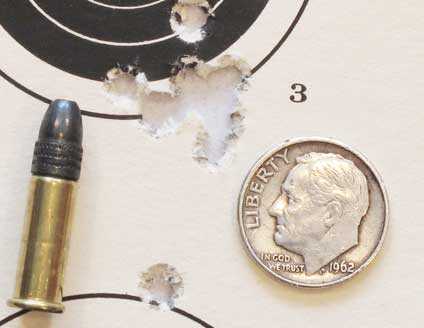 Ten Remington Subsonic Hollowpoints went into 1.206 inches, with 9 of them going into just 0.548 inches.
The Subsonic was the most accurate round in my 10/22, which I tested for Shotgun News years ago, but the Remington Target round that was the worst in this rifle was also among the top 5 in that test. So, each rifle is different, and the ammo definitely does make a huge difference!
I shot a total of 13 different rounds in this test. I've shown you the best and worst in today's report. Besides the 3 bad groups I have shown, there were 4 other rounds that made groups larger than one inch. One inch for 10 shots is small for most .22s, but not for a Remington model 37. Of 13 different rounds, 7 made groups larger than one inch, leaving 6 that made groups under an inch.
Conclusion
Obviously, the ammo does make a difference in .22 rimfires — just as pellets make a difference in pellet rifles. I'm still going to do the test of discount-store pellets versus the best premium pellets. From the comments I've received, I believe I'll test them in 2 different rifles. It should be interesting.
by Tom Gaylord, a.k.a. B.B. Pelletier
You've all heard of airguns that are used as military trainers. We know about the aerial gunnery trainers from WWII and more recently the Daisy Quick Kill BB guns used in Vietnam, but airguns have been out of the military eye for several decades. Or at least that's what everyone thought.
Last week, I learned that Crosman has developed an airgun trainer for the recently declassified implant gun that was developed by the Defense Advanced Research Projects Agency (DARPA) in the late '90s. The military declassified the "arm rifle" after it was shown on the evening news last year. Some of you may have seen it on the special Fox News report just last week, when the Pentagon officially declassified it.
What they've done is replace a major portion of the radius bone in a man's forearm with a breech and rifled barrel. The barrel extends through the index finger of the subject's hand, though it]s not visible or even noticeable to anyone. When the subject is thus "armed" (a term that has a renewed meaning), he simply points his index finger and commands the gun to fire a caseless cartridge. The body's own electrical impulses are sufficient to fire the cartridge. A .30-caliber bullet exits out the tip of the finger, going to wherever the shooter pointed.
All commands to fire the rifle are linked to the subject's brain, so all he needs to do is think and the gun fires. The caseless cartridges feed semiautomatically through a tandem tube embedded in the subject's forearm, and 3 rounds are available before a reload is required. The subject has a port in his forearm through which fresh magazines are inserted, though partial reloads are not yet possible. All 3 rounds must be fired before he can reload.
There are no sights, yet; because of human binocular vision, a shooter can be trained quickly to acquire and destroy a target. Within the first week of training the subjects are hitting 6-inch targets at 50 yards on the first shot. And that was before the advent of the new trainer. The training program should now speed up considerably, plus the possibility for more refresher training means higher proficiency levels will be maintained.
A rumor has spread that the subjects all have reticles etched into the lens of their eyeballs. There are no details about this or even confirmation that it's true.
I've used the masculine pronoun in this report intentionally, for all subjects thus armed (a number that's classified) are men. When signing up for the program, they must sign a release of liability, for their arm bone can never be replaced. Once implanted, the gun must remain until the subject dies. According to the Fox story, the subjects receive hazardous duty pay of up to 30 percent and, best of all, they're excused from paying federal income taxes for the remainder of their lives. Of course, given the kinds of jobs the subjects are asked to do, lifetimes may be abbreviated.
The gun was designed for covert operations such as assassinations, security operations and those times when it's impossible to carry a firearm into the area of interest. The "barrel" that replaces the arm bone is made from a composite of synthetic and ceramic that is constructed at the molecular level on a very specialized 3-D printer. Each shooter receives an implant that's custom-fitted to his body. The index finger of the shooter is covered by a realistic soft flesh-like cap that blends with the natural skin. As a result, the gun is undetectable by any electronic means and without direct examination by a jeweler's loupe. The fingertip can be shot off or simply removed, if there's time.
The arm is actually strengthened by the installation of this weapon. It is not known if there is any pain associated with its use.
Naturally, the flexibility of the index finger is lost, so the subject must be trained to mask this fact by clever posturing. In the beginning it is said there were difficulties, such as losing the ability to scratch certain spots on the body, and the extreme necessity for the mind to be trained not to shoot inadvertently — like when shaking hands. There were some accidents before the importance of this was realized — which is where the Crosman training adapter comes in. Now, for the first time in over 15 years, it's possible for those with the gun implant to train without firing live ammunition.
Crosman hasn't released any technical details but I've been able to learn that the trainer operates pneumatically, and the number of rounds carried is greatly increased. My guess would be that a pneumatic tube is inserted where the cartridge magazine would go, and that the pellet magazine and firing mechanism are somehow included in this insert. Therefore, I've deduced that the caliber of the implant trainer remains at .30. My guess is the air supply stays outside the arm, which is no problem for a trainer.
This isn't Crosman's first rodeo in the black world (slang for the super-secret world of espionage). During WWII, they supplied the OSS with thousands of model 101 pneumatic rifles and one million .22-caliber round lead balls. The cover story for that sale was that they were given to the chiefs of remote Asian tribes to win their loyalty, though rumors of covert assassinations have always surrounded them.
Just when you thought airguns were for fun, something serious like this comes along! And the California school ruling that a person can't make a gun with the fingers of their hands now makes complete sense.
by Tom Gaylord, a.k.a. B.B. Pelletier
I'm in Ft. Smith, Arkansas, today filming the 2014 episodes of American Airgunner. Because I am on the road, I'll ask my veteran readers to help answer the questions we get from the new guys. After a day's filming, I have to return to the hotel, answer my email then write the next day's blog. The blogs are going to be pretty short this week because I was so busy last week that I didn't have a lot of time to bank any of them.
Today's report is about 2 rimfire rifles that were made by airgun manufacturers — Daisy and Falke. I introduced both rifles in Part 1 and gave you my opinions and observations about their quality. In today's report, I'll take these 2 rifles to the range and shoot some targets at 50 yards.
I also introduced a Crickett .22 rimfire in Part 1. That rifle was made by a firearms manufacturer and served as my control during this test.
There were a lot of comments on the first part of this report. A number of readers expressed interest in these small single-shot rifles, and more than a few people said this was the first time they had heard of one or all of them.
Daisy model 8
The first report was mostly descriptive. I talked about the relative quality, or the lack of quality, that I see in each of the subject rifles. I came down on the Daisy model 8 the hardest, and in retrospect, everything I said was deserved. The rifle is made on a zinc diecast receiver — the weakest possible type of construction. Yet, it does work.
What doesn't work on the Daisy is its reliability. It fails to fire almost half the time. Either the mainspring is weak or the headspace is too great or the firing pin isn't long enough — something is wrong. But in spite of that, the rifle shoots well.
I said in the first report that the Daisy was inaccurate, but in this test I discovered that it is plenty accurate. I shot it at 50 yards outdoors on a very cold and windy day, and the rifle grouped like a much more expensive firearm.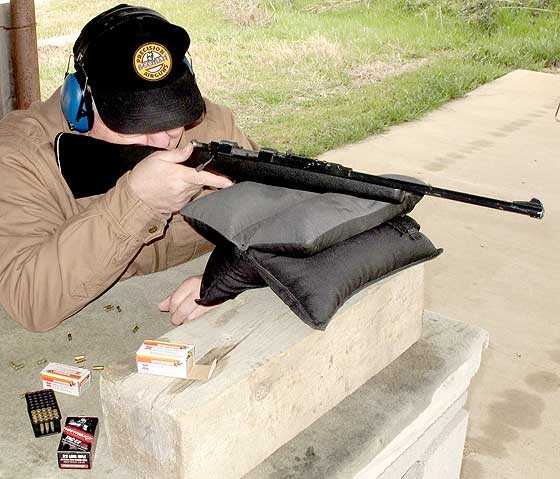 The day was cold and blustery, but the little Daisy model 8 shot very well.
When I went down to inspect the first target, I couldn't believe what I saw. I recalled that the Daisy model 8 was inaccurate, but 7 shots in 2.045 inches in the black were proving me wrong. I know this isn't the best group in the world. I've done much better at this distance, but I never thought the little Daisy could even keep all its shots on the paper at 50 yards.

This first 7-shot, 2.045-inch group showed me that the Daisy can shoot.
I put up another target and shot another 10 Aguila standard speed rounds at it. This time the spread between centers was 2.393 inches, which is larger — but not by much. And the shots are still nicely centered. Only one round missed the black bull.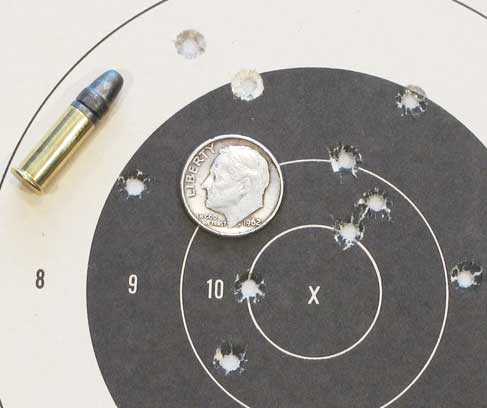 The Daisy put 10 shots into 2.393 inches at 50 yards. While that's not great, it's better than I expected!
Falke rifle
The Falke single-shot is the most deceptive of the 3 rifles being tested. Overall, it looks fine; and in a 21st century context, it even looks like a premium gun! But by understanding what was happening in Germany right after World War II, we can understand why that's so. All hand work was cheap at that time because labor was plentiful and inexpensive. The hand-checkered pistol grip and the high polish on the metal parts are to be expected. But the design of the rifle is crude. That shows up best in the flat spring that powers both the sear and trigger.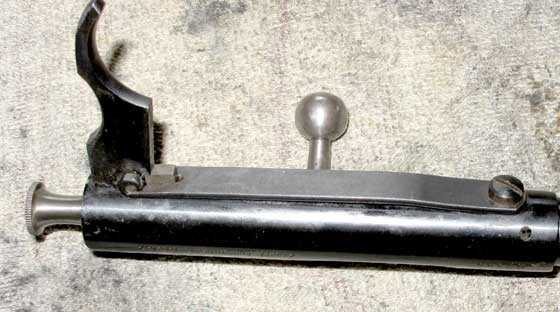 The Falke trigger/sear spring looks like it was taken from a half-ton pickup truck!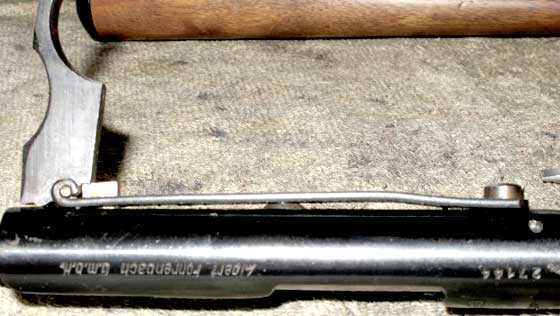 This shot shows how Falke made the large flat spring work as both the sear spring and the trigger return spring. It saves money but isn't very elegant.
That spring was making the Falke cock very hard because the sear didn't want to get out of the way when the bolt was withdrawn. I lubricated it heavily with moly grease and reduced the effort by at least two-thirds. The trigger-pull also dropped from about 18 lbs. down to about 8 lbs.
No joy
Alas, all my work was for naught, for the Falke rifle was not the equal of the Daisy at 50 yards. Ten bullets went into 2.91 inches at 50 yards. Of course, I may not have used the best cartridge for the Falke, and it may have been the best one for the model 8 — but that'll take a lot more testing to discover. The point is just this: A rifle that looks much better and is more expensive than the Daisy model 8 may not be any more accurate. That's all I'm saying.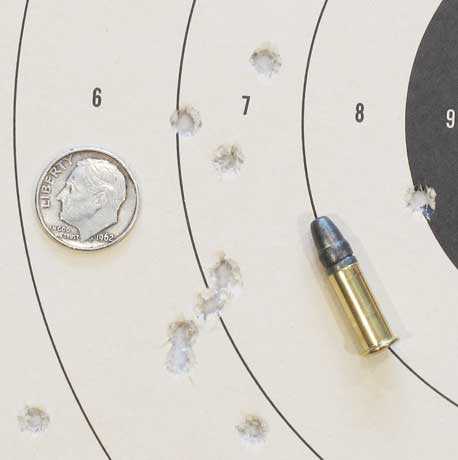 The Falke rifle grouped larger than the Daisy and also out of the bull. The sights need some adjustment. Ten shots in 2.91 inches between centers.
Crickett
The Crickett rifle was supposed to be the control in this little comparison. While both the Daisy and Falke rifles were made by airgun manufacturers, Crickett makes only firearms. I already noted that the Crickett has a much better appearance and feel. Despite the cheap synthetic stock with its pink panels, a lot of real thought went into this rifle. It may be small, but it looks right.
But at 50 yards the Crickett put 10 rounds into 2.564 inches. They were at the top of the target paper and one was a quarter-inch off the paper, so there are just 9 holes visible. The rear peep sight has enough adjustment to get the shots back into the bull at this distance, but it will take a different cartridge to shoot better than the little Daisy.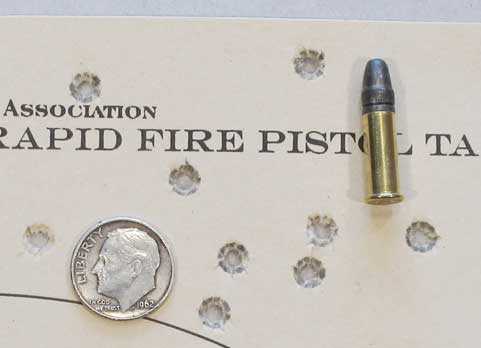 The Crickett sights are way off! Ten shots went into 2.564 inches, but one of those shots landed a quarter-inch above the highest shot in this picture.
On the other hand, the Crickett is 100 percent reliable. And the trigger is light. Those things do live up to its gun-making heritage.
Interesting!
This test was interesting. On one hand, ugly (the Daisy model 8) triumphed over beauty (the Falke); and on the other, enthusiasm (Daisy, again) beat out experience (the Crickett). That's not how I thought this would turn out! Given the circumstances and from what I saw, I thought it would have been the Falke first, followed closely by the Crickett, with the Daisy bringing up the rear…and very far behind the others.
Conclusions
The Daisy model 8 may be a cheaply made single shot rifle, but that doesn't mean it can't shoot. It still needs some work on the firing reliability, but I would say the accuracy is where it needs to be. We still have no idea about which rifle is most accurate. To learn that, a lot more shooting is required. I'm glad to do it, but I'm just saying that we don't want to dismiss either of the other 2 rifles.
Is there a point to all of this? I think there is. That point would be that you don't want to judge a gun (or anything) by appearances, alone. Furthermore, inexpensive materials and cheap construction don't always mean something is no good. Only by testing can we determine if a gun is up to snuff.
One more thing. Some readers have noticed that I sometimes spend a lot of time on an airgun that has seemingly very little to recommend it — like the BSA Meteor. This Daisy might fall into that same category. If I can get it to shoot reliably, what a wonderful little rifle it will turn out to be!
by Tom Gaylord, a.k.a. B.B. Pelletier
Part 1
Part 2
Part 3
Part 4
Part 5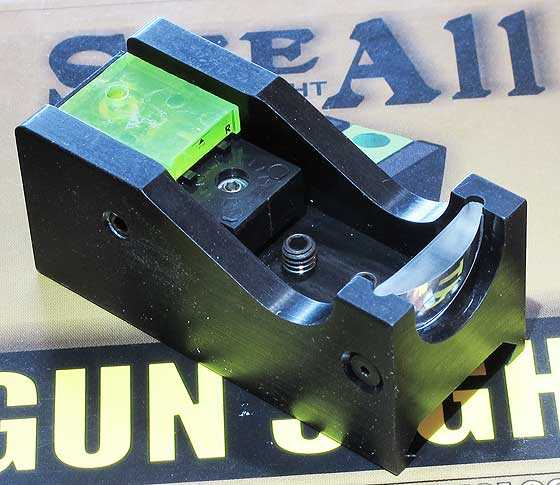 The See All Open Sight is revolutionary!
In the 9 years I've been writing this blog, I don't think this has ever happened before. Last Friday, I wrote about my failure to get the See All Open Sight to work on the Beeman P1 pistol. I tried for 2 straight days to get it sighted in and nothing worked.
That was Friday's report. Well, I went out to the rifle range on Friday, and my shooting buddy Otho met me there. He had one of his SKS rifles that had a scope mounted on it (on a Weaver base), and it was his plan to test the See All sight. Okay, I thought. Couldn't hurt.
It didn't hurt at all! After he shot the scoped rifle at 100 yards for the record, he removed the scope and installed the See All Open Sight. It took several shots to get it on paper at 50 yards, but then he shot a 5-shot group that measures 1.636 inches between centers! You may not be familiar with the accuracy of the SKS, but while it's an extremely reliable rifle that almost never fails to operate, it's only fair as far as accuracy is concerned. It's a good battle rifle — but it's certainly not a target rifle. Some individual rifles are more accurate than others, and this one happens to be Otho's best one; but a sub-2-inch group at 50 yards from an SKS is worth talking about. And he did it with the See All Open Sight!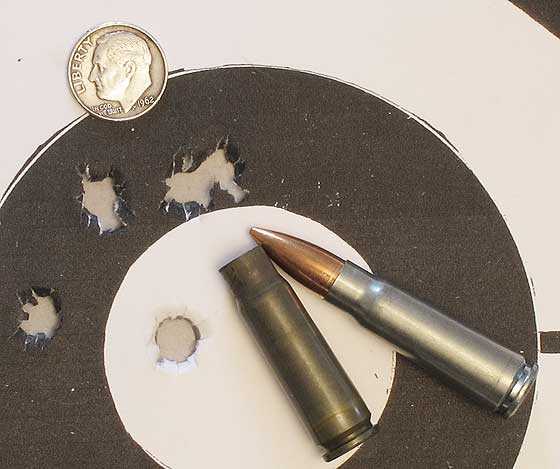 When we saw this 50-yard 5-shot group, we knew the See All sight worked! For an SKS, this is a great group.
When he was finished, we had to walk down to see the target because the cold wind was blowing so hard and our eyes were tearing so much that he couldn't see but one of the shots through his spotting scope. I was looking through binoculars and could see even less. When I saw the target close up, I asked him to shoot 10 more shots for me at 50 yards.
Otho's eyes
The reason I asked Otho to test the See All sight in the first place is because he has been battling failing eyes for several years. He can no longer use open sights like he once did, so scoped guns are about all he can shoot. The See All sight makes up for that and allows him to shoot like he used to 30 years ago. That's what the See All Open Sight is about — a sight that lets shooters mount an open sight on a gun that doesn't have one, or to use an open sight that can be seen with poor eyesight.
Wolf ammo
I guess I should also have told you that he did this with Wolf ammo, which isn't the most accurate by far. Wolf is steel-cased with a mild steel-jacketed bullet. They're reliable and aren't corrosive, but there are several brands that will outshoot it.

Otho was able to see the See All sight reticle clearly enough to shoot just as good as when the SKS was scoped!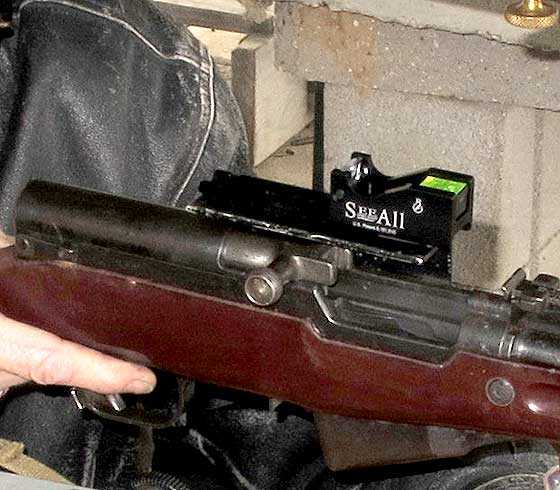 This SKS has a Weaver base attached to the left side of the receiver. The See All sight is clamped to it.
He then shot a 10-shot group at 50 yards with the SKS and the See All sight. This time he put 10 into 3.215 inches. While that's a lot closer to what most SKS rifles normally do at 50 yards, I would like to point out that Otho was able to do it without using a scope. That's significant because he couldn't see the open sights on the rifle on this day.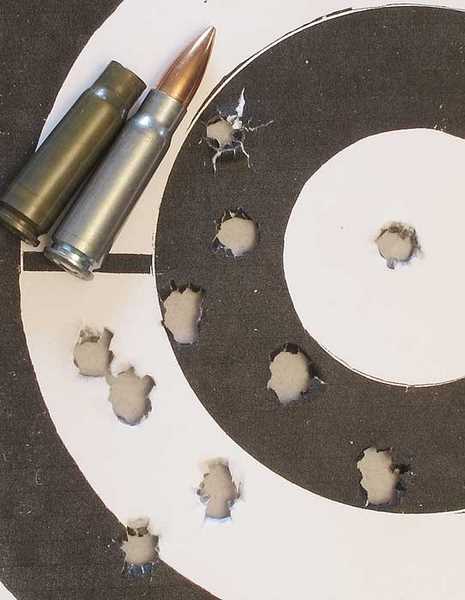 This is a good 10-shot group for an SKS at 50 yards. The rifle was shooting Wolf ammo (the dark empty case), which doesn't group as well as some other brands.
He commented that the See All sight was very fast to acquire. As breezy and cold as the day was, that was significant by itself. I was also shooting an open-sighted rifle that I'll report on in a few days, and I was unable to see my front sight until I put on my glasses to cut the wind.
100 yards
Now, Otho shifted to the 100-yard targets, where a few minutes earlier he'd shot a 10-shot group with the scoped rifle. That netted him 9 shots on paper in a group that measures approximately 5-3/8 inches between centers. The 10th shot wandered off the paper.
With the See All sight, he put 9 shots into approximately 5.50 inches. Three of these shots wandered off the paper, but we found the holes clearly on the backer board, just above the target paper. He measured the 9 shots with his pocket knife, which measures 5.50 inches when open. There was a tenth shot on the paper, but it landed about 3.50 inches below the other 9 shots. We know this 10-shot group really measures 9 inches at 100 yards; but since we don't know where the tenth shot from the scoped rifle landed, there's no way to make a direct comparison. Nine shots to 9 shots is the best comparison we can make.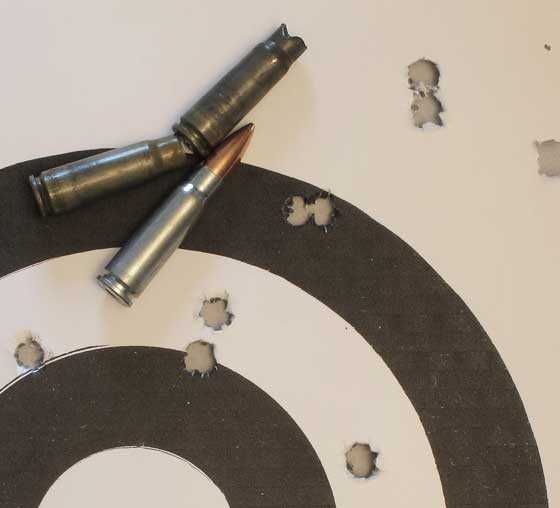 With the scoped rifle, 9 of 10 bullets hit the paper at 100 yards. This group measures 5-3/8 inches between centers.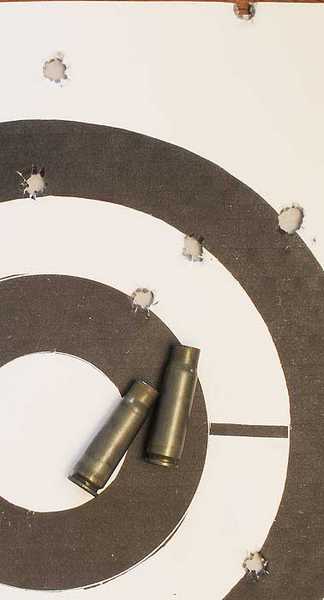 With the See All Open Sight at 100 yards, Otho was able to put 9 shots into 5.50 inches, c-t-c with the SKS. Six of those 9 are on this paper, and the other 3 landed on the backer just above the target. The tenth shot down below does open the group by a lot; but since the tenth shot from the scoped rifle was not found, we can't make a comparison.
Otho's assessment
After seeing the 100-yard group, Otho said he thinks the See All Open Sight is perfect for hunting. While it's not as good for target shooting, it's fast to acquire a target — especially one that's running. He's decided to leave the See All sight on his SKS instead of the scope, and he plans to hunt with it.
My evaluation
I'm so glad this happened because I was beginning to lose confidence. But Otho showed us the sight is good and works as intended.
I have an M1 Carbine that's chambered in 5.7mm Johnson Spitfire, and it currently has a Weaver base with a scope, as well. I also have a Remington 788 with a Weaver base. I think for my next test of the sight, I'll load up some ammo and try one of those 2 rifles with a scope and with the See All at 50 yards. They should work the same as Otho's SKS.
So, don't despair. There's at least one more test of this sight coming. For now, however, I have to say the See All Open Sight does what it's advertised to do.
by Tom Gaylord, a.k.a. B.B. Pelletier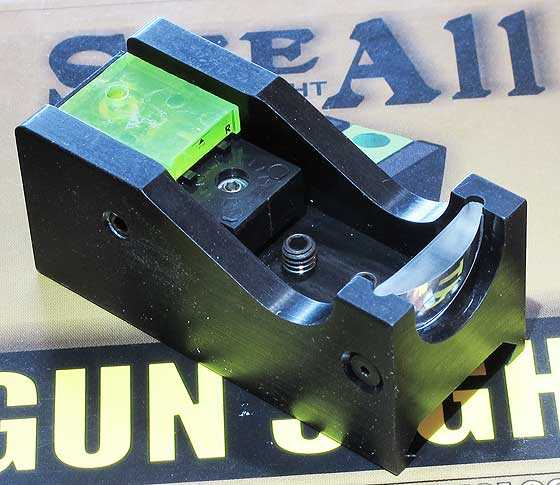 The See All Open Sight is revolutionary!
This will be a different Friday blog — I promise you.
First of all — all talk of machining the See All Open Sight sight is off the table. I spoke with the See All creators and learned that the reticle is actually on film — shrunk to the size where the point of the triangle is 0.0002 inches across. That's two ten-thousandths of an inch, or 0.00508 millimeters! This in in the realm of optics — not mechanical things. So, don't try to modify the sight.
Second, they told me some folks may need to wear their glasses when using this sight. I haven't been doing that, so I wore them for this test.
What I thought might happen today
After the last test in Part 4, I thought the sight might work better if it was held farther from my eyes — like it would be when mounted on a pistol. The magnifying optic enlarges the reticle even more the farther away it is, so this sounded like a possible solution to the reticle being indistinct on target. Also, it's easier to tilt the sight when it's mounted on a handgun. I'd hoped that would make it easier to align the peak on the end of the triangle. This is what I was thinking when I told some readers I had a better idea of how to test it.
What went wrong with this test?
When I first attempted to test the sight on Tuesday, I mounted it on a Beeman P1 pistol using an 11mm-dovetail-to-Picatinny adapter that you cannot buy. I used this base because it has some droop, and I thought I needed that droop to get the shots on paper at 10 meters. What I got, however, was pellets striking the target too low after all the upward adjustment in the sight had been made. The results were so bad that I quit testing the sight and moved to something else. I mentioned that in the introduction to Wednesday's blog.
While I was resting from this first attempt, it occurred to me that maybe this sight works in the reverse of how I was thinking. It has seemed that way every time I attempted to test it. So, for today's initial test, I turned the base around so it's sloping up toward the muzzle. The sight was pointed slightly up in relation to the top of the pistol.
For safety, I began shooting at 12 feet. If the gun was off at that distance, it would still be hitting the pellet trap.
I'd already fired a group of 10 7.9-grain Crosman Premier lite pellets at 10 meters with the P1′s open sights. They landed in 0.598 inches, so that was how well I was shooting the gun on this day. I know from experience that the Crosman Premier lite is one of the best pellets in this pistol.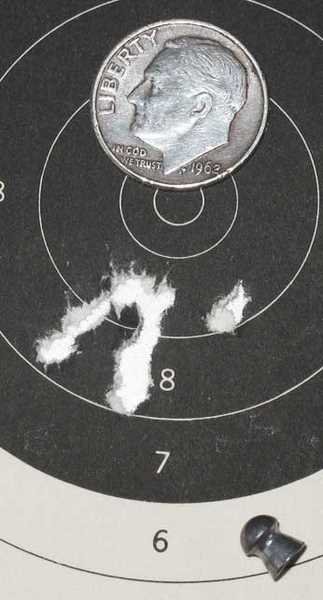 Ten Premier lites went into 0.598 inches at 10 meters with the pistol's open sights. The P1 can shoot.
It seems I can still shoot my P1. Now, how well can I shoot it with the See All Open Sight mounted? Well, I was right about the droop in the first place. Reversing the mount so it sloped up landed the pellet 12 inches below the aim point at 12 feet! I did need a drooper base after all, and one with the most aggressive slope possible. Fortunately, I had just what I needed, so that base was mounted on the gun and the sight was attached to it.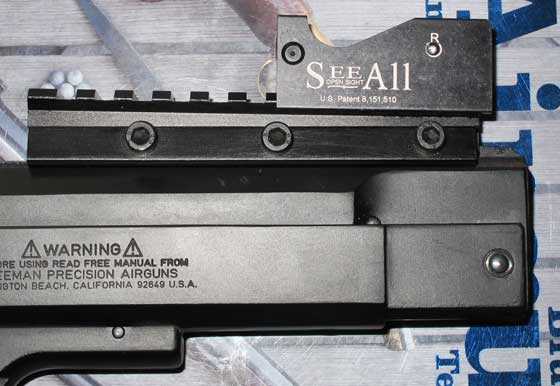 See the steep slop of the base adapter? It still wasn't enough to raise the pellet to the point of aim.
With this new steeper-sloped base, the point of impact did rise; but even with the See All sight adjusted as high as it would go, the pellet still struck about 3 inches below the aim point when shooting from 12 feet. And, yes, I did read the adjustment directions as I was adjusting the sight.
I couldn't get the pellet to strike the point of aim, so on to Plan B. Plan B is where I move the aim point very high and let the pellets impact below. At least that would tell me about the sight's potential. I used a black dot as an aim point and backed up to 10 meters. When the first shot landed 5 inches below the point of aim, however, the test was over. That is so low that it risks not hitting the entire pellet trap, and that's a risk I'm not willing to take. Two more inches and the shot goes off the paper.

A 5-inch drop below the aim point was enough to make me stop the test. This is the end of the P1 test.
This test (on the P1) is over
I have tried for two agonizing days to get the See All Open Sight to work on my Beeman P1, and everything has failed to work. I now have more pellet holes in my house (Edith knows about them), and that's as much damage as I'm willing to do.
I'm not saying the See All Open Sight doesn't work. There are too many reports that it does work — including one from our blog reader GunFun1. But I've done everything in my power to get it to work for me, and you've seen the results. My shooting buddy Otho has done the same. He did get better results than I did, but even he wasn't satisfied with what he got.
I'm going to set the sight aside and just think about it for awhile. If I were testing this item for Pyramyd Air, my recommendation would be "don't buy" right now. That's not saying I won't find a gun it works on; but, for now, I'm pretty burnt out.
by Tom Gaylord, a.k.a. B.B. Pelletier
The suggestion for this report came from blog readers ricka and Terd Ferguson, who both expressed concerns over the safety of precharged airguns. That's safety…as in wondering if one can blow up!
It's been a long time since I felt those same concerns, but I did at one time. Before I got my first PCP in 1995, I was quite concerned about keeping a scuba tank filled to 3,000 psi in my house. I'd seen the movie Jaws and was suitably impressed when the shark was blown up by a scuba tank at the end. So, these two readers are probably expressing the same concerns that hundreds of you share. I'd like to address those concerns in what I hope will be a straightforward series of reports that are easy to understand.
Do firearms blow up?
Veteran readers of this blog know the answer to that. Firearms do blow up, and I've shared at least one such personal story with you — my Nelson Lewis combination gun. I overloaded it and blew the percussion cap nipple out of the barrel! You can read that report here. In retrospect, it was my fault, so we can call that experience a stupident.
I've been involved in two other firearm blowups. One was caused by a rim failure in a .17 HM2 rimfire cartridge, and I've since come to find that this cartridge is known for that weakness. When it happened to me, shards of hot brass blew out the ejection port of the 10/22 clone I was testing for Shotgun News. One piece of brass cut my right arm and drew some blood; but aside from that and a lot of extra noise and smoke, no other damage was done. That event was out of my control, so it was an accident.
The other blowup was caused by a squibb round (one without gunpowder that drives the bullet into the barrel but not out again) in a Colt SAA revolver. I was firing very fast; and when the squibb happened, I was unable to stop before I thumbed off the next round. The revolver's barrel was split lengthways when the second bullet hit the first one halfway down the barrel. That wasn't an accident — it was a stupident.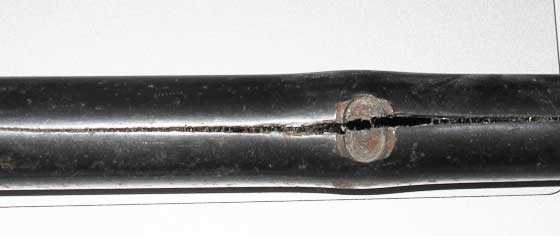 Shooting a round into a bullet that was already lodged in the barrel burst this 7-1/2 inch Colt SAA barrel. The bullet was struck where the ejector housing screw was.
Do precharged airguns ever blow up?
Yes, they do. The causes are as random as they are with firearms, and the results range from sudden surprises all the way to death. The blog readers are entitled to a frank discussion of the kinds of accidents that can happen with precharged guns, and that's what I'm about to give you.
When I bought my first precharged rifle—a Daystate Huntsman—and a brand new 80 cubic-foot aluminum scuba tank, I was properly awed. No, make that frightened. It was not unlike setting off my first charge of TNT in the Army! I respected the power potential of both that dive tank and the airgun I was filling.
Like any new thing, though, this awe and respect lasted only as long as it took me to become comfortable with the technology. If you do something enough times, the edge of respect starts to wear off—I don't care what it is. It isn't good when this occurs, but it's human nature. Familiarity breeds contempt.
Boom!
And then it happened. My gun blew up! Okay, it wasn't actually the rifle; it was the hose that connected the rifle to the scuba tank. And to be honest, it didn't really blow up. The soft wall of the rubber hose ruptured, violently releasing compressed air. The tear in the hose wall was about one inch long, and the warning signs were there before it happened. The hose had developed a noticeable bulge at the point the blowout occurred. That should have told me that the reinforced fabric liner under the outside rubber was failing, but like I said—familiarity breeds contempt. And I didn't want to stop shooting my airgun. I took a risk and the explosion happened.
I was standing in my basement when the hose blew. The noise sounded like a concussion grenade, although I'm quite sure it was nowhere near as loud or forceful. The blast loosened a storm of dust from the floor joists above my head; and my wife, whose office was right above me, jumped out of her seat.
The net result was no injury to me, beyond a bruised ego, and no physical damage to anything other than the now-ruined hose. I was momentarily stunned, and it took about 15 seconds before I regained my bearings, because Edith had already gotten to the basement before I turned off the tank's air flow.
I shared my experience with other airgunners who were more acquainted with precharged airguns and was told I had been lucky the hose hadn't broken off completely, whipping me violently before I could turn off the scuba tank's valve. That was when I discovered that nearly everyone who uses precharged airguns has either had an incident like this happen to them or knows someone who'd had one.
Can this be avoided?
Can this kind of incident be avoided? Absolutely! There are several things you can do to keep this from happening. First, if you use microbore air hoses, the likelihood of blowouts is reduced — not eliminated, just reduced. Microbore hoses carry the same internal air pressure as regular hoses, but the surface against which the air presses is so much smaller that it reduces the amount of stress on the hose material. However, most microbore hoses are stiff and will eventually soften at the point at which they are bent. That's usually up near the tank, where they come out of the tank's air valve. You still have to watch for that, because when they soften, they also weaken at the same spot. The hose I have linked to in this report has springs on both ends to prevent this bending to a large extent — but you still have to look for it.
Another safety measure is to use a hose that has a braided steel sheath on the outside. This sheath keeps the rubber that's underneath from expanding and blowing out. The hose that blew out on me was an early rubber Daystate hose that had just a 3,000 psi rating. It was rated for nearly the same pressure it worked at (2,500 psi), which isn't good. The hoses with braided steel sheaths are rated much higher.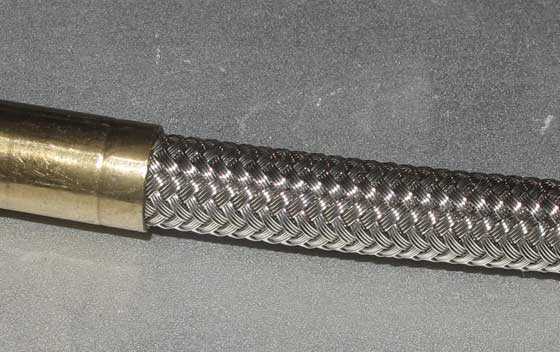 The stainless steel wire braiding on this air hose will prevent it from blowing out.
The most important safety measure is you! Examine your fill equipment every time you use it; and if you spot something like I did, you stop right away.
Another type of stupident
If you fail to fully connect the two halves of the Foster quick-disconnect coupling during a fill, the air pressure will disconnect it for you! It will be accompanied by a small explosion and often by the violent whipping of the air hose. Here's another place where a microbore hose protects you because it doesn't whip as much, plus it's smaller, so it doesn't hurt as much when you get hit. But the best thing is to never get hit at all. When you make the connection, listen for the click of the knurled ring on the larger female fitting as it snaps into position. That indicates that all the ball bearings inside the coupling are now safely inside the groove of the male fitting.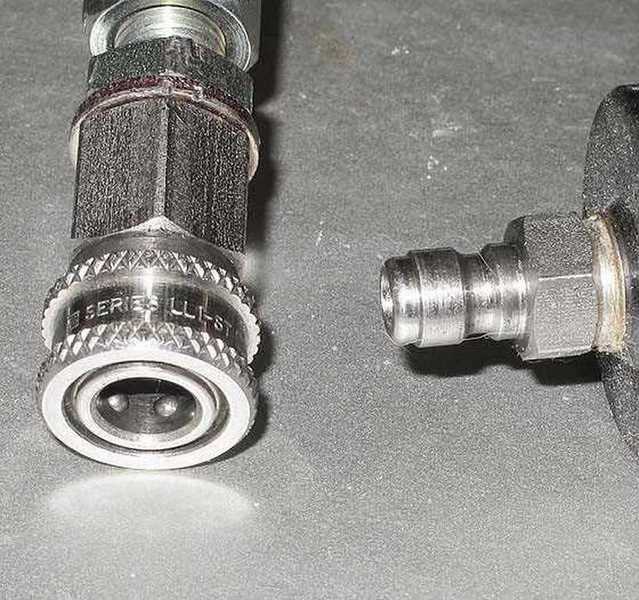 This female Foster fitting (left) has a spring-loaded collar that pulls back to allow the ball bearings to move outward. They go around the flat spot on the male fitting on the right, then the spring pushes them into the groove. They will hold the two fittings together under pressure, but only when the ball bearings are in the groove. It's important to hear the two parts click together.
Summary
That is as far as I will go in this report. I know how important this information is for many of you, so I promise to come back to this quickly for part 2.
For now, however, I want to leave you with this thought. I'm being honest with you about the potential dangers that are present whenever precharged airguns are used. You have to keep an open mind about this because the things I'm presenting are not that common. They do happen and most of them can be prevented by the means and methods that we'll discuss.
Operating a precharged airgun is no more dangerous than having a gas-fired hot water heater in your house or operating a lawn mower. There are things to be aware of; and if you follow the rules, no harm should come your way.
In 2009, I gave Pyramyd Air two articles about the basics of precharged pneumatics:
Introduction to precharged pneumatics/A look at the history and technology of the precharged powerplant
Helpful info for working with precharged pneumatics
While I put a lot into both articles, there will be new things in this series of blog reports.
by Tom Gaylord, a.k.a. B.B. Pelletier
Got a lot to cover today, so let's get to it.
First up is the Daisy Manufacturing Company, now called Daisy Outdoor Products. Daisy is best-known for the BB guns they make, but did you know they also made firearms? That's correct. In fact, Daisy made 3 different lines of .22 rimfire rifles — though one of them is only a rimfire by common categorization. That would be the Daisy V/L. V/L stands for Van Langenhoven, the last name of the man who invented the caseless cartridge technology Daisy used to make this gun. I've covered this before when I wrote about the new Daisy book published in 2012.
Although it's commonly classified with .22 rimfire rifles, the caseless round does not even have a rim. There's no priming compound in this cartridge. This caseless cartridge was made from a material that combusts when heated rapidly by the compressed air of a spring-piston air rifle. So, the Daisy V/L is, in fact, an underlever spring-piston air rifle that just happens to shoot caseless .22 rounds. Daisy made their V/L rifle in the late 1960s (1968 & '69).
Daisy also made a line of bolt-action rifles called the Legacy line in the 1980s and '90s. These rifles have weird diecast and steel receivers mounted in both plastic and wood stocks. But they're not the guns I want to discuss today.
I have handled both the Legacy and V/L rifles, but I don't know much about them. What I do know something about is a Daisy rimfire that is even less well-known than either of these.
I also wrote about airgun makers who made firearms in 2006.
Daisy model 8
In 1988 and '89, Daisy produced an economical .22 rimfire single-shot rifle for Wal-Mart. They were supposed to have built 30,000 rifles, but the contract was either terminated or somehow not completed; and the actual number of rifles made is something less. The Blue Book of Gun Values says they made 30,000 of them, but Joe Murfin of Daisy told me about the problem with Wal-Mart and said they didn't make that many. Something on the left side of the barrel has been machined off. This is on every model 8 I've seen.

All the Daisy model 8 rifles I've seen (about 10) have had this area of the barrel machined off. Something was stamped there.
This rifle is small. If you know what a Crickett rifle is, this one is just slightly larger. If you don't know what a Crickett is, the Daisy rifle has an overall length of just 32-1/4 inches and a weight of 3 lbs., 1 oz. In other words, it's tiny!
It has a painted action and barrel in a hollow plastic stock. The overall impression is — this gun is cheap.

Daisy rear sight looks a lot like an airgun sight. It adjusts for windage and elevation.
Do you think that airgun companies are loaded with engineers wearing white lab coats? The Daisy model 8 looks more like something that was designed in high school shop class when the teacher was out on his smoke break. The designer is someone you all know — the kid without the eyebrows. The one who couldn't hear out of his left ear. Later on in life, he was known as Stumpy; and before he turned 25, he disappeared completely.
What I'm saying is that this is a bolt-action rifle that's designed with screen-door-latch technology. It began as an exercise to see how cheaply we could make it, and that was followed by two rounds of cost-cutting before corporate council pulled the plug for liability reasons.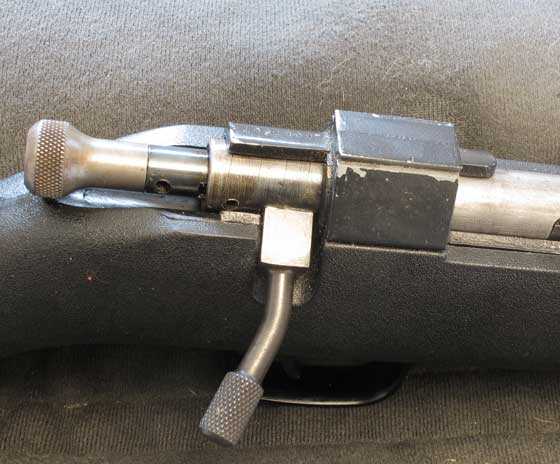 Model 8 bolt handle looks like common hardware! The receiver is a diecast part with a steel tube pressed in for strength.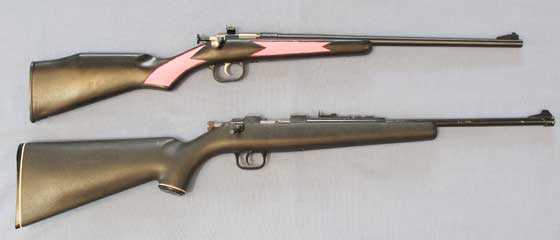 Daisy model 8 (below) is just a little larger than a Crickett.
And I have one! Are they rare? I don't know. Are they scarce? Most assuredly! Have some of them been lost over time? Almost a given! Are they worth anything? Not very much. This is not an heirloom gun — it's a hair-brained gun!
I bought one just because of what it is. I also bought the Crickett to serve a basis for comparison. Both are small, but one (the Crickett) is designed by gunmakers, while the other (the Daisy model 8) looks like it was designed by McGuyver while he was in the throws of an acid flashback.
Yes, I have shot this rifle. No, it doesn't shoot very well. In fact, it misfires about 25 percent of the time, which I attribute to a weak firing pin spring. Accuracy is on the order of 3-4 inches at 25 yards — so far. Maybe I haven't found the right ammo, yet — ha, ha.
The Crickett
I said I bought the Crickett for comparison. I'm just throwing it in here because many more shooters are familiar with it than with the Daisy. Much of its design is similar to the Daisy model 8; but at every turn, you can see where its design exceeds the Daisy. I guess I would say the Crickett is just a small firearm, while the Daisy is more of a small example of what not to do.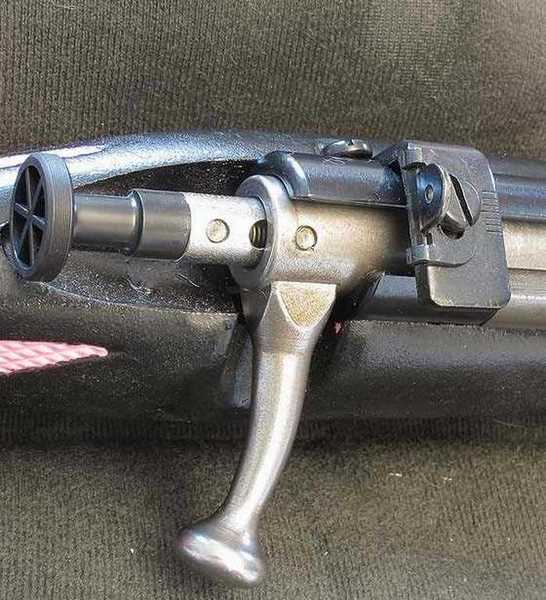 In sharp contrast to the Daisy, the Crickett bolt looks like a firearm bolt and the receiver is all steel. They even put a peep sight at the rear! Didn't cost that much, but this is what designers can do.
I've also shot the Crickett, and it's 100 percent reliable. While it's no tackdriver, it will put its shots into 1.5 inches at 25 yards — and sometimes the groups are even smaller. In my estimation, the Crickett is a small, inexpensive firearm, while the Daisy model 8 is a cheap rimfire wannabe. Having said all that — who have I insulted? I sure hope your favorite .22 is not a Daisy model 8!
So what?
The point of this look is to see what an airgun manufacturer will turn out when they make a firearm. But maybe this Daisy model isn't a fair representation because Daisy built this for their customer. Let's look at another rimfire rifle that was made by a different airgun manufacturer, and this time they made it for themselves.
The Falke single-shot
Yes — that Falke. The same people who made the super-rare and interesting Falke model 80 and 90 underlevers and also the Falke models 10, 20, 30, 40, 50, 60, and 70 breakbarrel spring rifles. We looked at a Falke model 70.

Compared to the Daisy model 8 (top), the Falke single-shot is a full-sized rifle.
This rifle is a confusing firearm. On the one hand, the walnut stock is shaped nicely and hand checkered, the metal polish and bluing is even and deep, and the action is cheap and stiff to operate. What should be the simplest of all actions — a single-shot — is machined very well, yet it functions like it's been rusting in the corner for decades.
Falke was one of those "anything for a buck" companies that arose in Germany after the war. I'm sure they would have disagreed with that assessment, but the fact is they had no plan of succession; and when the founder got sick in the late '50s, the company folded.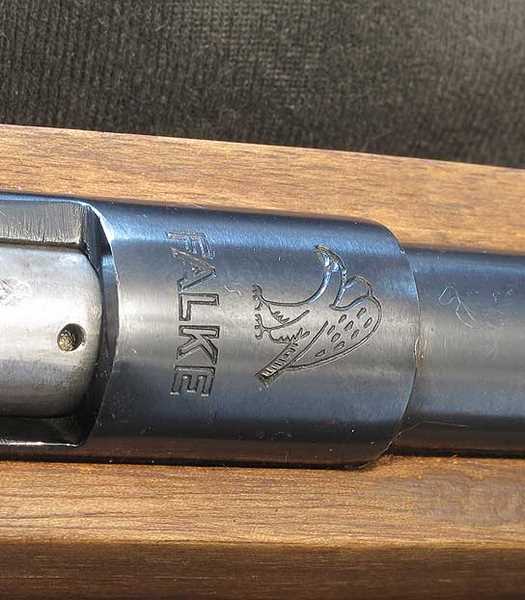 Where have we seen this logo before?
They made at least 2 firearms. This bolt-action rifle is one, and I've also seen a stylized Remington double derringer in .22 rimfire.
I bought this rifle because it's a Falke and because it looked so nice on the internet. When I received it, I found it to be even nicer than the photos portrayed. But the action is stiff and clunky! I never would have bought it if I'd tried it first. However, I believe I can correct most of this with some careful gunsmithing.
The rifle is full-sized at 40-3/4 inches overall, with a 23-inch barrel. The pull length is 13-1/2 inches. The barrel is nicely rifled, and the gun appears to be in 90 percent condition. The wood has been sanded, which is the only detractor from the overall appearance.
The front sight is a common post with a bead, but the rear sight has the same quirky elevation adjustment that we saw on the Falke model 70 air rifle! With luck, this rifle will shoot.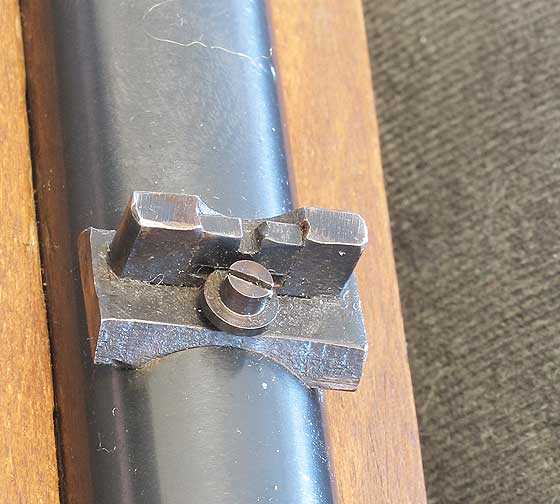 We saw a rear sight just like this on the Falke model 70 air rifle.
This is a bolt-action single-shot. It has a separate cocking piece that will cock the rifle by itself (without the bolt being operated), but right now the sear is under too much tension and the cocking piece cannot be pulled back all the way. The bolt cocks the action on closing.
Again — so what?
I've shown you 2 firearms that were made by 2 different airgun makers. My plan is to shoot both of them and come back to you with the results in the next report. I'll do that as the rifles stand right now, but the Daisy really does need a stronger firing pin spring, and the Falke needs its action smoothed a lot.
Why am I doing this? Perhaps, to show the contrast of firearms and airguns made by the same maker. I think we have that in both these cases.
I know several of you readers probably own Daisy Legacy rimfire rifles, and I would like to hear what you think of them. If any of you own a Daisy model 8, you have both my apologies and my sympathy. And if anyone ownes a Falke firearm, I sure would like to hear about it!