by Tom Gaylord
Writing as B.B. Pelletier
This report covers:
The Spittin' Image
What is it?
Catapult gun
A kinetic gun?
Very low power
Cowboys are cool
Four variations
The Holy Grail
The pistol
That's all for today
The Spittin' Image
In 1960, Daisy Manufacturing Company embarked on a marketing campaign that was to blossom into one of the largest segments of the airgun market. They brought out their model 179 BB pistol that was copied after the Colt Single Action Army revolver. A few years later they brought out their first 1894 that was highly successful, and a half-century after that not many people remember the first Spittin' Image BB gun.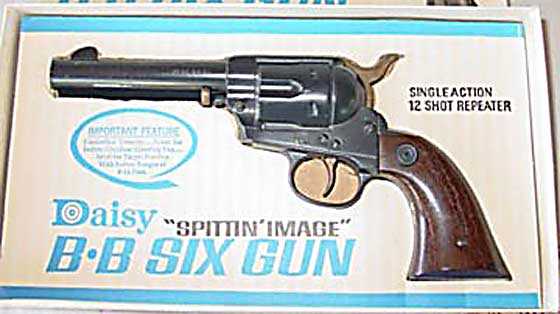 Daisy's 179 BB pistol came out in 1960 — the first of the Spittin' Image guns.
Today the lookalike airgun market is huge. It's expanding all the time, with more and more realistic models coming out every day. You can argue that the 179 was not even the first such airgun Daisy made. many folks think their Targetmaster BB pistol copies the Colt Woodsman Match Target and the Number 25 slide action BB gun was patterned after the Winchester model 12 shotgun. But in 1960 the term Spittin' Image was first used to describe this pistol as an intentional lookalike.