by Tom Gaylord
Writing as B.B. Pelletier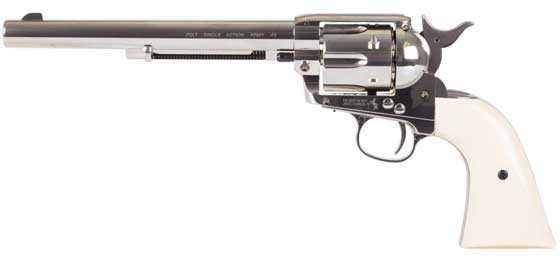 The new Colt Peacemaker is also available with ivory grips.
This report covers:
300-yard shots with an SAA?
The revolver
Hidden from view
What's different about this one?
Hammer doesn't go all the way down
A licensed Colt
The gun
Sights
Safety
Evaluation so far
When Umarex started making the Colt Single Action Army BB pistols a couple years ago, we all knew they had a large number of variations to go through. The most popular of these was the very first Colt SAA — the revolver with the 7.5-inch barrel that was also called the Peacemaker, The Frontier Six-Shooter and the Colt Army .45. This is the revolver so many western stars like Paladin and Marshal Dillon carried. It's not the fastest in a gunfight, but for 300-yard shots, it's the one to have.
300-yard shots with a handgun?
Yes. When I was a gunfighter at Frontier Village in San Jose, California, I used to shoot live ammo on my days off. I was reading Elmer Keith at the time and didn't know that a handgun could not shoot accurately to 300 yards, so of course I tried it and found that it worked just as Keith described. Too bad Keith was a liar, because so much of what he wrote is still true today!