by Tom Gaylord, a.k.a. B.B. Pelletier
I thought I'd provide some thoughts on how this blog has helped me become a better shooter. We just finished the Twist-rate test last week, and I wanted to share with you some things from that test that have impacted my shooting.
Swaged bullets
I've been using the output of the test to guide my own shooting with both firearms and airguns. I did test the swaged bullets in my muzzleloader already, but I discovered that there's a lot more to learn. I can't get the bullets I've swaged to group at 50 yards to save my life! I get maybe 1 out of 3 shots to land on paper. I think the problem is that I'm driving them too fast. I've been using the same load of black powder that I use for a patched ball, which seems like double the amount needed to get good results. When these bullets are fired in airguns, they're shot at between 400 and 650 f.p.s., and I've been launching them at 1,000 to 1,200 f.p.s. I think I'm blowing them apart!
I plan to load less than half the amount of black powder to see if I can get the velocity down around 650-800 f.p.s. The twist-rate test told me these short bullets don't need to be spun up as fast as I'm shooting them. At least, I think that's the case. More later when I actually have something to show you.
The AR-15
A friend talked me into buying some Accurate Arms 2230 powder for my AR-15, but when I tried it with the 69-grain and 77-grain bullets I normally shoot, it was lousy. The burn rate of this new powder is way faster than the Varget and Reloader 15 powders I've been using, and both given such good results. I figured the problem was  that I was trying to push a bullet that was too heavy with a powder that was too fast.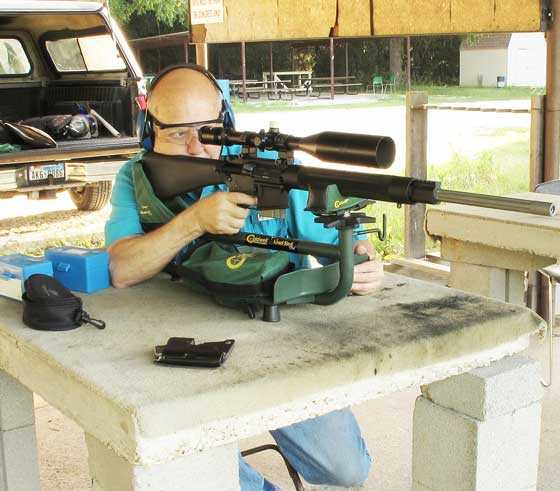 I still can't get over how accurate my AR-15 is with the right loads.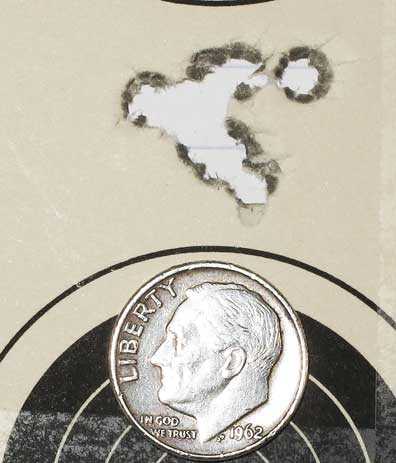 Ten shots into 0.54 inches at 100 yards is pretty good for an AR-15.
I loaded some lighter 55-grain bullets with the lowest charge of 2230 the book recommends. But the results were poor, again. Oh, they were twice as tight as before, when I shot the 77-grain bullets; but with 10 shots going into 1.808 inches, they still aren't worth the trouble. It may be that my 1:8″ twist is just too fast for lightweight bullets, but I still need to experiment some more.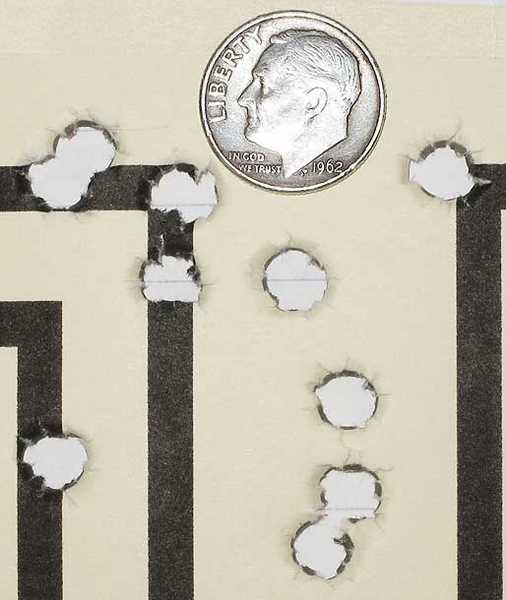 Ten rounds into 1.808 inches at 100 yards is terrible for a rifle that can do so much better.
Ballard
I updated you on the Ballard situation a few weeks ago. I told you that I discovered the Ballard's rifling has a twist rate of 1:20″, while Winchester rifles of the same caliber (.38/55) have twist rates of 1:18″. Given the slow speeds I shoot, the difference is significant. Bullet molds and cast bullets that are available today are all made for the Winchester, which is far more common than a vintage 1886 Ballard.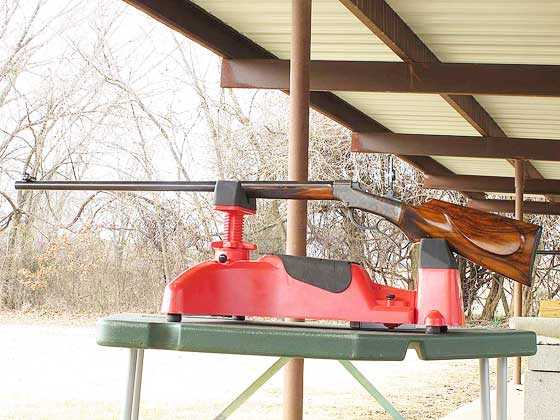 My vintage Ballard turns out to have a twist rate that's on the slow side for the bullets that are available.
What this means is that I've been trying to shoot with bullets that are too long and heavy for the twist rate of my rifle! It took the results of the twist-rate test to drive this fact home. The solution is not as straightforward as it sounds, however. You might think I could just have a custom mold made for a shorter bullet. That's possible, but I first need to think some things through. For example, would the rifle do better with a full charge of black powder and the bullets that I already have?
I got very discouraged when I learned that my rifle had a slow twist rate. I even considered selling it and buying a rifle that was more suited to what I want to do — which is shoot 10 shots into less than one inch at 100 yards with non-optical sights. But when I tried to list the rifle for sale, I found I could not let it go!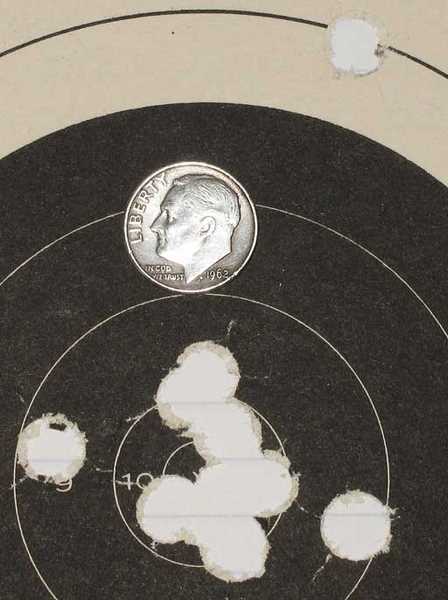 No matter what I do, I just cannot seem to get the Ballard to group much better than this at 100 yards. Ten went into 2.654 inches.
So it's back to the beginning with the Ballard. I have to figure out how to make this old beauty shoot in its current form because it is too valuable to modify. And everything I do from this point forward will be driven by the slow twist rate!
The next twist-rate test
We've finished the initial twist-rate test, but we aren't finished with the special barrels. Several of you have asked me to test the 1:12″ barrel with heavy pellets that are longer. I've decided to test it at 50 yards with the heaviest, longest pellets I can find. But besides that, I'll also test the JSB Exact Jumbo RS pellet in the 1:22″ barrel at 50 yards. The RS is 0.002″ longer but nearly a full grain lighter than the Premiers that were used in the first test, so we may see an accuracy improvement over the 2+ inch groups the Premiers gave. Being lighter, the RS will travel a little faster, which means it will also spin faster, and that may help the accuracy. We won't know until we try it.
This is good
I told you when I started the twist-rate test that we might find specific things to test in the future. These are those things, plus a few more. What a ripple effect this has had on all of my shooting!
by Tom Gaylord, a.k.a. B.B. Pelletier


M1 Carbine on top and Crosman M1 Carbine below. A realistic copy!
When I attended San Jose State College in the 1960s, I was in ROTC. My first 3 years as a cadet were in the enlisted ranks, and we all drilled with the M1 Garand. Today, people feel the Garand is a cool historical military weapon (and it is!); but in the late 1960s when it was all we had, it wasn't nearly so cool. It was, in fact, heavy, clumsy and dangerous when you performed Inspection Arms. We learned to live with it and eventually became adept at not smashing our thumbs when we closed the bolt, but the fact was that the Garand was a 10.5-lb. clunk that always seemed to weigh too much.
The cadet officers, in sharp contrast, were issued the M1 Carbine, which weighed about half as much and felt like a feather compared to the Garand. When they performed Inspection Arms, there was no heavy spring to fight to get the bolt open and no chance of an M1 thumb. The bolt on the Carbine action slides home with minimal fuss.
Of course, we never got to shoot our guns. We just drilled with them. I could perform the Manual of Arms pretty well but had no idea what it was like to touch off a round. And those days were long before Garands became widely distributed among private owners in the U.S. They were around, but a kid in college like me shot a 1903 Springfield if he shot anything.
Carbines were more readily available, but I never had the chance to shoot one of them, either. So my entire opinion of both weapons was based solely on their weight and the relative ease with which the Manual of Arms was performed. Naturally, I fell in love with the M1 Carbine.
I wasn't an airgunner in those days. I'd been one 10 years earlier when firearms were out of the question…and I would be, again, in a few years when I encountered adult airguns during a tour with the First Armored Division in Germany. I was unaware that Crosman had marketed an M1 Carbine lookalike BB gun from 1966 to 1976. And, given my interest in firearms at the time, it's doubtful that I would have been interested in one if I had known about them.
It wasn't until I started going to airgun shows in 1993 that the Crosman M1 Carbine popped up on my radar screen; and when it did, I assumed it was a CO2 gun since my total knowledge of Crosman was that they made CO2 guns. Having lived through the great experiment of the "bottle-capped" CO2 containers in the late 1950s (they leaked gas), I wanted nothing to do with any gun that used it. That's a story of its own, and it's one I'll share with you soon.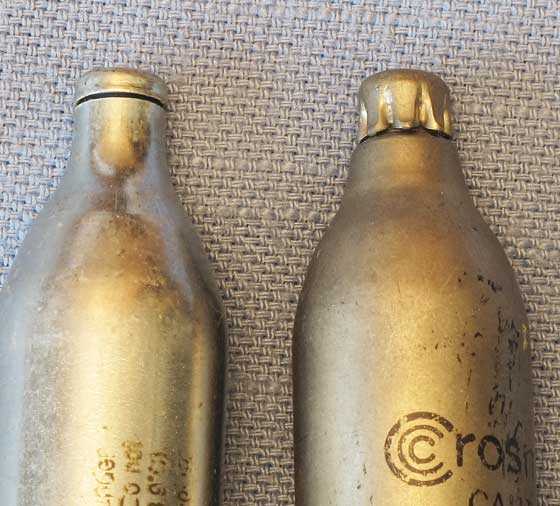 Crosman's first CO2 cartridge (right) used a type of bottle-cap close. Many leaked.
In the late 1980s, someone offered me a Crosman M1 Carbine for $15, and I turned it down because of my distaste for CO2 guns. It wasn't until about 10 years later when I was writing The Airgun Letter that I discovered my mistake. The Crosman M1 Carbine is not a CO2 gun. It's a spring-piston BB gun that cocks using the push-barrel system that Quackenbush (Henry Marcus, not Dennis) made popular in the late 1800s.
I also discovered that this BB gun had a rear sight that adjusts in the same way the type II and type III Carbine rear sights adjust. And it's lightweight — just like the military gun. And powerful for a BB gun! And also accurate. What was not to like?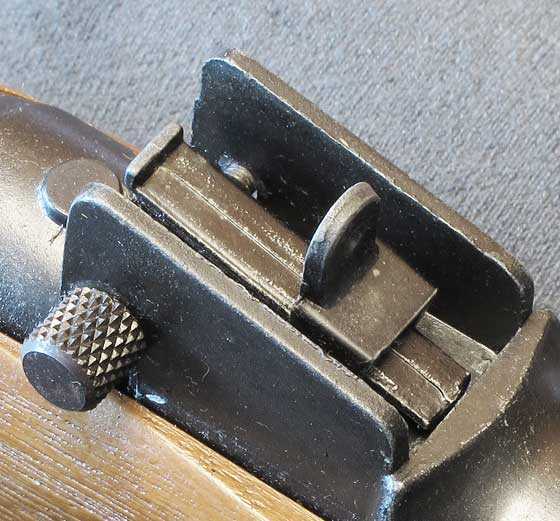 The Crosman rear sight is fully adjustable for windage and elevation — just like the type III military Carbine rear sight.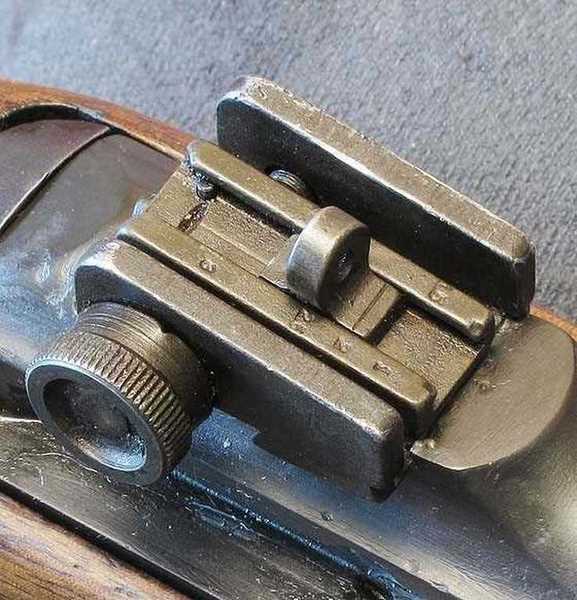 A military Carbine type II rear sight is very similar to the Crosman sight. They adjust the same way!
I broke down and bought a wood-stocked Crosman M1 Carbine at the Winston-Salem Airgun Expo. That gun taught me what I'd been missing all those years. It was accurate (for a BB gun), powerful and looked great. But those were busy days when I was buying and selling airguns often to have new material for the newsletter. So, I let that gun get away from me — for almost twice what I paid to get it! That was the value of the wood stock, which was available only for the first two years of production.
Then I went into a severe case of seller's remorse, which I guess I also verbalized a little. My friend, Mac, saw me looking at another M1 Carbine at another airgun show, and he bought it for me as a gift. That was the kind of friend he was.
Following that, I got serious and set about to acquire my first actual M1 Carbine firearm — just to complete the circuit. I found it to be wimpy, weak, inaccurate and in all other respects thoroughly lovable. I have not been without a Carbine since. And I will never get rid of my Crosman M1 BB Carbine.
The rifle
The Crosman M1 Carbine is a very realistic airgun. It weighs 5.25 lbs., which is within 1 ounce of the firearm's weight. The stock is plastic dyed medium brown and given a grained pattern on the surface. Crosman called it Croswood, and for its day it was very realistic. In fact, it looks much more authentic than the real wooden stock that's slab-sided and without figure. The Croswood stock is much more rounded and more fully contoured than the wood stock.
The picture shows that the airgun is in most ways very similar to the firearm. Of course, there are some significant differences. The "magazine" for instance is nothing but a metal box — a reservoir for BBs that must be dumped out and then loaded into the 23-shot gravity-fed magazine before they'll work in the gun.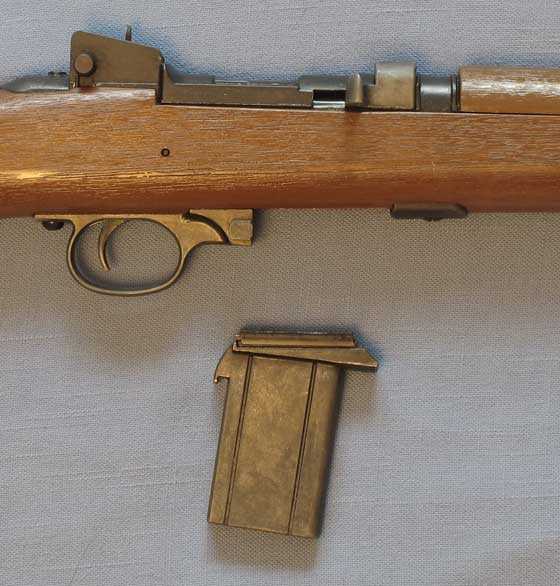 Crosman's magazine is really just a reservoir for extra BBs. They have to be removed from the reservoir and loaded into the gun.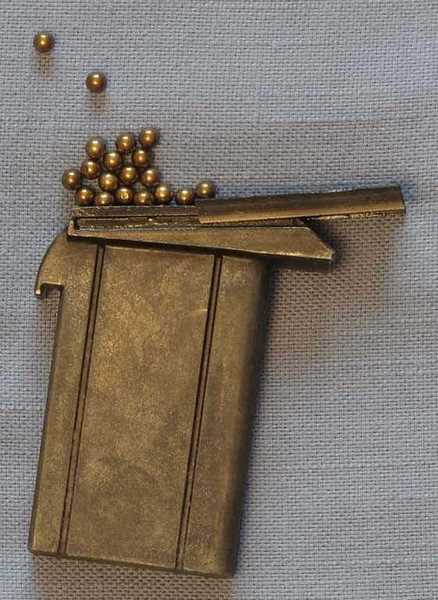 Slide the plastic cover off the magazine and pour out the BBs.
That magazine, by the way, is the gun's Achilles heel. Kids (and parents who don't understand its purpose) remove it and lose it. The gun will still work fine without it, but some of the authenticity is lost. There have been solid plastic magazines sold over the years for those who need to regain the look without the storage compartment.
The BB gun loads through a hole in the top of the stock. To load, you slide the operating handle to the rear to open the hole, then drop in the BBs one by one. They roll back toward the butt, which is natural. When you cock the gun, you pull back on the barrel and normally the muzzle will be elevated when you do.
This gun can be difficult to cock — even for some adults. The mainspring is powerful, and the barrel doesn't offer a good handle to grasp when pulling it back. Many people cheat by putting their palms over the muzzle and pushing the barrel back. That puts your palm over the muzzle of a cocked gun — which is not something you want to do.
The right way to cock the gun is to use the front sight as an anchor for your index finger but not put any part of your hand in front of the muzzle at any time. I'm sure kids developed their own ways of cocking this gun, as it's entirely too powerful for most youngsters to cock conventionally. Most Carbine BB guns will have significant finish wear on the barrel just behind the front sight due to repeated handling.

Grasp the barrel this way to avoid putting your hand over the muzzle. This wears the finish off the barrel at this point.
The pull of the stock is a somewhat short 13 inches. But the firearm's pull extends only another quarter inch farther, so it's right in line with that. And the overall length is 35.50 inches for the BB gun and 35.75 inches for the firearm. So, the pull is where the difference is.
This gun was an icon to kids growing up in the late '60s and '70s. It was (and still is) so realistic that every junior BB-gunner wanted one for himself. Even if he couldn't cock it without resorting to trickery, this was a gun to own!
by Tom Gaylord, a.k.a. B.B. Pelletier
Today's report is a placeholder for one I promised earlier this week and forgot what it was. If you were looking for a particular report today and didn't get it, please tell me what it is and I will reschedule it.
I was at the range yesterday, shooting off my rifle rest, when I discovered the rest was wobbling. That's not good because one of the most important things a rest should be is stable. Normally, I would have been unable to fix the problem, which was loose bolts on the rest; but every tool I needed to make the repairs was in my range bag. So, I thought we could take a look at what I carry with me to the range. What you are about to read comes from years of shooting and thousands of hours on the range, where you sometimes need a tool.
Job No. 1
As things turned out, I needed special tools for 3 different jobs this day, and I had all of them in my range box. So let's take a look. The first job was to tighten that rifle rest.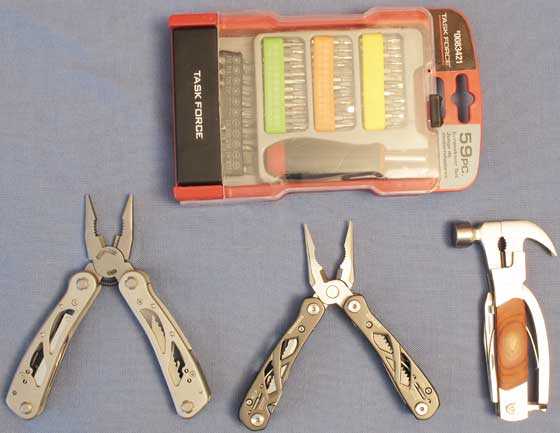 These three multi-tools and the small tool set have saved the day many times!
The rifle rest had bolts that were too hard for the pliers on my multi-tools to turn. But I also carry 2 small crescent wrenches, and one was the right size for the nuts on the end of the bolts. The bolt heads have large Allen wrench sockets, but I don't carry an Allen wrench set with me. However, in a small tool set I do carry I found the exact size Allen wrench bit that was needed, so the bolts were tightened and the rest became rigid again.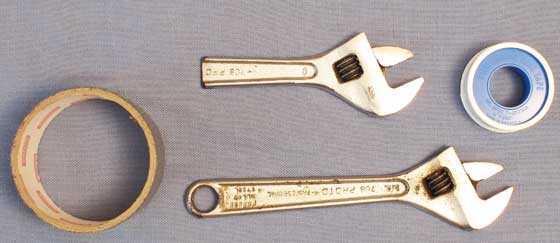 I carry not 1 but 2 crescent wrenches because sometimes you need both. The duct tape has many uses and the plumber's tape is for sealing pneumatics and CO2 guns. The shorter wrench is one I cut down years ago to carry on my bicycle.
Job No. 2
Then my shooting buddy, Otho, tried to sight-in his new Ruger .44 Magnum Deerslayer carbine. Turned out he needed a very tiny screwdriver bit for the rear sight's elevation, and the small toolkit I carry happened to have exactly the right size! The ironic thing is that Otho gave me this set about a year ago!
We also had to drift (push sideways in a dovetail slot) the rear sight to get it aligned correctly, and one of my multi-tools has a small claw hammer that was perfect for the job. Otho had a brass drift punch, but the hammer he had was too small to move the sight. After getting the rifle sighted in, I put 8 out of 10 shots on a 6-inch bullseye at 100 yards, so the job was a complete success.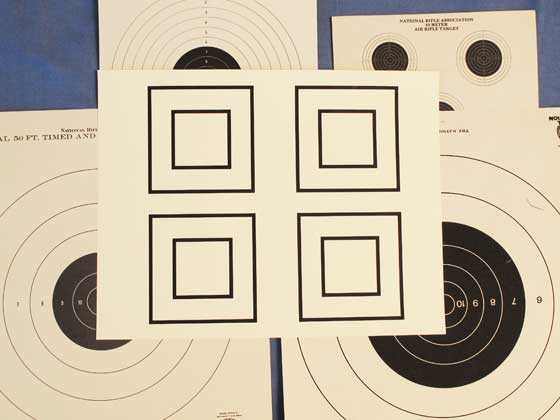 I always carry a wide variety of paper targets to the range because I never know exactly what I'll need. I have 5-10 of each of these, plus targets not shown. The squares are great for 100 and 200 yards with powerful scopes!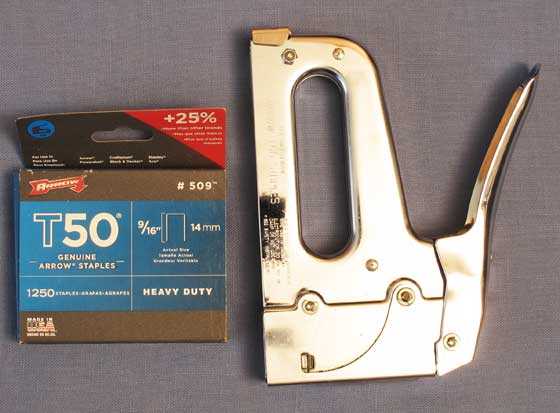 You always need a stapler for the targets. And don't forget to carry staples. I reload the stapler as soon as I hit the range and usually don't need staples for the rest of the day.
Job No. 3
Then, we went to the 15-yard range, and Otho's wife tried out a .32 S&W double-action revolver as a possible defense weapon. Otho had loaded the cartridges a long time ago, and they were very low power. So low, in fact, that they had ignition problems and one turned out to be a squib. The bullet was stuck in the barrel.
I always carry a .177-caliber cleaning rod to help extract rifle cartridges from guns with bad extractors. I've used it dozens of times just this year. But a .177 rod is too thin to drive a stuck lead bullet out of a barrel, so I also carry a military .30-caliber cleaning rod that's broken down into many sections. One of them was perfect to drive the .32 bullet out the barrel so the gun could continue to shoot.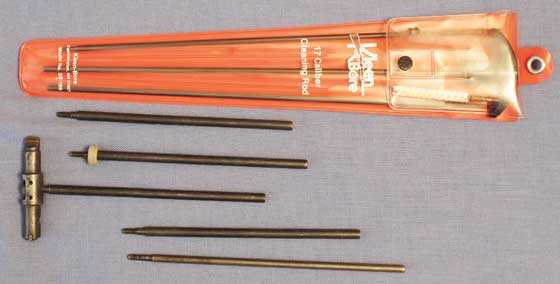 The .177 cleaning rod in the package has been used many times to push fired cartridges out of the chambers of rifles. The heavier .30-caliber jointed rod at the bottom is strong enough for many tougher jobs.
Then there are the supplies that I always need away from the house. For pneumatics, I carry a small jar of diver's silicone grease to lubricate the o-rings on fill connections at the range. I also carry a couple CO2 cartridges in case I'm testing a CO2 gun and run out.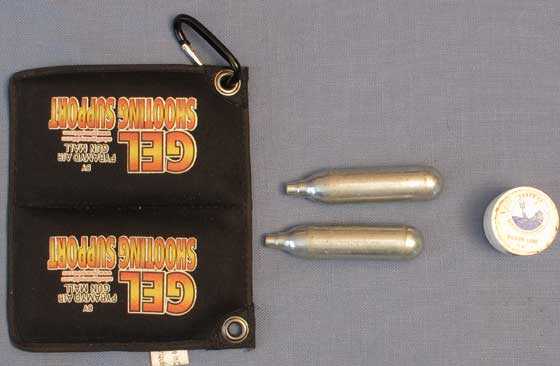 I carry diver's silicone grease for pneumatics and CO2 cartridges just in case I run out. The gel pad was a Pyramyd Air giveaway several years back. I use it sometimes to rest my elbows when shooting off a rest.
Finally, there's safety to consider. I always have several sets of disposable earplugs, and lately I've had to give them out. People go to a rifle range and forget to bring hearing protection. It's such a common problem that they sell packages of a dozen plugs just for range bags. The binoculars are not in place of a spotting scope, but to augment one. If the caliber is large enough or the target is close enough, I don't go to the trouble of setting up a spotting scope.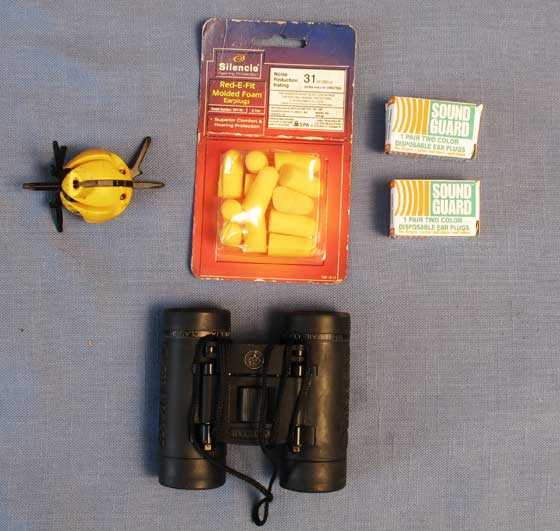 Earplugs are always with me, as are the binoculars. As cheap as optics are, today, I have several pairs in key locations. The yellow tool is a combination set of Allen wrenches and screwdriver bits. It isn't that useful, but I have used it occasionally.
Other useful tools
That's a quick look inside my range bag. I didn't show some of the oils and solvents, but these are the big things I carry. What do you carry?
by Tom Gaylord, a.k.a. B.B. Pelletier
A couple weeks back, a reader asked what bull barrels are. I said I would answer him with a report, and today's the day.
Okay — it's history time. Remember when you were surprised to learn that the monkey wrench was actually invented by a man by the name of Charles Moncky? Turned out to be a huge 19th century urban legend, didn't it? Well, the bull barrel was perhaps first popularized by Freeman R. Bull, a machinist and employee of the Springfield Armory in the late 1800s. Mr. Bull was a noted sharpshooter who excelled at offhand shooting, which made him one of the rock stars of the day. Springfield Armory used him often to test various prototype rifles because they knew he would give them the best possible evaluation.
In 1887 the armory made a special long-range Trapdoor just for Mr. Bull. It had a heavy octagonal barrel that was stiffer than the normal, round long-range rifle barrel they had been making. Getting 80 grains of black powder into the short 45-70 case was a real trick that required careful handloading and eventually led to the case being lengthened, but only for long-range target use. This was never a production military cartridge. But Bull's rifle was a real shooter. He advocated using heavy barrels to cut down on muzzle movement when holding offhand.
Mr. Bull successfully shot his prototype rifle at great distance, but he was always standing in the long shadows cast by both the Remington Rolling Block and Sharps rifles that preceded the long-range Trapdoor by many years. During the last quarter of the 19th century, the government was engaged in a continual marketing campaign to prove that the 1873 Springfield single-shot had been a great choice for arming soldiers (despite the debacle at the Little Big Horn), not unlike what they've done with the M16. But, in the end, the bolt-action repeating Mauser in the hands of Spanish forces in Cuba put the nails in the coffin of the old Trapdoor. They soldiered on in the ranks of various National Guard units until the end of World War I, but their time as serious first-line military weapons was at an end by the middle 1890s.
So, was Freeman Bull the inventor of the bull barrel? Probably not. The barrel of his rifle was heavy, but it was octagonal, and bull barrels are uniformly round. The popular thinking is that bull barrels get their name from their oversized dimensions, as in "as stout as a bull." If you go on various AR chat forums and websites, you'll see discussions about what the differences are between bull barrels and heavy barrels, but that boils down to how many angels can dance on the head of a pin. Bull barrel and heavy barrel are 2 names for the same thing. What throws the AR shooters is that there is a specification for a heavy barrel for an AR-15/M16, and they mistakenly think it applies to all other firearms.


This barrel is sold as an AR-15 bull barrel. It has flutes, but they're not a requirement for a bull barrel. An AR heavy barrel would be much thinner than this.
There's no exact specification for a bull barrel. In fact, the modifiers "bull" and "heavy" can be used interchangeably. If there's a distinction when 2 barrels are being compared, the bull barrel would be even thicker than the heavy barrel, but that argument quickly becomes difficult to resolve.
Bull barrels in firearms
Being thick, a bull barrel can absorb a lot of heat energy during firing, and therefore it heats up slower than a thin or standard barrel. It also vibrates less because the sheer bulk of the barrel absorbs a lot of the smaller vibrations. The result of these two factors is improved accuracy, but only when the barrel is rifled carefully. When someone makes a bull barrel, they do take great care in rifling it, so it's almost a given that bull barrels will be accurate. Their extra bulk just adds to the potential.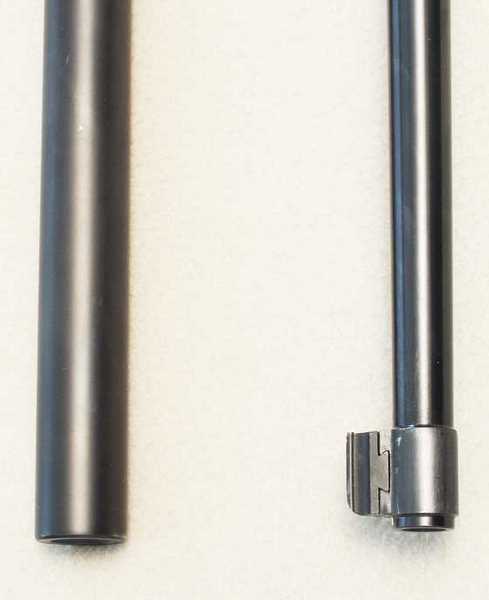 The Butler Creek barrel on the left is sold as a Ruger 10-22 bull barrel. It's heavier than the standard 10-22 barrel on the right but could also be considered a heavy barrel.
I see some places on the internet where bull barrels are described as having flutes. Flutes are grooves on the outside of the barrel that lighten the weight without taking away any of the stiffness. But flutes are not a requirement of a bull barrel, as these websites imply. They're just one additional feature that the finer bull barrels can have.
What does a bull barrel do?
Bull barrels do several things that help accuracy. First, all the extra metal does make them stiffer and less prone to vibrate. Every bullet comes out the muzzle with the barrel in the same place, more or less. That's the artillery hold at work, so a bull barrel tends to give the same benefits and get similar accuracy improvement.
The second thing bull barrels do is maintain an even temperature during firing. Since metal expands when hot, maintaining an even temperature keeps the barrel from changing dimensions, which promotes consistency from shot to shot. Consistency means accuracy.
A third benefit of a bull barrel is associated with its weight. Being heavy, it tends to allow the rifle to recoil less, and that helps the shooter cope more effectively. This is especially important when talking about the larger calibers that kick a lot.
A final benefit is also associated with the bull barrel's weight. It pushes the balance point of the rifle toward the muzzle. Many offhand shooters find this helps them hold their rifles still.
What about airguns?
Airguns can have very heavy barrels that might be called bull barrels. The vibration damping benefit will be the same as for firearms, but heat dissipation is not needed because airguns don't heat up when fired. The recoil damping benefit is valid for spring guns, which is where the majority of airgun bull barrels are to be found. In fact, many target spring guns of the 1950s through the 1970s had optional heavy steel barrel jackets that could be slid over the regular barrel to give a bull barrel look and benefit.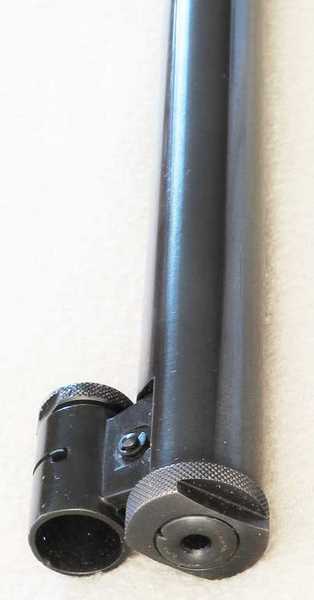 Walther LGV Olympia target rifle has a heavy steel barrel jacket, held on by a special nut at the muzzle. This turns the LGV barrel into a bull barrel.
But plastic is no good! Some spring gun manufacturers are covering thin steel barrels with thick plastic sleeves and calling them bull barrels. They certainly look the part, but they lack the real benefits of genuine bull barrels. Oh, they probably do shoot better than they would if just the thin rifled steel tube were exposed because the plastic does attenuate the vibration patterns to some extent. But they're not true bull barrels.


Gamo's Bone Collector Bull Whisper IGT rifle barrel is a bull barrel in name, alone. Plastic around a thin steel tube does not meet the requirements of a true bull barrel.
Bull barrel facts
1. There is no specification for a bull barrel.
2. Bull barrels are synonymous with heavy barrels (except in specific cases).
3. A bull barrel made of plastic is mostly for show.
4. Bull barrels tend to be more accurate, as long as they are well-made.
5. Bull barrels add weight to the gun that may help stabilize it for offhand shooting.
6. Bull barrels add weight to the rifle and may dampen recoil.
So, look for bull barrels if you like, but know what they are and what benefits they bring to airguns.
by Tom Gaylord, a.k.a. B.B. Pelletier
This is the start of a long exploration into the use of swaged bullets in both firearms and airguns. I told blog reader Robert of Arcade 2 days ago that I was about to start this one because he was talking about wanting to use the larger smallbore calibers (.22 and .25 calibers) and smaller big bore calibers (.257 and .308) to hunt larger game. But to do that, we need bullets (and pellets) that are accurate.
This report has been nearly one entire year in development, but you're just hearing about it for the first time today. It all began with my Nelson Lewis combination gun that I have written about many times. Back in the first part of that report, I showed you some original bullet swages that came with the gun. The problem I have with these swages is their design. The bullet is swaged into the die, but then has to be tapped back out of that one-piece die, which is very inconvenient. It would be easier to get out if the die had a separate nose punch that could be taken off the die and the bullet tapped on through.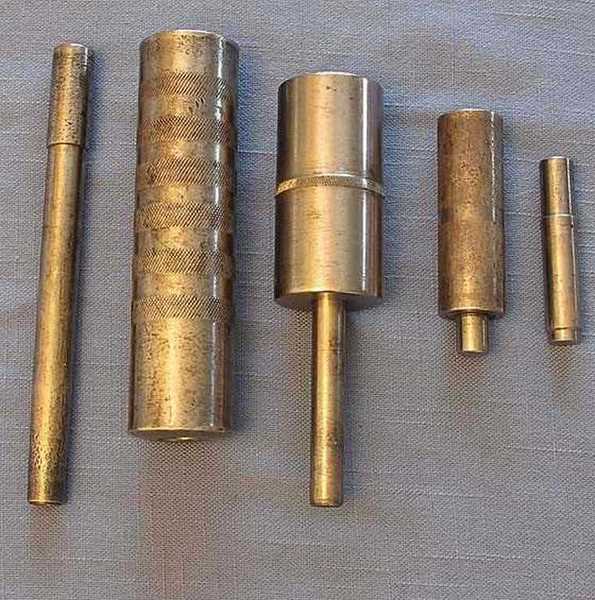 These dies came with the Nelson Lewis combination gun I acquired.
Last year at the Roanoke Airgun Expo, I saw that airgunner Mike Reames was making swages for some of his big bore CO2 guns, and people were using them with great success. I talked to Mike at some length about these swages and decided that I wanted to try a swaged bullet in my Nelson Lewis gun. But I conducted a proof of concept test with the rifle — to see if I got the bullet size correct . Unfortunately, I shot what proved to be an overload in the gun. It was a 250-grain .379-caliber bullet, where the weight of the round ball I usually shoot is just 80 grains. The pressure created by the heavy bullet blew the percussion cap nipple off the rifle, and I had to get it repaired. That shut down the experiment for a long time.
Earlier this year, I was at the range with my Thompson Center .32 muzzleloader, and it struck me that I could use this rifle as a testbed for the Nelson Lewis gun. Get the Thompson Center rifle working with swaged bullets, then transfer that experience to the Nelson Lewis gun.
I know the barrel diameter of this rifle quite well, so I again started talking to Mike about a swage set. What I was after was a bullet that would slide over the tops of the lands of the rifling and easily slip into the bore. I reckoned that the force of the exploding black powder would expand the base to both seal it against gas loss and also take the rifling. The bullet I want to make is like a Minie ball that's swaged instead of cast. If this is of interest to you, email Mike for more info.
What is swaging?
Swaging means to form something in a die by pressure alone. It sounds high-falutin' but it's as simple as hammering a nail. And it doesn't take as much force to swage a small caliber bullet as it does to hammer a small, common 6-penny nail.
My swage set arrived and consists of 4 pieces: nose punch, die body, spacer and swage punch…which works on the other end of the bullet. I asked Mike for a swage to make bullets that measure 0.316 inches on the outside, and the two samples he sent with the swage set measure exactly that size. I was now in business to make swaged bullets!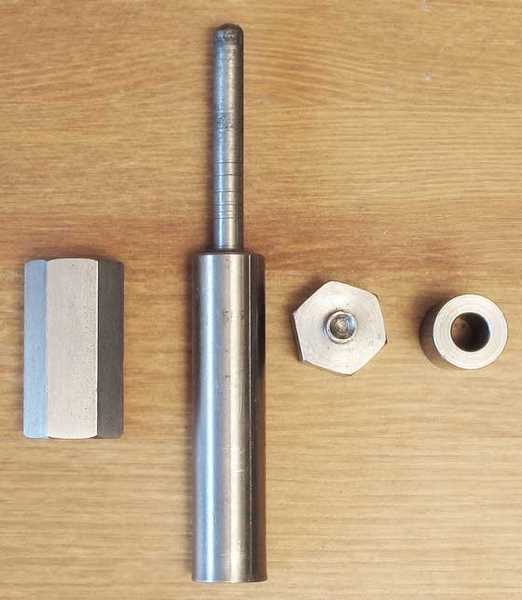 Here are the 4 parts that came with my swage set. From the left, they are the swage die, swage punch, nose punch that goes in the small end of the swage die and the spacer.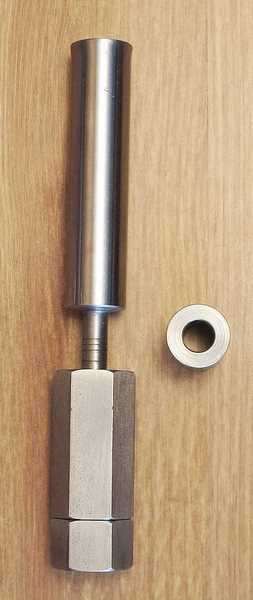 The swage is put together as it is used. I left out the spacer because I don't use it. I control the swage by controlling the force of the one hammer blow used to make the bullet. The results turn out very uniform that way.
I started by swaging some of the 0.310-inch round balls I've been shooting as patched balls in the rifle. The rifle is .32 caliber and the lands are about 0.316 to 0.317 inches apart. The round balls weigh only 45 grains, so the bullet they make is very short. The swage puts a concave hollow into the base of the bullet, which helps the lead base expand when the black powder explodes. The nose is slightly rounded but still has a sharp shoulder to cut a nice hole on paper.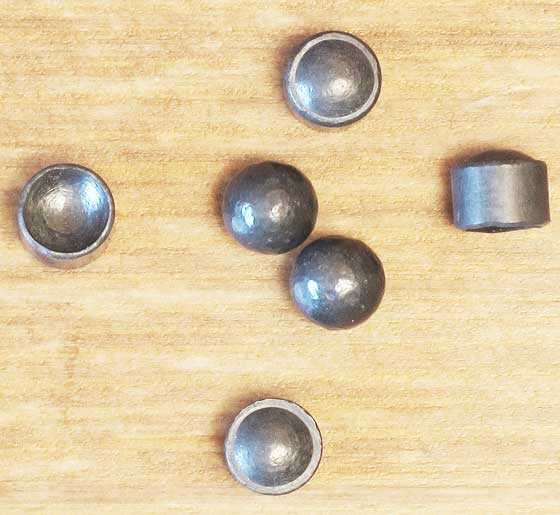 The .310 lead balls in the center were put into the swage die, which was resting on the nose punch. Then, the swage punch was inserted in the die and struck one time. The strike was not as hard as hammering a common nail, yet produced uniform bullets. At the top and bottom, they're standing up. The right one is laying on its side, and on the left one is standing on its nose to show all parts of the finished bullet.
Because I control the weight of the bullet I make by what I put into the swage, I also swaged some .32-caliber lead bullets that weigh 88 grains. They make a much longer bullet that may be more useful for hunting game up to the size of javelina and coyote. The smaller bullets would be okay for squirrels and up to turkeys. Of course, this all comes down to how accurate these bullets are, so I'll need a good day on the range to find that out. I'm looking for faster, easier loading than patched balls and better accuracy. That's hoping for a lot, but that's what this is all about.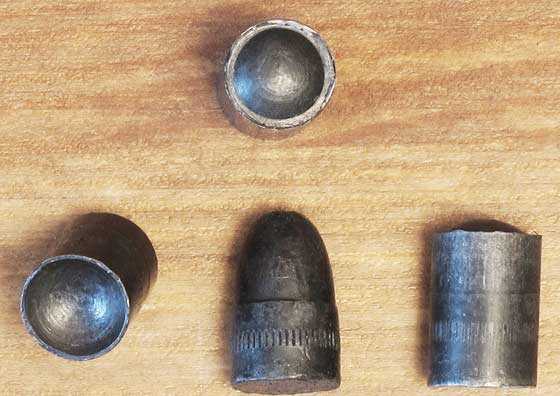 The .32-caliber lead bullet (bottom center) was swaged into these three bullets. At the right, the bullet is laying down. On top, the bullet is standing up. On the left, the bullet is standing on its nose.
Why swage a perfectly good lead bullet?
Looking at the last picture you have to ask why I would bother to swage a perfectly good lead bullet like that. Why not just shoot it as it is? Well, the answer is that it's not a good bullet for the rifle I'm shooting. It has a body diameter of 0.314 inches, which is too small for the bore. The swage enlarges it to 0.316 inches. The finished bullet looks just as long as the one that was unswaged. The concave base of the swaged bullet is where the lead came from to make the cylindrical bullet longer.
I actually went to the range last week for the first test, but I'd used the swage die backwards and got bullets that are far too large for the gun. The swage die is made like a funnel, where fat bullets enter the top and 0.316-inch bullets come out the bottom. That is, if you use it the right way. Since I turned the swaging die around, what I got turned out to be bullets that are far too big for the bore of the rifle.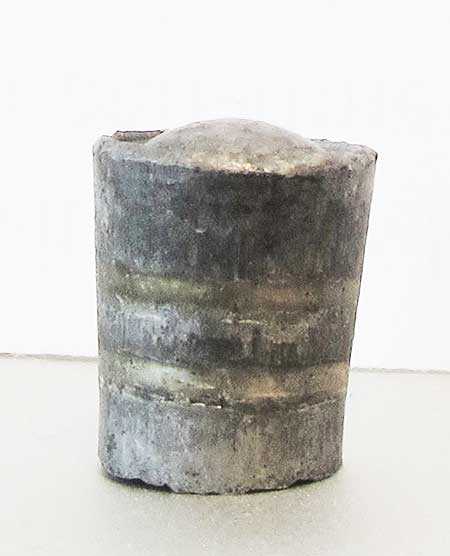 This is what happens when you swage the bullet in the wrong end of the die. The entrance to the die is shaped like a funnel to admit slightly larger chunks of lead to be swaged into smaller bullets. So, the bullet is tapered like this and far too large to enter the bore.
I emailed Mike, telling him I got the dimensions wrong and we started planning what to do about it. That's when I looked closer at the bullets I'd made and discovered my mistake. I quickly swaged a couple more bullets with the die in the correct direction, and they all turned out exactly 0.316 inches in diameter. Mike was glad, I was happy and I had yet another story to share of how not to do something. The good news is that I can run all the big bullets through the die a second time, and they'll come out right.
The bullets made the right way will slide down the clean barrel of my muzzleloader in about a second. Right now that seems good to me, but it'll take a successful range test to know if I'm right.
How difficult is it to swage a bullet?
If you can hammer a nail, you can swage a lead bullet with a die set like this. This is the way accurate rifle bullets have been made for more than 150 years, and it's dirt-simple. There are no copper jackets to swage the lead cores into, so I'm not talking about a process that requires hundreds of dollars worth of dies and a special press. All you need is a hammer and some lead of the appropriate size. If you wanted to make a .22 pellet by swaging, for example, you could use a 15.43-grain Gamo round lead ball. The weight would be right for a .22 pellet as would the diameter of the ball. What you would be doing is changing the shape of the projectile from spherical to an elongated cylinder.
What you cannot do is use more than one piece of lead to make a bullet. If you do, the pieces will all conform to each other inside the die and fall apart the moment they are out. So, forget any ideas of adding pieces of lead to increase bullet weight.
Mike will make a set like the one seen here for $85. If you aren't a machinist, this is well worth the price.
The best bullet
Every caliber bullet has a range of weights that will work. Too little lead, and the bullet is shorter than it is wide and subject to be unstable. Too much lead, and it becomes too long — again, subject to being unstable. The faster it's driven (velocity), the faster it spins (rifling twist rate), which stabilizes longer bullets (to a point). Part of the test I'm doing is to determine what length bullet works best in my rifle. Since length also means weight, we talk about a certain caliber bullet by its weight more often than its length.
Of course, accuracy means a lot in what I'm doing. I'll be looking for the most accurate bullet I can make. I may have to balance the bullet weight against the powder charge, for reasons of stability explained above.
The goal
I'm doing this to see if there's any future to it. If there is, then I want to make an accurate bullet for the Nelson Lewis combination gun. That was always the goal. But now that I've listened to Robert from Arcade, I think this needs to be tried for airguns, as well. I'm thinking a very powerful airgun and a pellet/bullet that I can make myself.
by Tom Gaylord, a.k.a. B.B. Pelletier
My wife, Edith, and I have to renew our Texas Concealed Handgun Licenses in another month. So we have been practicing in the house with BB and pellet guns. This was more for Edith than for me because I usually get out to the firing range several times each month, and I shoot handguns quite often. You can never practice too much, but I wasn't the one who was concerned.
Edith doesn't shoot as much as I do. Most of the time she is glued to her keyboard, working on the Pyramyd Air website in one capacity or another. She has her own Glock model 36 in .45 ACP as a carry gun, and we tricked it out with a better trigger, laser designator and a Wolff barrel that allows the use of my reloads without the gun blowing up (the notorious Glock kaboom). She was concerned about the upcoming qualification and felt she needed to get ready. And who am I to argue with more shooting opportunities?
So, we went though several training sessions at home. We started with the Winchester Model 12 BB pistol that I actually bought after testing because it shot so well. At the time I reported it, I felt the pistol would make an excellent trainer for just such a purpose.
That was what I thought; but when it came time to train, we found the gun wanting. Well, perhaps that's not entirely correct. What we found was Edith and I both tended to spray the BBs around the target instead of getting the smaller groups I had gotten in the test. I had run out of 2-inch Shoot-N-C targets that I used with this pistol in the report and the nickel-sized bulls I drew on the target paper did not seem to attract the shots as well as the larger bulls had.
So things did not work out the way I had envisioned. This was not good. Edith relies on me to fix her shooting problems — not to pontificate or theorize, but to give her help that actually works. So far I was 0 for 1.
Next, I selected the Magnum Research Desert Eagle. I chose it because of the blowback, which was also the reason I'd selected the Winchester model 12. But the Desert Eagle is a pellet pistol with a rifled barrel, and I know that it's very accurate.
Unfortunately, it bears very little resemblance to a Glock M36 or a 1911 pistol in any way other than they are all handguns. The Desert Eagle is very large. It's like trying to hold a boat oar in your hand. In fact, except for the excessive weight of the firearm, the plastic pellet pistol is just as inconvenient. Don't bother correcting me on this — I own and use a Desert Eagle .357 Magnum pistol as well. It's big and it does weigh a lot, and personal favoritism won't change that. I like the gun — just not as a trainer for a Glock or a 1911. Now I was 0 for 2.
That forced me to think outside the box, but probably still pressed up tight against the flap. What about trying a Colt 1911A1? Besides all the BB guns that are made on the 1911 frame, Umarex makes a genuine Colt-branded pellet pistol. The size is perfect for my purposes, and this is a pellet pistol with a rifled barrel — so you know the accuracy will be there. The one drawback is that this pistol doesn't have blowback. We weren't after the sensation of recoil — we wanted the slide to cock the hammer automatically so all trigger-pulls would be light and crisp. Instead, we had to cock the hammer ourselves.
In the end, that wasn't the hinderance I thought it would be. It was easy to cock the hammer before every shot, and the pistol was very well behaved. The first thing we both learned after picking this pistol was we both needed to concentrate on the sight picture more. And Edith made the discovery that if she pulled the trigger with the first joint of her finger, she pulled all the shots to the left. But if she used the pad of her trigger finger, the shots stayed centered on target like they were supposed to. This was real progress.
Over to the firearm
You tell yourself that you'll practice many times each week, but then the weeks end before you get to it. So the day you progress from airgun to firearm is a large and sudden jump. It doesn't have to be that way, but for us it was.
In Texas, the Concealed Handgun License requires you to shoot 50 rounds for qualification. Twenty are at 3 yards, 20 more at 7 yards and 10 at 15 yards. So that's what we did at the range. We hung the silhouette target and proceeded to shoot at each mandatory distance. When I say "we," I mean Edith. I was there in the capacity of technical advisor and brass catcher.
Edith started with her Glock and fired a complete 50 rounds with it. She started at 3 yards and progressed back, which is how the qualification is shot. We were both impressed with her results, as they were well-centered and much tighter than they were 5 years ago when she qualified the first time.
The lighter trigger on her Glock accounted for a lot since it's no longer the heavy DAO it once was. But she was using a perfect 2-hand isosceles hold and taking good aim. That much she had gotten from the airgun practice. I was surprised that she wasn't affected by the noise and recoil, but she told me that after the first shot goes off she becomes accustomed to everything and doesn't let it bother her anymore. I wish I could do that!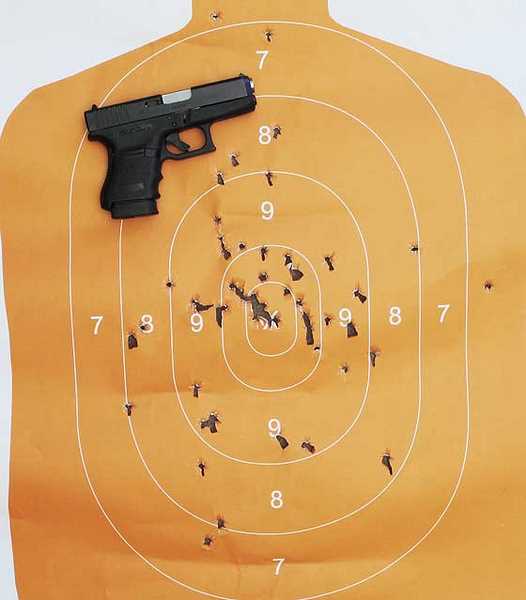 Edith's 50-shot target with her Glock 36 was well-centered. We attribute this to the airgun training.
1911
After completing the 50-shot course, we switched over to the Taurus PT1911 and she went at a second silhouette target. This time she used my reloads and blew the center from the target right away. Then at 7 yards she started to pull some shots to the left. This was when we discovered she was using the finger joint instead of the pad. She told me afterward she does that because she worries about the 1911 grip safety being depressed. That distracts her, which is when the trigger finger goes through too far. Edith has large hands and the 1911 grip is on the small side.
At 15 yards, her shots were even more to the left, so I knew she was pulling them. By the time we stopped, she had fired a total of 90 rounds, which is a heck of a lot of .45 ACP ammo.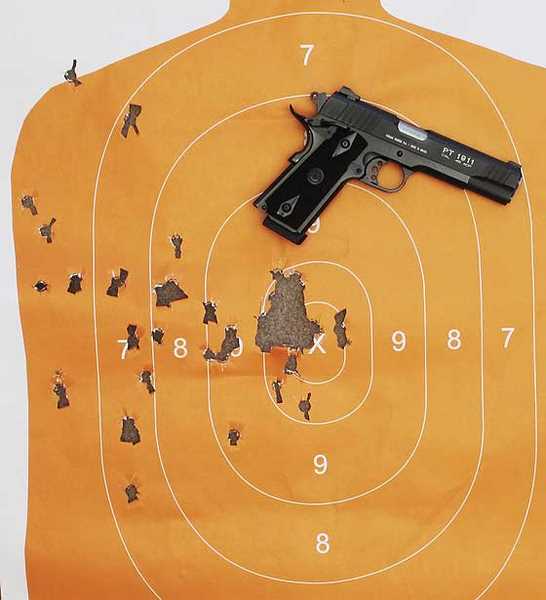 With the 1911, Edith started by blowing the center out of the target; but as she tired, she started pulling shots to the left. We stopped after 40 shots.
Either target would have qualified her that day, though she lacked 10 final shots with the 1911. She was justifiably pleased with her performance, as was I. No more scattering shots — everything was centered until fatigue set in.
Airgun training a success!
The training we did with airguns was successful in preparing Edith to shoot the firearms. It got her used to trigger control, breathing and the sight picture, which turned out to have a dramatic effect on the results.
We make no claims that airguns will get you ready for the muzzle blast or the recoil of a firearm — especially not one as big as a .45 ACP. But, by getting the other things under control, the few things we weren't able to practice made very little difference to the outcome. Edith is the one who asked me to write today's report because she feels that training with airguns really helped get her ready. Looking at the targets, I would certainly agree.
by Tom Gaylord, a.k.a. B.B. Pelletier
A couple days ago, I was surprised to see a very technical discussion in the comments section of the Mosin Nagant sniper rifle written by our own Matt61. I remarked that I remembered a time when Matt was new to almost everything in the shooting world. He was exploring multiple avenues of the hobby and asking, in the words of another reader, "billions of questions every day."
That got me thinking, which is sometimes dangerous, but always interesting. My thoughts ran to things like what I was like when I was just starting out in this world of shooting. It was back in the 1950s and '60s and there was no internet, so I learned much of what I knew from reading books and magazines and by talking to whoever would tell me about guns. Unfortunately, I didn't know any real shooters, and the stuff I did get was mostly untrue or outright lies that were calculated to keep me from trying out things on my own.
I remember one thing I was told by my mother and stepfather about my grandfather's Colt Army Special revolver in .38 Special caliber. They didn't want me shooting the gun that was mine (inherited from my father), so my stepfather told me that the metallurgy of old guns crystalized with the passage of time and this gun was likely to blow up if shot. I bought that line for a couple years; but when it didn't agree with my readings of Elmer Keith in Guns & Ammo, I finally gave the old girl a try. Of course it didn't blow up, and I discovered that I was a pretty fair shot with a handgun at the same time. Imagine that!
Then there was the fiction of the .44 Magnum revolver being not only the most powerful handgun in the world (Dirty Harry timeframe), but also a gun that kicked so hard the front sight would come back and hit you in the forehead! Imagine my disappointment to discover that the first .44 Magnum I fired kicked only a little harder than a .357 Magnum revolver I was already very used to. Chalk up another experience that didn't go as advertised.
As a youngster in Ohio, I had friends who told me that a 12-gauge shotgun would kick me like a Missouri mule. They had seen their younger brothers "knocked back three feet" by the recoil of this fearsome beast. But when I shot one, it didn't seem much different than the 16-gauge shotgun I was already using. "Well," they said, "maybe you can stand that, but don't even think of shooting a 10-gauge. It will knock you flat!" I still haven't tried one, so perhaps they're right.
At this same time, I was getting loads of "information" about those magical Benjamin pump-ups that were "just as powerful as a .22 short." If you pumped one 50 times it would crack like thunder and you couldn't tell the difference between it and a rimfire.
Then there was the full-auto craze. Like most boys of my era, I was brought up on tales of Elliot Ness and the Chicago Typewriter that could destroy whole blocks of the Windy City when fired indiscriminately in artificially long, continuous bursts from the open windows of speeding gangster cars. So, the reality of dumping a 30-shot stick magazine from an M3A1 grease gun 10 years later was a huge letdown. As was seeing 15 M2 ground-mounted machine guns on a firing line fail to hit a 5-foot by 20-foot cloth banner trailed behind a Remote Controlled Aerial Towed Target (RCATT) drone that flew down the line at 150 m.p.h. 150 feet away! Until then, I thought machine guns were always able to hit their targets. After seeing they couldn't, I wondered how they ever hit anything that wasn't standing still.
Then there was the mystique of the Desert Eagle pistol. I had heard it was an awesome gun, that flattened things at both ends — muzzle and grip — equally. A few years ago, I shot one in .44 Magnum and found that it was only slightly harder-recoiling than a 1911 pistol chambered for .45 ACP. What a huge letdown that was. Now, I own a Desert Eagle in .357 Magnum, and that's only until I can trade up to the .44 that's the lightest-recoilling big bore handgun I've ever fired.
The moral of the story
Don't take anyone's word for how bad, how powerful or how effective any gun is until you try it for yourself. Most of the time, they exaggerate. Find out for yourself.
Some things are true!
There are, however, some things that have been true when I tested them. For example, the .250/3000 (.250 Savage) caliber is a much softer-recoiling cartridge than the Winchester .243, despite being nearly equivalent in power. I don't know why that is, but I've demonstrated it repeatedly.
Or the fact that the .223 Remington can be an accurate round! All my life, I have seen it used only in ARs that spray like fire hoses; but when I finally shot one that had a barrel with some pedigree, the doggone thing actually grouped! Not quarter-inch groups (yet), but 10 shots in three-quarters of an inch at 100 yards…and some that were a little better!
What's this got to do with airguns?
A lot of firearm talk, so far. What about airguns? Well, with a few exceptions, like the Benjamins mentioned earlier, most of my airgun experience has been first-hand rather than driven by rumors. When I hear a good rumor about an airgun, I test it if I can. Then, I pass along my results to you. Not that I know everything or don't make a lot of mistakes along the way, but I try to tell you things I would if you were standing next to me and we were about to test the gun in question.
That's why this report is titled If I were you….Because I tell you things I really think you would want to know. Things like how nice the Benjamin Marauder is and why I like the AirForce Talon SS so much. When I went on and on about the new Walther LGV Challenger a couple months ago, that was me being me.
Some people think I'm simply pushing airguns at you all the time. But that isn't the case. If an airgun has any drawbacks, the last thing I want is for you to buy it because you think I recommended it. And I do get to see a lot of airguns that have shortcomings. When a great one comes along, it's such a rare event that I tend to shout it from the rooftops.
I'm not afraid of what you'll think about the guns I recommend. That doesn't mean there won't be a real lemon in the bunch from time to time. It happens to everything, and I can't protect anyone against it. So, when I recommend a gun to you, it's because I believe there's a good chance the gun will be as good for you as it was for me. You and I may differ on what constitutes a good thing, which is why I report the results and let you make the decisions. But every once in awhile, something really great comes along and I cannot restrain myself from saying "If I were you…"
Big Shot of the Month
Pyramyd Air's Big Shot of the Month is Donald Liverance. He'll receive a $100 gift card. Congratulations! If you'd like a chance to be the next Big Shot, you can enter on Pyramyd Air's Facebook page.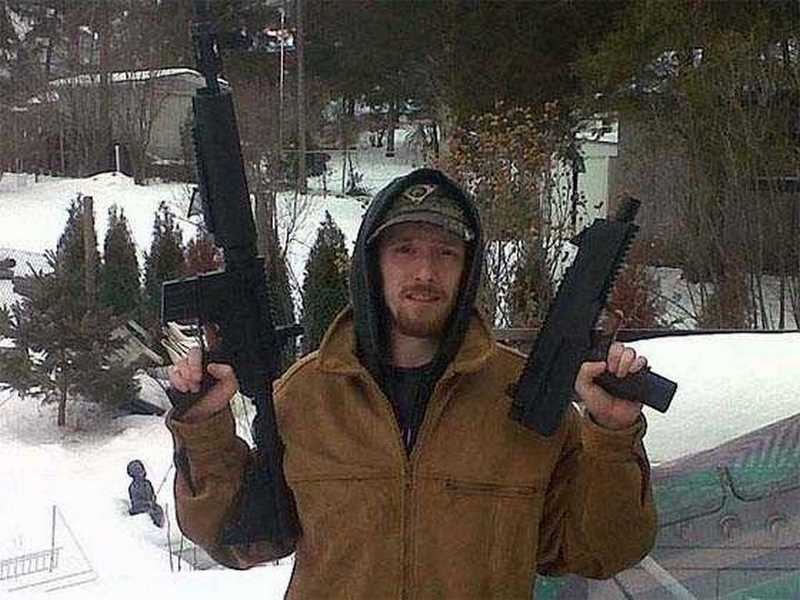 Donald Liverance is the Big Shot of the Month on Pyramyd Air's airgun facebook page.