by Tom Gaylord, a.k.a. B.B. Pelletier
Today's topic was suggested by Dennis Quackenbush. We were discussing the influence made by a few key firearms, and he wondered if I'd ever written about airguns in the same vein.
The title says it all, and I bet a lot of you can start a list right away. But which ones to pick? It's easy to speculate and guess, but is there a better way to choose the air rifles that really did make an impact? And what is meant by "impact?"
I find that an easy way to approach a monumental subject like this is to step away from airguns and choose something that many more people can relate to. Like automobiles, for instance. Which automobiles had an impact on the entire motoring universe?
Well, you can't go very far without recognizing the Ford Model T. In production from 1908 through 1927, the model T put America on wheels. It caused roads to be paved, businesses to spring up in unlikely places and the entire demographic fabric of the United States to change forever.
When the flivver (as it was also called) first came out, politics in the U.S. were most important at the county level, then the state and only grudgingly at the national level. When it finally passed from the market, national politics were forever changed and local elections were relegated to the status of "also ran." The Tin Lizzy got the farmer off his farm and into town as frequently as every weekend.
And, if the 15 million Model Ts were game-changers, what about the more than 21 million Volkswagen Beetles that swarmed over the planet from 1947 until the last one was built (in Mexico) in the early 21st century? Certainly, they had a major impact on personal transportation? [I know the Beetle is still being produced, but I'm talking about the original air-cooled version.]
See how easy this is when the topic isn't as important as airguns? Now, name an air rifle that changed the game.
BSA
How about the very first modern air rifle that was conceived in 1905? Built by the Birmingham Small Arms company, best-known for their military rifles, the first underlever air rifle that came to market was called the Lincoln; but BSA liked what they were contracted to build and they put their own name on the rifle, as well. That one rifle started the entire line of smallbore airguns we enjoy today.
There were pellet guns before the BSA, of course, but they were primarily smoothbores and made to shoot darts. Their construction wasn't robust like the BSA's was, and they were entirely unsuited to the type of shooting we do today.
One of our own blog readers — RidgeRunner — picked up a 1906 BSA at the Roanoke airgun show last year. Maybe he'll favor us with his impressions of this hugely important airgun?


This BSA underlever was the first modern air rifle.
FWB 124
It came along in the early 1970s and metamorphosed in front of our eyes. Originally it was nothing more than a well-made sporting breakbarrel, the 124 (or 121, as it was first known) had a longer piston stroke than any gun that went before. No doubt, the German engineers were just interested in keeping the cocking effort to a minimum; because in their country, the muzzle energy of airguns is limited to 7.5 Joules by law. A longer stroke meant they could use a less powerful mainspring and still get the velocity they were after, but it also meant the gun was primed to be hot rodded.
By the end of the decade, the 124 had become the first air rifle to break the 800 f.p.s. "barrier." Several other companies — notably BSF and Diana — followed suit; and by 1979, the airgun velocity wars were in full swing.


The FWB 124 started the airgun velocity wars in the 1970s.
Beeman R1
I'll never forget seeing the Beeman R1 in the Beeman catalog. I had just purchased an FWB 124 and thought I was king of the hill, only to discover that the new R1 had 140 more f.p.s. I was livid! And within a year, Beeman was offering a special tune that jacked up the velocity over 1,000 f.p.s. — the first spring gun to do so. In another year, the standard R1 was getting 1,000 f.p.s. out of the box, and the special tune got them above 1,100 f.p.s.
The R1 didn't stay on top for very long. Diana soon came out with their model 48 sidelever, which produced an honest 1,100 f.p.s. out of the box…and did so with less cocking effort than the big R1. But for as long as it reigned supreme, the Beeman R1 was like a booster rocket for the advancement of the spring-piston air rifle.


Beeman's R1 accelerated the velocity wars beyond the sound barrier!
Are there others?
Of course, these 3 rifles aren't the only ones to have a major impact on airgunning. I can think of several that belong in this group. What models do you think deserve this recognition? And why?
by Tom Gaylord, a.k.a. B.B. Pelletier
Today is Thanksgiving, here in the U.S., as well as the first full day of Hanukkah, which started last evening. I want to wish my Jewish readers a happy Hanukkah and all my U.S. readers a Happy Thanksgiving Day. Today I'd like to take some time to acknowledge those airguns that are worth remembering.
Benjamin 107
It was my first airgun — though I didn't acknowledge it at the time. I was whining at my mom to let me buy a BB gun, when all the while I had a beauty right there in front of me.
The 107 was a front-pump .177 smoothbore pistol that shot BBs, darts and pellets — none very accurately. But compared to a common BB gun, it wasn't too bad. I got it when I turned 10 or 11 after my father died. It had been his. I remember seeing him shoot it once, but that was all.
All the black nickel finish was gone, and the gun was worn to silver nickel in most places, with a hint of brass showing though some of the edges. It was a real bear to pump, and I think I could manage only three strokes when I applied all my weight. After that, I was the one having the stroke!
I could hold about one inch at 20 feet with darts, which was the ammo of choice since I had them and they could be reused. There were some Benjamin pellets that came with the thing, too, but I don't remember them being very accurate.
Once I secured my Daisy No. 25 pump BB gun, I don't think I ever looked at the old Benjamin, again. But that was the first airgun I ever shot, and it started the fascination that's lasted until now.
Diana model 10
Fast-forward 14 years, and I'm married (to my first wife) with a child and living in Germany. In the walled city of Rothenberg ob der Tauber, I find a gun store that sells high-end airguns. They have Walther LGVs and LGRs that I can't afford as a family man. But they also have a Diana model 10 target pistol that the owner claims is stunningly accurate. He's a good salesman, and we decided we could afford it; so I buy it plus 5,000 RWS Meisterkugeln pellets.
I learned how to shoot 10-meter pistol with that airgun — heck, I learned that there WAS such a thing as 10-meter pistol! And I got passably good. Good enough to stand on the line at formal matches while better shooters won. I did that for the next 20 years and got better and better until I was what, in technical terms, is known as a duffer. That's a guy who shows up and shoots without embarrassing himself, while others rule the day.
I also taught my gun-hating father-in-law how to shoot with that air pistol. He got so interested that he shot up a lot of my 5,000 pellets! I finally sold that pistol when I left the Army in 1981.
FWB 124
This is the air rifle I bought after returning from Germany in 1977. I scoped it with a Tasco firearm scope and never had a lick of trouble with it. It had the plastic trigger that the early rifles came with, but I loved it just as it was. It taught me what a precision adult air rifle could be. I had been reading about these rifles for the last 2 years I was in Germany; and, of course, I failed to realize that I lived in Erlangen, the home of the BSF factory! No, I read the Airgun Digest in the last 2 years of my tour and I wanted a 124, so that's what I got.

One of many FWB 124s I've owned over the years. Each one is a classic!
Then the R1 came out and took all the wind out of my sails. My 124 was no longer the baddest airgun on the block — despite the fact that no one on my block owned any air rifles at all. No sir! Dr. Beeman said the R1 was the gun to own, and I wanted one with all my fiber! I had to sell that 124 to pay off debts when I left the Army, but it left a seed deep inside me and I've owned several since that time.
Diana 27
The Diana 27 I'm referring to is not the one you have seen me write about. No, it's a gun I bought for $18 in a pawn shop in Radcliff, Kentucky, in the late 1970s. I didn't even know what it was at the time. It was a Hy Score 807 in .22 caliber and rough as a cob. The rust was deep all over, making the metal surface bumpy. Had it been removed, there would have been deep pits left behind. But the gun still shot very well. I marveled at how light and smooth the powerplant was. It shot slow compared to the 124, but out to 20 yards it held its own. I gave that one to a friend when I left the Army.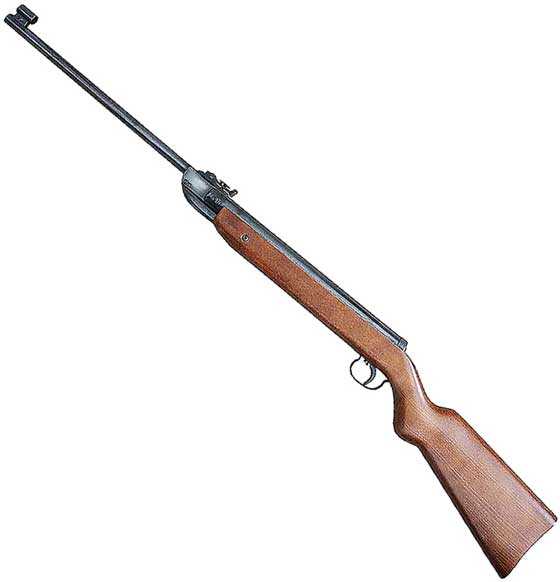 Diana 27 isn't a pretty air rifle, but it shoots like a dream!
Sheridan Blue Streak
This was an air rifle I had coveted since I was a Tenderfoot in the Boy Scouts and read all the ads in Boy's Life. It could shoot through an inch of wood — the ads said so! And it was accurate. But I never had the money to buy one as a kid. In 1978, a year after returning from Germany (and fast becoming a real airgunner), I finally bought one. The price had risen from $19.95 to $39.95 in the time that had passed, but I purchased what is today recognized as the high-water mark of Sheridan production — a 1978 Blue Streak with the rocker safety!

The Blue Streak I bought in 1978, and the rifle on which Edith learned to shoot.
That gun stayed with me after I left the Army. It wasn't worth enough to sell, so I kept it and still have it today. Edith learned to shoot with it and killed 9 rats around our Maryland home — not to mention various mice in the house and snakes in the garden. She put a yellow twist tie around the triggerguard to remind her the pellets were the ones in the yellow plastic box. This was before the days of The Airgun Letter and field target. Edith was still learning about airguns.
Beeman R1
We really didn't have the money at the time, but Edith gifted me with a new Beeman R1 for Christmas in 1991. The Airgun Letter was still 3 years in the future, so the only reason I got this gun was because I told her how long I had desired it. I had purchased a Beeman C1 a couple years before, but it just didn't scratch the itch.
But the real surprise was the used HW 77 carbine that was also under the tree that year. That was Edith at her best — giving me a gift I had no idea I was getting. We even had a scene from A Christmas Story, as a final long box with my name on it appeared after all other gifts had been opened!
The R1 scratched my itch alright; but what I discovered about airguns is that the more you scratch, the more the itch spreads. You think I'm an enabler? Remember, folks, I do everything to myself before I do it to all of you.
Beeman R8
It was the day I returned from the hospital in 2010. I was sitting on the sofa and had just enough strength to sit up for awhile. Edith pulled out a long cardboard box and told me that one of our blog readers had sent me something for when I come home. I couldn't stand or even open the box. She had to do it for me. Inside was a black hard case and inside that was the most beautiful Tyrolean air rifle I've even seen. It was a Beeman R8 with a custom stock and a fresh tune. A personal note told me who had done the work and how nice it shot.

This beautiful Tyrolean Beeman R8 was waiting for me when I returned home from the hospital.
As weak as I was, I had Edith hand me the rifle and I found that I could cock it. Oh boy! Here was a spring rifle I could shoot real soon, even when I couldn't cock most other air rifles. My friend, Mac, was still testing spring guns for me for several months as my strength returned, but that R8 was mine from the moment I first held it.
Edith and I were showered with gifts from the members of this blog when I got out of the hospital, and we were stunned at the outpouring. But that R8 is my favorite spring rifle because of how nice it is, how great it shoots, and most of all what it meant to me at a time when I could barely raise my head off a pillow.
What about the others?
Sure, there have been plenty of other airguns I'm thankful for. My Whiscombe has been a dream test bed for numerous experiments. Both the Benjamin Discovery and the Air Venturi Bronco are guns I personally was involved in developing. So, of course, they meant a lot. The AirForce Talon SS with a 24″ barrel is probably the gun I shoot more than any other…and you all know how I feel about the TX200! I could go on and on, but where do I stop? These guns have all been pivotal in my development as an airgunner.
I'm thankful
Back when I wrote The Airgun Letter, I allowed myself to get sucked into several bad arguments over trivial airgun issues. When we started this blog, I insisted on using a pen name rather than my own. I didn't want to spoil things with old baggage from the past. I also reinvented myself at the same time. I learned to curb my temper and to listen to what others have to say — even when it runs contrary to what I believe.
Some of you suspect this, but now I'll tell you all that Edith is half of Tom Gaylord, the writer. She keeps me on an even keel and lets me vent privately when I have to. She has a much better memory than I do and sometimes she suggests things that I wish I had thought of (and accept credit for when they show up in print). If I didn't have her, the veneer of who I am would quickly peel back and expose the unpleasantness underneath.
The airguns I have written about today were all pivotal in shaping my life as an airgunner. But it is Edith and you readers who have really had the greatest influence. Through thick and thin, you continue to inspire me and make me glad to have this job.
A few weeks ago, blog reader David Enoch asked me to write a report about the airguns that I never warmed to. I tried doing that and quickly found all the bad old stuff leaking out. So, I stopped writing and focused on only the good things that have happened with airguns. There are so many of them; and when I focus on them, I become the person I want to be.
Today's report came as a result of a disaster I had while testing a gun yesterday. Nothing went right, several optical sights failed and I put some new dents in the wall of our bedroom. I then sat on the couch complaining about everything. Knowing that I was losing it, Edith suggested today's topic. I hope this piece does some good for all of you because it has made my day! Happy Thanksgiving!
by Tom Gaylord, a.k.a. B.B. Pelletier
In almost every field of mature consumer technology, there's a sense that the science and achievement have gone as far as they possibly can. The days of innovation are over and, from this time forth, all new models will be repaints and reskins of what's gone before. So it is with airguns.
So the question must be asked, "Is this all there is for airguns?"
Today, I'm going to try to hopefully restore your faith that airgun technology still has new frontiers to be explored. There are still new things yet to come; we haven't opened the last of our presents, yet. In fact, in my opinion, there's more that lies ahead of us than all that's happened so far.
I periodically give new ideas to several companies just to gauge how quick they are to grasp the possibilities. Often, they give lip-service to ideas that sound like they want to advance the technology; but in over 95 percent of the cases, my ideas remain unexplored. In the few cases that do get developed, over half veer sharply off-course during development and end up as hopeless failures. In terms of what's possible, I think there are a thousand acres of fertile land lying before us and, at present, we only have a hoe — or at best a rototiller — to work the soil.
Spring-gun technology
Some folks may think we've gone as far as we can go with springers because we've hit the maximum velocity barrier. They think that nothing is left for airgun companies, short of reskinning existing models and coming up with new buzzword names and bizzare camo paint patterns for the stocks! But they're missing the boat. No one yet has built a spring rifle that is easy to cock, yet produces over 20 foot-pounds. I'm talking about a rifle that cocks with 20 lbs. of force, and delivers a medium-weight .22-caliber pellet out the spout at 850 f.p.s.
Can it be done? Of course! I've even given the concept of how to do it to one company, where it's currently lying on the floor, getting trampled by engineers who are busy designing great new ways to encapsulate 30 foot-pounds into ever less-expensive envelopes.
How about a spring gun that can put 10 pellets into a dime at 30 yards? We know that's possible because there are several such rifles already in existence. The FWB 124 is one, and the TX200 is another. But the bulk of the new models coming out today are hard-pressed to keep 10 shots inside an inch-and-a-half at that distance. We've explored the very way to make a rifle shoot that well here in this blog, yet we keep getting new spring guns that are designed as exercise machines, rather than for shooting. If you want to know how to make a spring gun more accurate, refer to this blog report.
Precharged technology
Surely, we've seen the ultimate in PCP possibilities? The answer is "Yes," if by ultimate we mean finding out how much the market is willing to bear in terms of cost. But there are places the PCP technology has yet to go. How inexpensive can a gun of reasonable quality be? Can we make a PCP that can sell for $150 and still return a reasonable profit? I think it's possible. Maybe not under the existing manufacturing paradigm; but if a new process of building was created at the same time as the design, then, yes, I think it could be done.
But, the marketeers all shrink from such thoughts. Where's the profit in a low-cost air rifle? A century ago, a man asked the same thing about automobiles. He took the average price for an entry-level car from over $800 to under $400 inside of 15 years. In the process, he created the world's first vertically integrated manufacturing plant and also put humanity on wheels. I'm speaking of Ford, of course. I understand he was able to make a few dollars along the way.
Optics
Leapers will bring out a scope with an internal bubble level in a few months. That's an idea that's been bubbling along for years, pun intended. Such scopes were hand-made in the 1990s and Sun Optics makes them today, but their models don't achieve their rated magnifying levels. Leapers has worked on this idea for several years, and they're close to bringing a quality optic to market. The bubble level will end the problem of canting, which is extremely important to accuracy for airgunners.
Are we finished with optics? Never! There are still so many things to be done. Where is that great air pistol scope, for example? And where's that scope base that makes mounting a scope easy? Benjamin uses Weaver bases on many of their springers, which is a step in the right direction. We need more of that.
When Leapers made the drooper mount bases for Diana rifles, they solved a decades-long problem for airgunners. However, they did even more than that. They focused Diana's attention on the problem and the need to end the drooping barrel problem. If airgun barrels didn't droop, drooper mounts wouldn't be required. The Diana 350 Magnum proves that it's possible to make breakbarrels that don't droop.
What about a simple, foolproof scope-mounting system? Where's that? When the market supports people paying money to have their scopes mounted by someone else, you know there's room for improvement.
Open sights
There's plenty of room in the world of open sights for improvement. For starters, how about a muzzlebrake that incorporates a front sight post, or even a selection of front sight elements that can be folded out of sight and stored when you want to mount a scope? Wouldn't that be welcomed by a lot of shooters?
Triggers
While the technology has advanced in so many areas, the one place it has actually gone in retrograde is the trigger. There were better triggers in the 1880s than exist today. We still rely on the simple sear with a small contact area, when there's a universe of mechanical possibilities yet to be explored. An over-center geometry that collapses when pushed past center is just one way to build a reliable adjustable trigger. And people make so much of triggers that I'm certain there would be a small but profitable market for a single-set or double-set trigger as an upgrade on certain premium airguns.
Borelines
Chiappa figured out that if the barrel of their Rhino revolver was lower, the perceived muzzle jump would be less. We need air pistols that do the same.
Sling anchors
Hunting is growing fast these days, and everyone who goes afield knows the value of a sling. There's certainly a market for a easy-to-use sling swivel attachment that could be conveniently installed on an air rifle. Mossberg had them in the 1940s, but nobody ever looks to the past to find the things we need now.
Things to avoid
While thinking of the things we need, there are some things that must be avoided….
More power in spring guns
The horsepower race among smallbore spring-piston airguns has painted several companies into the corner. They can't find enough adjectives to describe their next new magnum gun. What they fail to realize is that the parade has already passed by the power race. The max velocity possible is well-known and now shooters are looking for a gun with adequate power that can also hit what they shoot at. I'll agree that the uneducated buyers don't understand this yet, but the moment they get saddled with a jackhammer that takes 50 lbs. to cock and removes their fillings when it fires…they will. They'll also leave airgunning, never to return!
Higher fill pressure
The usefulness of higher fill pressures has peaked and gone past the optimum, into the weeds of excessive pressure that offers no benefit. We thought that 3,000 psi was necessary until Tim McMurray and Crosman showed us different with the USFT and Benjamin Discovery rifles, respectively. Going higher than 3,000 psi is the marketing kiss of death, because nothing in this nation supports such pressure.
Scopes of higher magnification
I used to shoot field target, and we thought the higher-powered scopes were necessary for success. We thought that because we wanted to be able to see blades of grass at 55 yards, so we could focus on them and be able to determine range. When the magnification passed 40x, the scopes started getting darker because the optics inside couldn't support that great power. And we were unwilling to pay the $2,000 required to buy the kind of optics that could. Instead of chasing magnification or objective lens size, what the optics companies need to do is come up with an erector tube that doesn't float when it gets too high or right in its adjustment.
In summary
These are just a few of my thoughts. I think there has never been greater opportunity for new airguns than right now. There's an established base of educated shooters who understand airguns well enough to accept a good new gun and make it profitable for the builder. In that respect, we're much better off than we were a decade ago. But are the airgun makers in the same position? Only time will tell.
by B.B. Pelletier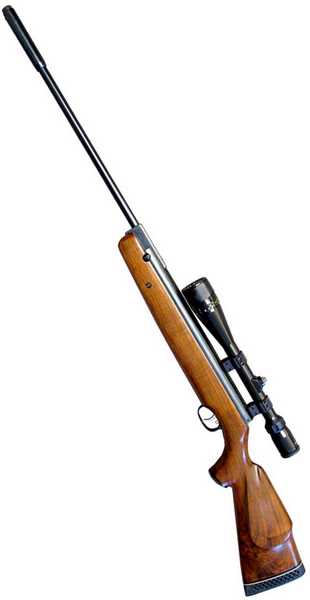 My 18 year-old Beeman R1 with its Maccari custom stock and Bushnell 6-18x Trophy scope is a thing of beauty.
Today, I'll test my Beeman R1 air rifle for velocity, plus show you the differences between the standard Rekord trigger and the special match Rekord trigger. Before I get to the velocity figures, however, let me give you a brief history of some of the many tunes that have been in this gun.
Break-in
After 1,000 shots were on this rifle, it was shooting Crosman Premiers at an average 770 f.p.s. The rifle took 46 lbs. of effort to cock and shot with a little buzziness, indicating the powerplant had some looseness.
Following that test, the rifle went through a series of tunes that are way too numerous to cover here. One that's of interest was the Beeman Laserization that was so popular in the 1980s and early '90s. Beeman would do this tune for a price, or you could buy all the parts and do it yourself. I elected to do the latter.
The Laser seal came way oversized and had to be reduced to fit the particular gun in which it was installed. That was thought to be a superior way of tuning in those days, though today I see generic seals that work just as well without all the fuss.
I had a problem fitting the first seal, and it burned on one edge from excessive friction. I got a replacement and sized it a bit looser. You never want to lube a Lazerized rifle, as the special Beeman Laser Lube is the best stuff for friction. This lube is no longer sold. If you have a worn-out Laser seal, just about any modern generic seal can replace it with no loss of energy.
The Laser spring was weaker than the factory spring, making the rifle easier to cock. After I applied the tune and broke it in a little, my rifle averaged 765 f.p.s. with Crosman Premiers. Cocking effort was 37 lbs., which is an 11-lb. reduction for almost the same power. That's significant!
The one thing I didn't like about Laserization was the fact that the gun vibrated a lot more than before. That Laser spring fit the piston and guide so loosely that the only way to quiet the gun was to use Mainspring Dampening Compound on the mainspring — which subtracted velocity at the same time.
The absolute best tune I ever applied to the R1 was a Mag80 Laza Tune I got from from Ivan Hancock. It was a drop-in tune that included a buttoned piston and a long mainspring that came coated with something I called black tar in print the first time I wrote about it. After that, the airgun community seized on the term, and black tar became a product — though nothing that was ever sold separately was as viscous as the stuff on that Venom spring.
This tune took the R1 up over 22 foot-pounds with absolute zero vibration. It was so smooth I thought it had actually lost power. But the 50-pound cocking effort reminded me that the big spring was doing its thing. For reference, Crosman Premiers averaged 809 f.p.s. with this tune.
Unfortunately that spring was included in my Mainspring Failure Test, that left four different tunes cocked for one month to see the effects. The spring finally canted and was never as smooth afterward!
I also tested a gas spring made by Vortek. It was smooth and did make better than 20 foot-pounds with certain pellets, but it also took 50 pounds of effort to cock, so I have since removed it from the rifle. The gas spring put Premier pellets out the muzzle at around 790-795 f.p.s.
The tune that's in the rifle now is a weak mainspring and a generic piston seal. Everything is moly-ed and I have used a touch of Black Tar on the mainspring to calm it down. Today we will all see what velocity the rifle currently develops with this tune, which can be researched in its entirety in the 13-part report titled Spring Gun Tune.
Velocity
The first pellet I tested was that old standard — the Crosman Premier. I have given you the velocities for this pellet at various stages of the rifle's life, so you can compare them to how it's doing now. With the current tune the rifle shoots Premiers an average 743 f.p.s. The range runs from a low of 738 f.p.s. to a high of 751 f.p.s., so an extreme spread of 13 f.p.s. Given the pellet's average 14.3-grain weight, the rifle produces 17.53 foot-pounds at the muzzle with Premiers. I noticed they fit the breech on the loose side, but were still what I would consider a good fit.
The rifle now cocks with just 33 pounds of effort, which is where I like it. It weighs 11 pounds on the nose, and you have to allow a little over one of those pounds for that big Bushnell Trophy 6-16 scope and mounts.
Next I tried RWS Superdomes, another domed pellet like the Premier but made of pure lead and just slightly heavier, at 14.5 grains. These averaged 742 f.p.s. in the test rifle and ranged from a low of 733 to a high of 748 f.p.s. So a 15 foot-second spread. At the average velocity this pellet produces 17.73 foot-pounds of energy at the muzzle. The fit was loose in the breech.
Then I tried the heavier 15.43-grain Gamo Hunter. This dome fit the breech loose but also varied a lot in the seating pressure required, which indicates variability in the size. They averaged 706 f.p.s. and ranged from 700 to 710 f.p.s., which is a tight spread of just 10 f.p.s. At the average velocity these pellets produced 17.08 foot-pounds of energy.
The final pellet I tested was the 15.9-grain JSB Exact dome. These averaged 696 f.p.s. and ranged from 693 to 701 f.p.s., so the spread was just 8 f.p.s. — the tightest of the test. The fit of this pellet was loose in the breech. At the average velocity this pellet produced 17.11 foot-pounds of energy at the muzzle.
The trigger
I mentioned that the trigger in the R1 is a standard Rekord, and when I reported on the HW55 target rifles, I had mentioned that they all have special match Rekord triggers. Weihraiuch now calls all of their Rekord triggers match triggers, but back when the 55 was still being offered they differentiated between the trigger in that gun, which they called a match trigger and the one they used in every other sporting rifle. The latter was just called a Rekord.

This is the standard Rekord trigger that's on my R1. Paul Watts gave me the smooth trigger blade to replace the Weihrauch grooved blade that comes on the trigger, but otherwise the trigger unit is stock. I have adjusted and lubricated it, of course.
The match trigger also has no provisions for a safety, in contrast to the standard Rekord. Target guns are seldom provided with safeties, as their shooters are expected to be cognizant of safe shooting at all times.
The match Rekord has an aluminum collar around the trigger adjustment screw that is used to lock the screw after adjustment. This collar is turned by hand-pressure, only, so it is knurled on the outside to provide a better grip. Let's sample the R1 trigger against an HW55-CM trigger and see how they differ in use.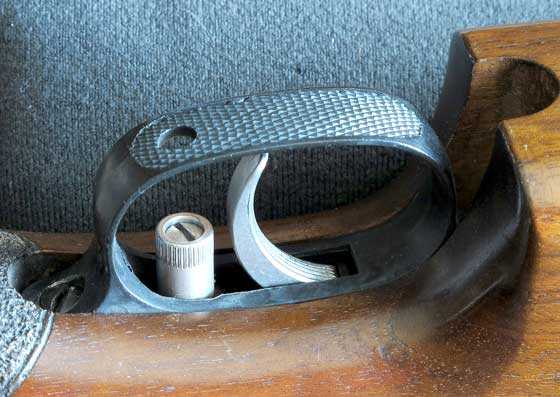 This match-style Rekord trigger is on my HW55 CM. The most visible difference between this and the standard Rekord is the locking collar around the adjustment screw.

The R1 trigger breaks cleanly at 1 pound 1 ounce — a little lighter than the recommended 1 pound 8 ounces that the Beeman instructions used to recommend. You have to remember that I have shot this rifle extensively since it was new and I have worked on the trigger, as well.
The match Rekord in my HW55 CM breaks at 7 ounces, or just less than half of where the standard Rekord goes off. It is considered very safe at this low pressure setting, because of both the design of the Rekord and that fact that a target shooter will be handling the rifle.
The two Rekord triggers are dimensionally the same. The proof of that is my HW55 SF that is an HW50 with this trigger instead of the normal Rekord that's found on the HW50s. Back when the 55SF was made, the HW 50 was a different model than today, but the same gun could accept either trigger.
Should you swap your trigger?
The question that always comes up when I tell people about these two triggers is why not just adjust a standard Rekord to have a pull weight equal to the match trigger? The answer is the match trigger isn't designed to hold back pistons that are compressing powerful mainsprings like those found in an R1 — or even in lesser sporting rifles. And, if you were to install a match trigger in a sporting rifle, you would be doing the same thing. So leave the trigger that came with the gun where it is and be safe.
That's it for today. Next we will look at the accuracy potential of this rifle.
by B.B. Pelletier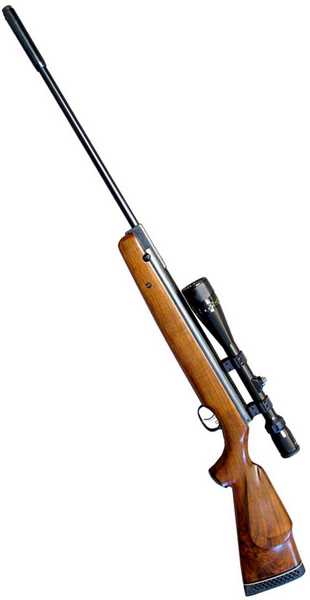 My 18 year-old Beeman R1 is a thing of beauty with its Maccari custom walnut stock and Bushnell 6-18x Trophy scope.
Before someone jumps on me for repeating a blog report, I'm aware that there was a three-part blog of a Beeman R1 tested by Mac in 2010. That was a test of a brand-new Beeman R1 Elite Series Combo. Today, I am starting a report on the 18 year-old R1 that pretty much started things for me as an airgun writer.
Lately, I've been thinking about heirloom airguns. You know what I mean — the kind of airguns that never get old. They stick around and get remodeled and updated because everyone loves them. And everyone loves them because, at their hearts, they're built to last.
What could epitomize this more (for me) than the very Beeman R1 air rifle I used to write my book? It all began in 1976, when I bought the first edition of Airgun Digest in the Stars and Stripes bookstore at Ferris Barracks in Erlangen, Germany. That book introduced me to Robert Beeman and he, in turn, showed me the awesome Feinwerkbau 124 pellet rifle. Never mind that I was living in the city where the excellent BSF airguns were then being made (and I didn't know it). I wanted an FWB 124 so bad it hurt.
By the time I returned to San Jose in November 1977, I wanted a 124 so bad that I drove straight up to San Rafael and bought one at the Beeman store. I was king of the world for several years with that air rifle, until, at the end of 1981, the R1 was announced. Suddenly, I was a man without an airgun, because technology had trumped my 124.
You might expect me to have responded instantly to the change, but I wasn't exactly what you would call an airgunner in those days. I shot them, for sure, but I still thought of myself as a firearms guy who also had some airguns. And even when it was brand new in the winter of 1981, the R1 sold for almost $300. So it went on the back burner. It wasn't until 1991, 10 years and a new wife later, that I finally got my R1. It was a Christmas gift from Edith who thought that because I could speak of nothing else when it came to airguns, I must have wanted one. Women — go figure!
That first R1 was in .177 caliber, because I was still under the mesmerizing trance cast by Herr Doktor Beeman a decade before. A thousand feet per second, and then 1100 f.p.s. was a heady aroma for a new airgunner! Well, it didn't take very long for me to discover what it meant.
The R1 was huge — much larger than most of the firearms I was shooting at the time. And it was hard to cock! I no longer owned my 124, but I remembered its willingness to move to the cocked position with a light touch. Compared to that, cocking the R1 was like bending the bow of Hercules.
When fired, the big rifle recoiled more than a little. And I couldn't get it to shoot very well. Perhaps three inches at 50 yards was the best I could get it to do. What a disappointment! I had waited 11 years to dance with the prom queen; and when I did, I discovered that she had B.O. and wasn't very nice!
I need to insert a note at this point. The R1 wasn't the first air rifle Edith bought me. A couple years earlier, she gave me a Beeman C1 that I wanted mostly because it was just a fraction of the price of the R1 that was, by this time, over $400. I shot and shot that little C1 carbine. I shot it so much that the cocking became very easy and the trigger smoothed out. I even took it apart and gave it a lube tune that actually did improve the firing behavior. This was in the days before affordable chronographs, so I didn't know how fast the little gun shot. What I mean by that is — I was satisfied.
I even stumbled on the artillery hold with that C1 and was so surprised that I wrote an article about it and sent it to Dr. Beeman for his newsletter. I never heard from him, so I figured the article was a bust. Little did I know what loomed on the horizon! Keep that in mind as I continue my story.
I actually got rid of the first R1 because I had a better rifle. At the same time she gave me the R1, Edith also gave me a used HW77K carbine that someone had tuned to perfection. It was heavier than the R1, but it didn't recoil and the accuracy was stunning — especially with my new artillery hold. For a couple years, I continued in that direction. Then the airgun magazine I just subscribed to went belly up, and I was suddenly cut off from a hobby I was growing to enjoy.
Edith suggested that I write an airgun newsletter of my own; and when I told her I didn't know anything about airguns, she asked me to write the titles of the articles I thought I could write. Three legal tablet sheets later, I had enough titles for the first two years of a newsletter — and The Airgun Letter was born.
A year into the newsletter, Edith and I were talking about things I could write and a thought dawned on me. We could buy a Beeman R1 and test it from brand new through the first thousand shots — the same thing any owner would do. Then I could tune it several ways and write even more articles. I could examine the Rekord trigger and mount a scope. In short, I could do all the things any airgunner would do with a new air rifle, only I could also write about it and photograph things as I went. The newsletter would virtually write itself!
This time, I resolved not to make the same mistake as before in buying the wrong caliber. The R1 is best-suited to a .22-caliber pellet because of its power, so that's what we got — a brand new Beeman R1 in .22 caliber to test and write about. My writing career suddenly became much easier and more fun at the same time.
The rifle arrived, and I tested and recorded it throughout the 1,000-shot break-in. Then, at a thousand shots, I started to disassemble the rifle for a lube-tune when I discovered that one of the stock anchor flanges that the forearm screws attach to was broken off the spring tube. The rifle had to be returned to Beeman!
The rifle went back and Beeman welded the flange back on the tube. That didn't bother me. But they also gave the rifle a moly tune, since all lubricant had to be removed for the welding. I was crushed! My test control had been destroyed by an act of kindness and generosity! When I talked to Don Walker at Beeman and explained what I was doing, he reluctantly agreed to send another new rifle. So the gun that I am reporting on today is that second .22-caliber Beeman R1.
It was fired and tested for another thousand shots, and I now had two new guns that had gone through the same break-in. That made the report, titled R1 Homebrew, all the more interesting. When the number of newsletter installments grew to nine, I knew I could write a book and that's where the R1 book came from.
The rifle
Well, that's enough of the history of this rifle for now. What kind of air rifle is the Beeman R1? First of all, it got the name Supermagnum from the fact that it was the first spring rifle to break the thousand foot-per-second barrier in .177 caliber. It was initially advertised at 940 f.p.s. in .177 caliber, but within months that climbed to an even 1,000 f.p.s. Then Beeman came out with a special Laser tune that took the rifle up to 1,100 f.p.s. — a seemingly untouchable velocity. It could actually shoot lead pellets faster than the speed of sound!
When it was new, the R1 was considered a massive air rifle. Weighing nearly 9 lbs. and over 45 inches long, it was larger and heavier than most centerfire rifles. Today, we're overwhelmed with magnum air rifles and these dimensions don't seem so large — but they still come as a shock to anyone who's never experienced a magnum spring rifle! In fact, I worry that we lose a lot of new potential airgunners who, upon experiencing one of these monsters for the first time, decide to do something else for recreation.
The R1 is made for Beeman by Weihrauch. The R1 was designed by Robert Beeman, who employed a CAD engineer just for the task of designing the gun. The agreement he made with Weihrauch was that Beeman owned the R1, but Weihrauch was free to market the same action in a European stock under the model name HW80. The 80 in that model name refers to the length of the piston stroke in millimeters. The R1 was a redesign of the HW35, which you now understand has a piston stroke of 35mm. That explains where the tremendous power of the rifle comes from. It's not the piston diameter, though that is large, and it's not the mainspring, though it's also very powerful. It's the long stroke that generates the awesome power.
Being a Weihrauch gun, the R1 comes with the Rekord trigger that many of you recognize as one of the top sporting airgun triggers. Ivan Hancock based his Mach II trigger on the Rekord. It's a sporting trigger of even greater adjustability and finesse than the Rekord. And the Air Arms trigger that's found in the TX200 is also a close cousin to the Rekord.
Cocking effort on a stock R1 begins at over 50 lbs. of effort; but after a thousand-shot break-in, it usually drops to around 46 lbs. In its day, that was a lot of force to cock a rifle. Today, it's on the low side for magnum rifles. I personally don't even like to do that much work, so I've tuned my R1 down to less effort while still retaining most of the power. That long piston stroke does a lot for you!
Compared to today's modern air rifles, the R1 seems like a traditional old-school gun. Although the stock is made of beech, not walnut, it's nicely checkered and well-shaped. The finish is a modern synthetic that takes a shine after being handled awhile. The bluing used to look matte to my eyes when compared to guns like the Webley Mark III, but in today's market it is a standout deep black with a good polish.
Back in the day, R1 guns came with fine, adjustable Weihrauch open sights and the front globe took inserts. Those days are gone for economic reasons and also because the majority of buyers will scope their rifles immediately. All veteran Weihrauch owners like me have a drawer filled with take-off sights from guns we've owned in the past.
Power
I tested two new .22-caliber R1s for my articles, and they both performed similarly, though the second rifle was slightly more powerful. When new, it generated above 19 foot-pounds with RWS Hobby pellets; and after 1,000 shots, it dropped to 18.4 foot-pounds. That's an average of 838 f.p.s. for the light Hobby pellet. The cocking effort decreased to 46 lbs. at this point, but the gun hadn't been lubricated yet.
I then stripped the rifle and gave it a standard moly lube job, putting moly on the thrust washers that ride between the base block and the action fork. The cocking effort dropped to 39 lbs., and the power dropped to 16.98 foot-pounds with Hobby pellets.
I'd used Beeman Mainspring Dampening Compound on the mainspring in this tune; and when this compound was removed, the cocking effort remained at 39 lbs. and the power increased to 17.47 foot-pounds. Some vibration crept back in, and the recoil felt a little heavier — but it was still better than the broken-in gun before the tune.
One last thing
My rifle has the Vortek adjustable muzzlebrake for tuning a spring gun. I'd forgotten that I put it on this rifle. Maybe I can do some tuning during accuracy testing?

The Vortek adjustable muzzlebrake has no capability for silencing the shot. All it does is tune the barrel vibrations.
What now?
I'm going to tell you where my R1 is now, with regard to tunes, in the next report. It won't be the report of a brand-new airgun; but if you want one like it, the model is still being sold. All you have to do is put about 20,000 shots on i,t and you'll have one that's as well-used as mine.
I'll show you the velocity and power of the rifle as it's now tuned, plus I'll give you an historical look at several past tunes that have been noteworthy.
Finally, I'll show you the accuracy you can expect from this rifle. In the time since I last shot it seriously, there have been vast improvements in pellets. We may be in for some surprises.
by B.B. Pelletier
Our blog reader pcp4me suggested this topic; and since I spent both Saturday and Sunday at the Dallas Arms Collector's show (it's a tough life), I wanted something that didn't need a chrono, a range or lots of pictures. So, this report is one of my laments that will start all you veteran shooters crying in your beer. It's the story of guns I've loved and lost.
Yes, I've done this before and, no doubt, there will be some repeats. But, because I'm flawed and continue to make mistakes, there will be some new stories, too.
My first Daisy No. 25 pump gun
I had a paper route and when my sister's latest boyfriend wanted to score some points (he didn't last long), he sold me his 1936-version of the Daisy No. 25 pump BB gun. It was the Weatherby Magnum of the BB gun world back in the 1950s.
For three days, I was king of the hill, lording my good fortune over the neighbor kid who was making the best of a tired old lever-action Daisy 102 that shot to the left. My gun would shoot through one side of a tin can (the airgun chronograph of the 1950s), while his would only make a dent.
However, on day four, when I went to shoot my new prize, the BB just rolled out the muzzle after I pulled the trigger. I was beside myself and immediately went into the repairman mode, stripping the gun as far as I could with just a screwdriver, pliers and a lot of personal angst.
When the parts were far enough apart that I'd never be able to get them together again, I put them all in a paper grocery bag and sold them for a quarter to someone. I just wanted the gun out of my sight to forget the sad memory as soon as possible, and I thought the guy who bought the parts was a friend.
Several days later, the "friend" brings the whole gun back and shows me that it shoots fine. "My old man put it together for me. He told me you have to oil them every so often to keep the leather seals working, you dope!"
At that exact moment, I became a collector of Daisy No. 25 guns, and a potential airgun writer with his first cool anecdote. This is probably the tenth time I've told that tale, so I'm slowly ammortizing the pain though the catharsis of writing.
My Sheridan Supergrade
They don't shoot any better than a Blue Streak, nor are they more accurate; but Sheridan Supergrades have held a fascination for me ever since I read about them in the first Airgun Digest. Just like the former owner of what became the Golconda diamond mines, I wasn't poor until I knew what a Supergrade was and I didn't have one.
Mine was an "honest" gun, which means that it worked and wasn't a junker, but it had the signs of use. It was accurate, but no more so than a Crosman Town and Country 107 I owned at the same time. But it was a genuine Supergrade and it was mine!
Then I was forced to sell it and while doing so I told myself that when circumstances improved I could always by another one. But like the old doctor in the movie Field of Dreams, the man known as Moonlight Graham in the single inning of major league baseball he ever played, what I didn't know was that was the only day I would have. Supergrades went through the roof and now I absolutely refuse to pay what it takes to buy one in a condition similar to what I once had. So, I'm going to continue to sit by the curb and make mudpies and pout.
A .22-250 custom rifle
I was young and stupid and didn't know that all centerfire rifles cannot hit hovering bumblebees at 100 yards. My .22-250 was a nondescript custom job on a 98 Mauser action with a Douglas Premium barrel. I had the loading dies, brass and exact loads to put five into a half-inch group downrange. What I didn't have was the presence of mind to hold on to this most accurate rifle I ever shot. I forget what I traded it for or how much money I may have received for it, but I do know that it wasn't as good. I've been searching for an accurate .22 centerfire rifle ever since.
A .458 Winchester Magnum
Sure, it's an elephant rifle, but the guy who sold it to me at a local gun show also sold me the dies and the bullet mold and gave me all the cases I'd ever need to shoot the rifle. He also gave me the light load it preferred, and that was the first rifle I ever shot 10-shot groups with. I did that only because I was mesmerized by all the bullets passing through the same hole in the 100-yard target.
I was so stupid about guns that I thought all .458s would do the same as that Springfield-based custom gun. Now, I know better and continue to search for accurate big bores that can do as well. Perhaps, someday, I'll get the Ballard to turn in a group equal to what I once owned and stupidly traded away.
Ruger Blackhawk flattop with a 10-inch barrel
It was a great gun that I could load heavy but never seemed to kick me beyond my ability to absorb it. It wasn't a cowboy gun and, at the time, I thought the sun rose and set under the rampant Colt. I traded off the Ruger, telling myself that I could always buy another one…if I don't mind selling off a handful of my other favorites. I see them on Gun Broker from time to time and two thousand will buy one in good shooting condition these days. Once again, I refuse to be taken advantage of my own stupidity. Press onward and never look back is my motto.
Savage Anschutz .22 Magnum
This one is painful because it just happened this past weekend. I took my deluxe Savage Anschutz .22 Magnum bolt-action to lay on my table just to fill some empty space. I put a price on it that I was certain would insult everyone, because I really did not want to sell this rifle. Sure enough, a dealer walked up and paid my full price before the show opened. Mac later saw it on his table with another $125 on the price.
Back to airguns
If it seems like I've loved and lost more firearms than airguns, it's because I have. I've been shooting firearms as long as I have airguns and have owned many times more of them over the years. But there are also some more airguns I've sold that I shouldn't have. You generally find out that you shouldn't have sold a gun when you find that you cannot stop thinking about it after it's gone. For that reason, I know I'll have difficulty selling the current crop of 10-meter rifles I own.
Air Arms Shamal
But many years ago, I bought an Air Arms Shamal .22-caliber PCP. That rifle had a fill pressure of just 2,600 psi, yet it developed 20 honest foot-pounds over 20+ shots. The rifle had a gorgeous walnut stock, but that wasn't what caught my fancy. It was the incredible accuracy that could put five pellets into the same hole at 40 yards. Aside from one other British-made airgun, this was the most accurate .22 air rifle I've ever tested.
I sold it in a moment of weakness when I was panicked over money. I would probably do the same thing again, but I'm fortunate not to have been in the same financial straits for many years.
I would do it again
My last story has a happy ending, despite the fact that I don't have the gun. Fifteen years ago, I was heavy into tuning FWB 124 air rifles. I found them, tuned them and resold them to finance the next batch of similar air rifles. However, in all the confusion, I tuned one rifle that stands out from all the rest. It was a 124 Deluxe sold by Beeman back in the late 1980s, and it looked just like hundreds of other 124s, only this one was different. It turned out to be the hottest 124 that ever passed through my hands. After the tune, it was putting Crosman Premier lites out the spout at 881 f.p.s. with complete smoothness.
I knew it was a great airgun when I owned it, but familiarity finally bred, if not contempt, at least disregard, and I allowed it to go in a trade. The good news is where it went. My buddy Mac got the rifle and still owns it today. He says it still shoots as fast and smooth as ever and that makes me glad.
If I've learned anything over the years, it's this one truth. You may probably never, again, have the chance to acquire something as nice as what you now have. You should take the time to acknowledge when something is so good that it catches your attention. It probably does that for a good reason, and you should learn to listen to your gut when this happens.
I know something else, too. I don't have the time to enjoy all the wonderful things there are. If I take the time to enjoy fewer things more, rather than more things in less time, it turns out well. And that's my advice for today.
by B.B. Pelletier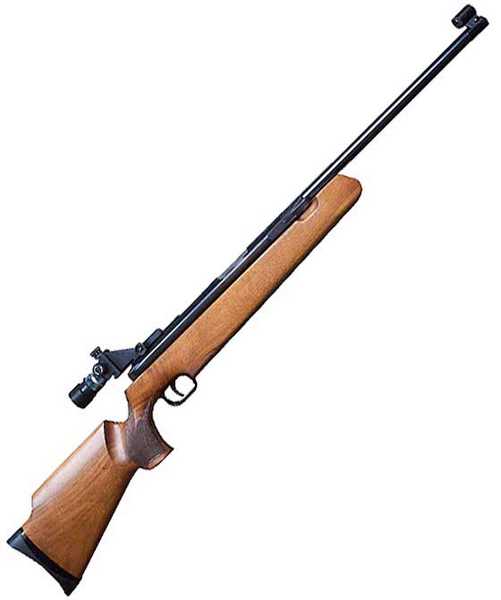 The FWB 150 is a classic target rifle from the past. It's also the father of the FWB 300.
Today, I'll get to play with an old classic. This is our second look at the FWB 150, so of course we're looking at velocity. As I told you in Part 1, this rifle was rebuilt by Randy Bimrose, so we can expect it to perform like a new rifle.
The other day I was interviewing Robert Beeman for the May podcast, and I asked him which modern airgun was his favorite. He said he couldn't pick just one, which makes him a true airgunner in my book, but the four guns he said he would not want to do without are the Beeman R1, the Beeman P1 pistol, the Beeman R7 that he liked to shoot just because it was so light and easy, and the FWB 300. When he talked about the 300, you could hear the smile in his voice. He went on and on about the recoilless sensation and the trigger that's so light that you "think it off." It was reassuring to hear a man who has owned most of the airguns in the world talk about the ones he didn't want to part with — one of them being the offspring of today's rifle.
Since the last report, I've attended the airgun show in Malvern, Arkansas, where this year Scott Pilkington brought dozens of target rifles that had been purchased from clubs. Among them were many FWB 300s and one or two 150s. The availability of an affordable version of this rifle or one much like it has never been better than right now.
Firing behavior
The 150 isn't really recoilless in the same sense that the RWS Diana model 54 Air King I reported on yesterday is not recoilless. The shooter doesn't feel the recoil because the barreled action is separate from the stock and moves on rails under recoil that the shooter cannot feel. The FWB 150, being just a fraction as powerful as the Diana 54 moves very little. Because of this, we say these rifles are recoilless, but I want to differentiate this kind of recoilless operation from a true recoilless action, like a Diana 75, which uses the Giss contra-recoil dual piston system, or the Whiscombe's dual opposing piston system — both really do not recoil at all.
The next observation is that this particular rifle has no buzz to it. Despite the 150′s reputation for being a bit buzzier than the 300S, which has dual counter-wound mainsprings, the rifle I'm testing today is very calm when it fires. Randy Bimrose did put a new mainspring in the gun, so maybe that's what did it. Whatever the cause might be, I find this 150 quite smooth and calm to fire.
Trigger
I tried to measure the trigger-pull for you, but my RCBS analog trigger-pull gauge doesn't go that low. By interpolation, I can say that it's around 6 oz., but that's as close as I can get. It's certainly very light. Now, on to today's testing.
H&N Match Pistol
The first pellet tried was the H&N Match Pistol. This is a light pellet, weighing about 7.6 grains, so it's no surprise that it averaged 615 f.p.s. That's faster than a modern 10-meter rifle would shoot, but these old vintage springers always were the magnums of the competition-type rifles. The spread ranged from 613 to 620 f.p.s., so only seven f.p.s. for the whole string. That's tight for a springer. These pellets fit the bore very well and felt like a pellet I should shoot for accuracy.
H&N Match Rifle
The next pellet I tried was the H&N Match Rifle pellet. They weigh about 8.2 grains and should be somewhat slower. In this rifle, they averaged 606 f.p.s. Sure, that's slower, but not as much as I anticipated. They ranged from 598 to 610 f.p.s., so a total spread of just 12 f.p.s.
RWS R-10 Match Pistol
Next, I tried the RWS R-10 Match Pistol pellet, which weighs only 7 grains. They averaged 627 f.p.s. and went from a low of 621 to a high of 633 f.p.s. That's another 12 foot-second spread.
RWS Hobby
The final pellet I tested was the RWS Hobby, which can usually be counted on to be the fastest lead pellet in any gun. They didn't disappoint here, either, averaging 661 f.p.s., or 34 f.p.s. faster than the R-10 Match Pistol pellet of the same weight. These pellets ranged in speed from a low of 654 f.p.s. to a high of 668, so the total spread was 14 f.p.s.
Conclusions
I said at the beginning that the 150 should shoot like a new gun, having just been rebuilt. Well, the velocities I recorded certainly support that. While I know there are airgunners who look at velocity first when evaluating all airguns, the 150 isn't one you want to do that with. It's a target gun, pure and simple. It's designed to stack them all in a tight little hole and nothing else. So anything beyond about 575 f.p.s. is wasted. However, the gun doesn't suffer for it. It's just as smooth and slick as can be and you don't notice any drawbacks from the power.
The consistent velocity and smooth shooting behavior are both evidence that the rebuild was successful. That's why I didn't attempt it myself, even though the owner's manual does give step-by-step instructions on how to dismantle the action.
We'll take a look at accuracy next. Some time in the future, I'll do a similar report on my FWB 300S and link back to this series for comparison. When all is said and done, I'll link all the vintage 10-meter spring rifle tests so you can evaluate them together.