by B.B. Pelletier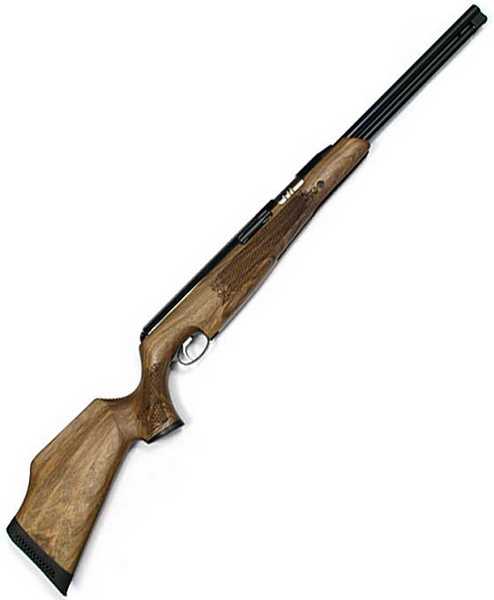 Air Arms TX200 Mark III air rifle is impressive in its optional walnut stock.
Let's look at the velocity of my .177-caliber TX200 Mark III. My gun is more than a decade old, and it didn't always perform like it does today. When it was new, it was 60-70 f.p.s. slower than what you'll see today; but as I shot it over time, the rifle broke in and became faster. This gun is still in its original factory tune. It hasn't been shot that much — perhaps 2,000 shots or so since new. I was no longer competing with a spring-piston rifle in field target when I got this one, so it sat around a lot. In fact, I think most of its life has been spent in tests like this one.
In the description in Part 1, I forgot to mention that the pistol grip of the stock is shaped for either right or left hands. You must buy the specific stock you need. It has a swell that fills your palm as you hold the rifle, and Air Arms made the grip fit well for most shooters. The grip is very vertical, which is perfect for a target-type trigger because it allows the best control over the trigger-pull.
I also didn't mention the latch that holds the underlever. I have seen everything from a complicated spring-loaded catch that has to be pulled back or pushed forward to release the lever, to a friction fit that can wear out and drop the lever at the wrong time. The TX200 has a spring-loaded ball bearing that holds the underlever tight, yet releases it easily when you pinch between the barrel and lever with your fingers. It is the best underlever latch I've seen. The only thing better is using over-center geometry to eliminate the need for the latch altogether.
Cocking effort
My TX200 cocks with 34 lbs. of effort. Cocking is smooth, and the three detents that hold the sliding compression chamber don't start catching until the last part of the cocking arc. The rifle is agreeably quiet when cocked, yet also reasonably safe from a beartrap accident, where the sear slips and the compression chamber slams forward on fingers that are loading pellets.
Trigger-pull
Another thing I've been adamant about is the superb trigger on the TX. In Part, 1 I showed a schematic of the trigger and the adjustment screws. I have mine set for a long first stage (which I like), and a second stage that releases at 9 OUNCES! I believe Paul Watts is able to tune a Rekord trigger this light, but not too many other people are. And all I did with this one was adjust the stage one and stage two trigger screws! It was nothing special.
There's also a trigger-pull weight adjustment screw located behind the trigger blade. You can lower or increase the trigger-pull weight with this screw, though the limits on both ends are finite. However, look again at what I have been able to achieve and see if that isn't what you want.
Jerry, how about taking a stab at adjusting your trigger and telling us what you discover?
Velocity
The first pellet I tried was the Beeman Kodiak that weighs 10.2 grains. They average 842 f.p.s. with a 10 f.p.s. spread from 837 to 847. At the average velocity, they generate 16.06 foot-pounds. I felt a slight buzzing at the end of the shot cycle, which is very unusual for this rifle, so I think these may be a bit too heavy for the powerplant. They're very accurate, however.
Next, I tested the time-honored Crosman Premier 7.9-grain domed pellet. They averaged 958 f.p.s., with a spread from 952 to 967 f.p.s. The shot cycle smoothed out with these, and they felt great! At the average velocity, they generate 16.1 foot-pounds of muzzle energy.
The final pellet I tried was the 8.4-grain JSB Exact. They fit the breech loosely and also varied a lot in size (from the feel at loading). They averaged 918 f.p.s., but the spread went from 897 to 929 f.p.s. Compared to the other two pellets, that's large. At the average velocity, this pellet generates 15.72 foot-pounds at the muzzle.
My rifle is stronger!
This is hard to believe, but my rifle is even stronger than it was the last time I tested it in 2006. Then, it shot Premier Lites at an average 933 f.p.s., with a 19 f.p.s. spread and delivering 15.27 foot-pounds. It's increased 0.80 foot-pounds over the past six years — mostly while lying dormant in my closet! But it's not going to be dormant for long, because we're going to see at least one accuracy test — and maybe two — from this air rifle.
Jerry's rifle
As I mentioned in Part 1, one of our new readers — Jerry — recently bought a TX200 MK III. I saw it at the LASSO big bore shoot, and Jerry let me shoot it. The rifle is gorgeous, and today Jerry has been kind enough to submit a couple pictures to show us what he received. He bought the walnut stock on the advice of many, both for the looks and for the lighter weight. Here, now, is Jerry's new rifle.


Jerry's TX200 Mk III is stocked in walnut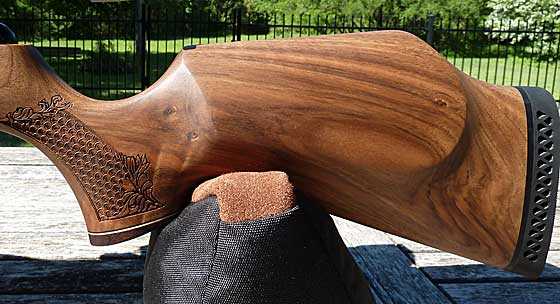 This closeup shows the beautiful wood grain. This is considered a standard walnut stock. And look at that checkering!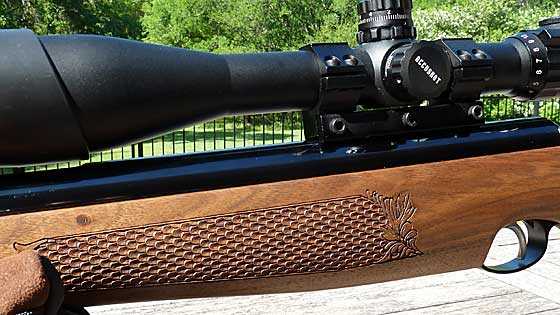 The forearm allows another look at the unusual checkering.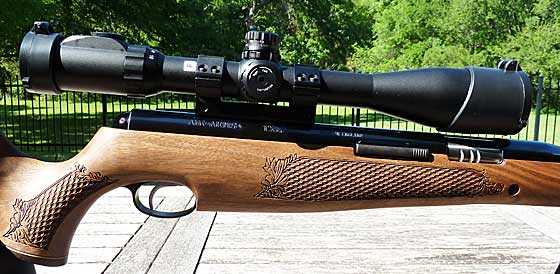 Leapers 4-16x scope looks just right on Jerry's TX. Even though it extends over the loading port, there's still plenty of room for loading because of the shape of the loading port.
I said in Part 1 that the barrel is nine inches long. That was a mistake. It's just over 13 inches — a fact I confirmed by measuring mine. The TX200 Hunter Carbine has the shorter barrel. I tested one of those and didn't care for the extra effort it takes to cock because the underlever is shorter than the one on the standard TX200. But the Hunter Carbine develops the same power as the larger rifle.
I'm going to mount my best scope on the rifle for the next test. Hoo-boy!