by Tom Gaylord, a.k.a. B.B. Pelletier
Part 1
Part 2
Secrets of loading the Benjamin Marauder magazine
Part 3
Part 4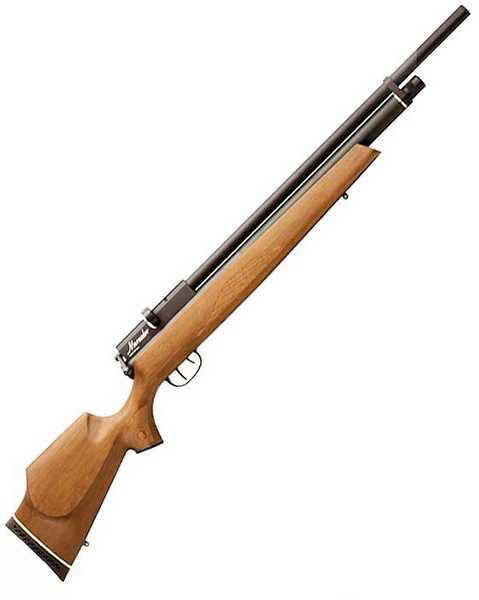 Benjamin Marauder
Before I begin today's report, I have some news about Leapers' scopes for blog reader Kevin. He wondered what the status was on the new Bug Buster scopes with the thinner reticle lines, so I asked Leapers for an update on that plus a couple other scopes that will be coming out soon. The new Bug Buster is apparently coming to market very soon. It's impossible to say for sure exactly when, but the next 60 days sounds about right. Leapers will be sending me a sample to test for you, so I'll do a report on it. But I also learned that they have several full-sized scopes that have parallax correction down to 5 yards. That's almost in the Bug Buster range. They're sending me some samples right now, and I'll report on them for you.
The scout scope with the 11-inch eye relief is due to hit the market some time in September. This is a scope for your pneumatics, like the Benjamin 392, but it'll also be ideal for Mosin Nagants and some lever-action centerfire rifles.
The bubble level scope is expected out around the Christmas holiday timeframe. This is the one I've been waiting for because it should be a long-range shooter's dream. I'll have more as I test the scopes they're sending. Now, to today's report.
This will be especially important to those who are new to precharged airguns and are trying to understand how to adjust their rifles for optimum performance. It should clear up some things for you about velocity, accuracy and tuning a PCP.
In the third report, I shot the Benjamin Marauder for accuracy at 25 yards. I shot 8 different premium pellets to see if 1 or 2 of them stood out. One did — the Crosman Premier 7.9-grain dome — also known as the Premier Lite. In case you aren't aware, I link the names of evey pellet (the first time it appears) in the report to the specific pellet used. So, when I say Crosman Premier Lite, I'm referring only to the Premiers that come packed in cardboard boxes. Premiers that come in tins may work well, too, but I didn't test them.
The Premier Lite stood apart from all the other pellets by making a 5-shot group that measured 0.139 inches between centers at 25 yards. And 10 Premiers went into 0.285 inches. The next closest pellet grouped 5 into 0.316 inches, which is more than twice as large as the 5-shot Premier target. So, today I shot only Premier Lites. After filling the rifle to 3,000 psi, I fired six shots to wake the valve up and exhaust some air to get on the power curve (the gun needed 2 shots before the velocity climbed up to the optimum range in the last test following power adjustment), then I shot 3 10-shot groups. The results were very informative!
Group 1
The first group measures 0.452 inches between centers. There are 2 shots that aren't in the main group. The third shot I fired strayed over to the left, where it stands apart from the main group. And the sixth shot fired went high. You can see it above the main group. All the other 8 shots went into a group measuring 0.183 inches between centers. There's a strong temptation to call these 2 shots as fliers, and they may well be fliers — but let's wait to see the other groups.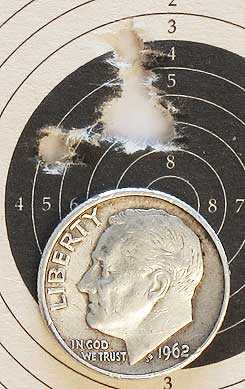 Ten Premiers at 25 yards went into 0.452 inches. Shot 3 went wide to the left, and shot 6 went high. The other 8 shots made a nice round group.
After this group, I adjusted the scope 2 clicks to the right and fired a second group. This one has no obvious stray shots, but the groups measure 0.397 inches between centers. When the power was set higher the best 10-shot group of Premiers measured 0.285 inches That's a big difference. Incidentally, in case you're wondering, the Centerpoint 8-32X56 AO scope I'm using does not stick after reticle adjustments. So, there's no need to bump the scope or shoot several shots before the adjustments take affect.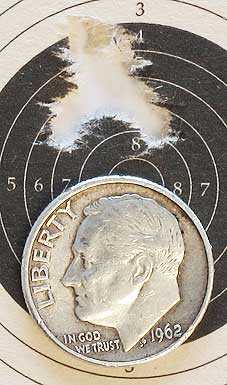 Ten Premier Lites in 0.397 inches at 25 yards. No obvious wide shots, but a group that's larger than what was shot on higher power. This is the best group of this test.
I then adjusted the scope 3 more clicks to the right, for a total of 5 since starting the session. Now, I fired 10 more shots. This time, the group measured 0.480 inches between centers — the largest group of this session. You can see 2 shots at the upper left of the group that are obviously not with the remaining 8 shots. The 8 shots that stayed together measure 0.181 inches between centers and are in a very round group.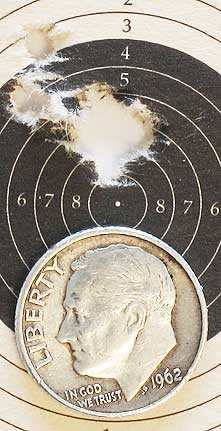 Ten Premiers in 0.480 inches at 25 yards. Again, there are two wide shots to the upper left. The main group is nice and round — and small!
Analysis
What we have here are 3 groups — all shot on the power curve of the rifle that now averages about 886 f.p.s., rather than the former 1,015 f.p.s. I told you earlier that I thought a velocity of around 900 f.p.s., give or take, would be ideal for my purposes; and I thought it would give several more shots per fill. We did see those extra shots in Part 4. There were 45 good shots at the lower velocity compared to 31 good shots at the higher velocity.
If I'd been right about the lower velocity not making any difference in performance, everything would be fine. But from what I see here, everything is not fine. The 3 groups fired at the lower velocity were all much larger than the one 10-shot group shot at the higher velocity. And 2 of the 3 groups have 2 stray shots in them. They're not called fliers in the sense that I did anything to make them go astray. They just went where they went.
My thoughts are that the rifle doesn't shoot Crosman Premier Lites as well at 886 f.p.s. as it did at 1,015 f.p.s. I think I need to increase the velocity and see if I can get the groups to shrink again. I'm thinking 950 f.p.s., give or take. That way, I'll still get a few more shots than I was getting when the average was over 1,000 f.p.s., and hopefully the groups will shrink back to the 0.300-inch region for 10 shots.
Sanity check
Before you start commenting, take another look at that dime against these 3 groups. They aren't that bad! But we're now down in the minutia, looking for perfection. That's what I meant when I said this day was especially important to those who are trying to understand and tune their PCPs.