by Tom Gaylord, a.k.a. B.B. Pelletier
Today, we'll look at the performance of the Hatsan AT P1 PCP air pistol for accuracy at 25 yards. It took a long time between this test and the last one because this gun is too loud to discharge inside the house. I had to do it for the velocity test and my ears are still ringing. I waited for a day at the range to test the gun for accuracy.
I mounted a vintage Weaver K-856 scope on the gun for this test. It's a fixed 8x scope with a 56mm objective lens. I thought it would be clear enough at 25 yards (parallax set for 100 yards), but it turned out to be fuzzy. I will change scopes for the next test.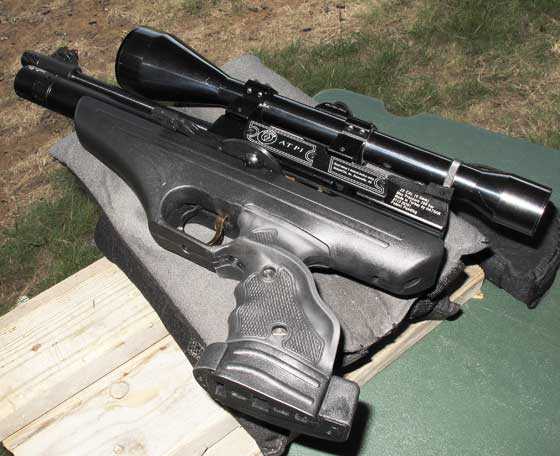 The vintage Weaver scope was powerful, but it didn't focus as close as 25 yards. It'll be changed for the next test.
Before I left the house, I filled the gun to 3,000 psi with the Hill pump. You may remember that this pistol has a proprietary Hatsan fill probe, and I wanted to install it on something I could leave it on for a while. My carbon fiber tank is too busy with other guns, so I dedicated the Hill for this job. Because the AT P1 has such a small reservoir, I felt it would be okay to fill the pistol this way. This is the problem with proprietary fill couplings — they have to be installed on something, making it impossible to use that fill device for your other pneumatic guns that have universal Foster fittings.
After filling the gun, I looked at the Hatsan tank gauge. It read about 50 bar, even though I had just put in 206 bar. I knew it was full, so I left it alone. The next morning, the gauge needle was up to 100 bar, but it never did read correctly. That caused a problem at the range when I shot the gun down too far. It was then that I learned that the gauge needle bears no relation to how much air is in the tank.
I started out shooting a group of 5 Crosman Premiers. The first shot landed a quarter-inch below the next 4. The total group size was 0.678 inches, but 4 of those shots went into 0.322 inches. As it turned out, that was the best group of the day.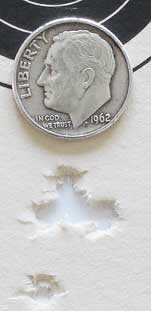 This group of 5 Crosman Premiers shows some promise; but for 25 yards, it's only average. It was the best group of the test!
The trigger-pull was both too long and too heavy for the best in precision. I can normally work around almost anything, but this time the trigger-pull was a real hinderance to good shooting.
I shot the next 5 Premiers at a fresh target after adjusting the scope down. This time, 5 shots went into 0.993 inches, which is considerably larger than the first group. It alerted me to the fact that there may not be 10 good shots on a charge of air.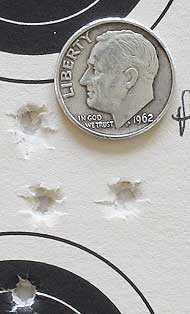 This group of 5 Crosman Premiers is not so good. It was the second group after the fill. Top hole has 2 pellets.
The pressure gauge on the gun now reads about 180 bar, so I thought there were another 10 good shots in the gun. It wasn't until later that I discovered the gauge doesn't read the pressure correctly.
The next 10 shots were JSB Exact 15.9-grain Jumbos. They landed in a group measuring 2.093 inches between centers. That certainly isn't a good group — especially for just 25 yards. This group has too many shots and was shot with too little air pressure in the tank, but even then the shots are so scattered that I doubt it's the right pellet for this pistol. But because I don't know that for sure, I'll try this pellet again in the next test.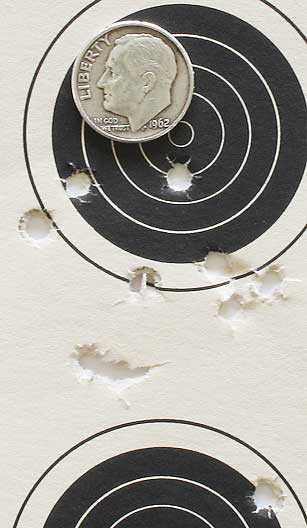 Ten JSB Jumbo 15.9-grain pellets were all over the place at 25 yards. Group measures 2.093 inches.
I filled the tank again and changed to Beeman Kodiaks. This time, 10 pellets went into a group measuring 1.464 inches. The last shot went far to the left of the main group. Because it landed in the white, I was able to see it hit the paper. That was the tip-off that 10 shots were too many — even at only 25 yards.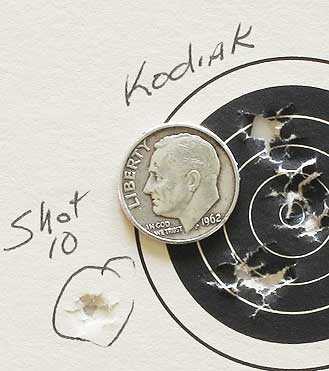 Ten Beeman Kodiaks was obviously too many shots for a single fill. Group measures 1.464 inches.
I'd wanted to shoot 10-shot groups, but the AT P1 doesn't seem to have enough air for 10 good shots on a single charge. According to the chronograph testing I did on Part 2, it has air for about 7 shots, so I limited the next groups to that.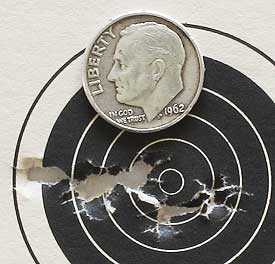 Seven Beeman Kodiaks were spread out wide. I was losing my edge on the day! Group measures 0.999 inches between centers.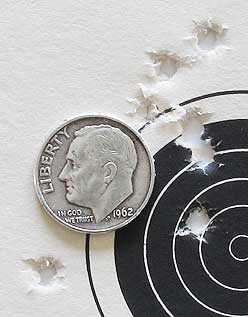 Seven Premiers did not do well. Group measures 1.675 inches between centers.
Summary
The learning curve this day was too steep for me to be satisfied with these results. I'd lost my edge toward the end of the session, and it wasn't worth pushing on. I'll return for a second try at 25 yards with different pellets. And I'll give those JSB Jumbos a second chance. If I can't do a lot better than this, I won't bother trying to shoot the pistol at 50 yards.
The trigger-pull on the AT P1 pistol is too long and heavy for the best accuracy. Also, the scope needs to be changed to give the pistol its best chance to do well. Hopefully, I'll be able to find another good pellet next time and these problems will disappear. As powerful as this air pistol is, it'll make a good hunting airgun if it can hit what it shoots at.