Evanix Rainstorm 3D bullpup: Part 4
by Tom Gaylord, a.k.a. B.B. Pelletier
It's been some time since I did Part 3 of the Evanix Rainstorm 3D bullpup rifle. Just to remind you of where we left off, I found the gun difficult to shoot with the UTG 3-9X32 Bug Buster rifle scope because of the medium-height scope rings. I removed that scope and mounted the UTG 3-9X40 True Hunter rifle scope that comes bundled with high 2-piece Weaver rings. They were better, but even they seemed a bit too low because of the bullpup configuation. This is the same scope I used in the test of the Hatsan AT P1 PCP pistol.
Today's test was done at 50 yards on an outdoor rifle range. The weather was perfect, without a hint of breeze. I didn't sight-in the scope before going to the range, so I sighted-in at 50 yards. Luckily, the scope wasn't that far off, and I was on target in 3 shots.
The 25-yard test that was done in Part 3 showed that only 2 pellets were worth trying at 50 yards. I shot just them and nothing else.
I also want to remind you that the rifle likes to be filled to 2,900 psi according to my tank's gauge. It has more than 10 shots on a fill, but it does go through air pretty quick. So, just for continuity, I refilled after every group.
JSB Exact 15.9-grain domes
I sighted-in with the best pellet from the earlier test, which was the 15.9-grain JSB Exact Jumbo Heavy. Since the third shot landed where I wanted, I continued to shoot and made an 8-shot group for starters. That group measured 0.961 inches between centers. I noted that the bullpup-style stock made the rifle difficult to hold steady on target, so this group was as steady as I was able to hold. I was fighting the trigger, which breaks at 6 lbs., 10 oz. It's hard to hold on target with a trigger this heavy. Also this rifle is tall and narrow, so it wobbles from side to side when you hold it. I didn't see a way around that at first, but then I figured it out.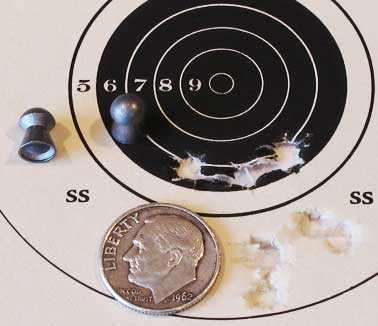 Eight JSB Exact 15.9-grain domes landed in 0.961 inches at 50 yards. The shots are a little low, so I adjusted the reticle up a couple clicks after shooting this group.
Next, I shot a 10-shot group with the same JSB Exact Jumbo Heavy pellets. The rifle's circular magazine holds 11 pellets, but I loaded it with only 10 to keep things consistent with most of my other 50-yard tests.
The scope had been adjusted higher for this group, so the shots landed higher on the bull. Ten pellets made a 1.501-inch group. I must comment that during this group I saw the crosshairs move around on the bull a lot more than I would like. That heavy trigger caused it. In the group that resulted, I see 2 separate points of impact that are one above the other. That isn't what I would expect a sideways wobble to produce, but something was wrong with my hold. I had to solve that first.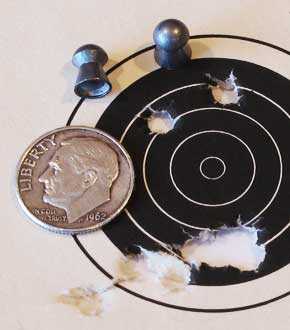 This is the first full 10-shot target that was fired at 50 yards with the Rainstorm bullpup. It measures 1.501 inches. Eight pellets went into 0.941 inches.
Toward the end of the first full group, I found a way to stabilize the rifle pretty well. I was shooting off a sandbag rest that helped with stability, and I found that if I gripped the frame tight (where the forearm would be on a conventional rifle) the wobble stopped. That made me more confident that the group I would be getting was what the rifle could actually do.
Following that group, I shot a second group of 10 JSB Exact Jumbo Heavies that measured 1.406 inches between centers. This one is fairly well centered on the bull and doesn't have the 2 separate points of impact like the first group. I think the improved hold was responsible, although I can't see why a sideways wobble would do what I'd seen before. Maybe the wobble was greater than I thought?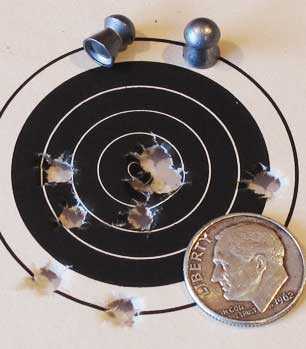 The second full group was a little smaller than the first — at 1.406 inches between centers. I felt the rifle was held well for this group. This is as good as this pellet can do (in general) in this rifle with me on the trigger.
Beeman Kodiaks
Next, it was time to try 10 Beeman Kodiak, which was the second-best pellet at 25 yards. It didn't do as well. The first few shots scattered all over the place, landing far to the left of the aim point and also a bit lower. When all 10 shots were finished, I had a 2.32-inch group that looks more like a shotgun pattern than a group from a rifle. However, I must note that 9 of those shots did land in a 1.331-inch group. But the one lower shot that opened the group wasn't the last one. It was the third shot. Based on that, I would scratch Kodiaks for this rifle and stick with the JSB Exact Jumbo Heavies.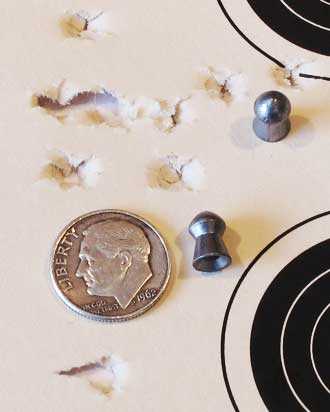 Beeman Kodiaks went all over the target. Ten made this 2.32-inch group, although 9 of them passed through 1.331 inches.
Overall impressions
I've come to the end of my test of this air rifle. It's been an interesting journey, and I've learned some things from it. First, when you scope a bullpup, get the highest scope rings you can. Ring risers might be a good idea. Second, the idea that bullpup actions have poor triggers is apparently true. And finally, when the cross-section of your rifle is as flat as a flounder, it will be harder to hold steady.
The Evanix Rainstorm 3D bullpup rifle is definitely a different beast! It holds different and shoots different than a conventional PCP. If you're looking for the bullpup styling, then either this or the Evanix Max bullpup is the airgun you want. It will produce acceptable accuracy out to 50 yards when you do your part. Just remember that the trigger is stiff and creepy, and the rifle needs a firm hold.
Tom Gaylord is known as The Godfather of Airguns™ and has been an airgunner for over a half-century, but it was the 
Beeman
 company in the 1970s that awoke a serious interest in airguns. Until then, all he knew were the inexpensive American airguns. Through the pages of the Beeman catalog, he learned about adult airguns for the first time. In 1994, Tom started
The Airgun Letter
 with his wife, Edith. This monthly newsletter was designed to bring serious reports about airguns to the American public. The newsletter and
Airgun Revue
, a sister magazine about collectible airguns, was published from 1994 until 2002, when Tom started
Airgun Illustrated
-- the first American newsstand magazine about airguns. Tom worked for three years as technical director at
AirForce Airguns
, the makers of the 
Talon, Condor, and Escape
 precharged air rifles. Today, he writes about airguns and firearms for various publications and websites. He also makes videos, and you'll find short clips embedded in some of his artices on Pyramyd Air's website. Tom is a consultant to Pyramyd Air and writes under the name of B.B. Pelletier.