by Tom Gaylord
Writing as B.B. Pelletier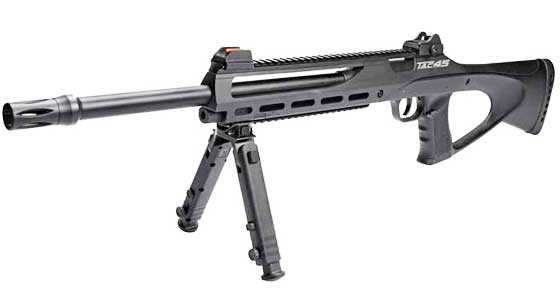 The TAC-4.5 from ASG is a 21-shot BB repeater.
This report covers:
Accuracy day
Air Venturi zinc BBs
Daisy BBs
ASG Blaster BBs
Air Venturi copper BBs
The 2015 Texas Airgun Show
Door prize
Big bore match
Raffle prizes
Action pistol competition
A firearm show — too
Reception
Accuracy day
Today we learn whether the TAC-4.5 BB gun from ASG can shoot. We already know it is quiet, has a nice trigger and is very conservative with gas. Accuracy is the cherry on the sundae. The distance was 5 meters.
Air Venturi zinc BBs
The first BB tested was an Air Venturi silver (zinc-plated) BB. Seven of them went into an incredible 0.727 inches at 5 meters. The other 3 BBs opened the group to 1.877 inches. I think those 3 shots were caused by aiming errors, because the front sight has an red fiberoptic bead that is larger than the entire bull on a 10-meter rifle target.

Ten Air Venturi silver BBs went into 1.877 inches at 5 meters, but 7 of them went into just 0.727 inches.
I shot the gun off an MTM shooting bench, using the bipod that came with the gun. If that hadn't been as stable as I liked I would also have shot it off a UTG Monopod. But the bipod that's packed with the gun is very stable.
Daisy BBs
Daisy Premium Grade BBs were loaded next. Ten went into 1.486 inches. These BBs were the most variable in size in Part 2 when I measured them, but they did okay on paper.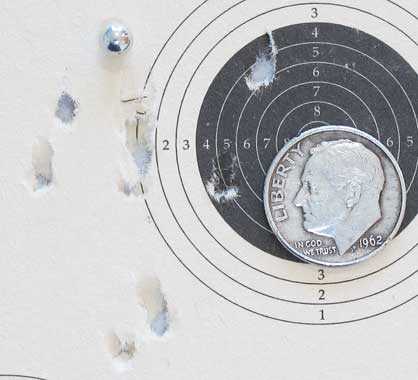 Ten Daisy BBs went into 1.486 inches at 5 meters.
ASG Blaster BBs
Next in line were ASG's own Blaster steel BBs. Ten of them went into 1.716 inches, but one of them was a flier. Nine are in a tight 1.025 inches. As I said before, that front bead is so large that I'm sure there was a large error from aiming.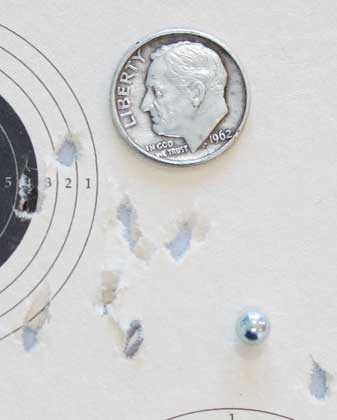 Ten ASG Blaster BBs went into 1.716 inches inches at 5 meters, but 9 of them are 1.025 inches.
Air Venturi copper BBs
The last BB I tried was the copper-plated Air Venturi BB. Ten of these went into 1.582 inches at 5 meters. I though they would be the best, when in fact they were in the middle of the accuracy scale.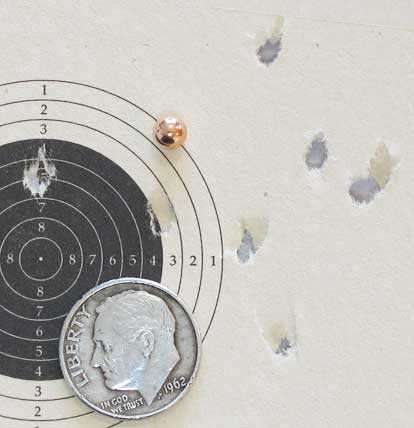 Ten Air Venturi copper-plated BBs went into 1.582 inches inches at 5 meters.
Overall evaluation
I think the ASG TAC-4.5 is a fine BB gun. It's quiet, gets great gas mileage and has a good trigger. Accuracy isn't stellar, but I think that's more on the front sight than on the overall gun. If you like quiet BB guns, this one is for you.
The 2015 Texas Airgun Show
Just a reminder that the Texas Airgun show is coming up fast. Edith asked me to go through with the show regardless of what happened, so of course I will do it for her.
Door prize
This year's door prize will be a Condor SS, generously donated by AirForce Airguns. Everyone who pays admission to the show will have an equal chance to win this fine sporting PCP that AirForce will accessorize with a scope, rings and perhaps a bipod. That's a lot to win for the price of admission! And, if our estimates are correct, there should only be 500-600 people attending the show (about 400 came last year), so your chances of winning are very good. The competitors in the big bore airgun match (LASSO) will get admission to the show and a chance at the door prize included included in their $20 match entry fee.
Big bore match
Speaking of the LASSO big bore match, it's back, after 3 years hiatus. There are 2 classes — varmint (under .40 caliber)  and big game (.40 caliber and larger) and they will compete on a course that extends out to 250 yards. The targets are challenging and realistic for hunters.
For the grand prize Crosman Corporation has generously donated the very .357 Bulldog rifle that I tested for this blog and also wrote up in the color issue of Shotgun News that's currently on the newsstands. Not only will the scoped rifle be awarded, it will come with a certificate of authenticity signed by me that proves it was used for the feature magazine article. The winner will also get a copy of the color issue of Shotgun News that contains that article. And Crosman has included two boxes of their Benjamin Nosler Ballistic Tip bullets. This is a very important grand prize!
Raffle prizes
In addition to the door prize there will also be several raffle prizes — drawn throughout the show. Among them are a .357 Carnivore QE big bore rifle from Hatsan USA, a Diana RWS model 34 from RWS USA, a Legends P.08 Blowback pistol from Umarex USA, an Airburst MegaBOOM Supersonic Target System with pump from MegaBOOM and several smaller prizes from Umarex USA. Pyramyd Air has not yet announced the airgun they will donate (my fault, not theirs), but I expect it to be another very desirable airgun. And there are other dealers attending who may still donate to the raffle drawings.
Action pistol competition
MegaBOOM and Umarex USA are also hosting an action pistol match that's open to the general public. Just pay the nominal entry fee and the guns and ammo will be supplied. The targets are all MegaBOOM action targets and the MegaBOOM company has said there will be a nice cash prize for the winner. All proceeds for the match will be donated to the Parker County Sportsman Club that hosts the airgun show.
A firearm show — too
One special thing about this show is that firearms are permitted as well as airguns. You have to be a Texas resident to buy and sell firearms, and all federal and state regulations apply. I also know that a famous maker of automatic knives will have a table and will be selling some fantastic creations. Automatic knives are now legal in the state of Texas.
Last year we had several tables with firearms and people who just attended also brought them to the show. This year I expect a lot more firearms because the members of the Parker County Sportsman Club that is hosting the show saw the huge turnout we had at last year's show. And the crowd came to stay all day and had lots of money in their pockets. So if you are a Texas resident, don't miss this chance to attend a dynamic gun show!
Reception
The evening before the show we will host a reception at the Texas Star Ranch and Retreat. It's located along the road that runs from the hotel to the gun club, so show-goers will be able to find it quite easily. The reception starts at 6 p.m. and run to 8 p.m., during which we will film a special segment of the Round Table for the American Airgunner show. We are going to try to get some audience participation into this one. Light refreshments will be available, but have your dinner either before you come or after.