Hakim — Egypt's pellet rifle trainer was better than the firearm: Part 3
by Tom Gaylord
Writing as B.B. Pelletier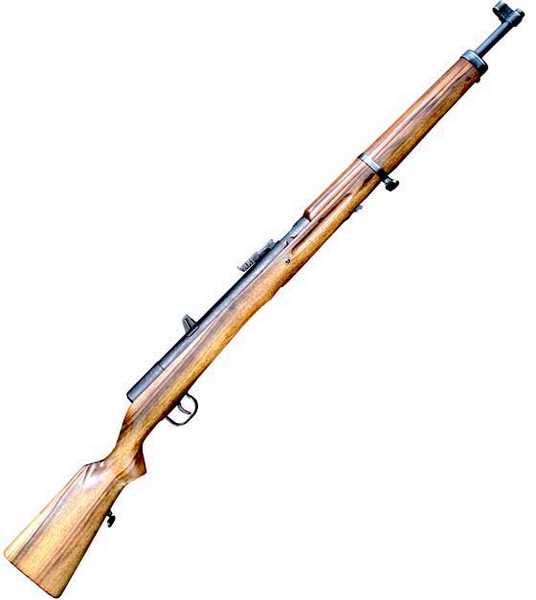 Hakim is Egypt's air rifle trainer for their 8mm battle rifle.
This report covers:
Shoot directly off the bag
Eley Wasps
RWS Superpoints
JSB Exact Jumbo RS
Summary
We will shoot the .22 caliber Hakim trainer today and see what the old classic is capable of. I think you will be surprised.
Shoot directly off the bag
Because the Hakim is so mild-mannered and also because it weighs 10 lbs. 7 oz., which is heavier than an M1 Garand, I rested it directly on the bag rather than use the artillery hold. I shot at 10 meters and put 10 shots into each group. The first group landed in the bull but a little to the left, and I just went with that sight setting for the rest of the test.
Eley Wasps
First up were vintage Eley Wasp pellets that can't be purchased anymore. I bought many tins of them years ago when the price was right. This pellet is larger than a conventional .22 pellet (5.6mm, as opposed to 5.5mm) and it works well in those British airguns that have oversized bores.
At 10 meters 10 pellets went into a group that measures 0.78-inches between centers. That's good, but not spectacular. If other pellets can beat it I won't use this pellet in the Hakim because I want to save them for my Webley pistols and any other old airguns I may acquire that really need them.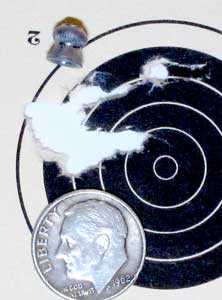 The old 5.6mm Eley Wasp pellets that are no longer available shoot well, but perhaps not the best. Ten are in 0.78-inches between centers.
RWS Superpoints
The next pellets I tried were the RWS Superpoints that I have always said were the best in this rifle. Ten of these went into 0.673-inches at 10 meters. I think that's pretty good for this old rifle. As you can see in the picture, all the pellets landed in one ragged hole.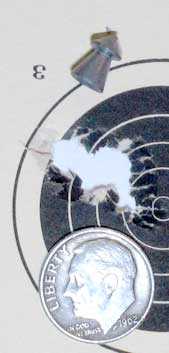 Now we are talking! Ten RWS Superpoints went into 0.673-inches at 10 meters
I have always said the reason Superpoints do so well in the Hakim is their thin skirt. It blows out and seals the bore when you shoot. Because the Hakim is a taploader, the pellet has to fit into a chamber in the tap that is larger than the bore. This expansion of the skirt is an important thing if you want to keep all the air behind the pellet. People have misinterpreted my remarks in the past and used the RWS Superdome instead of the Superpoint. Superdomes have thicker skirts and do not perform well in this rifle, in my experience.
JSB Exact Jumbo RS
There is, however, another pellet with a thin skirt. The JSB Exact Jumbo RS has a very thin skirt. And it is known to perform quite well in lower-powered spring rifles, which the Hakim certainly is. Reader Pete in the Caribbean suggested that I try them and I agreed. So the last pellet I tried was the RS. And, boy, am I glad that I did!
At 10 meters 10 JSB Exact Jumbo RS pellets went into a group that measures 0.348-inches between centers. This is significantly smaller than the RWS Superpoint group, and it was shot with 10 pellets. The odds of getting a group this small by accident are incredibly small!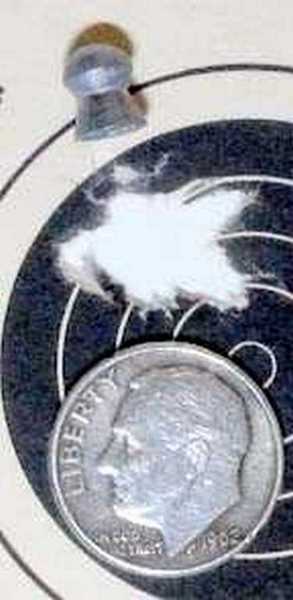 Now that's a group! Ten JSB Exact Jumbo RS pellets went into just 0.348-inches at 10 meters.
Summary
The Hakim trainer is one great vintage air rifle! It's large, bold, heavy and shoots like a dream. In .22 caliber only, it's lower-powered yet surprisingly accurate and of course very smooth shooting.
The Hakim is easy to overhaul and rebuild with parts that can still be purchased today. The trigger is very adjustable and safe, as long as you don't try to set it too light.
The rifle is quirky-looking but it's also a very solid underlever spring-piston airgun. Prices keep rising, so get one now while they are still available.
And thanks to Pete in the Caribbean for the suggestion of the JSB Exact Jumbo RS pellet. It's now my number one choice for the Hakim.
Tom Gaylord is known as The Godfather of Airguns™ and has been an airgunner for over a half-century, but it was the 
Beeman
 company in the 1970s that awoke a serious interest in airguns. Until then, all he knew were the inexpensive American airguns. Through the pages of the Beeman catalog, he learned about adult airguns for the first time. In 1994, Tom started
The Airgun Letter
 with his wife, Edith. This monthly newsletter was designed to bring serious reports about airguns to the American public. The newsletter and
Airgun Revue
, a sister magazine about collectible airguns, was published from 1994 until 2002, when Tom started
Airgun Illustrated
-- the first American newsstand magazine about airguns. Tom worked for three years as technical director at
AirForce Airguns
, the makers of the 
Talon, Condor, and Escape
 precharged air rifles. Today, he writes about airguns and firearms for various publications and websites. He also makes videos, and you'll find short clips embedded in some of his artices on Pyramyd Air's website. Tom is a consultant to Pyramyd Air and writes under the name of B.B. Pelletier.