by Tom Gaylord
Writing as B.B. Pelletier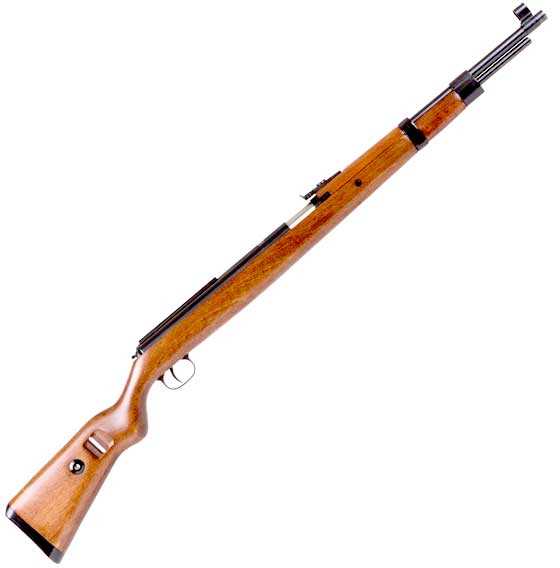 Diana's K98 Mauser pellet rifle is very realistic.
This report covers:
First scope
First scope failed!
10X fixed power UTG scope
The test
JSB RS
My eye
JSB Exact 15.89-grain
RWS Superdomes
Conclusion
I last tested the Diana Mauser K98 air rifle on December 20 of last year. On that day my right eye was so bad that I couldn't even see the sights when wearing my glasses, so I had to shoot that test left-handed. Even so, I managed to shoot a 10-shot group that was almost one-inch at 25 yards. And I did it with the rifle rested directly on a sandbag!
First scope
Today I mounted an old Leapers 3-12 SWAT mil dot scope that happened to be attached to high rings that were sitting on a prototype Leapers drooper base. This base will fit the new Diana scope bases on the rifles. The scope was so old it was from the pre-UTG days. It just says Leapers on the tube.
I used the drooper base for its downward slant, because the Mauser 98K is a Diana, and most of them have some droop. As the test unfolded I discovered this rifle doesn't have any droop and I could have left that base out of the scope mounting solution. That would have been better,
because the combination of the base and high rings put the scope too high for the rifle to fit me comfortably. If this wasn't just a test I would select a different set of rings and no drooper base.
First scope failed!
It took about 10 shots to sight in and then I shot a first group. It wasn't shot as well (not as uniformly) as I hoped, so I tried shooting a second group with the same pellet. But, after three more shots, the parallax failed. The scope focus became fuzzy no matter where the sidewheel parallax was set. That's the first Leapers scope ever to fail on me like that. The scope is probably close to 10 years old and has been mounted on dozens of different air rifles for testing, so I got a lot of use out of it. But no more!
10X fixed power UTG scope
I dismounted the scope and mounted a 110X50 fixed power UTG SWAT scope in its place. The reticle on this one is very thin, so aiming is as precise as it can be. I felt that offset the slightly lower magnification this scope offered. You will note that this scope is compact.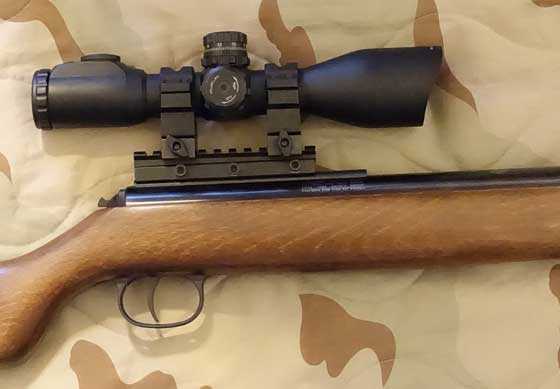 The scope is way too high the way it's mounted here. The drooper base proved unnecessary, so the scope can be lowered quite a bit.
The test
If you read Part 4 you'll discover that I was able to shoot this rifle rested directly on the sandbag. That is a testimony to the smoothness of the shot cycle. So, that is how I shot it for today's test.
JSB RS
First to be tested were 13.43-grain JSB Exact RS domes. They did well in Part 4 and I wanted to see how much better I could do with a scope. However, allow me to tell you about my new eye before I describe the test.
My eye
I can see through the scope very clearly, and the reticle lines that used to be very crooked have straightened out quite a bit. There is still some crookedness to them, but it's far less than before. My cataract was really degrading my ability to see clearly!
Back to the test. The rifle shot pellet after pellet to the same place. It was wonderful to watch. In the end I had shot 10 pellets into a group that measures 0.584-inches between centers. I would say the Mauser 98K is accurate!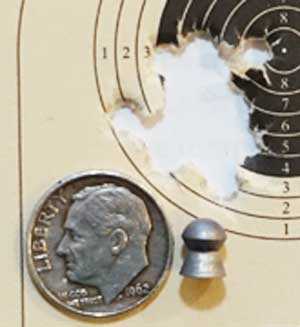 Ten JSB RS pellets went into 0.584-inches at 25 yards.
JSB Exact 15.89-grain
Next I tried 10 JSB Exact 15.89-grain pellets. They went into as group that measures 1.07 inches between centers. For 25-yard shooting it's not too bad, but the RS is still the pellet to beat,

Ten JSB Exact 15.89-grain pellets went into 1.07-inches at 25 yards. While acceptable, in light of what the RS pellets did I wouldn't choose this one.
RWS Superdomes
In Part 4 I got a phenomenal result from RWS Superdome pellets. So naturally I thought they would be the best pellet today. I shot two groups of 10 and I'm showing you the best one, though the other one is only slightly larger. The best I was able to do with Superdomes was 10 in 1.382-inches at 25 yards. As you can see, most of the pellets grouped together, but there were 4 outliers that opened things up. In the other group that was larger I had similar results, with three pellets opening the group. Perhaps sorting pellets by head size with the Pelletgage would improve things, but I don't care about that.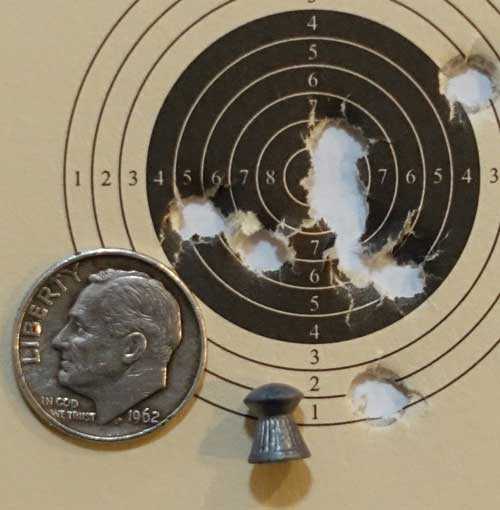 Ten RWS Superdome pellets went into 1.382-inches at 25 yards. For some reason, these pellets were not as good as the 10 Superdomes I shot from this rifle with open sights in December.
Conclusion
It seems the Mauser K98 is a little picky about the pellets it likes. No doubt if I were to continue testing with other pellets I would find one or more that also work well. But I have zero desire to shoot this rifle with a scope. It was made to shoot with open sights and that's how I would shoot it. I'm still deciding whether I want to buy this one or return it to Pyramyd Air