by Tom Gaylord
Writing as B.B. Pelletier

The Orion PCP repeater from AirForce International.
This report covers:
UTG Bubble Leveler scope
The test
Zero
JSB Exact Heavy
JSB Exact Jumbo Heavy
Trigger is spongy
Loading the magazine
H&N Baracuda Match 5.53mm heads
JSB Exact RS
Evaluation so far
Today we start looking at the accuracy of the AirForce International Orion air rifle. Though I seldom compare airguns, we have discussed that this one is positioned against the Benjamin Marauder. This accuracy test should sharpen that focus.
UTG Bubble Leveler scope
The rifle needs a scope, so I mounted the best one I have — the UTG Bubble Leveler scope. This was the first time I looked through this scope since my cataracts were removed and — WOW! That bubble is bright, clear and apparent. Guys, if you're having trouble seeing the bubble, schedule a visit with your eye doctor! The optics on this scope are the sharpest of any scope I own, and I cannot recommend it highly enough. This is a best buy and a world-beater!
The test
Despite what reader RidgeRunner predicted, I started the accuracy test at 25 yards, rested. Yes, I did fire one shot at 12 feet after mounting the scope, and it was close enough to proceed. The scope had been on my Marauder, so the mounting was very similar because the rifles are similar. It took me all of 10 minutes to scope the Orion.
The velocity test showed me there were more than 2 full magazines of shots (26 shots) per fill, so I decided I could get 30 good shots between fills. That could be 3 10-shot targets, which was all I needed.
Zero
The first shot from 12 feet landed in line with the center of the bull and as far below as the center of the scope was above the center of the bore. That's good enough! I backed up to 25 yards and started the test.
JSB Exact Heavy
I began with the JSB Exact Jumbo 15.89-grain pellet that reader Munt from the Netherlands recommended. The first shot hit high and to the right of the bull, but I decided to just go with it. I was testing accuracy potential, not trying to hit anything particular. I also figured that 9 shots were as good as 10, since this was just a test to learn about the Orion's potential, so I went with what was left in the magazine.
Nine JSB Exacts went into 0.636-inches at 25 yards. That's not the smallest group I ever shot at that distance, but it is pretty good. Remember, I have yet to tune this rifle for a specific pellet!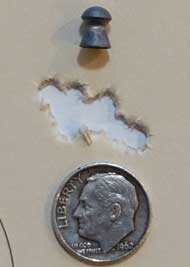 Nine JSB Exact Jumbo pellets went into 0.636-inches at 25 yards. It's good, but not great.
JSB Exact Jumbo Heavy
Next, I tried the JSB Exact Jumbo Heavy pellet. This is the one that weighs 18.1-grains in .22 caliber. They averaged 899 f.p.s. in the velocity test and looked like a good match for the rifle.
Ten pellets went into 0.535-inches at 25 yards. While that's only slightly smaller than the first group, remember that there is one additional shot here. Also, this group is a little rounder. This is a pellet to pursue!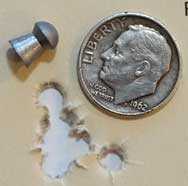 Ten JSB Exact Jumbo Heavy pellets went into 0.535-inches at 25 yards. This is much better accuracy, in my opinion.
Now I feel that the Orion is showing us what it can do. Of course we will have to see what it looks like at 50 yards before we form any concrete conclusions.
Trigger is spongy
I must say I don't care for the Orion's trigger that much. It is light enough for good accuracy, but stage 2 is hard to identify. It feels light and spongy.
Loading the magazine
Each time I load this magazine I find I have to learn it all over. It doesn't feel natural to load pellets skirt-first. They drop in easily enough, it just feels odd. Okay, lets get back to shooting.
H&N Baracuda Match 5.53mm heads
The next pellet I tried was the H&H Baracuda Match with 5.53mm head. The Orion is certainly powerful enough to shoot this pellet well. The first several went into a tight group, but then they started scattering. After 10 shots I had a 0.742-inch group that was disappointing. This is not the pellet for this rifle.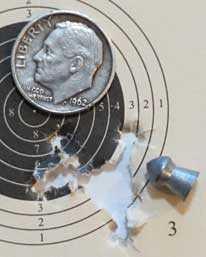 Ten H&N Baracuda Match pellets with 5.53mm heads went into 0.742-inches at 25 yards. In light of what the first two pellets did, I don't think this one is suited to this rifle.
JSB Exact RS
The last pellet I tried was the lightweight JSB Exact RS. But these are not for this Orion. Not only do they scatter, they have feeding issues that caused me to stop shooting. I believe they are too small to feed through the magazine reliably.
Evaluation so far
The Orion is accurate, I will say that. And it is quiet. If this was your first PCP rifle it would be a good start.
I don't care for the trigger nor the magazine. However, if the rifle shoots accurately at 50 yards I can live with both of them.
The rifle is still slim and light. And it is well-suited to the UTG Bubble Leveler scope that's now mounted. I look forward to the 50-yard range.