by Tom Gaylord
Writing as B.B. Pelletier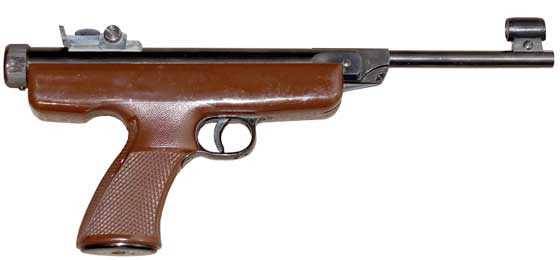 This Diana model 5 air pistol is marked as a Winchester model 353.
This report covers:
A valuable report!
RWS Hobby pellets
Oil
Crosman Premier lites
The oiling
Experience pays off
Qiang Yuan Training pellets
Back to Hobbys
How is it doing?
Trigger pull
Cocking effort
Evaluation so far
Today's the day I discover how healthy my new/old Diana model 5 (Winchester 353) air pistol is. This is best done with a chronograph, which is the Nth time I have told you that.
A valuable report!
Today's test will be a valuable lesson in spring gun dynamics. Because of how I conducted it, this test shows things that are not often seen this clearly. Let's begin.
RWS Hobby pellets
I wanted to know up front whether this pistol is in good condition or not. So I used the RWS Hobby pellet first. In my research for this report I found stated velocities for the Diana model 5 pistol between 375 f.p.s. and 450 f.p.s. Those numbers were no doubt obtained with a light pellet, and in the days that the model 5 was selling, lead pellets were the norm. I thought a lightweight lead pellet would have to give me the fastest average velocity. I was wrong, but let me tell you how the test went.
Oil
Before shooting I oiled the piston seal with a couple drops of Napier Power airgun oil that comes packaged with certain UK airguns. I have tested this oil in the past and found the manufacturer's claims of faster velocity are false. But it is a good airgun oil that can bring a spring gun back to its optimum performance, just like many other oils on the market. In other words, there is no magic in this particular oil.
Okay, let me show you the first string. These are RWS Hobby pellets
Shot……………Vel.
1………………..361
2………………..385
3………………..392
4………………..384
5………………..385
6………………..377
7………………..375
8………………..371
9………………..364
10………………366
This string averages 376 f.p.s.. The spread is a large 31 f.p.s. — from 361 to 392 f.p.s. This tells me my Diana model 5 is probably performing as it should, because the velocity predictions from the Blue Book of Airguns and the internet ranged from 375 to 450 f.p.s. But look at how the velocity rises and then falls again over these 10 shots. That's telling us something, too. We'll see what in a bit.
Crosman Premier lites
Next I tried Crosman Premier 7.9-grain domed pellets. These pellets fit the breech very tight, plus they are almost a full grain heavier than the Hobbys, so I expected the velocity to drop considerably. Let's see what happened.
Shot……………Vel.
1………………..354
2………………..332
3………………..326 (oiled piston seal after this shot)
4………………..353
5………………..430
6………………..355
7………………..348
8………………..345
9………………..333
10………………338
The average for this string was 351 f.p.s., but the spread was a huge 104 f.p.s. It went from 326 f.p.s. to 430 f.p.s. And look at how the string went. After I oiled the gun, it came alive again, then tapered off towards the end. What gives?
The oiling
First I will tell you that this time I didn't use Napier oil. I used silicone chamber oil that has a long needle applicator that allows me to reach through the transfer port and get right to the piston. I don't know how much oil I used this time, but certainly more than a couple drops! Maybe 10 drops. I think the needle applicator is the reason for all that's about to unfold. The Napier oil has to drop through the transfer port on its own because I can't even get the tip of the bottle next to the transfer port. The silicone chamber oil can be put right where I want it. That makes all the difference, I think.The type of oil is not important.
Experience pays off
Notice that the velocity dropped off after the oiling this time, as well? You might think the airgun needs even more oil, but I know from experience that after a heavy oiling like I just did, this gun needs to settle down again. It has enough oil for the next thousand shots. Let's shoot another pellet and see what I mean.
Qiang Yuan Training pellets
The next pellet I tested was the Qiang Yuan Training pellet. This all-lead wadcutter weighs even more than the Crosman Premiers. At 8.2-grains, it is the heaviest pellet of the test. BUT — and this is a big one — it also fit the breech very loosely! They dropped into the bore deeply! Now let's see what this heavier lead pellet did in the Diana model 5.
Shot……………Vel.
1………………..393
2………………..399
3………………..396
4………………..400
5………………..403
6………………..412
7………………..406
8………………..413
9………………..420
10………………417
This heaviest pellet of all averaged 406 f.p.s. The spread was 27 f.p.s., but if you examine the string you'll see that the pellet "settled down" in the low 400s after shot number 4. In other words, the model 5 is now shooting more consistently than it did immediately after the second oiling. That's the experience thing I just mentioned.
Back to Hobbys
Now that I think the pistol is shooting like it should, I wanted to retest it with Hobbys. Here we go.
Shot……………Vel.
1………………..392
2………………..400
3………………..395
4………………..397
5………………..396
6………………..398
7………………..386
8………………..387
9………………..384
10………………394
The average this time was 393 f.p.s. The spread was just 16 f.p.s.. That's down from 31 f.p.s. the first time. And the average has increased by 17 f.p.s. (376 to 393 f.p.s.).
How is it doing?
In my opinion, this Diana model 5 pistol is shooting as it should. Could it be tuned to go faster? Certainly. But that's unimportant to me. I have other spring-piston pistols that are much faster than this one. All I want for this one is to know that it's healthy, and today's test demonstrates that it is.
Trigger pull
The two-stage trigger breaks at a measured 1 lb. 2 oz. Stage 2 is very light and you need practice to feel it before the pistol fires.
Cocking effort
The cocking effort was difficult to measure precisely because the action wanted to open jerkily when operated slowly. Going faster makes it smooth out. I will say the cocking effort is somewhere between 22 and 25 lbs.
Evaluation so far
This pistol appears to be in fine shape as it is. It doesn't seem to need any maintenance — just more shooting. Because of its age and also because of the timeframe in which it was made, it does need to be warmed up with several shots before it settles down. I'll look at accuracy next. And because of the need to be fired to settle down I will probably warm up the gun before shooting for record.