Crosman's M1 Carbine BB gun: Part 3
by Tom Gaylord
Writing as B.B. Pelletier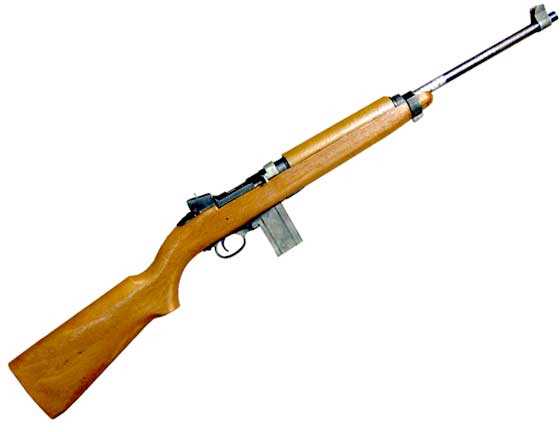 Crosman M1 Carbine BB gun is a classic lookalike airgun.
This report covers:
The test
Daisy BBs
Hornady Black Diamond BBs
Accuracy spoiler
Air Venturi Steel BBs
H&N Smart Shot BBs
Hornady Black Diamond BBs
Results
Value
Summary
This is accuracy day for the Crosman M1 Carbine BB gun we are testing. I have tested this BB gun several times in the past, so I have a pretty good idea of what it can do, but there is always the hope that a new BB that hasn't been tried will surprise us.
The test
I shot from 5 meters (16 feet 4 inches) using a UTG monopod rest to steady the gun. I was seated for this.
Daisy BBs
I have tested Daisy BBs in this gun several times in the past, so I didn't test them again. The last time I tested them at 5 meters, I put 10 into 5.148-inches, with 9 landing in 1.354-inches. I think that one wild shot was a fluke and the 9 shots better represent what this gun will do with this BB. In fact, I learned something in this test that probably explains that wild shot. I'll tell you about it in a moment.
Hornady Black Diamond BBs
The first BB I shot in this test was the Hornady Black Diamond. My first shot missed the Winchester Target Cube altogether and I wondered what happened. This BB gun was never that inaccurate!
Accuracy spoiler
When that happened I wondered what went wrong. Was the front sight loose? Hello — what's this? The entire barrel is loose and rotates on its axis! The front sight flops side-to-side about a third of an inch. That could explain a lot of things, including that one wide shot with the Daisy BBs I just mentioned. I knew I had to do something about it if I was going to get any accuracy from the gun.
After discovering that, I purposely rotated the barrel all the way to the right after the gun was cocked each time. That should at least give some consistency.
I loaded another Black Diamond BB (to get back to 10 in the magazine) and shot four times. From the sound I could tell I was hitting the target cube, but where was not obvious. So I walked to the target and saw 4 holes inside the black bull! Okay, that works! The final group is larger, but still not bad for this gun.
Ten Black Diamond BBs went into 1.701-inches at 5 meters. Nine are in 1.133-inches, so not much different than the Daisys.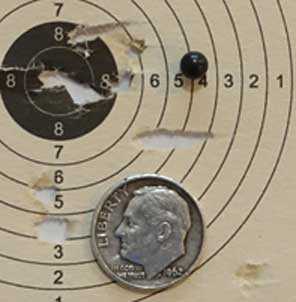 Ten Hornady Black Diamond BBs went into 1.701-inches at 5 meters, with 9 in 1.133-inches.
Air Venturi Steel BBs
The next BB I tested was the Air Venturi steel BB They were not as accurate as the Hornadys. Ten went into 2.357-inches at 5 meters, and you can see that the group is much more open.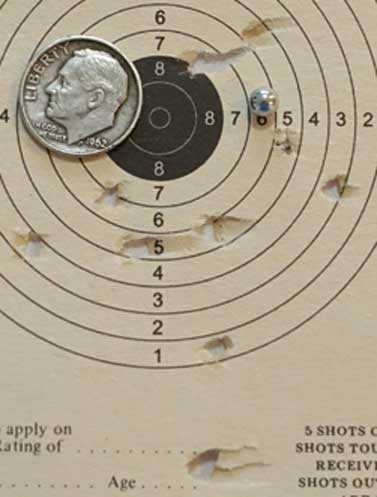 Ten Air Venturi Steel BBs went into 2.357-inches at 5 meters.
H&N Smart Shot BBs
The last BB I tested was the copper-plated lead H&N Smart Shot lead BB. One reader asked about them and wondered if they would feed through the M1 Carbine magazine, since it doesn't have a magnet. I thought they would, but this was the first time I have tried to shoot them in this gun.
They feed perfectly! You can hear they are going out a little slower, but the M1 Carbine has enough power for them. Ten went into 1.886-inches at 5 meters, with 9 going into 1.212-inches. That's not good enough to justify the additional expense, in my book.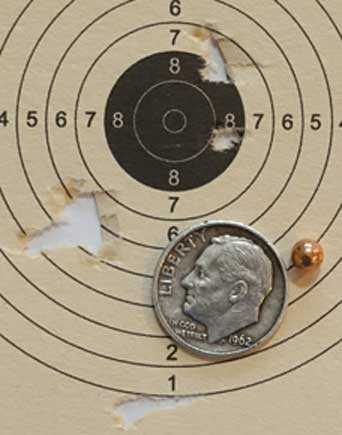 Ten Smart Shot lead BBs went into 1.886-inches at 5 meters. Nine of them are in 1.212-inches.
Results
Well, this M1 Carbine has not mysteriously grown more accurate over the years. It has maintained its power, which is good, and the coolness quotient is off the chart! I still regard it as a special BB gun that I enjoy more for what it copies than how well it shoots. But these guns will all be different, so nothing says that another one can't be more accurate.
Value
I will say that at the Findlay show I attended last Saturday, I was surprised to see asking prices for these guns have risen in past few years. Guns with magazines that used to fetch $90 are now being offered for $150. And I saw a ridiculous price, as well — over $500 for a gun with a Croswood stock! I didn't see any wood-stocked Carbines at the show, but there probably was at least one. If the plastic-stocked gun goes for $150, the wood-stocked one should fetch about $250. My own gun is in good condition with a lot of finish wear, but it also has the original box that ought to command a premium.
Summary
This is not a BB gun you buy to shoot targets. It's meant for fun, and will hit a soda can if it isn't too far away. This gun is nice because of the M1 Carbine that it replicates so well.
Tom Gaylord is known as The Godfather of Airguns™ and has been an airgunner for over a half-century, but it was the 
Beeman
 company in the 1970s that awoke a serious interest in airguns. Until then, all he knew were the inexpensive American airguns. Through the pages of the Beeman catalog, he learned about adult airguns for the first time. In 1994, Tom started
The Airgun Letter
 with his wife, Edith. This monthly newsletter was designed to bring serious reports about airguns to the American public. The newsletter and
Airgun Revue
, a sister magazine about collectible airguns, was published from 1994 until 2002, when Tom started
Airgun Illustrated
-- the first American newsstand magazine about airguns. Tom worked for three years as technical director at
AirForce Airguns
, the makers of the 
Talon, Condor, and Escape
 precharged air rifles. Today, he writes about airguns and firearms for various publications and websites. He also makes videos, and you'll find short clips embedded in some of his artices on Pyramyd Air's website. Tom is a consultant to Pyramyd Air and writes under the name of B.B. Pelletier.