by Tom Gaylord
Writing as B.B. Pelletier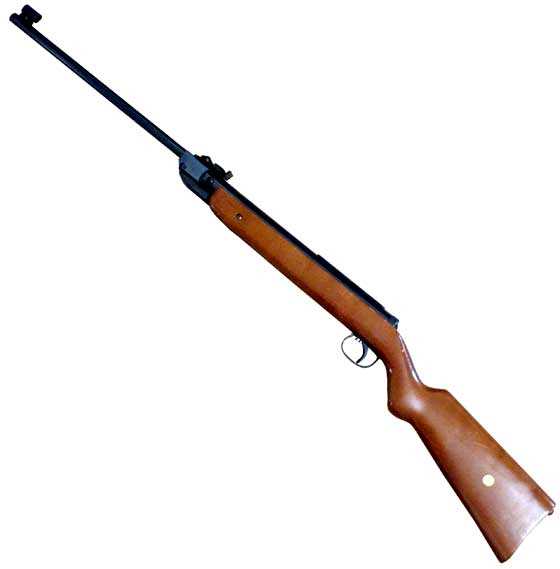 My .22 caliber Diana 27 is actually a Hy Score 807.
This report covers:
Not the pre-war 27
First time
Why a 27?
Great feeling!
Description
Sights
Seals
Breech seal
Trigger
Overall evaluation
What is a classic? One dictionary defines it as "…of the first or highest quality, class or rank. Serving as a standard, model or guide." Although that definition is somewhat subjective, I believe it captures the essence of the word. The Diana model 27 air rifle is certainly a classic by that definition.
Not the pre-war 27
Before we dive in let's understand that Diana also made a model 27 before World War II. That one had only a wooden buttstock with no forearm. It looks significantly different than the rifle we are examining today. It's not the same air rifle.
First time
As many historical airguns as I have covered, this will be the first time I've addressed the Diana 27. I've certainly written about it many times, but never for this history section, so today I begin correcting that oversight. The Diana model 27 is my all-time favorite airgun.
Why a 27?
Before I describe the rifle let me tell you about my first encounter with one. I was living at Ft. Knox, KY in the late 1970s and had already hooked up with Beeman. I got their catalogs regularly, owned a copy of the first volume of Airgun Digest, written and edited by Dr. Beeman, and already owned a Diana model 10 target pistol, a Sheridan Blue Streak, a Webley Senior pistol and an FWB 124 that I bought in the Beeman store in Santa Rosa. What I'm telling you is I was already a snooty airgunner who thought he knew it all.
I was also a family man with two children and didn't have a lot of extra money to spend — not on an Army captain's pay! So when I wandered into a pawn shop in the local town of Radcliff, KY, one day and happened to see an old weatherbeaten Diana 27 for sale, I had to think long and hard. They wanted $20 for it and I negotiated like a carpet salesman in a caravan to get the price down to $18 out the door. In other words, no tax (out of my pocket).
That pellet rifle was well-used, with no finish remaining on the wood stock and lots of rusty scale on the metal. The emblem in the stock said it was a Hy Score 807, but I was able to discover that it was really a Diana 27 in .22 caliber. The 27 also came in .177 and I have owned several of both in many different names over the years. For some reason I prefer the .22 — perhaps because it was my first.
I had some RWS Superpoints (as I recall — this was 1978) for my Webley Senior, so I had something to shoot. When I cocked it the first time I was amazed at how light and butter-smooth it seemed. Then I shot it for the first time. The trigger was long and not that crisp, but the firing cycle was very smooth. And, I hit what I aimed at. That's always a plus.
Great feeling!
For some reason I could not explain, I kept cocking and shooting that rifle just to feel the light cocking and smooth shot cycle. It was accurate enough at the 20 to 40 feet I was shooting, but could not compare with the accuracy of a 105mm cannon on an M60A1 tank (I was a tanker and Ft. Knox is the Armor Center — that's tanks) that can put a round through a 24-inch circle at 1,200 yards when sighted-in, or even my .270 Weatherby Magnum that put five into an inch at 100 yards. Even so, I was intrigued. My FWB 124 was prettier, shot harder and was more accurate, but there was something undefinable about this Diana 27 that captivated me.
When I left the Army in 1981 following a divorce I sold all of my firearms and airguns to pay bills, but I gave the model 27 to my closest friend. I hope he still has it. It would be 12 long years before I would get my next 27, another Hy Score 807, and that is the one I have pictured for you today. Uncharacteristically, I have kept this airgun since buying it for $110 at my first Winston-Salem airgun show in 1993. That's enough background, now let's look at the rifle, and it will be my Hy Score 807 that we look at.
Description
The Diana 27 (1953-1987) is a breakbarrel single shot spring-piston air rifle. It was made in both .177 and .22 calibers, though when some companies like Hy Score (807) and Winchester (427) rebranded it, they did so in .22, only.
The rifle has a one-piece beech wood stock that's fairly flat, so not a lot of shaping was done. The barreled action is all steel. Though plain looking, it also looks upper class when compared to the new air rifles we see today.
The rifle I'm testing weighs 5 lbs. 9 oz. It's 41-3/8-inches long overall and the barrel is 17-1/4-inch. According to the date code that many Dianas have, it was made in August of 1967.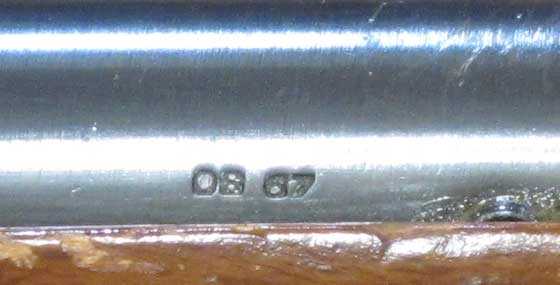 Some Dianas have a date code on the left side of the spring tube. Sometimes it's below the wood line. Older Dianas stamp the date on the wooden butt.
Sights
The sights are a hooded square post in front and an adjustable notch in the rear. The front sigh element is fixed and cannot be replaced unless the entire front sight assembly is changed.
The rear sight adjustments have quiet but crisp detents, so you know where you are going. Besides adjusting in both directions, the rear sight has any of four different notches to select, depending on your taste.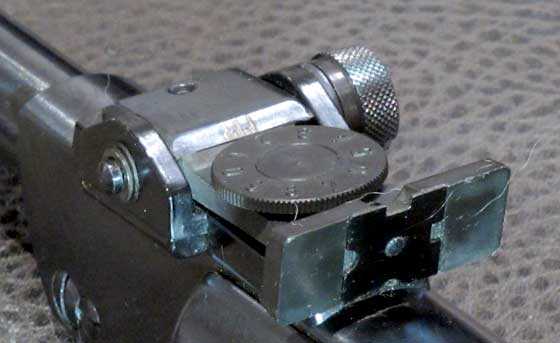 Not only is the rear sight fully adjustable, it also has 4 different notches to choose from.
Seals
The piston seal and breech seal are both leather. I confirmed that when I overhauled the rifle in the 1990s. At the time I didn't know about Almagard 3752 grease, and Beeman's Mainspring Dampening Compound would slow a gun down by a lot. The 27 was never fast to begin with and this one is a .22, so I opted for something else. The something else was enough white lithium grease to drown the powerplant. I slathered it on, to both quiet the buzz on shooting and also because lithium grease will migrate forward as a liquid and keep the leather seal lubricated a long time. That "tune" is about 20 years old and shows no signs of needing an upgrade. I never oil the piston, yet it is still fresh.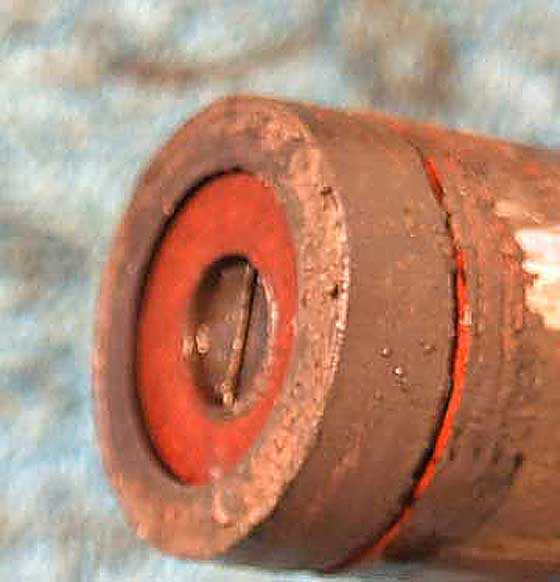 The piston seal is leather.
Breech seal
I refurbished a Diana 27 leather breech seal in two reports. I removed it in this report, and replaced it in this one. That was a different .177 caliber Diana 27, but the breech seals are all the same.
Trigger
Here is where it gets interesting! The Diana 27 has a unique trigger that works by three ball bearings releasing the piston rod. I have called it their ball-bearing trigger for the past 25 years and I think everybody else does as well. While this trigger is made of numerous parts that are simple stampings they work together to produces the best two-stage release in the business. It's every bit as crisp as a Rekord, if not able to be adjusted as light. Yet when you consider the swarm of cheap parts that make it up you wonder how they ever managed it.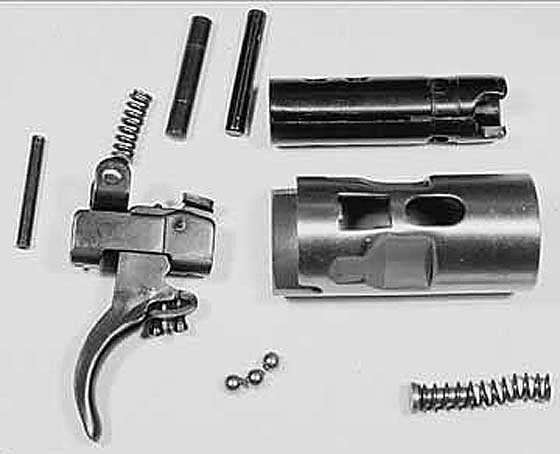 This mess of parts makes one crisp trigger when assembled.
In Part 2 I will give you instructions for adjusting this trigger. This same trigger is dound in other vintage Dianas, and all of them adjust the same way.
Overall evaluation
The Diana 27 is lightweight, easy to cock, slim, accurate and has a wonderful trigger. It's the kind of lightweight little pellet rifle that makes shooting airguns fun. And if all my airguns were taken away, this is the one I would most want to keep.