by Tom Gaylord
Writing as B.B. Pelletier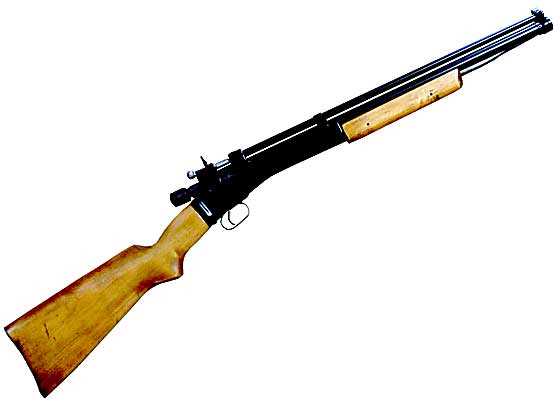 Crosman's 100 is a .177 caliber variation of the more plentiful model 101.
This report covers:
The test
Discussion
Summary
The last test of the Crosman 100 was back in December, when I shot a remarkable 5 pellets into 0.145-inches at 10 meters. That engendered the question of whether it was just a lucky group or the rifle was really that accurate. I said at the end of that report that I would return and shoot 10 five-shot groups at 10 meters with the same pellet, so we could see whether that target was a fluke or representative. I waited until my right eye was corrected again, to give the test the best chance for success. So, today is the day!
The test
I'm shooting the Crosman 100 at 10 meters off a sandbag rest. I will shoot 5 shots at each target and pump the rifle 4 times for each shot. The only pellet I am testing is the H&N Baracuda Match pellet with the 4.50mm head.
I normally show the pellet with every target, but since they are all shot with the same pellet, I'm only showing it with the first target. Here we go!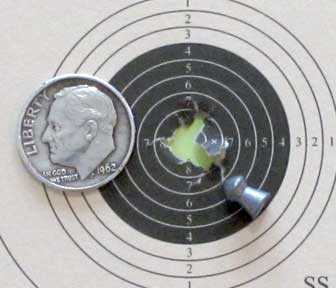 First target is off to a good start. Five Baracuda Match pellets went into 0.18-inches, center to center at 10 meters.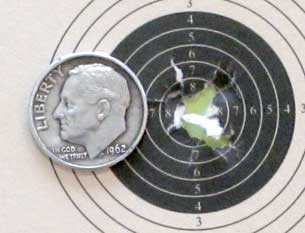 Second target isn't quite as good. Five are in 0.274-inches.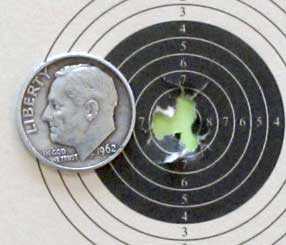 Third target shows 5 pellets in 0.232-inches.
I had hoped to shoot the first couple targets and get groups similar to the one last December. If that had happened, I would have ended the test and declared the rifle a winner.
I realize these are all great groups, but when we get to accuracy this special, we have to stick to the plan. I would accept the first group as similar in size to the group from the other test, but not groups two and three.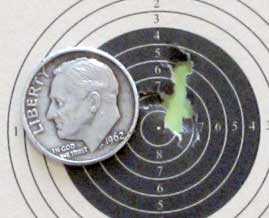 This rather linear group measures 0.356-inches between centers.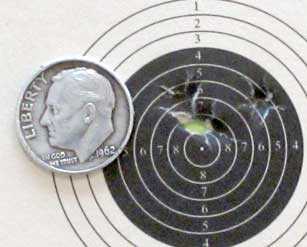 Ooops! Shoot enough targets and this will happen. The largest group of this test measures 0.447-inches between centers.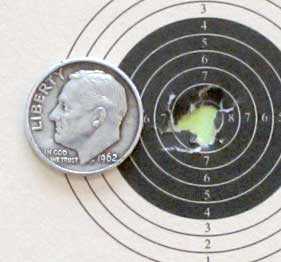 The sixth target of the test measures 0.202-inches between centers.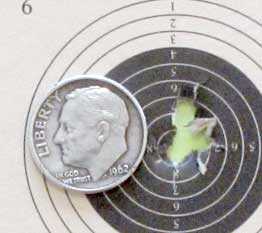 Group number 7 measures 0.256-inches between centers.
I have now shot 7 groups and not one has equalled the group shot back in December. I think we must rule that one to luck. That being said, this Crosman 100 is still incredibly accurate, and with the Baracuda pellet it's sighted in perfectly. No need to apologize for anything.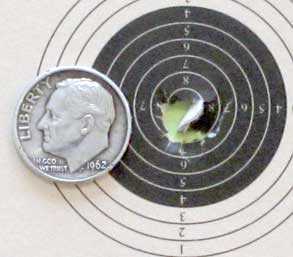 The eighth group was the best of the test. Five pellets are in 0.141-inches. This group is slightly better than the December group, though errors in measurement probably make them a wash.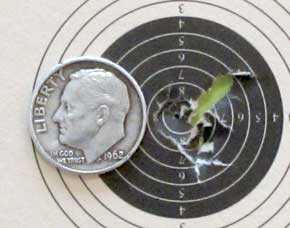 Target 9 measures 0.408-inches between centers.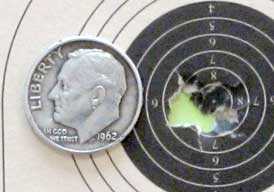 The final target shows a group that measures 0.253-inches between centers.
Discussion
That's 50 shots and 200 pumps! I do like multi-pumps for the relaxing way they operate, but this test was not relaxing. It was tiring!
Out of 10 groups I did shoot one that equalled the group shot last December. So, what is the conclusion? My conclusion is that the rifle is extremely accurate but will not consistently shoot groups as small as the one I shot in December.
The 10 groups averaged 0.2749-inches between centers. That's probably a fair representation of the accuracy of the rifle with this pellet.
Summary
This Crosman 100 is very accurate with the Baracuda Match pellet I tested. My plan is to test it one more time from 25 yards. I will stick to 5-shot groups to keep the test time reasonable, but I might test a second or even a third pellet next time.