by Tom Gaylord
Writing as B.B. Pelletier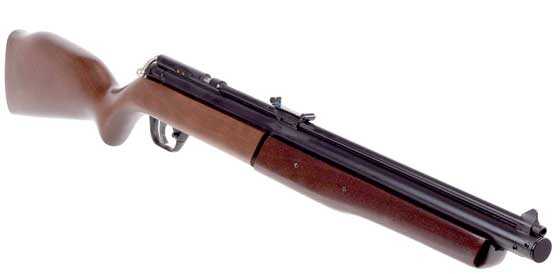 Benjamin 392 multi-pump pneumatic.
This report covers:
The rebuild
The test
Test 1
Analysis of test 1
Test 2
Analysis of test 2
Test 3
H&N Baracuda Match
JSB Exact Jumbo Heavy
Analysis of test 3
Next
Today we look at the Benjamin 392 that has been resealed. The first report was done on the gun as it came from the pawn shop. All I did was oil the pump head with ATF Sealant and then test the gun. It's been a long time since Part 1, so you may want to read it again. In the last test I said this was the fastest 392 I have ever tested.
The rifle responded well to ATF Sealant. I will run those number with today's test figures for comparison.
The rebuild
I sent the gun to reader Jeff Cloud for a rebuild. He is the guy who rebuilt my Sheridan Blue Streak a couple years ago.
I was just thinking new seals, but when he examined the valve body Jeff told me it was aluminum and had welded itself together, so a new valve was needed. He ordered a brass valve body replacement from John Groenewold. So this rifle I'm testing will be different from the previous one. A pneumatic valve in an air rifle is like the engine in a car — change it and everything changes.
The test
I will test the rifle with the same pellets that were used in the last test. And I will run the same tests. Let's get started.
Test 1
This is the velocity of the rifle with Crosman Premiers on 3 to 8 pumps.
Pumps…….Velocity
3……………448
4……………498
5……………542
6……………569 no air remains
7……………596 no air remains
8……………624 some air remains
In the test of the rifle before the valve was replaced, these are the numbers.
Pumps…….Velocity
3……………491
4……………538
5……………576
6……………599 no air remains
7……………632 no air remains
8……………652 no air remains
Analysis of test 1
The new valve is not as hot as the previous one. However, it is hotter than the factory new valve in my Benjamin 392 pump assist rifle that tops out at 608 f.p.s. on 8 pumps.
Test 2
How consistent is the new valve? Here are 10 shots on 4 pumps.
Shot…….Velocity
1………….517
2………….517
3………….529
4………….509
5………….500
6………….508
7………….508
9………….512
10……..….508
Analysis of test 2
The velocity with the new valve on 4 pumps varied by 29 f.p.s. The previous valve varied by 53 f.p.s. in the same test, so the new valve is more consistent. I'm thinking there may be some breaking in of this new valve before optimum performance is realized. I say that because all of the shots in test 2 are faster than 4 pumps in test 1 with the same pellet.
Test 3
The last test. Let's see how the gun does with two other pellets.
H&N Baracuda Match
First up was Baracuda Match with 5.51mm heads.
Pumps…….Velocity………Energy
4……………422…………..8.36
8……………545…………..13.95
JSB Exact Jumbo Heavy
Now let's look at the rifle on JSB Exact Jumbo Heavy pellets.
Pumps…….Velocity………Energy
4……………474…………..9.05
8……………591…………..14.06
Analysis of test 3
In this test the lighter pellet was more efficient. It produced more muzzle energy. That shouldn't happen in a pneumatic. That fact, coupled with the air that remains after 8 pumps, suggests to me that the striker spring is weak. If this was my rifle I would replace the spring. However, I got the gun resealed in trade for the B3 underlever, so I am done with it. That probably sounds harsh to some of you, but I have already spent more money than I wanted to, just getting this rifle resealed. It now performs in the range of a new 392, so my part of the bargain is finished.
Next
I plan to shoot the rifle for accuracy at 10 meters. Since it's a .22, there is a wide range of premium pellets to choose from.
This test and the next one is setting us up for the surprise I mentioned a week ago.