by Tom Gaylord
Writing as B.B. Pelletier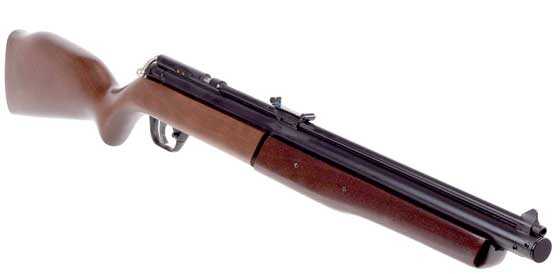 Benjamin 392 multi-pump pneumatic.
This report covers:
The test
Crosman Premiers
JSB Exact Jumbo Heavys
H&N Baracuda Match
Well?
JSB second test
Evaluation
Summary
Today is accuracy day for the Benjamin 392 that's been rebuilt. What you are about to see is stunning! This report will blow your minds!
The test
I looked at the results of the Part 2 velocity test and determined that 4 pumps would be a good number for all pellets. Since this is a multi-pump where each shot takes more time, I decided to shoot 5-shot groups, to see whether one pellet is more accurate that the rest. If I found one, I would then shoot 10 shots with that one at a fresh target. That led to an extremely rare occurrence that's going to surprise most of you.
I shot from 10 meters off a sandbag rest. Because the 392 is pneumatic, I rested the gun directly on the bag. I wore reading glasses to see the front and rear sights better, and the bullseye was a little fuzzy. That is normal, and, as you will see, not a problem.
Crosman Premiers
First to be tested were Crosman Premier pellets. The first shot hit about level with the aim point (a 6 o'clock hold) and about 1/2-inch to the right. I didn't report this to you but the front sight on this rifle is bent slightly to the left and I wondered whether that had been done by a former owner to correct the point of impact or was it just damage from a bump? This rifle has been treated very roughly over its life, so I suspected it was from a bump.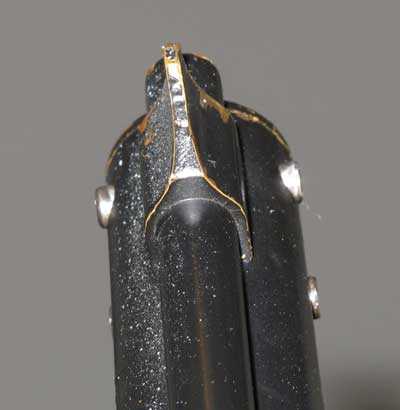 The front sight blade is bent slightly to the left — probably from a bump.
Five Premiers made a 0.56-inch group. That's about the accuracy I see with most 392s at 10 meters. It's not fabulous, but it is very good.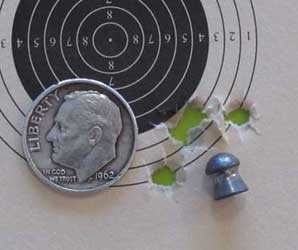 Five Crosman Premiers went into 0.56-inches at 10 meters.
JSB Exact Jumbo Heavys
Next I shot 5 JSB Exact Jumbo Heavy pellets. This time the group was quite good. Five of these pellets went into 0.217-inches at 10 meters. This group forced me to bring out the trime!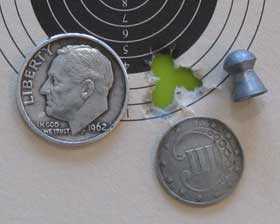 Five JSB Exact Jumbo Heavys went into 0.217-inches at 10 meters. This is fantastic! Note the size of the smaller trime and compare it to the dime.
H&N Baracuda Match
The final pellet I tried was the H&N Baracuda Match with 5.51mm head. This group was larger, at exactly 0.75-inches between centers. I would not use this pellet in this rifle. I held just as well for this pellet as for the rest, but the pellets scattered.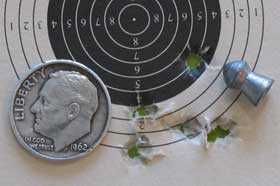 Five Baracuda Match pellets went into 0.75-inches at 10 meters. This isn't the pellet for this rifle.
Well?
Given the results of the first three targets, does one group stand out? Of course! The JSB group is clearly better than either group made by the other two pellets. That was the pellet I wanted to shoot 10 times.
JSB second test
Oh, boy! These second attempts are always challenging when the first group is so tight. At 0.217-inches between centers, the first group of five JSB Exact Jumbo Heavy pellets was really tight!
This time I took my time and aimed with the greatest care. I never looked at the target through the spotting scope after the shooting began, because if it was going well I didn't want to put pressure on myself. It wasn't until I walked downrange and saw the group that I knew what had happened.
This is only the second time in my life that a 10-shot group has been smaller than a 5-shot group of the same pellets. And this time the 5 shots I was comparing to were really good. But the 10 shots are incredible!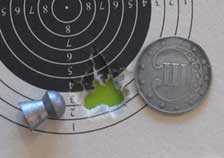 Ten JSB Exact Jumbo Heavy pellets went into a group that measures 0.164-inches between centers at 10 meters. This one is a screamer!
Was I lucky? Probably. But to get lucky 10 times in a row is very rare. The rifle has to be accurate, too, for that to happen.
Evaluation
This 392 is extremely accurate and has also been restored to factory-new power. I am now finished with the rifle. Somebody is going to get a wonderful multi-pump when they buy this one.
Summary
This report set us up for the special report that starts this Friday. It's about another multi-pump, and there will be several surprises in this one for you!