by Tom Gaylord
Writing as B.B. Pelletier
This report covers:
FWB 110
Daisy 99 first variation
Daisy Targeteer gallery and gun
Daisy Critter Gitter
Daystate CR97 prototype
O'Connell rifle
Shooting!
RAW
Big bores
Hammer
More on the show
Prizes galore!
The end
It happened last Saturday and if you were there you saw what I am about to report. If you missed it, too bad, because I think it was the best show yet.
Airgun shows usually have a theme; this one had several. Airguns that are never seen was one of them. Let's start there.
FWB 110
Reader JerryC laid an FWB 110 on my table for display throughout the show. How rare is it? Well, this is the first one I have seen.


It may look like an FWB 150 or 300, but the 110 was the one that started them all.
The 110 is unique because it doesn't have the anti-recoil mechanism in the stock. It recoils, though this one doesn't move very much. It was tuned and resealed by Dave Slade and is a masterpiece of a recoiling 10-meter target rifle. Think of a tuned HW55CM or a Walther LGV and you will have it. How do I know? I shot it! Yes, you will be getting a 3-part review!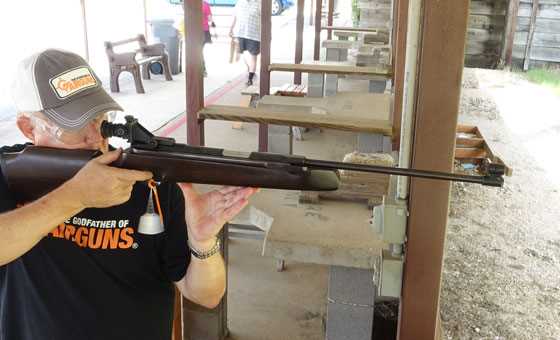 I shot the FWB 110. It's very smooth!
Daisy 99 first variation
I saw this on the table next to me and when I saw it was the first variation, the 1,000-shot gravity feed magazine, I knew it was a rare bird. Then I saw the price and knew I had to buy it. It was my first purchase. Yes, there will be a full review.
Another vendor had a very scarce Daisy 142 — the Daisy that was the last in a line of military BB guns that began with the Number 40 in World War I. I have seen the 140 that has a bolt and the 141 but this was the first 142 I have seen.


It probably just looks like a BB gun to most folks, but the Daisy 142 is a scarce collectible.
Daisy Targeteer gallery and gun
Yes, an antique dealer from Austin had a table with a Daisy Targeteer shooting gallery and gun. Talk about serendipity! It was priced to sell and sell it he did, to a lucky buyer who wanted it for his man cave.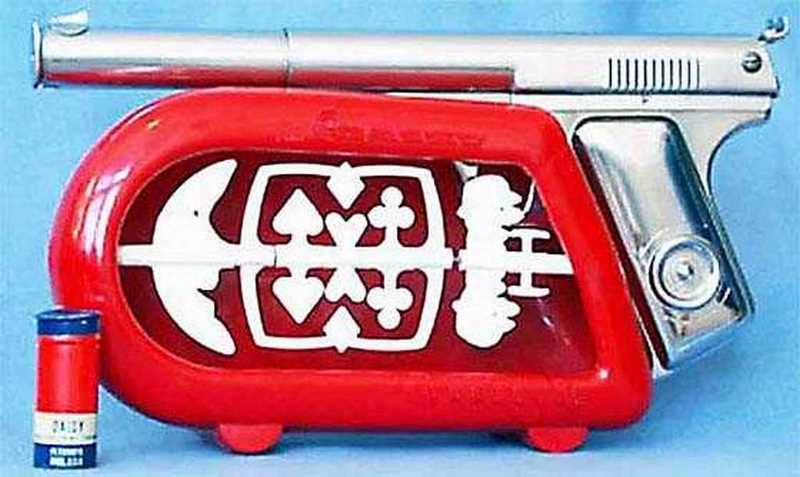 Yes, there was one for sale at the show. While they aren't rare, they also are not common.
Daisy Critter Gitter
This is another super rare airgun I have heard about but never seen. It was made in Germany by Umarex for Daisy but they decided not to sell it in the U.S., and only a handful were ever sold in 1988 — the only year of production. It looks unimpressive, but the Blue Book says a nice one like this will bring $700 or more. In the real world it brings whatever someone is willing to pay!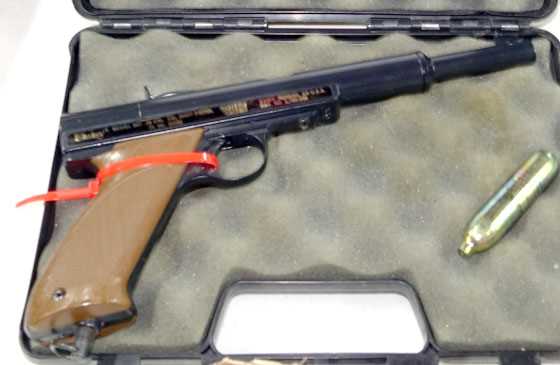 Only a few Daisy Critter Gitters ever were sold in the U.S. This one wasn't for sale, but it was the first one I ever saw.
Next to the Critter Gitter, however, was a new-in-the-box Johnson Indoor Target Gun. They sold for $15 back in 1948 — or rather they failed to sell at that price. Not many were produced, though I wouldn't call them rare. But NIB ones are uncommon! I already own a Johnson and even reported on it for you, but I never had the whole shooting match! You will be reading about this one!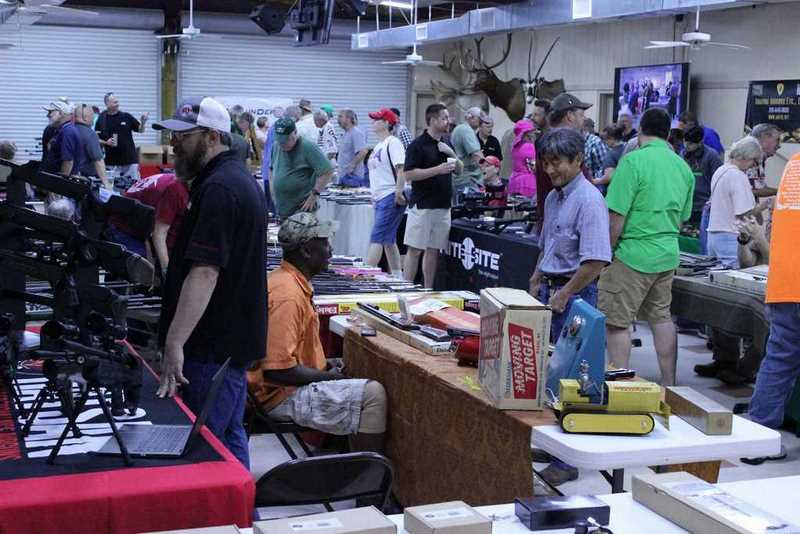 Though the crowd was larger than last year, it was pleasant inside the hall all day.
Daystate CR97 prototype
The Daystate CR97 was the world's most sought-after field target rifle in its day, which was the late 1990s. The prototype was at this show — AND FOR SALE! Time has passed and you don't read as much about the CR97 these days, but if you are looking for a focal point for your man cave, this is another one nobody has ever seen.


Daystate CR97 prototype should fascinate anyone who knows the history of field target.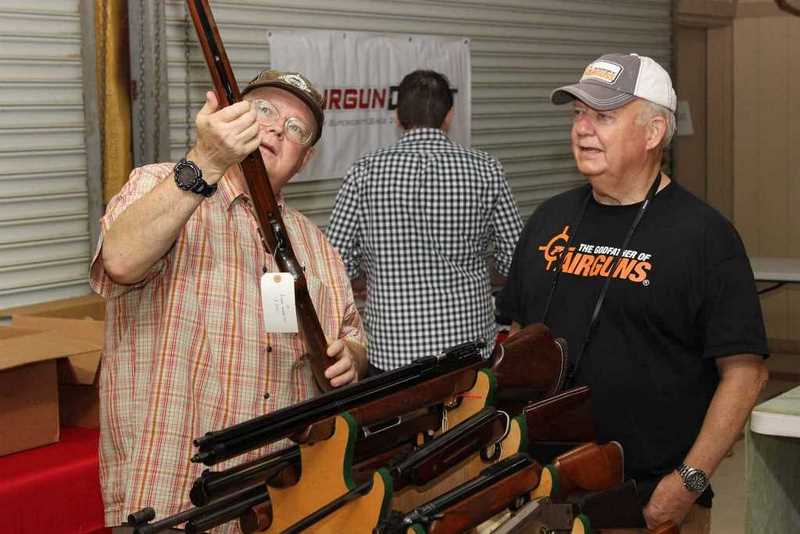 David Enoch admires my Diana model 50.
O'Connell rifle
Here's another one that will slip past the unobservant. It looks a lot like a more common Crosman CG gun, but the O'Connell is super-rare. It has a different kind of valve that the Blue Book of Airguns says resembles a Schimel valve. This is another one that you just open your wallet and hope the seller will leave you something for lunch.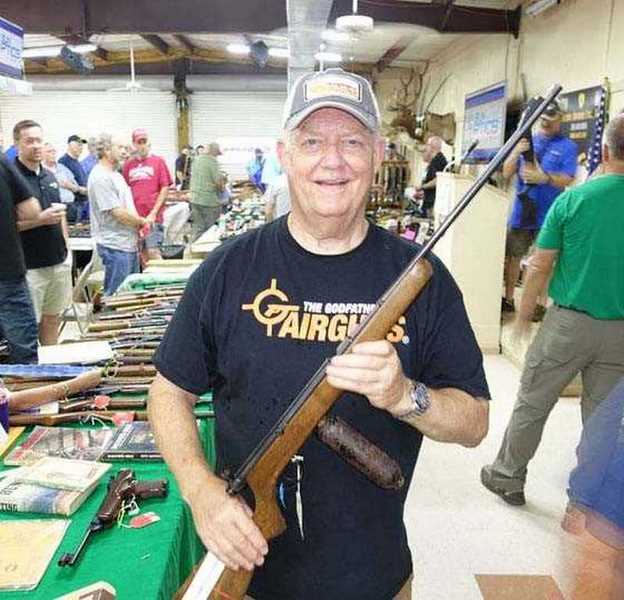 Another airgun you never see — an O'Connell!
Shooting!
The Texas show isn't just about old airguns. There are plenty of new guns and even some of the major manufacturers and retailers at the show. Sig was on the range all show long, letting the public shoot their airguns.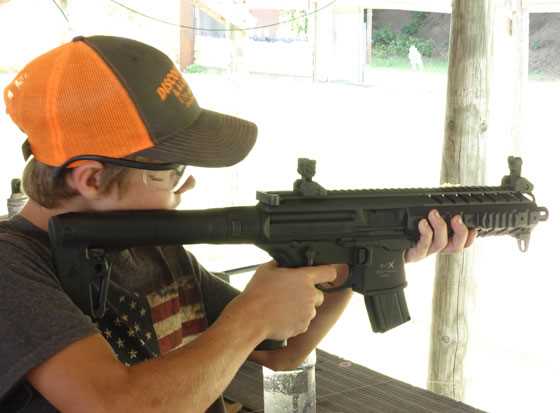 This young man was enthralled with the Sig MPX. He was pretty good with it, too!
The other thing that was really special at the Sig range was the new ASP20 breakbarrel pellet rifle that you saw in the 2018 SHOT Show report. They had it at this show and, thanks to Sig Product Manager, Stephanie Kee, I got my first chance to shoot the real deal. It cocks just as easily as I remembered from the SHOT Show, and the trigger is still superb. I was shooting offhand, so my report on accuracy will have to wait for the official test, but Sig is flying a lot of gun writers including me to their plant in Exeter, New Hampshire, next month, after which I should get a rifle to test for you. The thing is, if you were at this show, you could have shot it, too.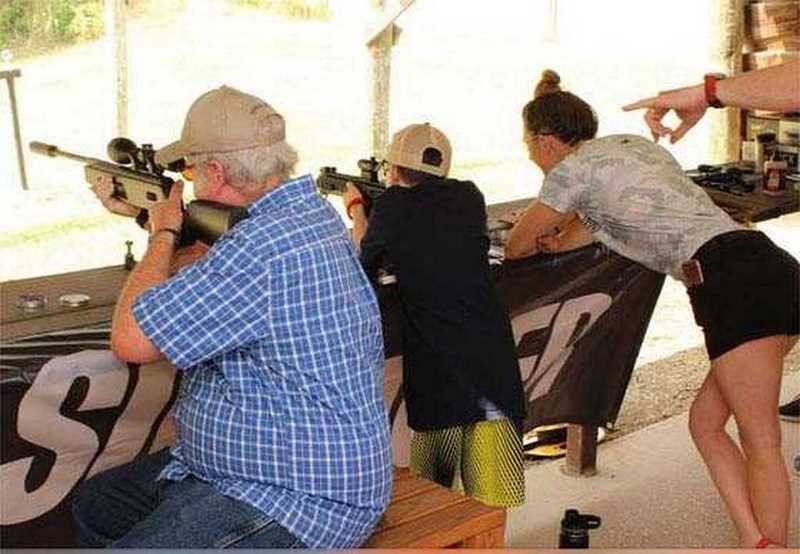 The Sig range was busy with shooters trying the new APX20 breakbarrel (left).
RAW
AirForce had the RAW rifles on the line for people to shoot. They are currently in production of more than 200 rifles to fill backorders, and to replenish their stock.They also showed off the RAW Benchrest rifle that they expect to dominate the sport.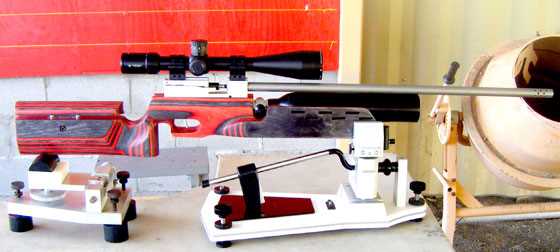 The RAW Benchrest  is stunning..
Big bores
Probably the number one public attraction was the big bore range, where the public could shoot one of several big bore airguns. It was the noisiest place at the show, but the people thronged there anyway.
Hammer
Umarex had their new .50-caliber Hammer big bore on the range and I just had to try it. I had shot it at the SHOT Show but this one seemed a little different and they had their big 500+ grain bullets for me to try. I fired the first shot and missed an easy target at about 60-70 yards. Umarex sales manager Justin Biddle told me to hold the rifle tight. I was holding it loose like you would an airgun, and the recoil moved it off target. I held it firmly for the second shot and nailed the target. The recoil is about the same as a 30-30.
I noticed a large puff of air in the face which Biddle told me was normal. The Hammer receiver has holes to let some of the gas escape, and it hits you in the face. It's a surprise unless you are expecting it.
Cocking is very light and easy. The 2-shot magazine advances when the rifle is cocked and you don't notice a thing unless you watch the mag move.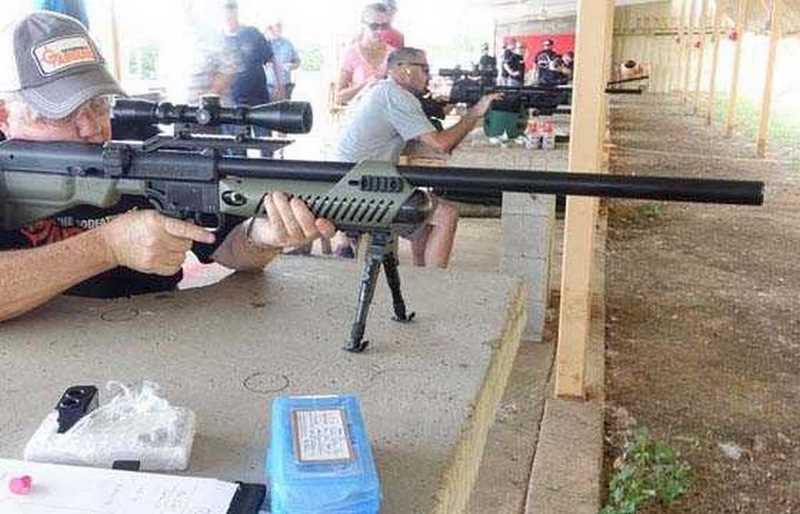 I shot the latest version of the Umarex Hammer.
A few benches down from the Hammer, the AirForce TexanSS was drawing in people. After the blast and recoil of the Hammer the TexanSS seemed quiet and reserved. It was pounding steel targets downrange all day though. I don't think I saw anyone miss, the times I was there. You can really tell when a heavy lead bullet smacks a steel target!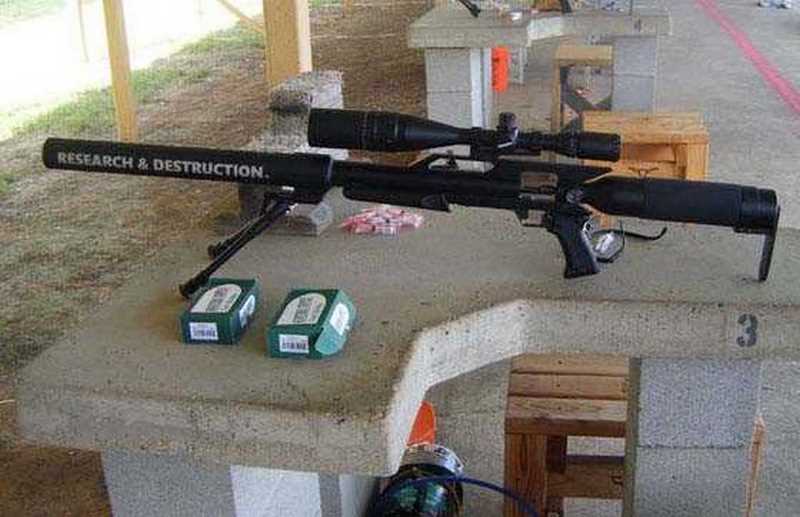 Ton Jones personal TexanSS was available to the public to shoot. The factory is straining to keep up with the demand for this one.
More on the show
This year quite a few blog readers attended and introduced themselves. Reader 45 Bravo got to shoot my B3 that I tuned recently. It wasn't a test of accuracy but of what Tune in a Tube can do for a spring piston airgun. I will let him tell you what he thought.
Reader JimM arrived early and stayed for the whole show. I got to watch him as he discovered exciting things for really good prices. In the end he bought three rifles for himself and one more that I bought from him.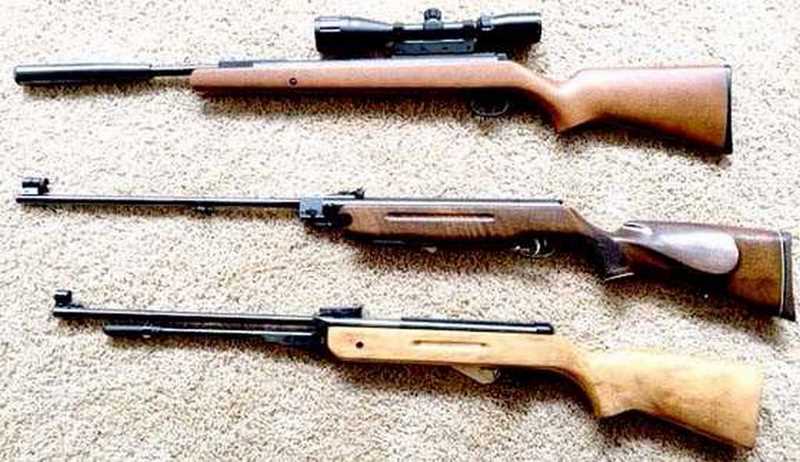 JimM found these three treasures. From the top they are an RWS 34 Meisterschutze Pro Compact, a beautiful early HW35 and a BAM 30 that's the B3, updated.
Prizes galore!
Another thing that sets the Texas show apart from all others are the fabulous prizes! All day long show director Jeff Cloud ran from one giveaway to another. He started the raffle drawings at 11 and held a drawing every hour until the end of the show. Outdoors on the Vendor range Sig, Crosman and Pyramyd Air donations were raffled off, including 20 L'il Duke BB guns that each came with a sample of Dust Devil BBs.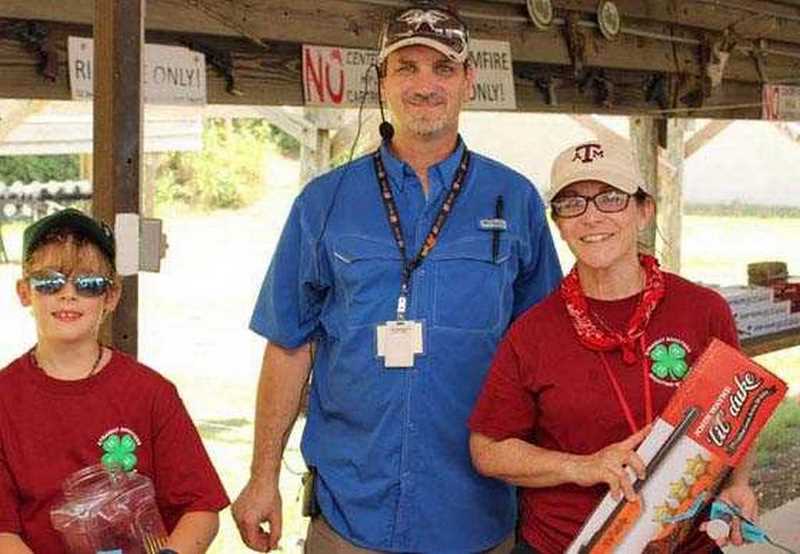 Twenty L'il Duke BB guns were raffled to youth shooters.
In a stunning repeat from last year, the young man who won the $4,000 Air Arms RSN70 PCP returned to win an Air Arms TX200 Mark III this year.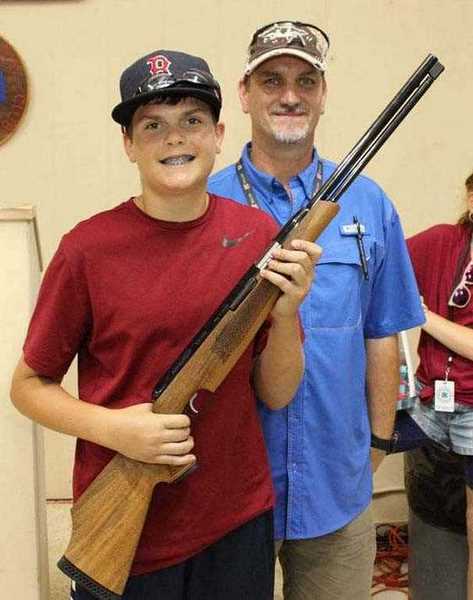 The young man who won the RN70 last year won a TX200 Mark III this year! Lucky genes!
The door prize was the last item to go. It was a dressed-up AirForce CondorSS that everybody wanted.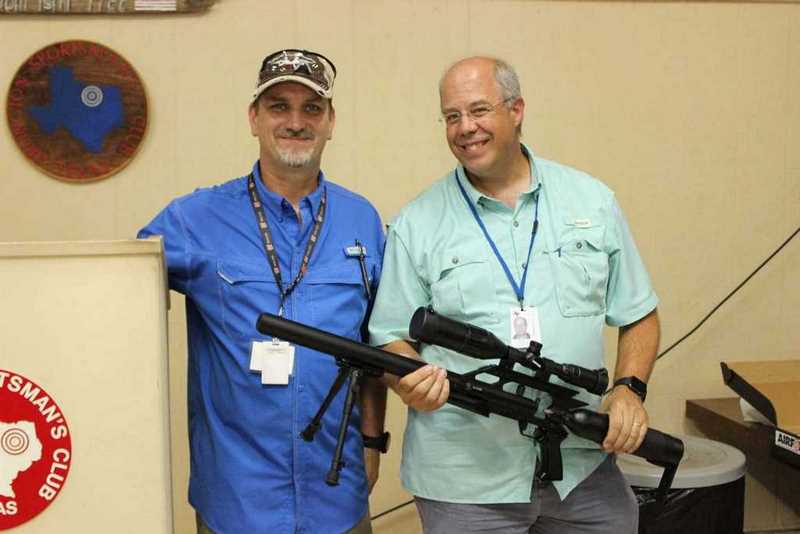 The doorprize, a dressed-up AirForce Airguns CondorSS, was won by a past president of the host club — a fitting way to end the 2018 show.
The end
Once the door prize was won the show was essentially over and dealers started packing their wares. The 2018 Texas airgun show was a success, as anyone who attended can tell you. I hope to see more of you there next year.