by Tom Gaylord
Writing as B.B. Pelletier
This report covers:
S&W Pistols
Big mouth pays off!
S&W 77A multi-pump
FWB 124?
Outside
RAW
Raffles and door prize
Larry Hannusch
Show was smaller this year
Walk-ups
Summary
The Texas Airgun Show was held last Saturday. The weather was good — no rain, and a mild breeze to keep us cool outside.
S&W Pistols
Every airgun show has a unique personality and this one had several. I'll start by telling you that I saw more S&W 79G pistols at this show than I can remember seeing at any other airgun show. It started with my first walk through the tables during the set up. A dealer on the far side of the hall had a 79G on his table that was marked as a 78G. It was also marked as .177, which is the 79G caliber so I examined it and it turned out to be a 79. I left it there because I hadn't sold anything yet, but when someone told me that reader 45Bravo might come to the show, I rushed over and bought the pistol. 45Bravo told me he buys every one of these that he finds. Well — there were at least 7 at this show — five 79s and one 78 with an adjustable trigger. Ron Robinson got that one. A walk-in 79G in the box completed the count.
One guy had three 79Gs in addition to the 78G in the box that Ron got. One of his 79s was also in the box. Later in the morning the 79G in the box walked into the show and that one was pristine with nearly everything. I think some CO2 cartridges were missing from the box inside the pistol box.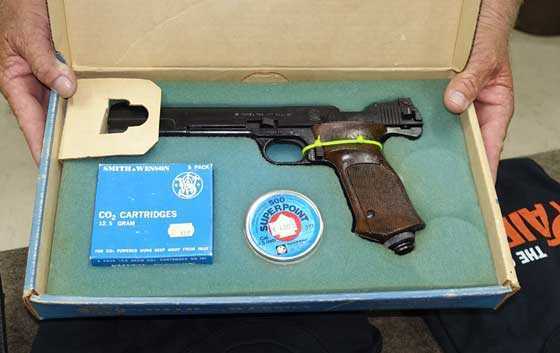 This boxed S&W 79G walked in the door in the morning.
The pistol I bought is just a beater that's holding gas and has the mark that says the factory resealed it. I have shot it and plan to report on it soon. But on Friday of this week, 45Bravo will show all of us how to reseal one of these pistols. It isn't that hard, plus he shows you where to buy the seals for a good price.
Big mouth pays off!
I was whining and crying aloud about Ron Robinson getting the 78G with the adjustable trigger, so another reader told me when he gets back to his home on the east coast he has an adjustable-trigger 78G in the box. It doesn't hold CO2, but like I said, on Friday we will all learn how it's done. So we will talk and I may get another very nice air pistol.
S&W 77A multi-pump
I also saw a Smith & Wesson model 77A multi-pump rifle on the same dealer's table where I bought the pistol. I would have bought it right then but I had just bought the pistol, plus I thought he was a little high on the price. As luck would have it, however, later in the morning he came by my table and fell in love with a Falke model 70 breakbarrel that I had also priced a little high. Guess what? Our two guns were the same price! So I gave him my $5,000 dog for his $5,000 cat and we were both happy. That multi-pump is holding and will also be a future test.


We will be testing an S&W 77A rifle later this year.
Gamo 126 SSP target rifle
How many Gamo 126 single stroke target rifles have you seen at airgun shows? How many that work? This one was in the box with everything. I came very close to buying is, just to test it for you.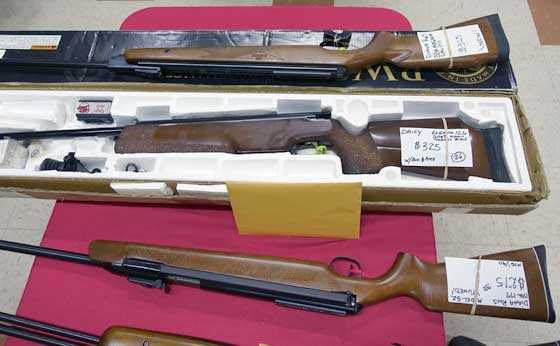 This working Gamo 126 wore the Daisy label.
FWB 124?
A reader asked whether there would be an FWB 124 at the show. I saw one and heard about a second one, and were both for sale. Another one walked into the show, but it wasn't for sale. It was in need of a new piston seal. It still had the original factory piston seal which dry rots and fails. The guy telling me this was standing with his back to Dave Slade's tables. When I told him that Dave is the top spring gun tuner I know, he got excited and went over to talk to him. I heard them talking but I didn't hear how it turned out. But when I went over to Dave's table — guess what? There satANOTHER FWB breakbarrel. Only this one wasn't a 124. It's the much harder to find .22-caliber 127!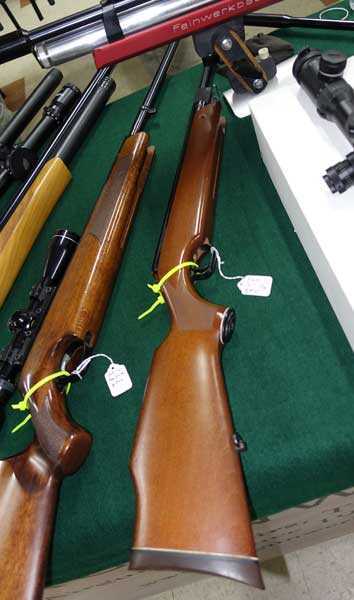 It looks like an FWB 124 but costs like two of them! The FWB 127 is a rare sight!
Outside
The Texas show is one with a lot of shooting. There is a range just for the public to test airguns they are considering buying. Then there are several manufacturers who host shooting benches with their products. And the 4-H club has some kind of shoot each year where the public buys tickets for shots, and the tickets also enter the holder into a drawing for airguns toward the end of the show.
We were short several manufacturers this year. Crosman wasn't there and Sig wasn't there as well. Umarex and Hatsan both had smaller showings this year.
On the other hand AirForce was there in spades and they had their new 600 foot-pound .45 caliber Texan on the range. This was the first time the public has seen the new T2 valve that now comes on all Texans. It still runs on 3,000 psi air. This is now the world's most powerful production air rifle, and when it fires everybody nearby knows it.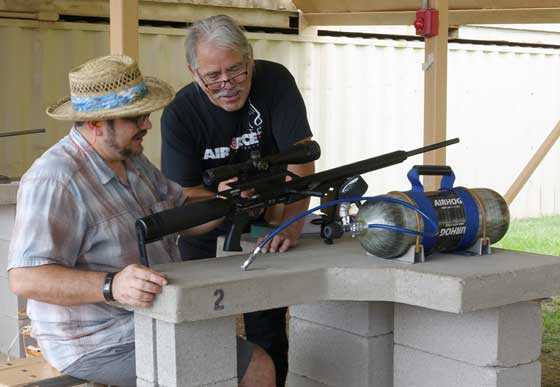 The new Texan with the T2 valve produces 600 foot-pounds at the muzzle.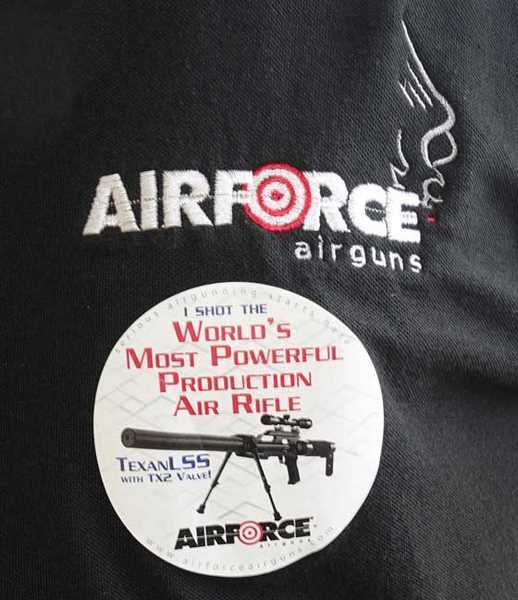 The new T2 valve boosts the Texan output to 600 foot-pounds in .45 caliber. Everyone who shot the rifle got a sticker.
Umarex did have their Hammer big bore on the range, too, and they shot it all day, as well. I have heard no word yet on when that one will be available.
RAW
Old BB got to shoot a .25-caliber RAW rifle that is now in production. I shot at the 75-yard action target that was made for a .38 Special revolver (it's my target) and hit it every time. It's called a red light/green light target. Hit the red and the green takes its place and so on. The paddles are 3-inch steel plates.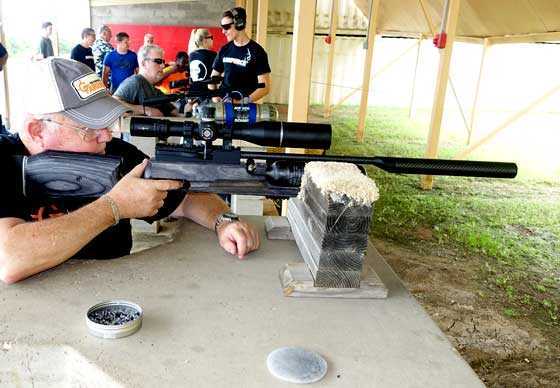 I couldn't miss with the .25 caliber RAW.
Raffles and door prize
The Texas Airgun Show has more raffle prizes and door prizes than any other airgun show. I estimate the total value to be over $5,000. The door prize that was free and open to everyone with an admission ticket was a .257-caliber AirForce Texan with a 4-16 AirForce scope with accessories valued at over $1,300. Not bad for a freebie!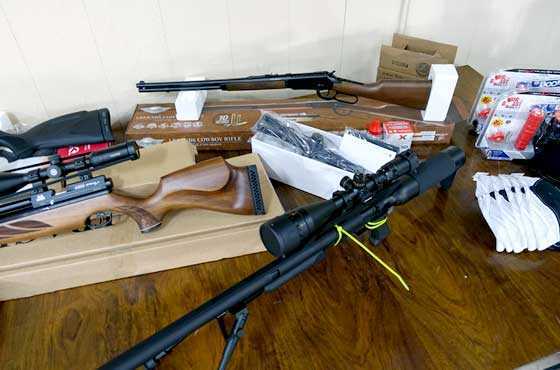 This is just half of the raffle prizes, plus the door prize in the foreground. There had to be well over five thousand dollars in prizes at this show! As the show progressed, other prizes were donated spontaneously.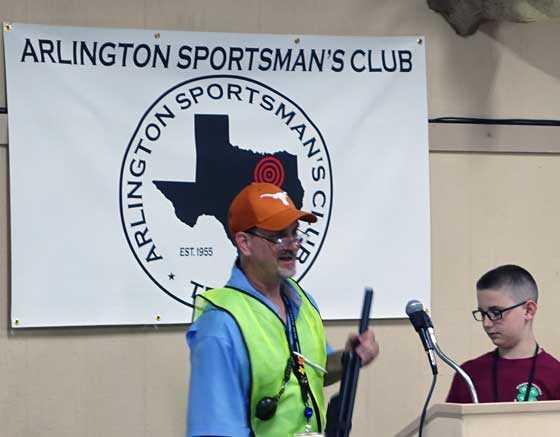 Show promoter, Jeff Cloud, gives away another raffle prize.
Larry Hannusch
There were plenty of dealers with vintage guns this year, but Larry Hannusch was able to attend for the first time in several years and you never know what he will bring. I saw a very rare military style bolt action round ball-shooter on his table and promised myself I would buy it if I sold enough guns. Well, toward the end of the show I had the money and trundled down to his table, only to find him packed up and heading out. He had to leave early for a family reunion nearby this weekend. He was under domestic duress for blowing off the reunion to attend as long as he did.
The good news is we struck a deal and you will be seeing a test of the Tell 1708 ball shooter (BB gun) later this year. But that wasn't all Larry had. He walked around the show, showing off a very unusual outside lock pistol. It is mostly brass that I offered to polish for him but he declined for some reason.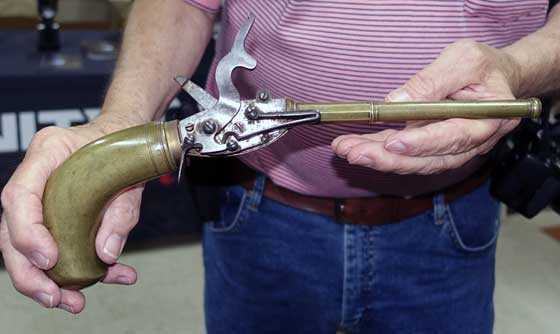 Larry Hannusch's outside lock pistol is neat, no?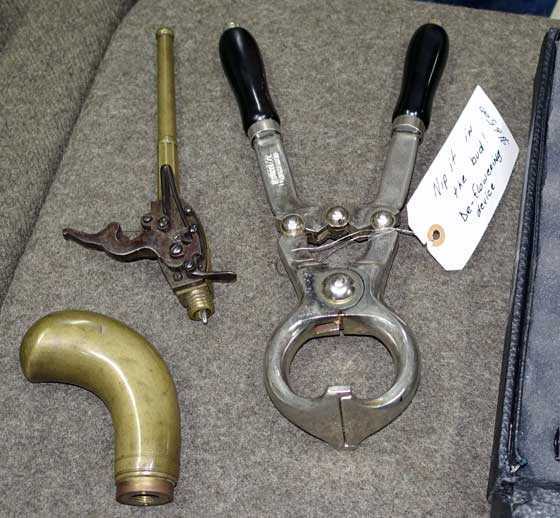 The pistol butt has been removed. Larry shied away from the deflowering device, as he was already in the domestic doghouse
Show was smaller this year
Despite all I have told you, this year's show was smaller. There were fewer dealers and fewer attendees than last year. That said, people drove in from the east coast — Massachusetts, North Carolina and South Carolina. There were a lot of folks from Oklahoma and Kansas and a whole bunch came up from Huston. Brother-in-Law, Bob, your informal shooting group was there, but I didn't talk to the pastor who runs it. I did tell them about you and they know who you are. You do need to get a better gun than a Hakim to shoot with them (that's from me, not them). I recommend a Benjamin Fortitude Gen 2.
Walk-ups
I missed that boxed S&W 79G that was walking around the show, but I did get a walk-up. A guy pulled a .177-caliber Beeman C1 out of a sleeve and offered it to me at a good price. The barrel is tight, so I bought it to test for you. The C1 was the rifle I used to develop the artillery hold. It was also the inspiration for the Air Venturi Bronco.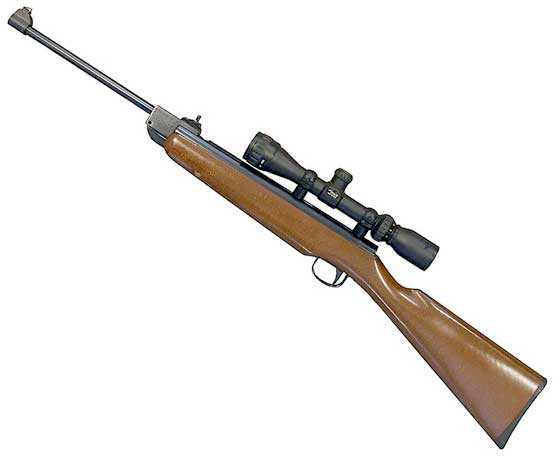 This Beeman C1 walked right up and jumped into my lap.
Summary
The 2019 Texas Airgun show was smaller but every bit as fun as in past years. We missed several manufacturers but were blessed with several new private dealers. I don't think anyone who attended had any regrets — other than the fact that it had to end. I hope to see some more of you there next year.