by Tom Gaylord
Writing as B.B. Pelletier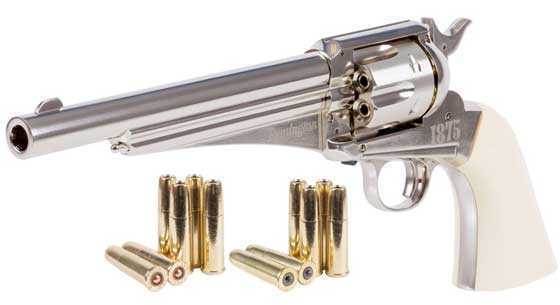 Remington 1875 pellet and BB pistol.
This report covers:
The test
First targets not good
Why only five shots?
Air Venturi BBs
Hornady Black Diamond
Smart Shot
Dust Devils
Discussion
Pellets are next
Summary
Don't forget the Texas Airgun Show is coming up in less than two weeks. It's Saturday, June 22 and here is the website. There will be free tables outside for those who have just a few airguns to sell.
Today we begin our accuracy test of the
1875 Remington BB and pellet revolver. Since this air pistol shoots both BBs and pellets, I will test each one separately. Today I will test the BBs, so I used the BB cartridges.
The test
I shot the revolver from the seated position, using the UTG Monopod for a rest. I shot from 5 meters, which is the standard BB-gun distance.
I shot 6 shots, which is what this revolver holds. That actually bit me and I'll tell you what happened in a moment.
First targets not good
The first target I shot was far from good. The group measured 2.431-inches between the centers of the two widest shots, but one of them was a shot I knew I pulled. Okay, I would come back to that BB and shoot another group at the end of the test.
My next target was better, but when I took it down there were only 5 holes. Did 2 BBs go through the same hole, I wondered? Then, as I loaded what I thought was the third set of BBs, one of the last BBs I had been shooting fell out of the gun . Nope! There were only five holes because I only shot five times. Time to start the entire test all over.
Why only five shots?
Okay, I'm old. I think you all know that. All my life I have been shooting five rounds from single action revolvers, because when I was younger Colts were pretty much the only single actions that existed. You never loaded a cartridge in the 6th chamber of those revolvers. The hammer held the firing pin and, if the gun was dropped, it could fire. So for safety — five shots only. Even for the very few SAAs other than Colts that did exist at the time — like the Great Westerns — you still only loaded five shots for the same reason. So, with a single action I am used to counting to five and then stopping.
Air Venturi BBs
Okay, back to the Air Venturi BBs that were the first ones I tried. This time five of the six BBs went into a nicely centered 1.22-inch group. Unfortunately the 6th BB ( I don't know which one it actually was) hit high and opened the group to 2.837-inches. That shot was no different than the rest. It just didn't go to the same place.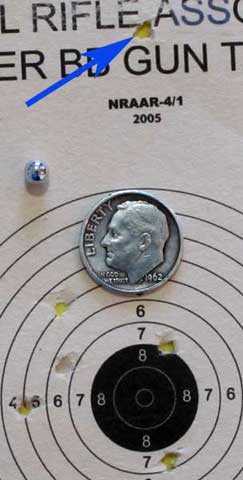 Six Air Venturi BBs went into 2.837-inches at 5 meters, with five of them going into 1.22-inches.
Hornady Black Diamond
Next up were Hornady Black Diamond BBs. I thought they might do even better than the Air Venturi BBs. There were no wild shots this time but the overall group measures 1.596-inches, and is more open than the first BBs.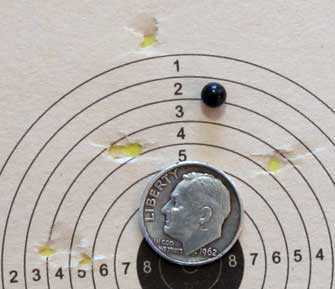 Six Hornady Black Diamonds went into 1.596-inches at 5 meters.
Smart Shot
The next BB might be the one you want to use. The 1875 Remington revolver put six of the H&N Smart Shot lead BBs in a 1.27-inch group at 5 meters. Besides being one of the two safest BBs I tested, Smart Shot also turned in the smallest 6-shot group. And four of those six BBs are in or at least touching the black bullseye! This is certainly the BB to use for Cowboy Action Shooting.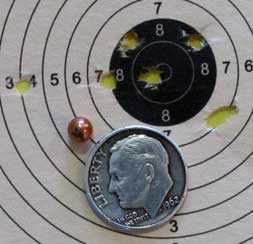 The 1875 Remington put 6 Smart Shot into 1.27-inches at 5 meters. This is the smallest group of the test.
Dust Devils
The last BB I tested was the Air Venturi Dust Devil. Six went into 2.231-inches at 5 meters with five of them in 1.358-inches. There were no called pulls, but the one shot that hit to the left of the main group looks suspicious.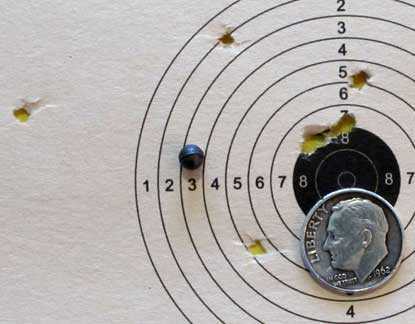 Six Dust Devils made a 2.231-inch group at 5 meters. Five are in 1.358-inches.
Discussion
I had wanted to also try the new Crosman Black Widow BBs to see if there was any significant difference, but they didn't arrive in time for this test. Perhaps when they do get here I will give them a try and report the results.
We have had a couple remarkable BB gun tests in the past 45 days. First there was the test of the M1 Carbine that stunned most of us. And that was followed by the incredible accuracy of the Umarex Legends Cowboy Lever Action BB gun. I fear you readers are getting lulled into thinking that kind of accuracy is a given with BB guns these days. Believe me — it isn't. What we are seeing in today's test is far more representative.
Pellets are next
Don't forget that there is another test coming with pellets. That's true for this revolver and also for the Umarex Legends Cowboy Lever Action BB gun, as well. I hope to back up to at least 25 feet if not to a full 10 meters (33 feet) for that one.
Summary
So far the 1875 Remington revolver is doing very well. I am actually surprised because I have owned the firearm version of this airgun as well as a genuine Remington cap-and-ball revolver from which it was derived and neither of those guns had actions that were as nice as this one. In the firearm world I find the Colt SAA and its copies far superior to the Remington, but among the air pistols there isn't much difference.