Benjamin 397 with curly maple stock and Williams peep sight.
Part 1
Part 2
Part 3
Part 4
Part 5
Part 6
Part 7
Part 8
Part 9
Part 10
Part 11
Part 12
This report covers:
Trigger
Hank and Chris,
Assembly
Cannot decock the gun
How is the trigger now?
Surprise!
Accuracy test
The test
Crosman Premier Lights — 3 pumps
Crosman Premier Lights — 4 pumps
Crosman Premier Lights — 5 pumps
Crosman Premier Lights — 6 pumps
JSB Exact 8.44-grains
Vintage Crosman pellets from Halfstep
Where we are
Peep sights
Summary
Today I tell the rest of the story about the Benjamin 397 trigger. And there is a small surprise waiting for you. Let's go!
Trigger
Reader Hank noticed that the trigger looked dry. Here is what he said.
"Thanks for this BB! How is the trigger now that you removed the spring? Lighter? Is it loose or wobbly at all? The trigger assembly looks dry – any grease or oil at all?"
Reader Chris USA asked, "Take a stab at why that coil spring is there. It obliviously supplies added trigger pull resistance,… but does it do anything else?"
Hank and Chris,
That coil spring was there to give the trigger a stage one pull and also to make the trigger-pull harder. Before I removed it the pull measured 4 pounds, 15 ounces and the first stage measured 12 ounces. After I removed it there was no first stage (the trigger blade just flopped loosely a short way) and stage two measured between 3 pounds 12 ounces and 4 pounds 6 ounces. So the reduction is not as much as I was hoping for, but it is lighter.
Hank, there is a small amount of wobble in the trigger, both when uncocked and when cocked. It comes from the trigger pivot pin being smaller than the hole through the trigger that fits around the pin. I don't see any advantage to removing it.
Assembly
The 397 trigger went back together the reverse of how it came apart, but I will note some things for you. First, I applied white lithium grease to all parts of the trigger mechanism and to the bolt. The grease had melted into an oily substance and that oil is all I put on the hammer. I didn't want to slow it down, which heavier grease could have done.
I did not use moly grease anywhere in this trigger. As I noted yesterday, the sear doesn't work by direct contact, so there is no point in making it frictionless. White lithium grease was all I used and I used it sparingly.
Next, when the rifle was assembled the bolt wouldn't raise high enough to cock the hammer. I disassembled the trigger again and discovered that I had installed the hammer backward, with the mainspring hole facing the valve stem. That let the hammer go too far forward and one of the rings around the hammer blocked the stud on the bolt from lifting high enough to cock the gun. It was easily fixed.
Had that not happened this assembly took under 5 minutes. It was much faster than the disassembly.
Cannot decock the gun
And I discovered another way this new 397 differs from the older one. That round projection on the top rear of the trigger prevents you from de-cocking the gun. So, unless you cut that projection off, the rifle can't be decocked.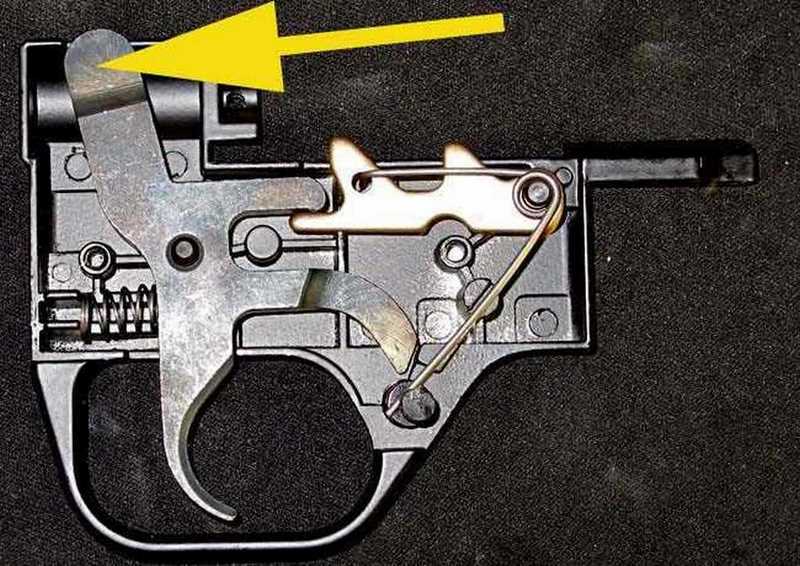 That projection (arrow) keeps the rifle from being decocked. It must be fired.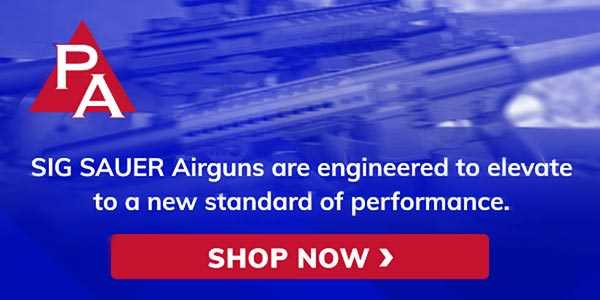 How is the trigger now?
I have already told you about the trigger pull weight, but how is it for smoothness? I reported in Part 2 that it was crisp, if heavy. Well, now that it's lighter I can feel some slight trigger movement as I squeeze the trigger. There is no start-and-stop creep, just some movement that can be felt as the trigger is squeezed. It's not distracting and I plan to leave it the way that it is.
Surprise!
Since I was into the rifle anyway, I decided to remove the paint overspray from the inside of the barrel at the muzzle. That's my surprise. I used paint stripper on a hand made cotton swab and it took about 6 applications, with me shooting a pellet out in-between. But the barrel is now clean inside the muzzle. Will that affect accuracy? Let's see.
Accuracy test
Someone, and I can't remember who, said I should test this rifle on varying numbers of pumps, so that is the first thing I did today. For no special reason I selected 7.9-grain Crosman Premiers to test this.
The test
I shot from 10 meters and rested the gun directly on the sandbag. I shot 5-shot groups because I was pumping, however, if any of those groups were really small, I would shoot a 10-shot group with the same pellet and number of pumps.
Crosman Premier Lights — 3 pumps
On three pumps the 397 put 5 Crosman Premier Lights into a 0.468-inch group at 10 meters. That's okay, but not great.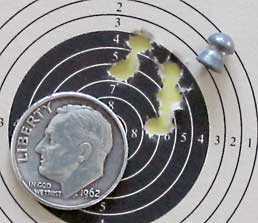 On three pumps the 397 put five Premier Lights into 0.468-inches at 10 meters.
Crosman Premier Lights — 4 pumps
Wow! On 4 pumps the group measures 1.774-inches between centers. I did not call a wild shot in the bunch, but I'm sure something I did was wrong. Let's see what the next groups look like before any decisions are made.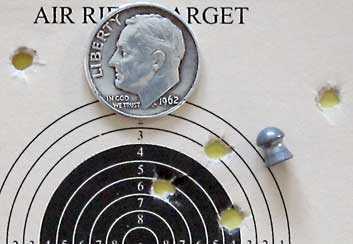 Golly, the 4-pump group at 10 meters is huge — 1.774-inches between centers. I don't think the rifle is responsible for most of this.
Crosman Premier Lights — 5 pumps
On five pumps the 397 put 5 Premier Lights into 1.078-inches at 10 meters. Three of them are so tight that it's impossible to measure them. I had hoped to see five shots like that.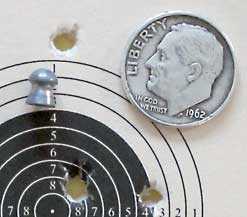 On five pumps the 397 put 5 Premier Lights into 1.078-inches at 10 meters. The three near the center of the bull are too tight to measure.
Crosman Premier Lights — 6 pumps
How about one more pump? Are the groups growing smaller as the pumps increase? Not really. These five shots measure 1.069-inches between centers, with another three close together in the center of the bull.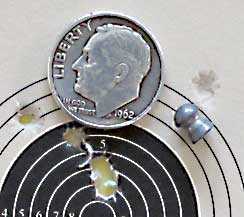 On 6 pumps the 397 put 5 Premier Lights into this 1.069-inch group at 10 meters. It's practically identical in size to the 5-pump group above.
At this point it seemed to me that three pumps at 10 meters was giving the best results — with Premier Lights, anyhow. Time to try some other pellets.
JSB Exact 8.44-grains
I tried five 8.44-grain JSB Exact pellets next. On three pumps five of them went into 0.945-inches at 10 meters. While it's a little better than the Premiers on 5 and 6 pumps, it's twice what they did on three pumps. I expected better from this pellet.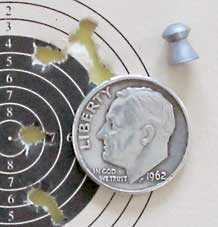 Five JSB Exact 8.44 domes made this 0.945-inch group at 10 meters.
Vintage Crosman pellets from Halfstep
Reader Halfstep sent BB some vintage pellets he was no longer using. Among them was a Crosman wadcutter that weighs about 8.5 grains (they vary a lot). For the last test BB tried 5 of them. Reader Siraniko asked BB to try a wadcutter and this is the one he picked.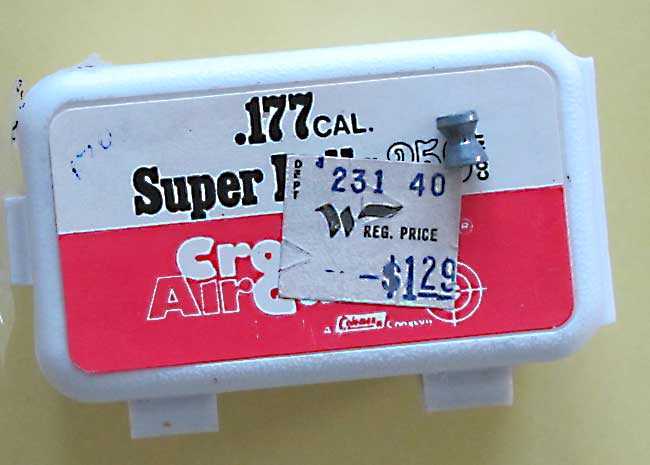 These Crosman wadcutters are vintage.
On three pumps the 397 put five wadcutters into 0.537-inches at 10 meters. It's the second-smallest group of today's test.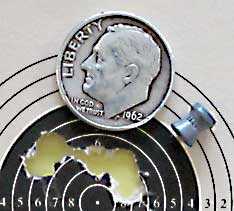 Five Crosman wadcutters went into 0.537-inches at 10 meters.
Where we are
Well, I did reduce the trigger pull, but only by a small amount. And, by eliminating the coiled spring, I turned it into a single-stage trigger.
Accuracy doesn't seem to have improved, so the business about the paint overspray in the barrel doesn't seem to hold water. However …
However, I note that in the past few tests a lot of the 5-shots groups have had three and even four of the five pellets in a much tighter group. That suggests an aiming error to me. If the 397 had a silencer that is where I'd be looking, but it doesn't, so I'm wondering if the large peephole is to blame. I have proven that I can still shoot with my Sheridan Supergrade, so it must be something other than me.
Peep sights
I looked through my collection of peep sights and found a peephole that's smaller than the one that came on the Williams 64 I recently installed on the 397. I have switched it with the one I have been shooting and I plan to shoot another accuracy test.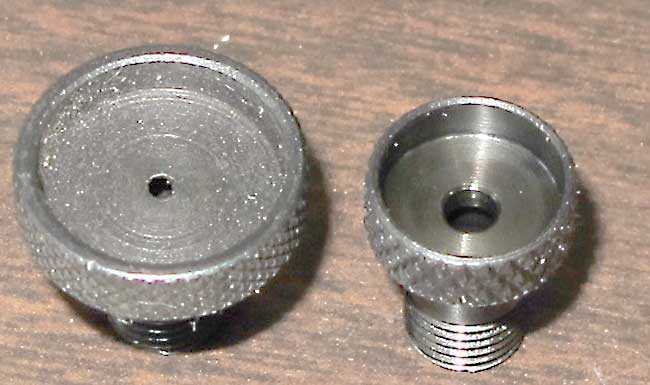 The peephole on the right came on the Williams sight I have been using. I swapped it for the smaller peephole on the left.
Summary
I normally don't run back-to-back reports like this, but I was really into this project and I wanted to finish it before I started forgetting some of the details. Now that I know where things are with the rifle, I can let some time pass.
I'm still not satisfied with the accuracy, or should I say the lack thereof. If I didn't have several Sheridans to remind me I might think this one was okay, but it's up against stiff competition. My hope is that it eventually wears in or I find the solution and start driving tacks with it.