Johnson Target Gun. It's not even an airgun; it's a catapult. Why would anyone want one? Nope! This one isn't perfect.
This report covers:
Diana 27
Air Arms S510XS
Air Arms TX200 Mark III
Are you getting this?
One final air rifle
Beeman P1
Over to you
Summary
With Christmas fast approaching we airgunners must pause to reflect on our blessings. In the world of airguns I have several, though they are far from all.
The title of today's report is misleading. The guns I'm going to talk about aren't perfect. Instead, they are perfect FOR ME! And I know that many of you have the same affection for these sometimes crude launchers of plumbum. I will get to that, but for now let me tell you about the airguns that I find perfect.
Diana 27
I know many of you guessed this would be one of them. The Diana model 27 is a breakbarrel springer that's neither powerful nor accurate, yet I love mine. Why is that? Well, it began about 45 years ago when I bought a neglected one in a pawn shop in Radcliff, Kentucky. That gun was rusty, the wood had no finish and in general the rifle looked like it had lost a fight with a chainsaw, yet it cocked easily and when I shot it all the pellets seemed to go to the same place — more or less.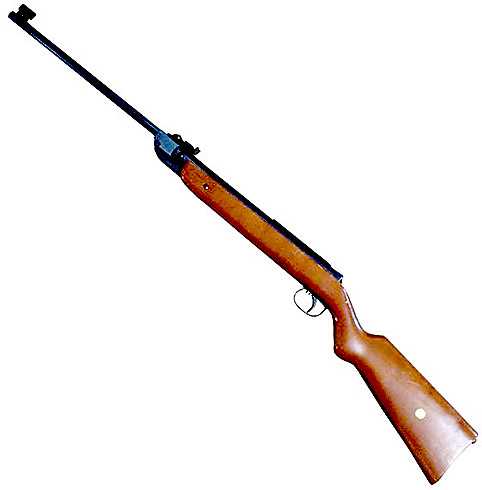 This is NOT my first Diana 27. It's my second one.
I gave that first 27 to a friend when I left the Army and it was many years later before I acquired another. That one I still have, and it's been tuned many times over the decades.
Air Arms S510XS
The next perfect air rifle I have is the .22-caliber Air Arms S510XS Ultimate Sporter with Laminate Stock that I talked myself into back in 2019. Well I didn't exactly talk myself into it. This rifle was the first time I tested the very best Pyramyd AIR had to offer. I scoped the rifle with a Meopta Optika6 3-18X56 RD SFP scope, mounted in Sportsmatch 30mm high adjustable scope mounts. The combination wasn't the most expensive combo on the market, but it was so darned nice that I couldn't stand it. I didn't send anything back after testing. I ENABLED myself into a rifle/scope/ring combination that I couldn't let go of when the time came. If I am the Great Enabler as so many of you think, then know that it works on me, too.


My Air Arms S510XS Ultimate Sporter with laminate stock is perfect — for me.
Oddly enough this is the only air rifle I own whose scope and mounts have NEVER been removed, once installed.
Air Arms TX200 Mark III
My TX200 Mark III is perfect for me. I used to compete in field target with a TX200 Mark II, but when I got this one I sold that one. At that time I said that I didn't need to own two perfect air rifles — yes, I did! This one is still perfect and, if you have followed me installing the Tony Leach 22mm tuneup kit, you know that it is now perfect-er.
Oh, the stock now looks like it's been gnawed on by a rabid beaver, but I have mounted a Meopta MeoPro Optika5 4-20×50 RD BDC3 scope on it and I think this is another rifle whose scope is going to remain. BB has to stop testing Meopta scopes because he buys every one that comes his way. There isn't enough money! Talk about enabling! I guess the lesson here is if a company makes a superior product it's difficult to let it go after sampling it. Leapers is the only other scope maker that's done that to me.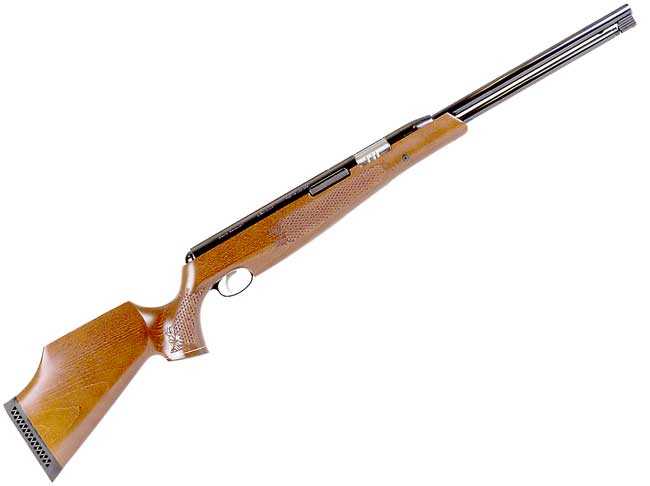 This isn't BBs TX200 Mark III. This is a pretty one.
Are you getting this?
Are you beginning to see why these airguns are perfect — for me? It's not their looks, though one is gorgeous. For me it's the performance — mostly. And then there is that Diana 27 that looks average and isn't that accurate. But at least it's not powerful. I don't know what it is about that one that holds my fancy, but it sure does.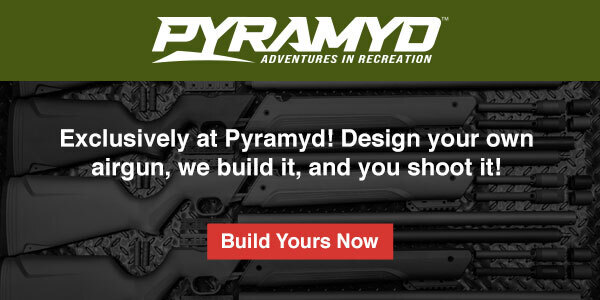 One final air rifle
While there are several more air rifles that I think are perfect, there is one that stands apart from the rest. It's the Seneca Dragonfly Mark 2 multi-pump pneumatic.
I find this rifle perfect because it takes a novel and previously unaffordable technical advancement — easy pumping — and puts it into everyone's hands. Oh, and they made it accurate and pretty to boot. Not much to complain about. Sorry, Yogi.
Beeman P1
Gotta have a pistol on the list and the Beeman P17 certainly deserves a mention. But for me the Beeman P1 is the one. I'm sorry that it's expensive; I don't make the prices. It's not that pretty and it's somewhat difficult to cock, but the P1 can be quite accurate. And it's on the powerful side for an air pistol.
Over to you
I'm not alone in this, am I? Some of you are just as loopy as me. For example the reader RidgeRunner has many older airguns at RidgeRunner's Home for Wayward Airguns, but I'd bet a cookie one stands out from all the others. It would be his 1906 BSA that I watched him agonize over at an airgun show many years ago. He asked me how hard it was to work on one and I, not knowing if he could change the batteries in a flashlight or open a jar of pickles, assured him that it was easy. It turned out I was right. In fact I think he was surprised to discover how easy it was.


This is not RidgeRunner's 1906 BSA. In fact it may not even be the same model. But it does give you an idea of what his favorite airgun looks like.
Then there is reader RobertA, who spends his time reinventing his Gamo CF-S springer. Like Dr. Frankenstein, he seems to want something other than what the manufacturer intended. And he's willing to put in the time to get what he wants. So that rifle is perfect for him.
And finally there is, or was, reader Duskwight. He lives in Moscow and became enamored with my Whiscombe recoilless rifle. For whatever reason he decided to build one for himself, and before our eyes he built not one but the major part of two recoilless spring-piston air rifles. The cost? Well, it wasn't cheap. He jobbed out the manufacture of his parts to several machine shops in Moscow. Based on what I know he had built, he probably could have bought a couple Whiscombes. But then they wouldn't have been made by him, would they? What he wanted was an airgun he knew was all his design.
Summary
Perfection goes in all directions, doesn't it? This guy likes 'em pretty. that guy likes 'em powerful and the other guy wants 'em old and crusty. And then there is you., You may own several airguns but one of them lives in a large soft spot in your heart. What is it and why do you care so much?