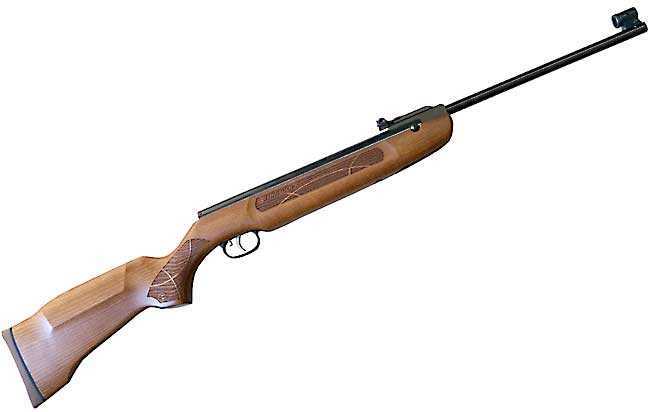 The HW 50S breakbarrel from Weihrauch.
Part 1
Part 2
Part 3
Part 4
Part 5
Part 6
Part 7
Part 8
Part 9
Part 10
Part 11
This report covers:
Scope
Mounts
Sight in
The test
Safety — note to self
Trigger
Falcon pellets
RWS Meisterkugeln Rifle
Air Arms Field
JSB Exact RS
Discussion
Summary
Today we shoot the tuned HW 50S for accuracy and learn a lot of things! This one will be of interest and hopefully help for those who want to tune their springers.
Scope
The stock on this new-style rifle makes it impossible for me to use the open sights. I'm not going to commission a new stock for this one because I have already done that with the HW 30S. On this rifle I'm going to mount a scope. I chose the UTG Bug Buster 3-12X32 scope that seems ideal for this size air rifle.
Mounts
For the mounts I used those Burris XTR Signature rings that I used to solve the Gamo Arrow's barrel alignment issues.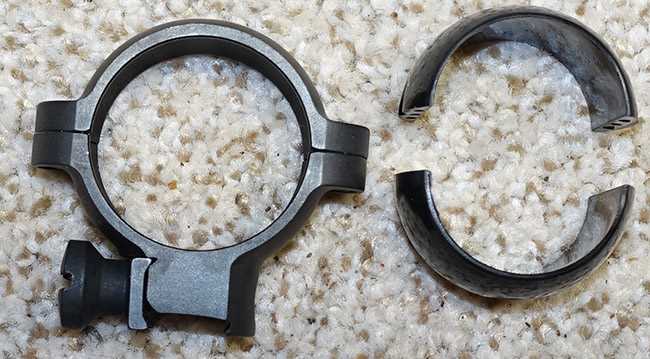 Each ring gets an insert, shown to the right. The inside of the rings are hollowed out to accept those inserts. That allows angling the scope without straining the tube.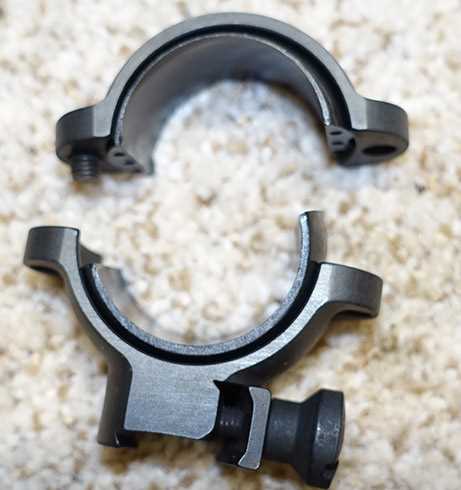 This view shows how the inserts fit inside the ring cap and saddle. By rotating the inserts you also get left-right adjustment.
I have more to tell you about these rings, but I get to that in a bit. Suffice to say the scope was mounted in short order.
I removed the front sight and put it in a baggie with the rear sight parts. I doubt I'll use the open sights again with this rifle.
Sight in
I sighted in initially at 12 feet. Because the scope is a Bug Buster I could focus at that distance.The first shot hit the target 3 and one-quarter-inches (8.255cm) below the aim point at 12 feet. There is no way I can recover from that with simple scope adjustments. Fortunately I have the highly adjustable Burris rings on the rifle, so that's a plus. The downside is they can take an hour or more to adjust, so I continued the test with them set as they were and will return another time to set them straight. As it turned out that was a fortunate decision.
The test
I shot the rifle off a sandbag rest from 10 meters. The rifle was rested directly on the bag. I shot 10-shot groups with each pellet.
Some pellets were light and some were heavier, so the groups moved around a lot. And I must comment on the safety and the trigger.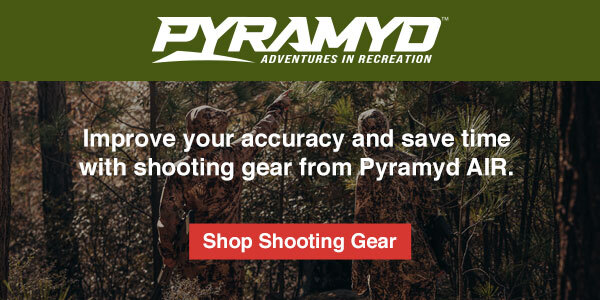 Safety — note to self
The safety doesn't go off every time I pressed it in, but it stopped short of going fully off. When I pressed harder a second time I heard a quiet click. This is the same thing that happened with the safety of my HW 30S and I thought the return spring wire was getting caught in the safety hole. Now I think there might have been a small change in the Rekord trigger design and it may have resulted in a safety that doesn't always go off. This is a note to myself to watch this. When I pressed the safety deliberately hard it went off every time.
Trigger
This trigger is perfect! It's crisp and not too light nor too heavy. It's just what I want.
Falcon pellets
The first group was shot with Air Arms Falcon pellets — the same pellets that were used in the velocity test. Ten of them went into a 10-meter group that measures 0.49 inches between centers. Remember, I don't care where the groups hit today.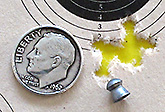 The HW 50S put 10 Air Arms Falcon pellets into 0.49-inches at 10 meters.
I wanted to try a few pellets I hadn't tested in this rifle before. Looking back on the pasts tests I have mostly focused on the power of the rifle and not its accuracy. Now that the power is dialed in it's time to get her to group.
And speaking of how the rifle shoots — boy is it smooth! This is the way I want a springer to function.
After shooting this group I noticed that the scope rings had slid back on the rifle. I tightened the ring bases that had loosened and continued the test.
RWS Meisterkugeln Rifle
Next up were RWS Meisterkugeln Rifle wadcutters. Ten of them went into a 0.723-inch group at 10 meters. That was not what I was looking for.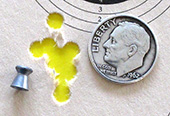 Ten RWS Meisterkugeln Rifle pellets went into 0.723-inches at 10 meters.
After shooting this group I noticed that the barreled action was loose in the stock. I tightened all the screws except the rear triggerguard screw that is stripped. I need to get a replacement screw and the nut that holds it inside the trigger box. Come to find out this is something almost nobody sells.
I found what I need on eBay for about $10 and I'll tell you about it when I get it. This is a weakness in the Rekord trigger design that I have dealt with for at least the past couple decades and it needs to be discussed.
These stock screws loosening, plus the scope mount screws loosening is why I said it was fortunate that I didn't take the time to align the Burris scope ring inserts today. I have a lot more to do to get this rifle ready to shoot, and that's going to entail another report.
Air Arms Field
The next pellet I tested was the 8.4-grain Air Arms Field dome. Ten of them went into 0.456-inches at 10 meters. This is a pellet to watch!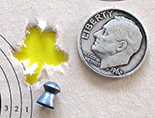 The HW 50S put 10 Air Arms Field domes into a 0.456-inch group at 10 meters.
JSB Exact RS
The last pellet I tested was the 7.33-grain JSB Exact RS dome. Ten went into a 0.475-inch group, but only because the seventh shot went wide. The other nine pellets are in .305-inches. Another pellet to watch.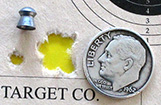 Ten JSB Exact RS pellets went into 0.475-inches at 10 meters with nine in 0.305-inches.
Discussion
I read about guys who say they take all afternoon to sight in their pellet rifles. I have to mount a scope, sight in, shoot groups, photograph the groups and write the report in the same time they have to sight in. Because of that I'm always compromising. Well, no longer with this rifle. With the exception of the stripped rear triggerguard screw that I have placed on order, I'm going to put Locktite on the two other stock screws and I'm going to adjust the Burris scope rings with their rotating shims. I'll document this as a full report for you — tomorrow. I don't want this stuff to get old, lest I forget something.
I have a gut feeling that this HW 50S is going to become one of my favorite air rifles after all of this.
Summary
After reducing the power in the HW 50S it's turning into a very nice air rifle.