by B.B. Pelletier
Some announcements before we start:
Silas McCulfor is this week's winner of Pyramyd Air's Big Shot of the Week on their facebook page. He'll receive a $50 Pyramyd Air gift card. Congratulations!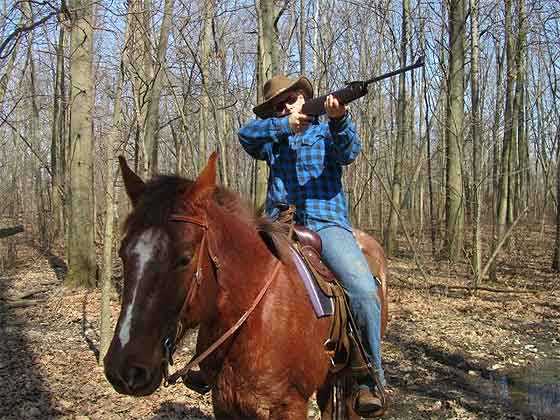 BSOTW winner Silas McCulfor took this great picture of his sister holding his Beeman Sportsman RS2 model 1073 dual-caliber air rifle.
Get free tickets to the NRA show in St. Louis. If you're not an NRA member (they get in free) or have family members and friends who aren't members, Pyramyd air has some free passes for you ($10 value). To get yours, click to send an email request. Limit of 2 tickets per person. Limited supply. First come, first served!
Pyramyd Air is awarding double Bullseye Bucks for each purchase you make from March 15-18, 2012. If you don't have an account, create one. Then, use that same email address when placing any orders (whether you sign in to your account or not when placing an order). If you already have an account, you'll get double credit for any orders you place March 15-18…as long as you place them using the same email address as your Bullseye Bucks account (even if you don't sign in when ordering).
On to today's blog.


Crosman's new MAR177 upper is big news!
Okay, lads and lassies; settle back while uncle B.B. tells you a nice long story! This report will be a big one because there's so much to tell.
The Crosman MAR 177 upper is a target precharged pneumatic upper that fits on any standard National Match AR lower (I'll cover that in a moment) and turns the U.S. M16 service rifle or its civilian-legal semiautomatic counterpart AR-15 into a target air rifle. Those airgunners who own AR rifles can buy the MAR177 right now and have a target PCP that's ready to go. This report will be a thorough test of that rifle.
But I don't own an AR-type rifle. And none of my shooting friends do, either. So, I was at a disadvantage when I was asked to report on this unique new air gun.
There have been other air rifles before now that have resembled the AR-15/M16. Crosman just introduced their M4-177 multi-pump rifle that I tested for you at the end of last year, and back in the 1990s they made the much simpler A.I.R. 17 — another multi-pump that was crude but did follow the AR styling. So, the story is not that an AR airgun has been made. The story is that this one is a precision target rifle and should rival some 10-meter rifles.
The AR system
Before I continue, everybody needs to be on the same page. The AR system that the Crosman MAR (modular adaptive rifle) belongs to is comprised of two principal subassemblies — the upper receiver and the lower receiver. The upper receiver contains the barrel, gas system, bolt, sights and operational hardware for the rifle. The Crosman MAR177 is an upper. I will talk a lot about the upper throughout the rest of this report, but let's look at the lower receiver for a moment.
The lower
The lower, as it's called, is a frame that contains the operational parts, pins and springs for the trigger, selector and safety, magazine catch, as well as the buttstock and buffer assembly. It's considered by the Bureau of Alcohol, Tobacco, Firearms and Explosives (BATF&E) to be a firearm. It's the part that has the serial number. You can buy and sell uppers almost anywhere in the U.S. without paperwork, but each lower is classified as a firearm. The fact that this is a modular system with many different uppers — all on one lower — allows you to own many different rifles, all under one registration.
But I didn't own an AR — so I didn't have a lower receiver and the MAR177 isn't sold as a complete rifle, yet. There are plans to build it that way at some time in the future, but for now all you can buy is the upper. I needed to get a lower.
At first, I looked around for just a complete lower receiver to buy used, and they do exist, but as I searched I found that the people who have them don't always know exactly what they have. For example, the upper and lower attach via two cross pins, and there have been different sizes of pins over the years. Colt made pins that were larger than those made by other manufacturers, so you might get a Colt lower that doesn't fit the MAR upper. There are bushings to reduce the sizes of the holes in the lower; but since I was doing this from scratch, I didn't want to begin with a workaround.
I located a brand new Rock River Arms lower receiver that was stripped of all parts. It was just the receiver shell by itself. But there are parts kits to build up such receivers, so I went online and ordered a National Match lower parts kit and an A2 buttstock assembly from Rock River. I would build the receiver myself; and when finished, I would have a complete Rock River lower — not a bad thing to have. Rock River is a good name; one of many you will find if you look. And there are also a few names to avoid — just as there are with airguns.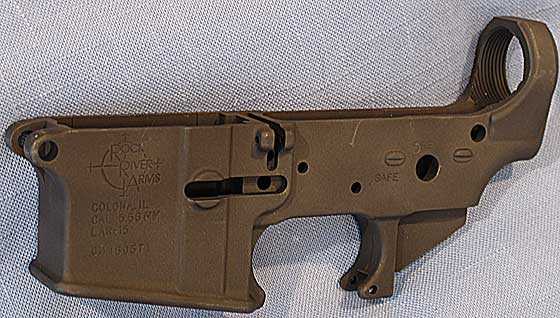 This Rock River lower receiver is the basis for my new rifle.
When I placed the order, though, I failed to notice the fine print at the bottom of the Rock River webpage that said some of the parts were on indefinite backorder. They didn't specify which parts those were from the hundreds of choices on the page, but sure enough it turned out to be the entire parts kit I needed for this report. That's because Rock River is currently experiencing a 60-90-day backorder status on their whole rifles, and they certainly aren't going to sell their parts faster than they can build entire rifles to sell. It makes perfect sense, but only when you know it. And I only found out when I didn't get the parts I ordered. So, I had a stripped receiver without the parts to complete it.
Once I realized my backorder status, I placed a call to Rock River to see what the expected delivery date would be, and that's when I learned everything I have just shared with you. I then explained my short publishing deadline to them (a special feature article in the July color issue of Shotgun News) and they bent over backwards to fix the problem — but don't expect them to do the same for everyone. If you want to build a lower receiver, you had best first pin down a source for parts before doing anything else. So, this test is made possible through the good graces of Rock River Arms, who, before last Wednesday, had never heard of Tom Gaylord.
National Match lower
Now that you know what a lower receiver is, what's so special about a National Match lower? Simply put, it's a lower that meets the specifications for the U.S. Service Rifle National Matches held at Camp Perry, Ohio, every year. One of the most important aspects of this specification is the trigger. Standard AR rifles come with single-stage triggers that are barely adequate at their best. But the National Match specification allows for a two-stage trigger that breaks cleanly with no less than 4.5 lbs. of force. There's a host of additional information available for National Match triggers; but for our discussion, this is sufficient.
I was hardly going to test the MAR177 — a target rifle — with anything less than a good trigger. I say "good" advisedly; because to someone used to a nice match airgun trigger or even a Rekord sporting trigger, these AR triggers are fairly crude — even those that are National Match. But in the sport they'll be used, the National Match triggers are as good as you're allowed to have. Testing the new air rifle upper with a stock single-stage trigger would be a crime.
You'll watch the build
That's enough about the lower for today. When the parts arrive, I'll photograph their assembly and describe the experience for you. For now, let's concentrate on the MAR177 upper from Crosman.
The MAR177
The Modular Adaptive Rifle (MAR) is a .177-caliber target upper that operates on compressed air. It's a 10-shot repeater with Crosman's (Benjamin's) familiar rotary magazine. My test rifle also came with the single-shot tray for loading pellets one at a time. The rifle is not semiautomatic like most ARs. It feeds and cocks via the retraction of the charging handle, so for each shot the handle must be pulled back.
I shot a preproduction version of the rifle at this year's SHOT Show on Media Day. But standing on an outdoor firearm range with hundreds of firearms being discharged is not the best place to evaluate a target air rifle. And I couldn't even evaluate the trigger of the rifle I tested, because it will differ from the trigger I put into my gun. Are you getting a sense of how this modular thing works?
The target pellets exit the muzzle at up to 600 f.p.s., putting them in exactly the same range as most modern 10-meter target rifles. The barrel is from Lothar Walther, which leads me to expect accuracy will be the same as Crosman's Challenger PCP target rifle.
Unlike airsoft ARs and the two muti-pumps mentioned above, this upper is full weight and will feel like a firearm when mounted on a lower. Therefore, besides being a match rifle, the MAR is also ideal for owners of ARs who want to train with their rifles in their homes under safer range conditions and at a fraction of the cost of even reloaded centerfire ammunition. They can shoot a couple thousand rounds for less than $50 when they use Pyramyd Air's "Buy three, get the fourth tin free" promotion. So, even when the initial purchase price of $600 for the MAR and the cost of a hand pump is factored in, a serious shooter will get his money back in less than a year and will be training ten times as much with his service rifle.
The MAR operates at pressures between 1,000 psi and 2,900 psi (69 bar and 200 bar, respectively). Crosman says you'll get up to 120 shots per fill. As the reservoir appears to be the same as the one on their Challenger PCP, I would expect that estimate to be correct.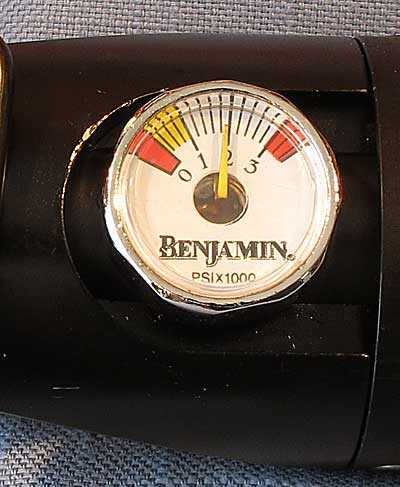 It has a built-in pressure gauge, as you would expect.
The gun comes with service-style sights. The rear has two peep sizes, accessed by flipping the post they're mounted on. And the rear sight is adjustable for both windage and elevation. It's built into a conventional carry handle, like the rear sight on many ARs. The front sight is a plain post that's also adjustable for elevation via the same type of detent locking mechanism found on other ARs. You can also remove both sights, and there's a Mil-Std 1913 Picatinny rail underneath, for those who want to mount optical sights.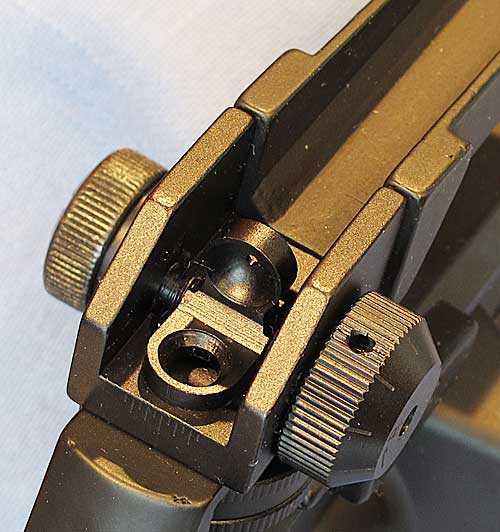 The rear sight is in the carry handle. It adjusts for both windage and elevation. Two different apertures are available with a flip of the sight post.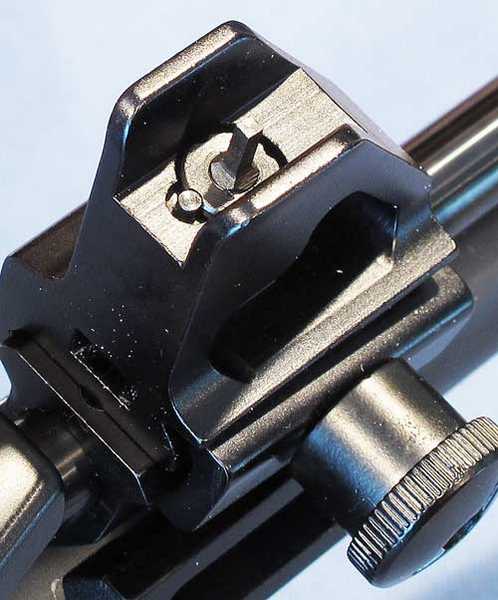 The front sight will be familiar to anyone who has ever owned or carried an AR-15/M16. It adjusts vertically, the same as the service sight.
Summary
There's a lot to this new rifle, so we'll see more of it in the reports that follow. And the MAR isn't the only AR-15 PCP pellet rifle on the market. Anschütz also sells an entire rifle with similar features for around $1,850. So, the MAR177 is even bigger news, because it offers all this value at a fraction of the cost. Figure around $500 if you build a lower like I'm doing. If you already own an AR, there's no additional cost. Either way, this gun is a bargain!