by B.B. Pelletier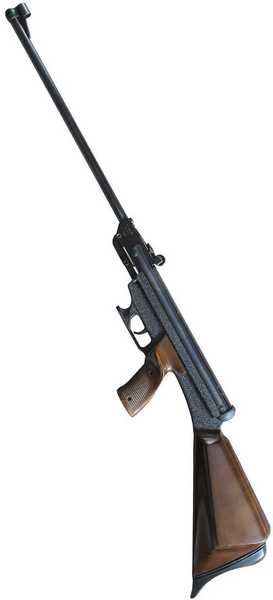 El Gamo 68 is a futuristic breakbarrel from the past.
As I said in Part 2, Mac and I simply couldn't resist shooting the El Gamo 68 that I got from reader David Enoch at the Arkansas airgun show this year. And from the numerous reader responses, I see that we're not alone in our admiration of this futuristic-looking breakbarrel from the past. Many owners have .22-caliber guns, which really surprises me, because I thought most European manufacturers, and especially El Gamo, produced mainly .177 airguns in the 1960s and '70s, when this was new.
Unfortunately, I've been unable to locate a trigger shoe for the rifle. I probably got rid of one when I sold or traded a Webley Tempest years ago, though now I wish I still had it. If anyone sees an old Beeman trigger shoe for sale anywhere, please let me know, because this rifle really needs one.
The "test"
It really didn't begin as a test of this rifle. Mac was helping me test some new models you'll be reading about later this month and asked if he could shoot the 68 when he finished with them. The test range was 10 meters indoors, and he produced a nice 5-shot group that can almost be covered by a dime in the center of the bullseye. It was so enticing that I decided to have a turn — which of course means a contest. Mac is a better rifle shot than I am, and we both know it. So when my 5-shot group came up noticeably smaller than his, he thought we should never speak of it again. And, Mac, after today…I probably won't! I'll add here that the next day he beat me by one point in a silhouette match at a friend's place. That sounds close until you learn that my rifle was scoped and he was using peep sights!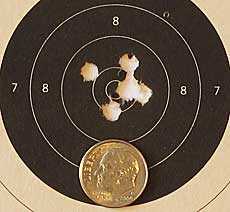 Mac put 5 Hobbys into this 0.576-inch group at 10 meters.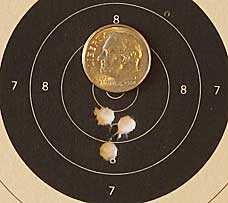 I put 5 Hobbys into this 0.381-inch group at the same 10 meters. Yes, I know it looks like only three pellets hit. Mac already pointed that out.
But I digress. The fact is that we were shooting the 68 with the classic RWS Hobby pellet, and I have no idea how accurate the rifle really is. I just know that it shoots Hobbys well.
25 yards
Well, Mac finally had to return home, leaving me with the 68 and much more to "test." Much, much more, I hope!
Yesterday, I shot the rifle at 25 yards indoors and, once again, with Hobby pellets. Yes, I shot off a rest and used the artillery hold; but with this model, it's a little more difficult to let the rifle float in your hands. The trigger has a stiff 8-lb. release, and the pistol grip forces the shooter to grip hard to squeeze that hard trigger blade. Other than that, the artillery hold was the usual one, but I mention the difference so you'll know what went on.
The first shot went high and well-centered with the bull, so I settled in and fired 9 more just like it. The resulting group isn't a thing of beauty, but it is what it is.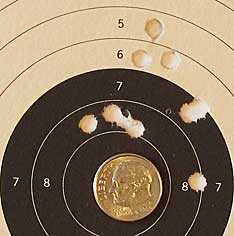 Ten Hobbys made this 1.617-inch group at 25 yards.
But wait!
Last week I "discovered" that seating pellets with the new Air Venturi PellSet seemed to improve the accuracy of the Air Venturi Bronco I was testing. I took a lot of heat for mentioning that, because the test did not have the controls you usually see in this blog, but what the heck! I have a tough old hide, so go ahead and flog me!
I thought, why not try the PellSet with the 68 and really get the crowd in an uproar? I listened to several of you who advised me to start by seating the pellets as shallow as possible, so I adjusted the PellSet to do just that. Then, I shot a second 10-shot group at 25 yards and, lo and behold, it was smaller. I'll probably never hear the end of this!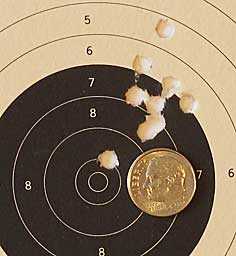 Ten Hobbys just barely seated into the breech made this 1.436-inch group at 25 yards. Eight of those shots made the much smaller 0.665-inch group!
Now, to me, it looks like the intentionally seated pellets really do want to group better in this particular rifle. But what do I know? This was not a real test of seating pellets because there weren't enough groups fired, plus there's a lot more I want to test than just the single depth.
In fact, this wasn't much of an accuracy test for the 68. Think of it as more of a "getting to know the rifle" session, because I plan to mount a scope and return with a genuine accuracy test in the next report.
But it sure was nice just to play with this little rifle once more! As a matter of fact, I think I'm going to find reasons to do more of this.