by B.B. Pelletier
Announcement: John McKinney is this week's winner of Pyramyd Air's Big Shot of the Week on their airgun facebook page. He'll receive a $50 Pyramyd AIR gift card. Congratulations!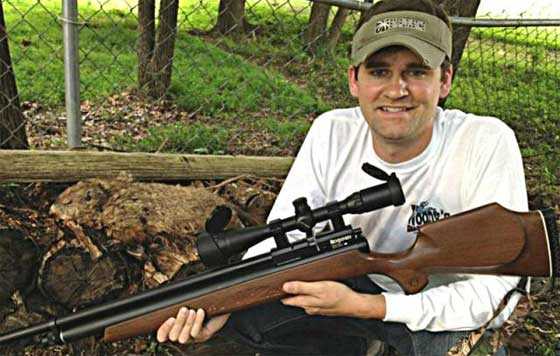 John McKinney is this week's BSOTW. Looks like he's holding a Benjamin Marauder.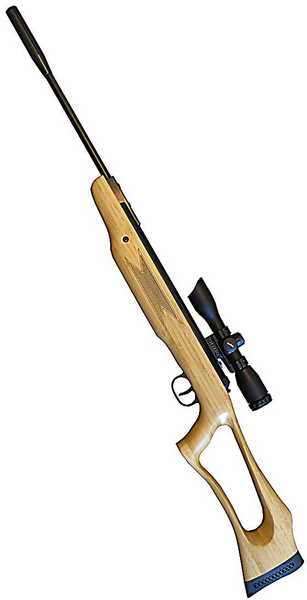 The B25H breakbarrel air rifle looks striking with its bamboo stock.
I know there's a lot of interest in this air rifle. It came through in the passionate comments made to Part 1. Today, I'll complete my test of the B25H breakbarrel from Xisico with an accuracy test.
I installed a Leapers Golden Image 4×32 rifle scope in a BKL 1-piece cantilever mount. I used the cantilever (an extension of the scope mount that goes beyond the base) feature of the mount to move the small scope back far enough on the scope tube that it was positioned correctly for my eye.
The scope has fixed parallax set at 100 yards. That may sound bad to those who are familiar with adjustable parallax scopes, but I've used scopes with fixed parallax for years and not had a problem with them. Shooting at 25 yards, it's possible that some accuracy was sacrificed, but not so much that this test was compromised. I've shown half-inch 10-shot groups in the past that were shot with 4x fixed parallax scopes, so we know they do work.
Very sensitive to hold
My shooting was done from a rest at 25 yards indoors. I know from experience that most breakbarrels are sensitive to how they're held, and this one is no different in that respect. The shape of the stock invites a hold with the off hand placed just forward of the triggerguard, where the stock drops down. Holding there makes for a rifle that's very muzzle heavy and that usually helps the groups. But not this time.
I found that holding it there caused the pellets to walk up and down vertically, though they grouped well left to right. So, I slid my off hand out to the point that it was under the cocking slot. The rifle was now neutrally balanced and sat better in my hands, and the groups tightened. But any slight adjustment of my off hand that was not exactly where it had been for the other shots could throw that particular shot two inches away from the group. That's not unusual for a powerful breakbarrel like this one, so don't read it as a condemnation. It's just a reflection on what hold sensitivity means.
Accuracy test
During the velocity test, I'd noticed how smooth Beeman Kodiaks shot, so I used them to sight in the rifle and for the first group. All groups are 10 shots unless otherwise labeled.
The first group of Beeman Kodiaks was not a complete group. I'm showing it here so you can see what I saw when the rifle was rested on my palm placed just forward of the triggerguard. What you see are six shots that landed in a vertical line that was almost straight. They did not land in vertical sequence, however. They landed randomly along the line. They told me that either Kodiaks were not right for this rifle or my hold was wrong. Since the width of the group was very tight, I concluded that the hold was the problem, and for the next bull I changed my hold so my hand was forward, under the cocking slot.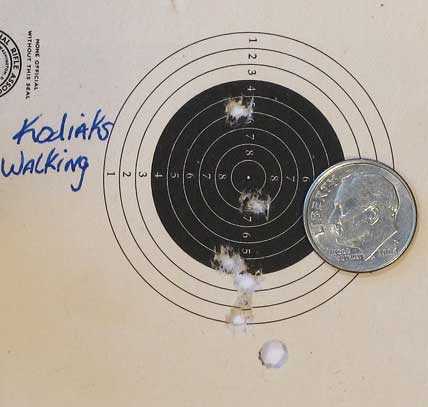 See how tight these pellet holes are, left to right? This is what convinced me that the rifle might like Kodiaks, but it did not like the way I was holding it. Six pellets in this group.
Once I saw how the pellets were stringing vertically, I knew I had to change my hold. So, I slid my off hand forward and shot a second group.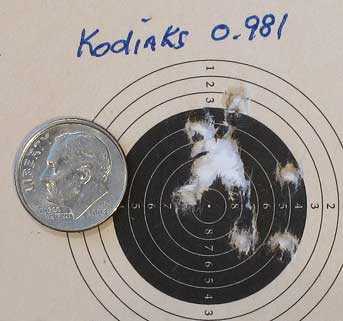 This is more like it. Ten Kodiaks went into this 0.981-inch group. Notice the much smaller group of six shots within this group. That tells me I haven't quite got the hold perfect yet.
The second group was very revealing. It showed me that Kodiaks were indeed good pellets for this rifle. The hold just needed to be right. And within the fairly round 10-shot group is a much smaller 6-shot group that's a little vertical but still quite round. That smaller group tells me there's more accuracy in this rifle than I've seen to this point.
The stock screws were then checked, because they seemed to be loose. Upon inspection, I discovered they were. All three screws had to be tightened considerably before I resumed the test.
Next, I tried 7-grain RWS Hobby pellets. I seasoned the bore with five shots that were fired while I rezeroed the scope just a bit. Hobbys were hitting the paper two inches below the Kodiaks because of their higher velocity. However, Hobbys did not group well. I stopped shooting them after fewer than 10 shots showed they were not going to be accurate in the test rifle.
After Hobbys I tried some Crosman Premier 7.9-grain domes. Normally this is a pretty good pellet for a breakbarrel spring-piston air rifle, but not this time! The B25H didn't like Premier lites at all, even though I seasoned the barrel before starting the group. After four shots went way over one inch, I stopped shooting.
Back to Kodiaks
Since the first group of Kodiaks had been shot with loose stock screws I decided to give them another chance. So I seasoned the bore with five more rounds and then shot the final 10-shot group. Since I didn't re-zero the scope after the Premiers, the group went low; but it was the best group of the test by a slim margin. Ten pellets went onto a group measuring 0.882 inches between centers.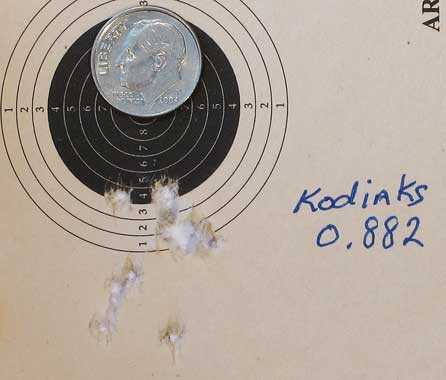 The best group of the test is this final group of Beeman Kodiaks. It measures 0.882 inches between centers. Like the other good group, there's a much smaller five-shot group inside the main group that measures 0.41 inches.
For the record, I'd like to note that the smaller group of five shots within this final group are the first five shots fired. Had I stopped there, the group would have been a phenomenal 0.41 inches, but not representative of what I was able to do with this rifle at 25 yards. That's why I shoot 10-shot groups.
Final evaluation
I am surprised by the apparent accuracy of this Chinese breakbarrel. The trigger is still very vague and not up to the task, plus the scope I used probably enlarged all the groups just a little — but the rifle, itself, did pretty good.
I like the smoothness of the powerplant that rivals an RWS Diana 34 in both the shot cycle and smoothness during cocking. The bamboo stock is beautiful, and I wish other brands like Weihrauch would use it on some of their better rifles.
At the end of the day, I'll give the B25H a gold star for holding its own in a tough test. I think anyone who owns one of these has a rifle worthy of a lifetime of shooting pleasure.