by Tom Gaylord, a.k.a. B.B. Pelletier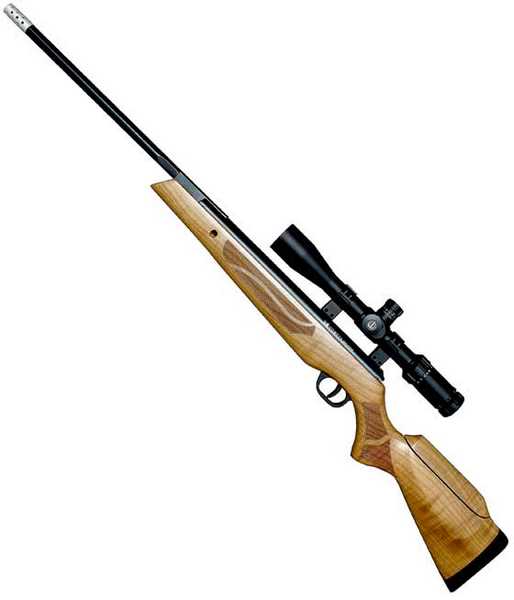 The Cometa Fusion Premier Star is stunning! This is the actual test rifle.
Well, today is do or die for the Cometa Fusion Premier Star air rifle. The last report was back in early November of last year, but that doesn't mean I haven't been working on the gun. Several times, I've started a test, thinking that I finally got the scope movement problem resolved — and each time a problem has cropped up. If I didn't believe this rifle had potential, I would have given up long ago; but the .177 version of the rifle — the regular Cometa Fusion air rifle, was so accurate that I felt this one had to be, as well. Today, we'll find out if it was worth the effort.
Thanks to Kevin
I want to publicly thank blog reader Kevin for all his help with this troublesome test. He sent me an adjustable mount that unfortunately did not hold on the test rifle, but he made a special scope stop pin that will be used today. If you read the past reports, you'll discover that this rifle has a severe drooping problem. It needs as much scope alignment correction as you can possibly get. I used a special UTG drooping scope base that's a prototype you cannot buy for today's test, but I only did so to accommodate Kevin's stop pin. You should be good with any droop-compensating mount as long as you have the right scope stop pin to fit the gun. I'll say more on that in a moment, but first let me admit this is the very first air rifle I've seen that could defeat the BKL mounts. The one I tried slipped off the gun in five shots. In fairness to BKL, though, this rifle also broke other scope stop pins — and in one case dragged one through the top of the spring tube until it popped free. So, this is a special case.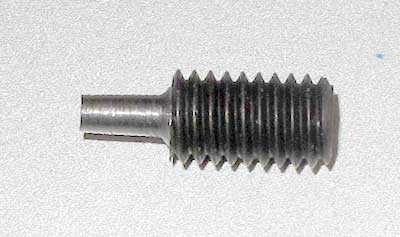 Kevin made this scope stop pin for the Cometa. It saved the day!
Those are NOT scope stop pin holes!
Well, excuse me! Those four holes on top of the spring tube that I thought all along were scope stop holes must not be there for that purpose; because if you insert a stop pin too far through any one of them, you'll bind the action. The gun will not cock! So, not only are they too small in diameter, they're also very critical of the depth to which the stop pin is inserted! I took some pictures to show you what I mean.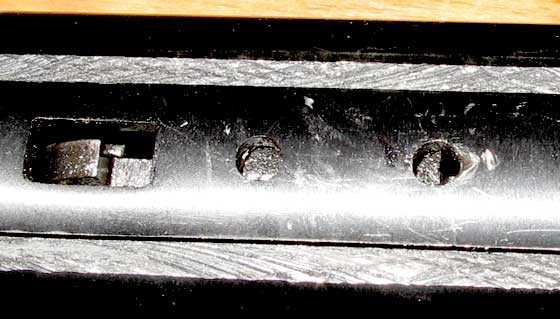 Looking down through the rear "scope stop pin" holes, you can see parts that move when the rifle is cocked. You can also see where, in an earlier attempt to anchor a scope, a pin ripped out of the rear hole.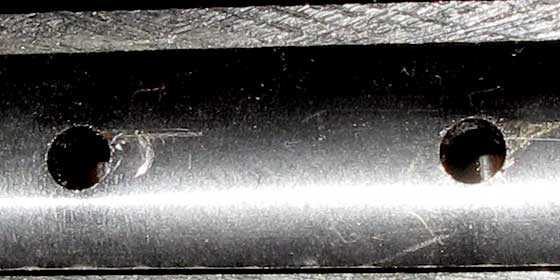 Looking down through the front "scope stop pin" holes reveals the mainspring coils. The gun will lock up and fail to cock if you insert a scope stop pin too deep in these holes.
Nevertheless, I was able to engage one of the front holes enough to finally anchor the scope base, thanks to Kevin's pin. Now, it was possible to do some shooting.
Is the bore too large?
I did several things to prepare the Fusion Premier Star for this test. I cleaned the barrel with J-B bore paste. I also tightened the barrel in the fork, so it'll stay wherever it is put after the rifle's cocked. That's the test of a properly tight pivot point — one that will keep the breech sealed upon firing. But since none of the scope mounts have worked until today, none of my shooting before today has been successful.
I also began to wonder if Cometa had used a .22 rimfire barrel for this rifle. That would explain the failure to group because the bore of a .22 rimfire is about 5 thousandths too large for normal pellets. A .22-caliber pellet rifle bore is supposed to be no larger than 0.218 inches in diameter, where a .22 rimfire barrel is 0.223 inches across. It makes such a huge difference that there is no chance of shooting well with the rimfire barrel and standard pellets.
H&N Field Target Trophy
Because of that, I decided to test the rifle with overly large pellets, as well as normal-sized pellets, to see if there was any obvious difference. The first pellet I tried at 25 yards was the H&N Field Target Trophy with a large 5.55mm head. Pyramyd Air has these pellets with head sizes of 5.52, 5.53, 5.54 and 5.55mm.
I was using the pellets with the 5.55mm head. They loaded very tight in the breech, as you might imagine. The first group of 10 I shot was large, but inside the main group were 5 rounds in a smaller hole. That prompted me to shoot a second 10-shot group, which showed me what this pellet is capable of.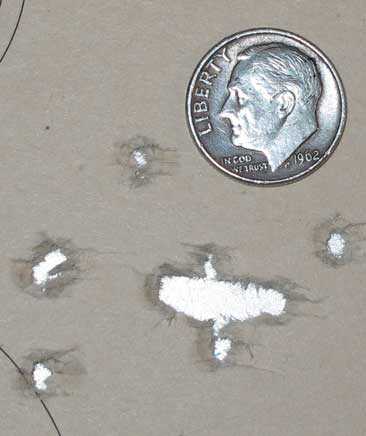 The main group is a little large, at 1.432 inches between centers, but the five in one hole are just 0.456 inches apart.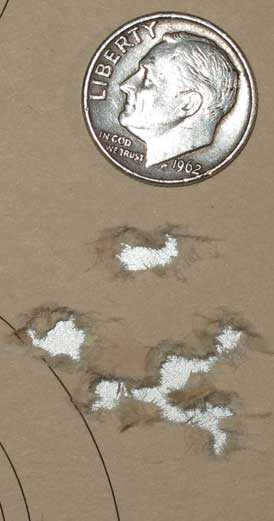 Here are 10 H&N Field Target Trophies in a 0.883-inch group. I think this is what the rifle is capable of at 25 yards.
JSB Exact 15.9-grain
Next, I tried the 15.9-grain JSB Exact dome that often does so well in .22-caliber spring-piston rifles. I stopped after just three shots, and I'm showing you those shots so you know why I stopped. I know many of you feel that the barrel needs to be "seasoned" with each new pellet — meaning that a number of pellets must be shot before any official recording can be done — but this spread is already larger than 2 inches, and I'm saying that seasoning isn't going to help things that much.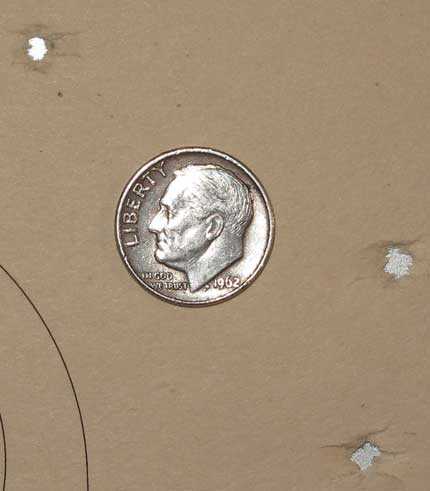 Yes, I really do shoot those other groups that aren't always shown. I doubt "seasoning" the bore will save this pellet. JSB Exact 15.9-grain dome.
5.56mm Eley Wasp
Was this a .22 rimfire barrel? It was starting to look like it, because the larger H&Ns did well and the JSBs did so poorly. But the proof of the pudding is to shoot the largest pellet of all and see what happens. That would be the obsolete 5.56mm Eley Wasp. If it also shoots well, then I'm thinking the barrel is a rimfire barrel.
Well, Wasps were not good. They made the same 2-inch spread the JSBs did with only three shots, so I stopped shooting them. I won't show the shots because you know what a 2-inch group looks like. But at least I believe this barrel is not from a rimfire.
Beeman Kodiaks
Next, I wanted to try a heavy pellet that's not necessarily a large one — the Beeman Kodiak. They fit the breech well — neither too large nor too small. And the first three shots were looking good, but shot 4 went to the right. In the end, I had a horizontal group that was a little large, but stayed at the same height for all 10 shots. I don't think the Kodiak is the right pellet for this rifle.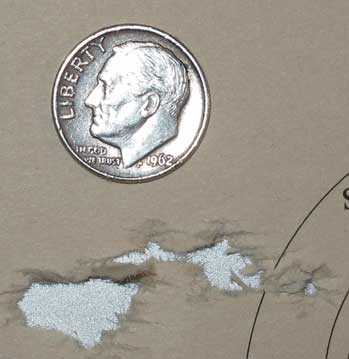 Beeman Kodiaks weren't terrible — they just weren't as good as the H&N Field Target Trophies. This one measures 1.202 inches between centers.
Overall evaluation
I was disappointed by the .22-caliber Fusion after the .177 had done so well. In the end, I did get the rifle to shoot, but it took every trick in the book to get there. I can recommend the .177 version of this rifle, because I really like the adjustable cheekpiece and the adjustable trigger. But the .22 took too much to get it to shoot.