Benjamin Marauder PCP .177-caliber air rifle: Part 7
by Tom Gaylord, a.k.a. B.B. Pelletier
Part 1
Part 2
Secrets of loading the Benjamin Marauder magazine
Part 3
Part 4
Part 5
Part 6
Fixing a Marauder magazine
Today, we'll adjust the Benjamin Marauder PCP air rifle to accept a lower maximum fill pressure and still deliver about the same velocity as before. Before we get into the report, let's consider for a moment what we're about to do. As far as I know, the Marauder is the only PCP on the market that allows this kind of adjustment to be made. A great many PCPs have adjustable power, and indeed, the Marauder's adjustment process for power has been sharply criticized on the internet…mostly by people who don't appreciate how it works in conjunction with this other adjustment that's unique to this rifle.
Most other PCPs adjust their power by changing the tension on the striker spring. The Marauder does it by reducing the airflow through the transfer port. What you get from that is far more control over the adjustment, plus it allows for the other adjustment — the one we're about to do today. And the Marauder is the only PCP on the market with this facility. Criticizing how it works is akin to criticizing a thoroughbred horse because there's dirt stuck to one of its hooves! At least that's my opinion.
Why adjust the maximum fill pressure?
This is such a unique feature that a lot of readers who are not yet shooting precharged airguns must be asking why anyone would want to adjust the level of the fill pressure in a gun. Let me make a quick analogy, then I will explain it in detail. Imagine you own a sports car that operates on premium gasoline. There are a lot of cars like that, but your car is very special because it has a switch on the dashboard that allows you to adjust the engine to operate perfectly on low-octane gasoline. It won't go as far on a gallon, but it will go just as fast. That's the equivalent of what the Marauder gives you with this fill-pressure adjustment.
Anyone who uses a hand pump to fill their rifle will appreciate the ability to reduce the maximum fill pressure from 3,000 psi to something lower. Hand pumps become hard to operate somewhere above 2,000 psi. For me, it happens around 2,500 psi, but it's different for every person. If I can reduce the maximum fill pressure from 3,000 psi to 2,500 psi and still get a reasonable number of shots, I'm golden. Sure, I won't get quite as many good shots (remember that my definition of a good shot is one that stays within about a 30 f.p.s. band of velocity) at 2,500 psi as I would at 3,000 psi; but if I can still get a decent number, that's all I want.
Reason No. 2 for wanting this feature is the person who lives 25 miles away from the closest dive shop and only owns one 3,000 psi scuba tank. They'll get only one complete fill from a freshly filled scuba tank and then the rest of the fills will be less than full. But if they could lower their rifle's max fill to just 2,500 psi, imagine how many more full fills they'll get from the same scuba tank.
I'm conducting this test exclusively with Crosman Premier lite pellets, as I want a super-accurate pellet and this one has been proven in past testing. I also know that if this pellet goes around 955 f.p.s., it'll be most accurate.
Let's go!
I told you that I'd talked to Crosman and gotten some good advice about what I'm about to do. That advice follows. There are 2 separate adjustments we will be making today, and we may also have to adjust the airflow (power adjustment) like we did before. That's a possible 3 adjustments in all. The manual reads like you can make just one adjustment or the other and get what you want, but Crosman told me not to do it that way. I'll be adjusting both the striker spring tension and the length of the striker stroke. And, by the way, the Crosman manual uses the terms hammer and striker interchangeably, but I'll use just the term striker today since that's what it really is. A hammer is pivoted on an axle, while a striker travels in a straight line.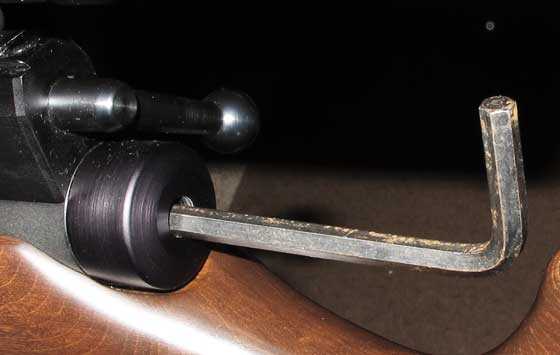 Both the striker spring tension adjustment and the striker stroke length adjustment are accessed through a hole at the back of the receiver. This 1/4-inch Allen wrench adjusts the striker spring tension (out, for less tension). This screw is hollow to allow a 1/8-inch Allen wrench to pass through to the striker stroke length adjustment screw (in, for a shorter striker stroke).
We know at the start of this procedure that the rifle accepts a fill pressure of 3,000 psi and gets about 32 good shots (within 30 f.p.s.) before needing a fresh fill. The average velocity is currently 955 f.p.s.
I want to adjust the gun to accept a maximum fill pressure of about 2,500 psi and keep roughly the same velocity. Then, I'll count the number of good shots I get with that fill pressure and we'll see if it's worth changing the gun this way.
Adjustment first
I turned the striker spring tension 2.5 turns out (taking tension off the striker spring), filled the rifle to 2,500 psi and started shooting.
Shot—Velocity
1—926
2—930
3—927
4—924
5—924
6—920
7—919
8—918
9—910
10—913
11—916
12—912
13—911
14—911
After these shots, I could tell the rifle wasn't going to shoot any faster, so I decided to adjust the power screw. That's the screw located on the right side of the receiver. I backed it out 1/3 turn, bringing the rifle back to the original power adjustment position, but that was back before I'd adjusted the striker spring tension. I knew the gun should get faster at this setting, but I hoped it wouldn't go all the way back to the 1,020 f.p.s. average it was initially.
Then, I filled the rifle to 2,500 psi and started testing it again.
1—989
2—991
3—994
4—993
5—991
This was a bit too fast, so I wanted to dial back some of the power. Instead of the power screw, I was now adjusting the striker spring tension and the striker stroke length.
Striker stroke turned in 1/4 turn (lowers velocity).
6—992
7—994
Striker stroke turned in 1/4 turn (lowers velocity).
8—993
9—988
Striker stroke turned in 1/4 turn (lowers velocity).
10—987
11—987
Striker stroke turned in 1/2 turn (lowers velocity)
12—984
13—982
Striker stroke turned in 1/2 turn (lowers velocity).
14—977
15—975
Striker stroke turned in 1/2 turn (lowers velocity).
16—966
17—975
Striker stroke turned in 1/4 turn (lowers velocity).
18—968
19—974
Striker stroke turned in 1/2 turn (lowers velocity).
20—958
21—958
22—971
23—967
24—970
Striker stroke turned in 1/2 turn (lowers velocity).
25—959
I'll stop here and discuss what happened. If you add up the adjustments to the striker stroke screw, you'll see I've adjusted it in 3-1/2 turns at this time. That makes the length of the striker stroke shorter, which allows the valve to open and close in a shorter amount of time. Less air gets out.
I'm pretty confident that the maximum fill pressure is now considerably lower than 3,000 psi. To test that, I filled the reservoir to 2,800 psi and started shooting.
Shot—Velocity
1—799
2—851
3—859
4—871
5—878
6—866
7—882
8—891
9—896
10—902
Okay, since the velocity is rising, it's obvious that 2,800 psi was too high a fill pressure. The rifle is probably now near the max fill pressure range we wanted. That's a guess that will have to be tested.
Shot—Velocity
11—900
12—895
13—914
14—917
15—922
16—923
17—931
18—934
19—919
20—932 (2,000 psi end pressure)
At this time, I stopped and refilled the gun to 2,500 psi. It was at 2,000 psi after shot No. 20, so I'm pretty sure the power's peaked at this point. I now adjust the striker spring tension in by 1/4 turn. That puts more tension on the spring, and the valve gets hit harder.
Shot—Velocity
1—901
2 904
That's not enough of a power increase. So I turned the striker spring tension in another 1/4 turn.
3—905
4—914
That's still way less velocity than I wanted to see. I backed out the striker stroke length screw 1/2 turn, making the striker stroke longer.
5—928
6—939
7—949 (first shot on the power curve)
Now the velocity appears to be up where I'd hoped to get it. I'll continue to shoot this string, not filling the gun since the last 2,500 psi fill.
8—956
9—950
10—956
11—961
12—962
13—960
14—967
15—960
16—959
17—965
18—965
19—963
20—964
21—964
22—964
23—960
24—958
25—958
26—958
27—954
28—953
29—952
30—949
31—949
32—950
33—946 (off the power curve)
34—936
There were 26 shots that ranged between 949 f.p.s. and 967 f.p.s. The total spread was 18 f.p.s. That's a lot tighter than the 30 f.p.s. I talked about at the beginning of this report, but the power seems to be dropping off pretty fast. But the question is: Are we at the target fill pressure yet?
To learn that, I filled the gun to 2,500 psi and shot the following:
Shot—Velocity
1—969
2—957
3—952
So 2,500 psi works fine. I then refilled the gun to 2,600 psi and shot the following:
Shot—Velocity
1—937
2—934
3—949
I have narrowed it down to the point that 2,500 psi is okay and 2,600 psi is a little too much. That's it for me. The rifle is where I wanted to get it.
I now have a rifle that gets an average velocity of 955-958 f.p.s. with Crosman Premier lites and gets 26 good shots on a 2,500 psi fill. If I fill to 2,500 psi and shoot just two full magazines, I know I'll get all my shots at the most accurate velocity this rifle is capable of producing with this pellet.
By adjusting the maximum fill pressure back to 2,500 psi, we lose 6 good shots (compared to the 32 good shots it got with a 3,000 psi fill) but are able to remain at exactly the same power level as before. If a person wanted to fill to a lower pressure, this seems like an effective way of doing it.
This entire procedure took me about 3 hours to complete, and I would say I was somewhat lucky — though I did some things that helped my luck by adjusting both the striker stroke and the striker spring tension instead of trying to do it all with just one or the other. I also turned up the power screw at one point because I could see the rifle needed a little more air to get up to the velocity I was seeking.
Will you be this lucky? You may be if you follow the procedure I've explained here. I can't guarantee that you'll be, but I do know the way I did it is the way Crosman recommends.
Tom Gaylord is known as The Godfather of Airguns™ and has been an airgunner for over a half-century, but it was the 
Beeman
 company in the 1970s that awoke a serious interest in airguns. Until then, all he knew were the inexpensive American airguns. Through the pages of the Beeman catalog, he learned about adult airguns for the first time. In 1994, Tom started
The Airgun Letter
 with his wife, Edith. This monthly newsletter was designed to bring serious reports about airguns to the American public. The newsletter and
Airgun Revue
, a sister magazine about collectible airguns, was published from 1994 until 2002, when Tom started
Airgun Illustrated
-- the first American newsstand magazine about airguns. Tom worked for three years as technical director at
AirForce Airguns
, the makers of the 
Talon, Condor, and Escape
 precharged air rifles. Today, he writes about airguns and firearms for various publications and websites. He also makes videos, and you'll find short clips embedded in some of his artices on Pyramyd Air's website. Tom is a consultant to Pyramyd Air and writes under the name of B.B. Pelletier.