by Tom Gaylord, a.k.a. B.B. Pelletier
This test is being done because in Part 3, the accuracy test, I felt the scope I was using wasn't giving the Hatsan AT P1 PCP air pistol the best chance for success. It was a vintage Weaver K856, which means a fixed 8x magnification with a 56mm objective lens. Though it doesn't say anywhere on the scope, I'm pretty sure the scope's parallax is fixed at 100 yards. At the 25 yards I was shooting, the target was slightly blurry.
The best group I got in that test was five Crosman Premiers into 0.678 inches at 25 yards. That was shooting off a sandbag rest with a rifle scope.
I said at the end of that report that I would return with a different scope mounted and try again, and today is a report on how that went. The scope I selected this time was the UTG 3-9X40 AO True Hunter that hasn't hit the market yet. It's a full-sized rifle scope with a suggested retail price of $104.97, so I would expect to see it sell for something less than that. I'm not going to report on this scope in detail today, but you do need to know that it's a fine scope for this test. The parallax adjustment worked perfectly, and I was able to get the target bulls into sharp focus. The way I had to hold the pistol to use the scope was a detractor, but it's no reflection on the quality of the scope, itself. I plan to do a full report on just the scope, but I'll mount it on one of my rifles of known accuracy.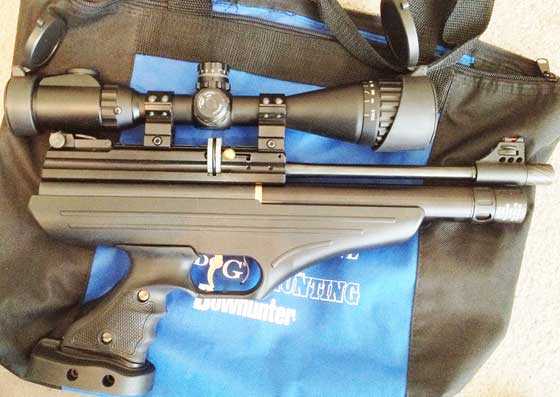 The UTG 3-9X40 True Hunter scope was a good pick for the Hatsan pistol.
As I reported, the Hatsan pistol has a proprietary quick-disconnect fill probe that isn't compatible with other airguns outside the Hatsan line, so I attached it to the hose on my Hill pump. I need my carbon fiber tank for filling all my other PCPs that are universally compatible with the Foster-type quick-disconnect fittings, so the Hill was dedicated to this pistol. It took 26 pump strokes to fill the pistol after 10 shots were fired. That's 2.6 pump strokes per shot. I said in the last report that the gun seems to give the best results with 7 shots per fill; but since the clip holds 10 pellets, I shot it 10 times per fill. All of today's groups are 10-shot groups at 25 yards. I feel that's only reasonable because nobody wants to stop shooting and fill their gun in the middle of a clip.
Shooting was off a sandbag rest, which is fine for a PCP. This pistol does recoil a little when it fires, but that's well after the pellet has left the muzzle of the gun. The recoil is more of a rocket-like push than a typical firearm recoil, and it's far from the violent jump of most spring guns.
I overfilled the pistol the first time. I couldn't clearly see the gauge on the pump and wound up putting 3,500 psi into the gun, rather than 3,000. So, just this one time, I shot 20 rounds on a fill instead of just 10. Had my groups been great, I would have gone back to the chronograph and looked at the velocity again with a 3,500 psi fill.
The Hill pump is great because it allows for such a fill. Other hand pumps peak at 3,000, but the Hill keeps right on going to 3,500. I bought it from Compasseco (which is now owned by Pyramyd Air) years ago when I was testing several BSA and BSA-made derivative PCPs because they're all pressurized to 3,350 psi.
JSB Exact Jumbo Heavys
The first group fired was 10 JSB Exact 18.1-grain Jumbo Heavy domes. The scope was not sighted in, and the group landed about 4 inches below the aim point and 2 inches to the right. It measures 0.844 inches between centers. While that's not much better than good, it beats all but 1 of the groups I made with the gun the last time at the range. Since this was 10 shots and not 5 or 7, I have to say that I did measurably better with the new scope.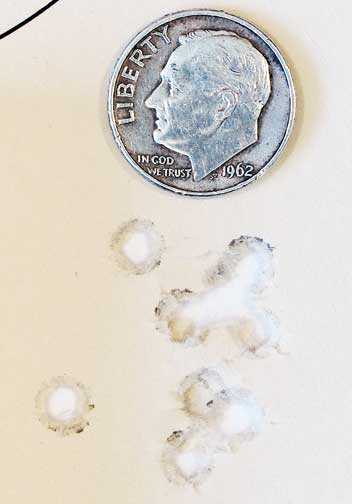 First 10 JSB Jumbo heavys went into 0.844-inches at 25 yards from a rest. This is adequate accuracy, but nothing to shout about.
Since the built-in pressure gauge said there was still about 180 bar left in the pistol after the first group, I loaded the clip with another 10 JSB Jumbo Heavys and shot again. Before shooting, I adjusted the scope through rough guesswork and managed to hit the lower right quarter of the bull at which I was aiming. I really like how well the new UTG scope adjusts, and I like how the knobs can be locked after every adjustment.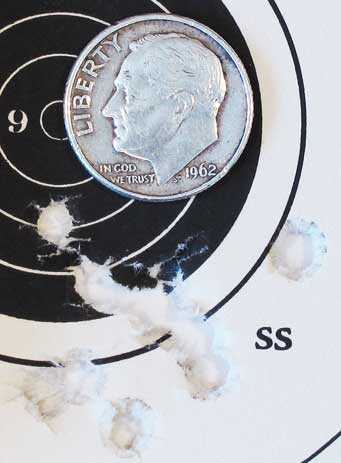 Second 10 JSB Jumbo Heavys went into 1.053 inches at 25 yards from a rest. The scope was adjusted after the first group was fired.
This is significant. It means there are more than the 7 shots per fill that I reported in Part 3. But I had to overfill the gun to get the other shots. More on that thought at the end of the report.
Please note that the largest of these 2 groups was 1.053 inches for 10 shots. In the previous test, the 10-shot group fired with the lighter JSB Exact 15.9-grain Jumbos was 2.093 inches. This one is a good four-tenths of an inch smaller. I think that is good evidence that the scope is the big difference this time; and if there's a secondary difference, it's that I am learning to shoot this pistol. However, I didn't shoot this 18.1-grain JSB before, so my comparison isn't perfect.
The trigger-pull was extremely long and mushy as the pistol came from the box, and it does not help the groups one bit. It's hard to hold steady when pulling through a long, heavy trigger-pull. Also, I have to hold the end of the scope with my left hand to keep the spacing for my eye so I can see through it. If I were to try to freehand it, I would never be able to see through the scope because the image would keep blacking out with small movements of my eye and hand. So, the hold is both difficult and uncomfortable. A pistol scope would be better, though I doubt the groups would get any smaller with one.
Trigger adjustment
The trigger is adjustable, however, and this is one of those rare instances in which the adjustments really work! I adjusted the long pull in my office after the range and got the trigger breaking fairly crisp and quite a bit lighter. This might have helped the groups by some amount.
I've tried adjusting this Quattro trigger in some Hatsan spring rifles before and didn't see as much improvement; but, of course, in a PCP the trigger isn't holding such a heavy spring.
Beeman Kodiaks
Next, I filled the pistol to 3,000 psi and loaded 10 Beeman Kodiaks. This time I thought I had it right until the two final shots. Shots 9 and 10 went high and right from the main group. Eight shots went into 0.701 inches, but the last 2 shots opened the group to 1.118 inches.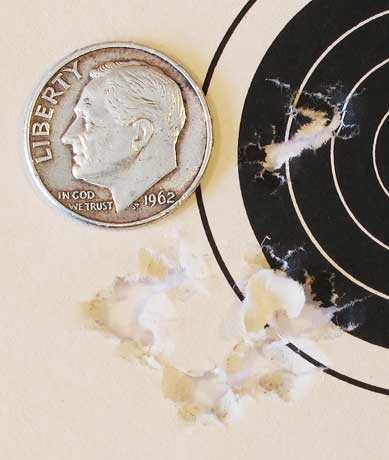 Ten Beeman Kodiaks went into 1.118 inches at 25 yards from a rest. The first 8 shots went into 0.701 inches, and that's what we're looking for.
This group sort of reminded me that 10 shots were too much for the AT P1 pistol on a 3,000 psi fill, even at 25 yards. Eight seemed to be the maximum with the new UTG scope. But there was one more pellet to try.
I took Skenco New Boy Seniors along, but they're too long for the Hatsan's clip. They protrude and don't allow the clip to turn when the gun is cocked. The only other pellet I had to try was the Crosman Premier.
Once more, I got 8 shots in a smaller group that measured 0.791 inches, then shots 9 and 10 went wide and opened it to 1.266 inches. One went to the left and the other went right, as though I was throwing curve balls. I couldn't see the pellets in flight; but when I saw the hole each one made, it came as a surprise.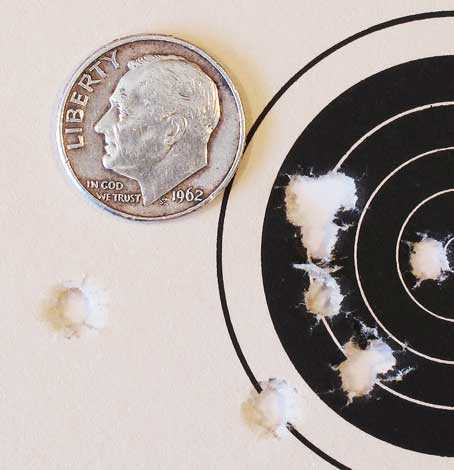 Ten Crosman Premiers went into 1.266 inches at 25 yards from a rest. The first 8 shots went into 0.701 inches, and shots 9 and 10 went wide right and wide left. Once again, 8 shots were relatively close with 2 fliers.
Based on all this data, I'm going to say there are only 8 good shots per fill in this pistol with a 3,000 psi fill. Given the results of both days on the range, I believe I can safely make that statement. But since I was able to fill the pistol to greater pressure and get additional good shots, I think it might respond well to a fill pressure of 3,200 psi and be able to shoot all 10 shots.
The Beeman Kodiaks and Crosman Premiers seem to be the best 2 pellets in this pistol. Next time, I might try a third pellet that hasn't been tried…like the JSB Exact RS.
Not done yet
I'm not yet finished with the Hatsan AT P1 pistol. In the next test, which I think will be the final one, I'll try filling to 3,200 psi to see if I can get 10 good shots on one fill. If that doesn't work, I'll go back to the 3,000 psi fill and only shoot 8 shots per group. Now that I have a good scope, 2 good pellets, a knowledge of the power curve and fill pressure limits, plus a newly adjusted trigger, I think I can make the gun perform at its best.
Why am I willing to do all this testing? Because there aren't that many good PCP air pistols available, and I think this might be a good one once I learn all its secrets. I owe you readers that much because so many of you are considering this one.