by Tom Gaylord, a.k.a. B.B. Pelletier
Part 1
Part 2
Part 3
Part 4
Part 5
Part 6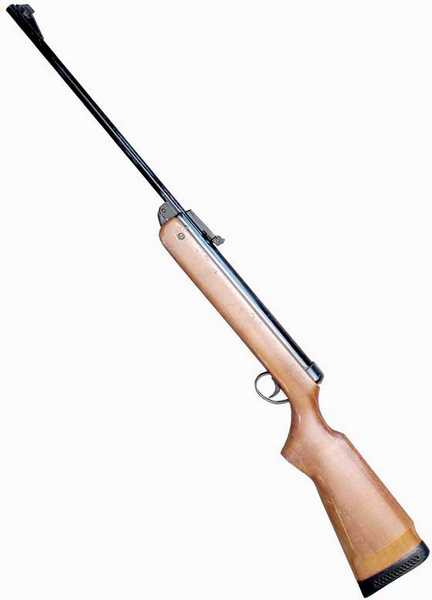 My rifle is actually a BSA Super Meteor.
I'm headed to Las Vegas this weekend for the 2014 SHOT Show, so I'm asking veteran readers to help the newer readers more than usual. And I thank you in advance.
Tuesday's blog will have something very important. It's the first day of the SHOT Show, and I'll show you something brand-new. It's a pretty big deal, so it's worth a look. Now, let's get to today's report.
Today, we'll look at the accuracy of the BSA Super Meteor Mark IV that I've been working to restore. This report was never supposed to be an ongoing saga. It was supposed to be a quick 3-part look at a vintage air rifle, but the Meteor that I bought at the Roanoke airgun show last September turned out to need almost one of everything. So, I hunkered down and went to work.
I said in one of the earlier parts that fixing up an old spring-piston rifle is a lot like rebuilding an old tractor. Man, was that ever a prophesy! I had no idea that I would have to get down into the guts of the rifle to get it shooting again; but if you've followed along on all the earlier parts, you know that's exactly what happened. Now that the old girl is shooting like she should, let's see how accurate she is.
This is a vintage spring rifle with open sights, so I like to begin shooting those at 10 meters. Since I have no idea how accurate or inaccurate they are, it's best to start close. If the groups show some promise, I can always back up to 25 yards and shoot a second test.
Eley Wasp
I figured a vintage airgun deserves a vintage pellet, so I broke out some obsolete Eley Wasps in .177 caliber as the first pellet. The first 2 shots were to sight in, and shot #1 was low, so I tried to adjust the rear sight up using the adjustment wheel. Alas — it didn't move the sight! The backup plan was to loosen the rear sight blade and slide it higher. I also noted that the whole rear sight unit needed to be snugged down, so that was also done.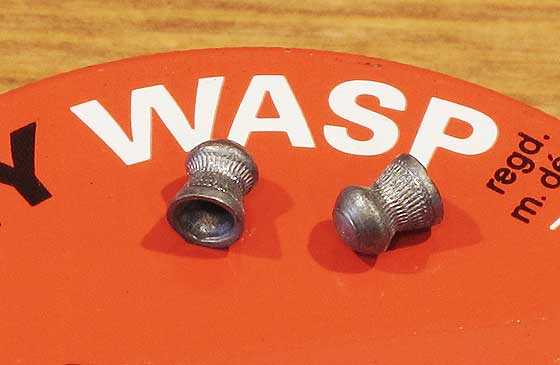 These .177 Eley Wasps are from the same timeframe as the Meteor rifle.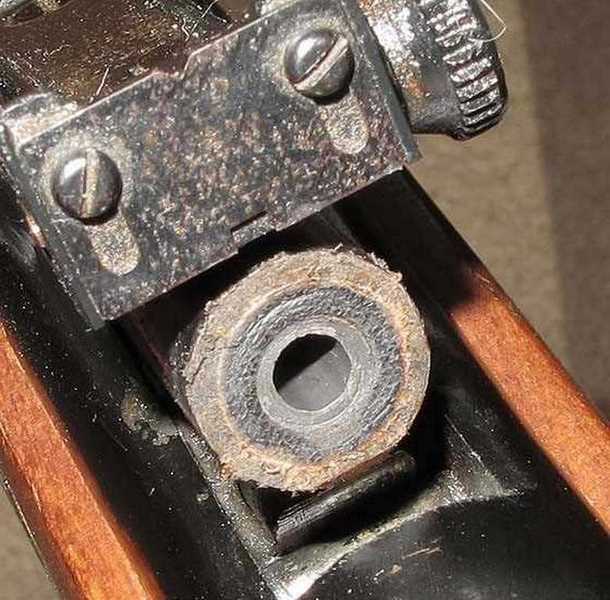 Loosen the 2 screws and slide the sight blade up to raise the point of impact.
Before we proceed, a word about .177 Eley Wasps is in order. Many of you know that the 5.56mm (.22-caliber) Eley Wasp is a particularly fat .22-caliber pellet. It's often the best in vintage airguns whose bores are on the large side. But the .177-caliber Wasp is not an oversized pellet — at least not the ones I have. I often choose these pellets for guns with larger bores such as the Meteor, forgetting that these aren't the best or biggest .177 pellets around.
I shot only 8 pellets at the target because the group grew to 3.559 inches between centers, and it didn't seem worth my time to finish. But that wasn't all I noticed. Most of the pellet holes are ripped out to the right, as if the pellets were not traveling straight. We know from the previous velocity test that this rifle now shoots fast enough to not tear target paper when the pellets pass through, so this tearing had to have been caused by the pellet's orientation and not its velocity.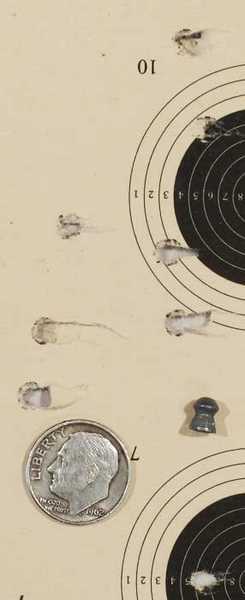 It only took 8 Eley Wasp pellets to convince me that this was not the right pellet for the Meteor. Notice the tearing of the paper! It's all in the same direction. I'm cutting off parts of the bulls in this photo because they contain another group from another pellet.
Crosman Premier lite
These results were enough to convince me to use modern pellets in the Meteor. The next pellet I tested was the Crosman Premier lite. This time, I fired all 10 pellets, and the group was much smaller than before, but it still measured 1.73 inches between centers. That's horrible for any air rifle at 10 meters!
What was even more surprising is the fact that the Premiers also tore paper to the right of the main pellet hole. In fact, they tore in exactly the same place!

It looks like 9 holes, but there are 10 Crosman Premier lite pellets in this group. It measures 1.73 inches between centers…and notice the tearing of the target paper in exactly the same way that the Eley Wasp pellets tore it.
If the pellets were tumbling in flight, the tears would be randomly scattered around the main hole because the tumbling pellet would change its orientation all the time. But because they are all in the same place, it looks like the pellets are tipping as they exit the muzzle and flying straight to the target in that tipped orientation. Hmmm! Have to think about that.
Air Arms Falcon
The next pellet I tried was the Falcon from Air Arms. I selected this pellet because the heads were sized large, at 4.52mm. They have the largest heads of any .177 pellets I have.
They put what looks like 9 shots into 1.863 inches between centers. Once again, several of the holes are torn on the right side.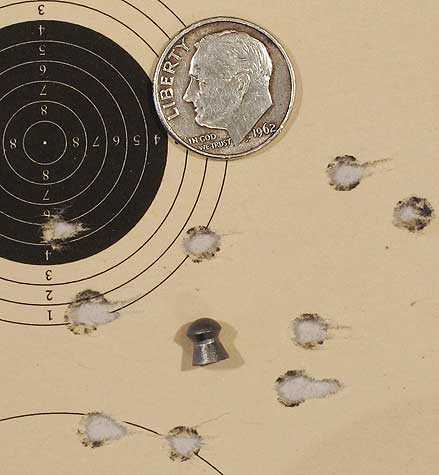 Nine holes (I swear I shot 10!) went into a 1.863-inch group at 10 meters. And, again, several of the holes are torn out on the right.
RWS Hobby
The final pellet I tested was the RWS Hobby. This is a large wadcutter that sometimes is very accurate at 10 meters. But not this time. Ten went into a group that measures 2.05 inches between centers. They also tore the paper to the right of the main pellet holes.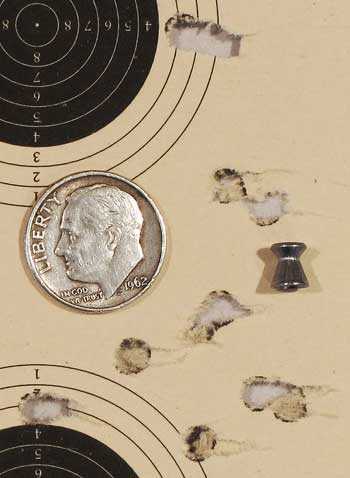 Ten RWS Hobbys went into this vertical group that measures 2.05 inches between centers. They also tore the target paper on the right of the pellet hole.
What's up?
I knew something was wrong with the rifle because these pellets all fly at different speeds. There's no way a tumbling pellet can tear the paper in exactly the same place when they all get there at different times. For even one single type of pellet to do that is hard to believe, but for 4 different types…it's impossible. The pellets have to be leaving the muzzle tipped on their edge and remain in that orientation all the way to the target.
I know that most of you have guessed what's wrong with the rifle by this point, but I hadn't. Of course, I didn't have someone pushing my nose into the facts like you have in this report. It wasn't until my buddy Otho came by for a visit. I showed him the targets (because he has an interest in the Meteor, as you recall), and he said, "I'll bet that barrel needs to be recrowned."
Oh, my gosh! How could I fail to see that? Of course that was the problem. When I brought out the Meteor for him to look at, he saw it right away. I bet you will, too. The muzzle is backbored by more than an inch; but with a tactical flashlight, we were able to look down inside.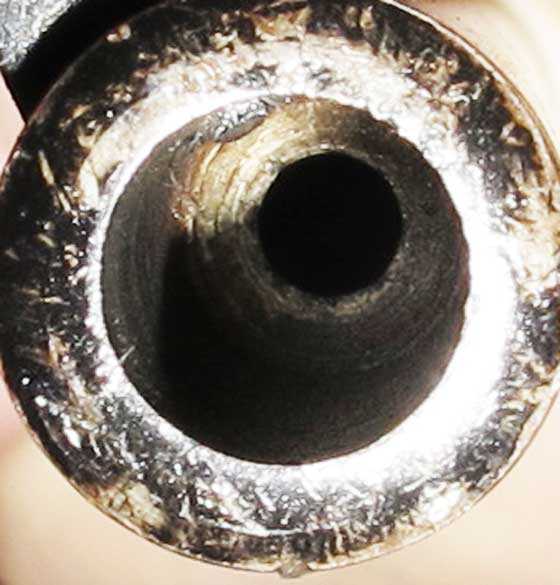 See the dark spot at 10 o'clock? It appears to be a nick in the muzzle. How it got there I don't know, but it should be fixed.
The saga continues!
Yep, this Meteor is like an old tractor, all right. Just when you think you have the thing running and looking spiffy — the magneto quits. These days, there's only one old man in Kansas who can repair them. Actually, I protesteth too much because I really enjoy working on this gun. It wasn't made in China, yet it has turned out to be even worse than most of the very poor-quality Chinese airguns I've tested in the past.
In truth, there's a lot of great engineering in this rifle, as well as a ton of abuse. You BSA Meteor owners out there know that I'm not purposely beating up your favorite airgun. It's just that it challenges me at every turn. But that's a large part of what makes this hobby interesting. After all is said and done, I'm not upset.
OK, take that report on a Friday and run with it! Remember, I'm on my way to Las Vegas and cannot answer as many comments as normal.