by Tom Gaylord
Writing as B.B. Pelletier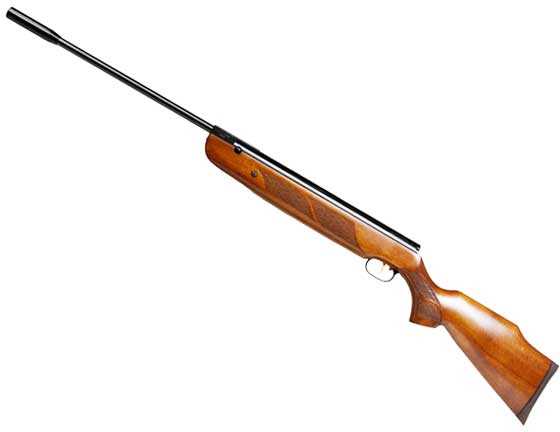 Beeman R1 Supermagnum air rifle.
This report covers:
New tune more accurate?
A nondescript scope
Various holds
The R1 wants to shoot!
Air Arms domes
RWS Superdomes
H&N Baracuda Match
The rifle's feel
Where are we?
Today I start testing my tuned Beeman R1. The R1 has always been a twitchy spring rifle for me. I have gotten some good groups and I have also failed miserably. The rifle is not at fault, because it can stack pellets on top of one another — at least at 25 yards. But it is super sensitive to small variations in the hold. In fact, this R1 I am testing for you is the one that inspired the artillery hold, two decades ago.
New tune more accurate?
Is the rifle easier to shoot accurately, now that it has been tuned? No so far. It's still very sensitive to slight variations in the hold, as I learned in this session.
I used today's test to get used to the rifle once again. You will see from past reports that I haven't shot this air rifle very much in the past 10 years. One of the last times I tried it on targets was at the end of a 13-part report I did back in 2006. I was still shooting 5-shot groups back then and my results in Part 13 aren't anything to shout about. So my work is cut out for me.
A nondescript scope
Just to get started I mounted a nondescript 4-12X40 scope on the rifle. I mounted it because it fit the only rings I had for the airgun. I need to get some 1-inch and 30mm scope rings to upgrade this scope before we go too much farther, but this nameless scope was good enough for a first try.
Various holds
My first question was how to hold the rifle. Did the tune change what it likes? Seemingly not, as I found it responded to my off hand resting under the cocking slot about halfway up the forearm. I tried several holds, including shooting directly off a sandbag. All of that took about 30 shots and 3 different pellets.
The R1 wants to shoot!
I will shoot at 25 yards today. The R1 should be able to hold its own at that distance.
With every pellet I tried the rifle would stack several pellets in the same hole, then toss the next one an inch or more away. The direction of spread was mostly vertical, but there was some sideways dispersion, as well. Most of my 10-shot groups look horrible. But as I refined the hold, I started to get consistency.
Air Arms domes
The first pellets that started to settle down for me were the Air Arms Field domes. Ten went into 0.923 inches at 25 yards, which isn't that good. However, compared to what the gun had done up to this point it was encouraging.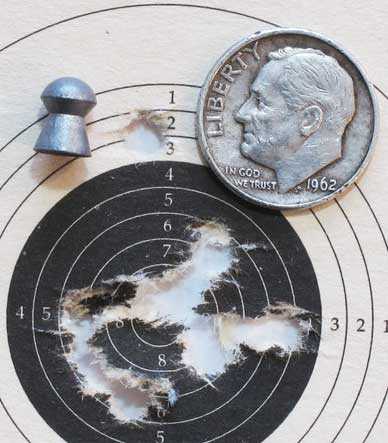 Ten Air Arms domes went into 0.923-inches at 25 yards. I'm starting to get a handle on the rifle.
RWS Superdomes
Next I tried some RWS Superdomes. I didn't remember them being that good in the past, but they are a premium pellet, so what the heck. To my surprise, Superdomes were the least twitchy in the R1. They did make the powerplant buzz a bit, though. But they seem to want to shoot straight in this rifle. Ten of them went into 0.695-inches at 25 yards. This group is more open than I would like at 25 yards, but for this rifle it is significant improvement. It turned out to be the tightest group of this session.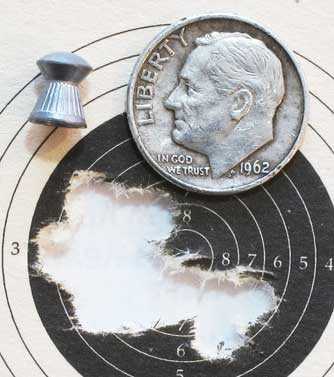 Ten RWS Superdomes went into 0.695-inches at 25 yards. This was the best group of this session.
H&N Baracuda Match
The last pellet I was successful with in this session was the H&N Baracuda Match. I knew from past experience that my R1 favors this pellet. The group I got was the largest of the 3 I'm reporting, but witjhin it are 7 shots that went into 0.414-inches. That was the level of accuracy I was hoping for!
Two of the three pellets that landed outside that main group were from shots that I knew were not held right. I wasn't completely relaxed. Unfortunately, the pellet that went farthest from the main group was from a shot I thought was perfect. So there is still some learning to do.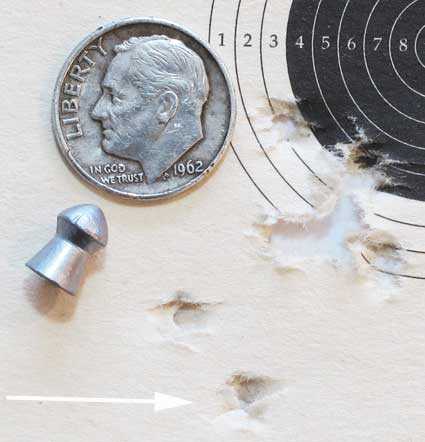 Ten H&N Baracuda Match pellets made this 1.05-inch group at 25 yards. Seven of those pellets are in 0.414-inches. That's the sort of accuracy I expected. Two of the three pellets that aren't in the group were from shots that I know were held wrong, but the lowest shot (arrow) was held perfectly.
The rifle's feel
I have to comment on how much I enjoy this new tune. The rifle now cocks butter-smooth and the lockup with the trigger is instantaneous. In the past I had to pull the barrel past the point of cocking to make sure things were latched, but it all works now.
The trigger is set too heavy for me. I am used to a lighter release.
I can actually feel a difference in the way some pellets shoot. Some are very smooth while others have a bit of harshness.
I got to shoot the rifle a lot during this test — over 70 shots in all. That was the first time I really got to feel the action as it now works.
I really like how positive the safety is. A Weihrauch factory safety can be pretty vague, but this one is very positive and crisp.
Where are we?
We are not finished with the R1 at 25 yards yet. I won't be satisfied until I have a scope of my choosing mounted. Also, while this test taught me which pellets to use and how the rifle likes to be held, I believe some refinement can be made. Until, that happens, I will not advance to 50 yards.
I will lighten the trigger for the next test. The next test will be at 25 yards with a new scope, the two pellets that did best today (H&N Baracuda Match and RWS Superdomes) and a lighter trigger.