by Tom Gaylord
Writing as B.B. Pelletier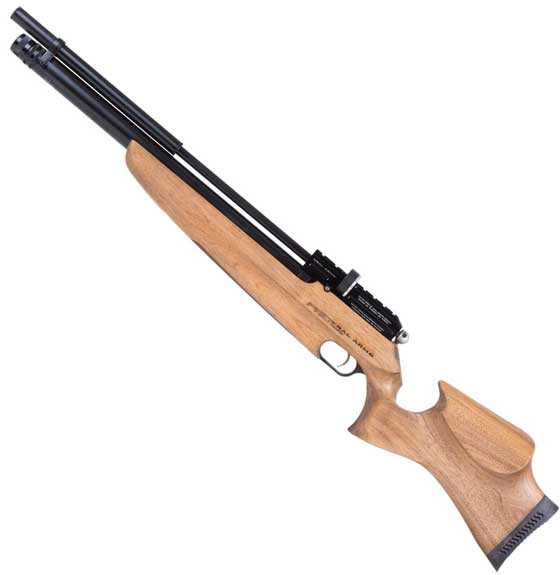 Kral Puncher Pro PCP. The test rifle's walnut stock is not as blonde as this one.
This report covers:
Mounted a scope
Accuracy
JSB Exact Jumbo
Trigger pull
JSB Exact Jumbo Heavy
Nice pistol grip
RWS Superdomes
Evaluation so far
Today we start looking at the accuracy of the Kral Puncher Pro PCP air rifle. I have several of these Kral PCPs to test, so I'm spending time with this first one to learn the brand. Things like the unusual way the magazine is inserted into the receiver and how the power adjustment works need to be learned before I can feel comfortable testing these air rifles.
As a reminder, these Kral PCPs offer features found in more expensive airguns at an attractive price. The test rifle also has a very nice stock made of walnut. In Part 2 we discovered that the power adjuster, while not offering distinct stops for adjustment, does put the rifle at a stable place each and every time. And we learned that this Puncher Pro is very stingy with air — getting as many as 80 shots per fill, depending on where the power is set.
Mounted a scope
Since today starts accuracy testing, I first mounted a scope on the test rifle. I selected the UTG 8-32X56 SWAT Mil Dot scope that was used in the accuracy test for the Air Arms Galahad. This scope comes with its own two-piece Weaver base rings, so I just switched them from the Galahad to the Puncher Pro. If the Kral scope base was straight Picatinney I would have been able to just move the mounts with the scope attached, but the Kral scope base is a Weaver whose cross slots are not cut at regular intervals. The Kral base also accepts 11mm airgun scope rings. One of the two UTG scope mounts had to be moved to get it to fit. The switch took 20 minutes in all, and when I tested the sight-in at 12 feet it was where it needed to be. That saved me a lot of set-up time.
It might seem wrong when testing a budget PCP to select a scope whose price is 60 percent of the rifle, but if the Kral is as accurate as I believe, I want the best scope I can put on it. I can run this UTG scope at 32 power all day long, which means I will be able to split hairs at 50 yards.
Accuracy
Okay, let's look at accuracy. This test was conducted indoors at 25 yards off a rest. Since the rifle was close after mounting the scope I fired a few more shots and got the scope dialed in for the first pellet. I did not adjust it after that.
The power was set just above midway, so the velocities from Part 2 apply here. I must comment that this rifle is very quiet at this power setting.
JSB Exact Jumbo
The first pellet I tested was the JSB Exact Jumbo. The Kral Puncher Pro put 10 of them into a group that measures 0.492-inches between centers. That's very good but not outstanding for 25 yards. Looking at it, though, is quite round and pleasing.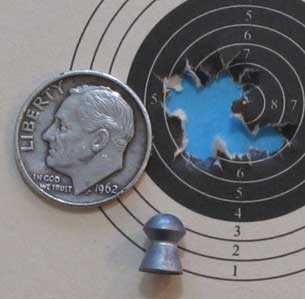 Ten JSB Exact Jumbo pellets went into 0.492-inches at 25 yards. The scope was sighted for this pellet.
Trigger pull
Now I can comment more accurately on the Kral's trigger. While it is 2-stage, there is some creep in the second stage. I think it is on the heavy side, as well. It was entirely under control during the test — just not as crisp as I would prefer.
JSB Exact Jumbo Heavy
The next pellet I tried was the 18.1-grain JSB Exact Jumbo Heavy. I thought it might out-perform the lighter Exact pellet, but it didn't. Ten went into 0.728-inches at 25 yards. Again, that's not bad, but not as tight as I would have hoped.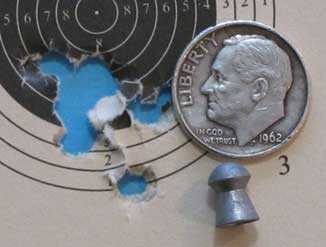 Ten JSB Exact Jumbo Heavy pellets went into 0.728-inches at 25 yards. Notice they landed lower on the target because they are heavier and move slower.
Nice pistol grip
It was at this point in the test that I discovered something very subtle about the Puncher Pro stock. The pistol grip is sculpted to allow your thumb to stick straight up or wrapped around the grip. But there is also a second position to the left of straight up that's sculpted into the stock. I liked that position best of all. It's a small but useful feature.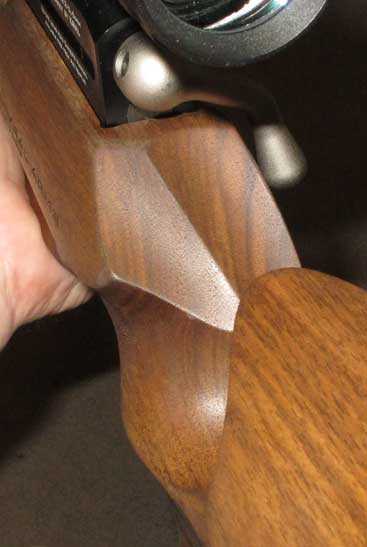 The pistol grip has two vertical positions for the thumb, besides wraparound.
RWS Superdomes
The last pellet I tried was the RWS Superdome. I wanted to try Crosman Premiers, but they jammed in the magazine too much in Part 2, and I had no confidence they would feed correctly. Ten Superdomes made a 0.615-inch group at 25 yards that was better than the JSB Exact Jumbo Heavies but not as good as the 15.89-grain Jumbos. They earned a spot in the 50 yard test with that performance.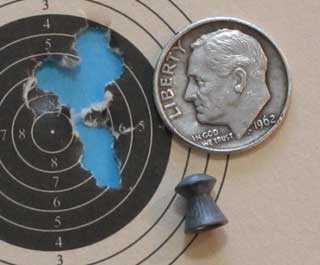 Ten RWS Superdomes went into 0.615-inches at 25 yards. That's not bad!
Evaluation so far
I find the Kral intriguing. It manages air very well, but I'm not yet entirely comfortable with inserting the magazine into the action. The trigger is on the heavy side for a PCP, but the accuracy seems quite promising. And the stock fits me very well.
For those on a tight budget, I think this rifle is one to consider. Let's see what it can do at 50 yards and we will know even more.