by B.B. Pelletier
This is an oldie from 2009 that I recycled because I was out of town, attending to my sister last week. Today we look at Part 2.


Despite the size of this photo, the C1 is a small rifle. The western look was unique in its day. The scope is a 2-7X32 BSA.
If you remember, the C1 is one of the first adult air rifles I ever owned. I got my .177 C1 from Beeman and had the opportunity to break it in and shoot it until it smoothed out to become a great little shooter.
Today I'm testing the .22 version I acquired in a big trade with my buddy Mac, following the Little Rock show this year. I didn't own a chronograph when I had the first rifle, so this test will be as revealing to me as it is to you. Kind of like finding out whether the girl next door was really as chaste as you envisioned when you were a kid, or whether she dated the fleet.
Observations
Before we get to velocities, I'd like to make a couple of observations. First, I had forgotten that the C1 has the mother of all single-stage triggers. If you look up single-stage in the dictionary, there will be a picture of a C1 beside it. It's long and engages right at the start of the pull. No false first stages here!
The trigger on my test rifle is well broken-in and releases at 4 pounds, 4 ounces. I can't call it crisp because you can feel the trigger moving as you pull, but it is very pleasant. While the later C1s have a manual safety on the right side of the gun, this one doesn't even have that. Cock it and it's ready to go.
Next, the C1 is a carbine. Though the gun isn't difficult to cock, that short barrel will have your arm aching after a couple dozen shots. It's certainly no Diana 27!
Also, the breech is butter-smooth. Though it has a chisel detent to hold the barrel shut, it feels and operates like a ball bearing detent, which is to say very nice.
Finally the firing behavior is dead-calm and quick. The gun moves in recoil, but there is no vibration to speak of.
The .177 C1 was represented to have 830 f.p.s. velocity, which probably meant 750 f.p.s. for sure, so the .22 should be in the low 600s. Let's see where this one is.
RWS Superdomes
The 14.5-grain RWS Superdome averaged 503 f.p.s. It ranged from a low of 487 to a high of 510, for a spread of 23 f.p.s. They seemed to fit the rifle well, but the energy they delivered works out to just 8.15 foot-pounds.
Crosman Premiers
Surprisingly, Crosman Premiers that weigh only 14.3 grains averaged just 494 f.p.s. That's less than the heavier Superdomes. The range was from 482 to 503 f.p.s. Muzzle energy for the average velocity is 7.75 foot-pounds. They also fit the breech variably, with some going in a quarter-inch and others sitting flush with the breech. The deep-seated ones were invariably the fastest.


Some Premiers fell deep into the barrel…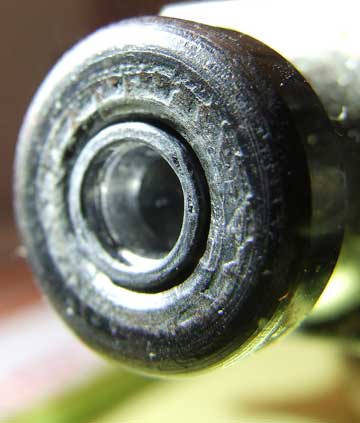 …while others had to be pressed flush with the breech.
RWS Hobbys
At less than 12 grains, RWS Hobby Pellets are the lightest I tested. Being pure lead, they also went the fastest. The average was 527 f.p.s. and the range was from 522 to 536, for a tight 14 foot-second difference. The average velocity produced an energy of 7.34 foot-pounds. All pellets fit the breech uniformly.
Eley Wasps
Just for fun I tried some fat Eley Wasps. At 5.56mm I didn't expect much velocity from them and I was right. They averaged 437 f.p.s. with a spread from 425 to 450 f.p.s. The average velocity produced 6.15 foot-pounds from this 14.5-grain pellet.
Conclusions
Based on these numbers I'd say this rifle is a little tired. It probably needs seals and a new mainspring. I looked through the cocking slot and saw that the grease seemed to be from the factory, so this gun has just been shot a lot. No complaint there, because that's what it's built for!