by Tom Gaylord
Writing as B.B. Pelletier
This report covers:
The scope
The test
Sight-in
JSB Exact RS
Air Arms Falcons
RWS Superpoints
Summary
Today we examine the accuracy of the Diana 240 Classic at 25 yards when scoped. I think this will be interesting.
The scope
I mounted a nondescript Gamo 3-9X40 scope for two reasons. First, it was already in rings that would fit the rifle and second, it is the type of scope many shooters would mount on a rifle like the 240. This is the kind of scope that comes bundled in a combo, so I can't give you a link, but we are talking about a $40 scope at the most. There is no parallax adjustment, so at 9 power the target was a little fuzzy, though I used a target with a one-inch red center that made centering the crosshairs easy.
The test
Today I shot from a rest at 25 yards. The gun was rested directly on the sandbag and, although someone asked if I shouldn't try the artillery hold, I think today's results will show that isn't necessary.
Sight-in
As many of you know, I try to get on paper but don't worry about hitting the center of the target — most of the time. Today was different. I shot two groups with the first pellet, and, after the first group, I adjusted the scope to hit pretty close to the aim point — but only with that first pellet. Once I was on target I left the scope adjusted as it was for the rest of the test.
JSB Exact RS
The first pellet was the JSB Exact RS pellet that shot an open group in the last test. I wondered if using a scope would improve the group. Last time with open sights I put 10 pellets into 1.311-inches at 25 yards. This time 10 pellets went into 0.984-inches. So, a scoped gun usually does shoot better!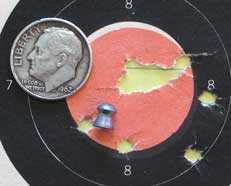 Ten JSB RS pellets went into 0.984-inches at 25 yards.
Air Arms Falcons
Next I tried 10 Air Arms Falcon pellets. With open sights the 240 put 10 of these into 1.85-inches, but 6 of them were in 0.383-inches. That intrigued me and I wanted to see what would happen when the rifle was scoped.
This time 10 Falcons made a 0.865-inch group! It was the best group of the test and I think it demonstrates how accurate the 240 Classic really is. I have shot several Beeman R7s over the years and I don't think one of them ever shot better than this. If you are going to lecture me on the accuracy of an R7, please use 10-shot groups at 25 yards. My point is, with this kind of potential, the 240 is a great little airgun.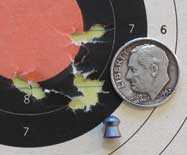 Ten Air Arms Falcon pellets went into 0.865-inches at 25 yards. Best group of the test.
RWS Superpoints
The last pellet I tried was the RWS Superpoint. In the last test I shot RWS Superdomes, but reader Big Iron suggested trying RWS Superpoints, instead. Since Superdomes didn't do that well with open sights (1.612-inches at 25 yards), I decided to try the Superpoints.
Ten Superpoints went into 0.968-inches at 25 yards, with 8 of them in only 0.424-inches. That's another tantalizing group within a group, and if I owned this rifle I would continue to test this pellet.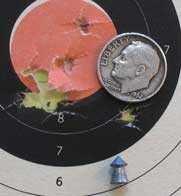 Ten RWS Superpoint pellets went into 0.968-inches at 25 yards, with 8 of them in just 0.424-inches. A pellet to watch!
Summary
Throughout this test we have seen how this little rifle behaves, and it is very nice. I think it is a modern counterpart to the Diana 25 or 27.
If I were just wanting a quiet pellet rifle that's easy to shoot and relatively accurate, the Diana 240 Classic would fill the bill. Yes, I can make a case for other rifles that have better accuracy, nicer triggers and so on, but at the price point of the 240 Classic I don't think there are many challengers.