by Tom Gaylord
Writing as B.B. Pelletier
Today's report is a guest blog from reader Bob who has been a daily reader since 2011. He read my remarks about the accuracy of a Beeman R7 in a recent report and decided to see if they were correct. If you'd like to write a guest post for this blog, please email me. Take it away, Bob.
How accurate is a Beeman R7?
by Bob
This report covers:
BB's challenge
Some research
I accept the challenge
My rifle
Result
BB responds
I am an enthusiastic shooter, and have been an enthusiastic reader of B.B.'s blog since 2011. Like many of us, I read (in no certain order) the morning news, email, and B.B.'s blog before my first cup of coffee. I've learned a lot from B.B. and readers' comments.
BB's challenge
B.B. recently reviewed the Diana 240 Classic rifle. He tested the rifle for accuracy, and after shooting ten Air Arms Falcon pellets into 0.865" at 25 yards he wrote, "I have shot several Beeman R7s over the years and I don't think one of them ever shot better than this. If you are going to lecture me on the accuracy of an R7, please use 10-shot groups at 25 yards."
Some research
I immediately re-read the four-part 2010 Beeman R7 report written by B.B. and his friend Mac. To put it mildly, accuracy was unimpressive in those reports, and B.B. suspected the scope was at fault. Testing ended after the fourth part, and was inconclusive.
I accept the challenge
While I have no desire to lecture, I saw an opportunity to contribute to the blog and its readers. How accurate is my R7, on a typical day, with me behind the trigger? Just a few hours after reading B.B.'s morning blog, I had my answer, and wrote this report to share with you.

My Beeman R7 is a vintage one that came with open sights.
My rifle
My rifle is far from new. It is a Santa Rosa-marked Beeman R7, in .177 caliber. I found it for sale on a used gun rack. It was tired and neglected, with scratched wood, surface rust and pitting, but it was treasure to me. I brought it home, cleaned it up, installed a Vortek kit, and mounted a Bug Buster 3-9 in two-piece BKL rings. The breech seal is original. I learned a lot shooting and working on this rifle, all the while reading B.B.'s blog and shooting many tins of pellets. This little rifle was my very first truly great air rifle, and is one of my favorites.
I put my target at a laser-measured 25 yards from the muzzle. I held the rifle with a modified artillery hold, and shot from a steady shooting bench. The wind was blowing lightly from behind me, and the sky overcast. Not optimal conditions, but real-world conditions.
I loaded pellets directly from the tin without inspecting them, and seated them with an Air Venturi Pellet Pen (a convenient little gadget). I usually shoot only JSB/Air Arms domed pellets, having found them accurate in my rifles, so I resolved to shoot just two ten-shot groups for this report, the first with Air Arms Diabolo Heavy 10.3 grain pellets, and the second with Air Arms Diabolo Field 8.4 grain pellets.
I had previously sighted my rifle to hit dead-on at 14 yards, to deal with a pigeon problem in a horse barn, so my pellets hit low at 25 yards for this test. I fired a few pellets to awaken the rifle (and me, too!) before shooting for score. While I was a little wobbly, there were no called fliers. I was satisfied that I had shot my best.
Result
Ten Air Arms Diabolo Field Heavy 10.3 grain pellets went into 0.750 inches measured center-to-center, just slightly larger than a dime. The very first shot stood apart from the last nine. While not a called flier, I suspect it was the knucklehead behind the trigger that guided that first shot. The other nine pellets went into 0.660 inches.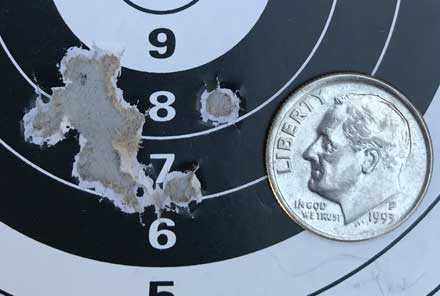 With Air Arms heavy domes my R7 put 10 into 0.75-inches at 25 yards.
I next tried Air Arms Diabolo Field 8.4 grain domed pellets. Ten pellets also went into 0.750 inches.

With Air Arms light domes my R7 put 10 into 0.75-inches at 25 yards.
I am pleased with these results, as they accurately reflect the capability of my rifle and my shooting, from a steady rest, on an average day. Even more important, this test gives me opportunity to contribute to our blog, and to say thank you to B.B. and his readers.
BB responds
I thank Bob for accepting my challenge and showing us all what a vintage Beeman R7 can do. I stand corrected!
However, I would like to note that my dime is still way cooler than his!