by Tom Gaylord
Writing as B.B. Pelletier
This report covers:
Smaller show
Fewer dealers?
On the other hand…
TX200 Mark III
Behind me — a Supergrade and …
What about dealers — Sig
Crosman
Umarex
More to come
Last Saturday the 4th annual Texas airgun show was held at the Arlington Sportsman Club in Mansfield, Texas. Let's begin with the weather, since Hurricane Harvey had many people concerned.
Smaller show
We lost many dealers from south Texas. It's hard to say how many for sure, but I estimate 5-10 at least. Then there was the loss of the public that I would put around 50. They had to stay home and contend with the weather, and I understand that.
But there were also lost a lot of folks from other states who read the word Texas and Hurricane and thought the entire state was getting hit. Folks, Texas is large. Very large. The airgun show is hundreds of miles inland from any coast (about the distance NYC is from Washington D.C.), so by the time it gets up here it's just a lot of constant misting rain and perhaps a constant gusting wind of 40-50 mph. The Arlington Sportsman Club ranges are all covered very well, so shooters and guns didn't get wet from the several brief showers we did have. The wind was very pleasant 10 mph and the day was a balmy 78 degrees at the hottest. That's paradise in Texas in August! I'm saying the weather was perfect for the show and anyone who was there will tell you the same thing.
Fewer dealers?
There were many more manufacturers, importers and retail dealers at this year's show, but fewer private dealers. That probably relates to the weather, because we didn't have the 4-5 dealers who always arrive without reservations on show day and want tables.
On the other hand…
The private dealers that did come had the best selection of airguns I have ever seen. Perhaps not as many tables of them, but when I finish telling you what was at this show you're going to kick yourself if you missed it! Let's begin with two (yes, I said TWO) Whiscombes for sale! And one of them was sold! I did not get a picture of the happy buyer, but that is a major score at any airgun show.
TX200 Mark III
Reader Jonah had asked me to bring my TX 200 Mark III so he could at least try one. I did, but I never took it out, because Jonah found exactly what he was looking for on a table. There were two Mark IIIs for sale at what I thought were astoundingly good prices. There may have been others, but these were the first ones I saw.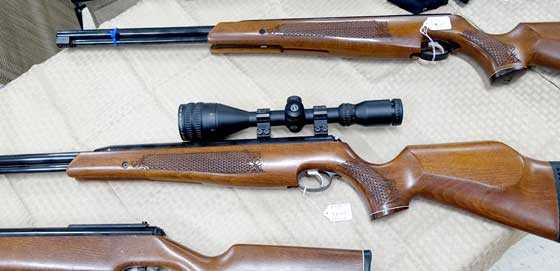 That TC200 Mark III with a Hawke scope was the first air rifle I saw at the show. I almost bought it on the spot! Above it is another .177 TX that was priced at $450!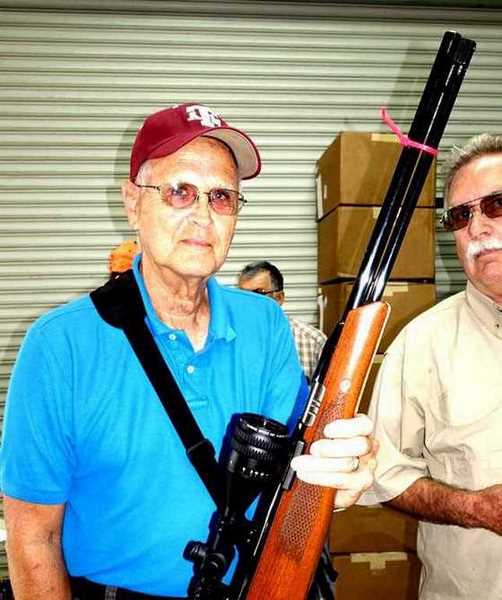 A happy Jonah holds his prize!
Jonah didn't even ask to see my rifle, because he found the same two rifles I found, and one was a .22 that he wanted. It had a Vortek tune on it. He came by my table to ask what I thought of the .22 TX and, when I told him I almost bought it myself, I think he was pleased. Guys, this is how to do it. Jonah knew what he wanted, came to an airgun show, found a nice one at what I think is a fantastic price and got to shoot it before he bought it. That's the way airguns should be sold!
Behind me — a Supergrade and …
I'm just warming up! Behind my tables were the tables of the show's organizer, Jeff Cloud. He was selling a beautiful Sheridan Supergrade. Jeff has become interested in multi-pump pneumatics and has learned how to seal many of them, including Supergrades. He resealed my Blue Streak that I reported on last year.. Besides that Supergrade, Jeff was selling a Crosman 101 pumper, a rarer model 100 (the .177 caliber version) and a 102 repeater. Those guns stayed on his table for the whole show. Dumb old me wanted to buy the 102 to test for you. So I sat next to it for the entire show and just now it dawned on me what I had failed to do! DUH!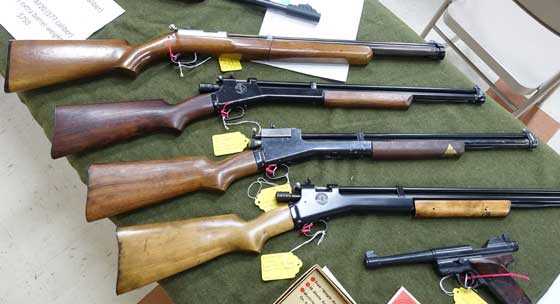 Show organizer, Jeff Cloud, had a beautiful Sheridan Supergrade for sale! Underneath are a Crosman 101, 102 and a model 100. Guys, you don't see these guns at every airgun show!
He also had a Hahn 45 BB revolver in the box. This is very similar to the .22 caliber Crosman Single Action 6 that Crosman also made. I see these at a lot of airgun shows, but seldom in this condition. I would rate this one as excellent to almost new in the box. Now, I have seen shows with as many as 20 of these for sale, but like I say, not in this condition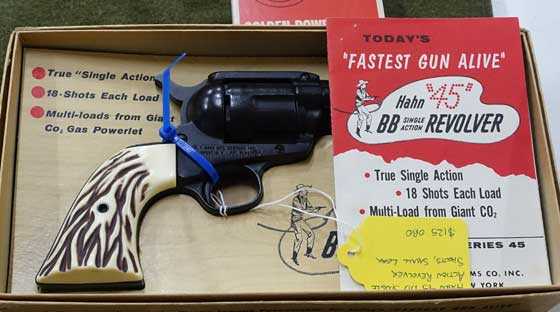 An almost new in the box Hahn 45 BB repeater.
Jeff also allowed other folks to display their airguns on his tables. There was a used Shoebox compressor, plus many pellet gauges, because Mr. Pelletgage, Jerry Cupples, manned the table for the entire show.
What about dealers — Sig
I have so much more to share with you, but right now let's move outdoors to see some of the dealers who came. Sig Sauer was a first-time displayer at this show and they also had a local dealers selling their airguns inside the show! They were on the range all day where the public could shoot their Sig MP-X submachine guns at the SIG Texas Star target — a target that Dani Navickas from Sig showed me can be reset by shooting at it — you don't have to call the range cold and walk to the target. She had people knocking them down and back up throughout the entire show!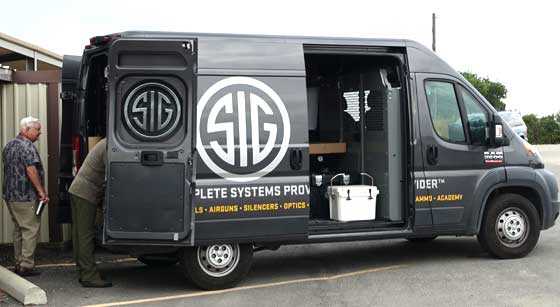 Sig had a strong presence at this year's show. They ran a range all day and sold new guns inside!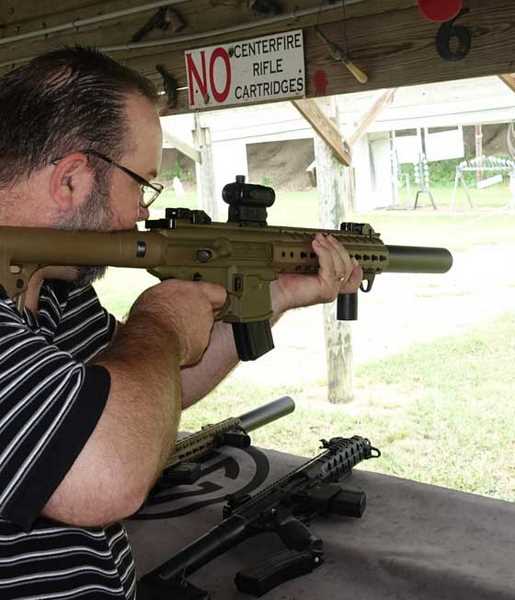 When I visited the Sig range, Dani Navickas had this gentleman demonstrating the Sig Texas Star!


The Sig Texas Star can be shot down and back up again! Dani Navickas discovered that on her own!
Crosman
Next to Sig, Crosman was letting the public shoot the new Benjamin Wildfire at falling plate targets. Twelve plates and 12 shots in a magazine. Turns out it isn't as easy as it looks on television!
They had three rifles running for most of the show. And I would like to point out that because the Wildfire runs at a 2000 psi fill and is very conservative with air, they ran all three rifle on one 98 cubic-foot carbon fiber tank!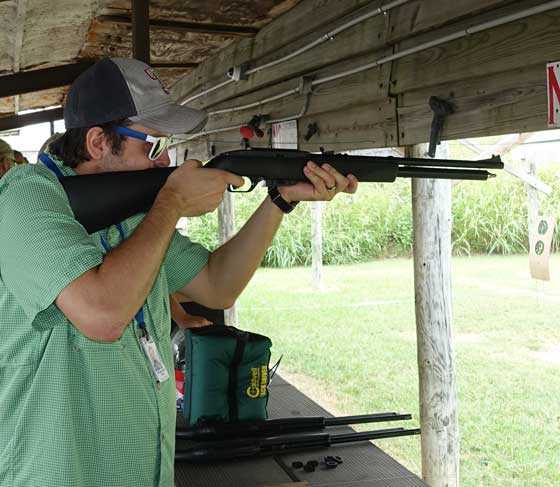 Crosman had three Benjamin Wildfires going throughout the show!
Umarex
Next to Crosman and Sig on the same range, Umarex USA was set up. They probably had several different airguns, but as soon as I walked up I heard the zipper-like sound of a sub-gun. Sure enough, they had the Umarex Legends MP40 on the line, and the young fellow who was shooting it was absolutely delighted with the experience!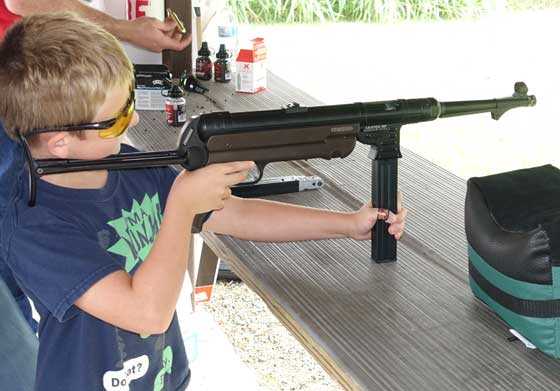 This lad was gettin' on some targets. A commando in training?
More to come
I have so much more to tell you and show you! But that will have to come in the next installment. Want it tomorrow?