by Tom Gaylord
Writing as B.B. Pelletier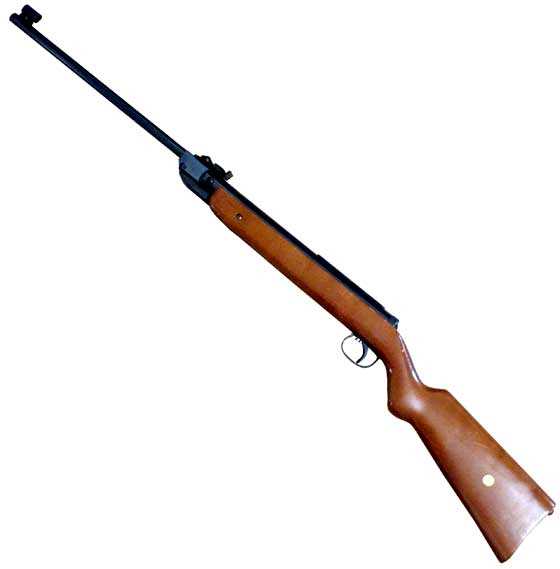 My .22 caliber Diana 27 is actually a Hy Score 807.
This report covers:
The test
Eye report
RWS Superdomes
Some questions arise
RWS Superpoints
The artillery hold
Summary
MP40
Second time was the trick
Before I begin, someone asked about Rich Shar. He's the guy who smoothes the biggest spring guns like the big Gamos and Hatsans. Rich tells me he has not been working on guns for awhile, but he does have a project in the works. He promises to tell me more about it. Now, on to today's report.
I have decided to take my Diana 27 apart and clean out the old grease, then relubricate it with Almagard 3752 grease, to see what difference it might make. But not today. Today will be a traditional Part 3 accuracy test.
The disassembly and relubrication will probably take me two reports, just to get the kind of detail I'm looking for. And the accuracy shouldn't change. Accuracy lives in the barrel. As long as the trigger isn't too bad, the barrel is clean and all the screws are tight, the gun should be accurate no matter how it feels when fired.
The test
I shot the rifle rested directly on a sandbag at 10 meters. These were 10-shot groups, because the Diana 27 is a close range airgun. I normally shoot it at 25 to 50 feet. Anything longer is a real stretch, given the lower velocity.
It took 4 shots to sight in. I was surprised that the rifle was hitting high and to the left when I began. But when the elevation was lowered by 8 clicks the rounds also went to the right enough that I saw no need to adjust the windage.
Eye report
I had difficulty seeing the sights for last Friday's test of the HW 85. Several readers gave me tips on what to do. Some of you newer readers will not remember that back in 2010 I was very ill with pancreatitis. I was hospitalized for 3-1/2 months. A drain was put into a pseudocyst on my pancreas at the first hospital, and it was in me for 7 months. To remove it, my spleen and a third of my pancreas were removed. That gave me type one diabetes, which started my eye problems. For 6 months I had to wear reading glasses to see the sights. Reader Halfstep suggested I do that again.
Reader Michael wondered whether I might have "dry eye," where not enough lubrication gets secreted onto the eyeballs. I do have it, and thanks to my eye doctor I use eye drops 4 times a day. But maybe I should put some in just before this test.
I did both things and am happy to report they worked. There will be no excuses for this day's shooting!
RWS Superdomes
The first pellets I tested were RWS Superdomes. Ten of them went into 0.757-inches at 10 meters. The group is a little horizontal, but since I don't have much experience with this pellet in this rifle I don't know what to say about it.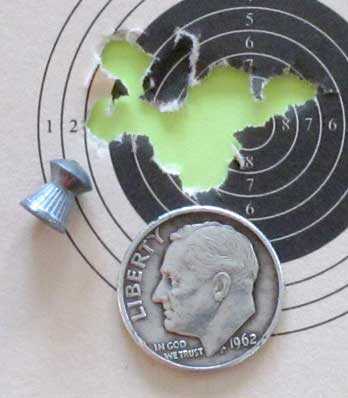 The Diana 27 put 10 RWS Superdomes into 0.757-inches at 10 meters.
Some questions arise
You might wonder a couple things at this point. Last Friday I made a big deal of only checking the HW85 at 10 meters, but getting serious at 25 yards. Today I'm accepting 10 meters as the accuracy test. That is because the HW85 is capable of shooting at longer distances. The 27 is a close-in air rifle.
I'm also accepting a 0.757-inch group without a lot of fuss, when for the 85 I pitched a fit with groups half that large. That's because I expected a lot more from the 85. This 27 is my plinking buddy and the expectations are more relaxed. Also, these are 10-shot groups and the others were only half that. That said, I thought the rifle should do a little better than three-quarters of an inch!
RWS Superpoints
RWS Superpoints are my go-to pellets for this rifle. I like them for their thin skirts that seem to fit the bore very well. This time 10 of them went into 0.699-inches at 10 meters. The group looks a lot smaller than the first one. That's because Superpoints tear the target paper and their holes aren't as clean.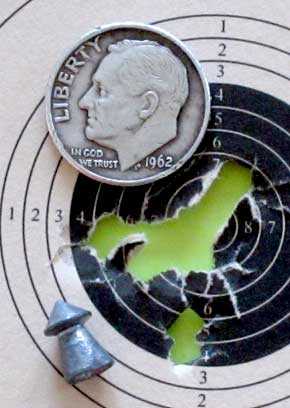 Ten RWS Superpoints made this 0.699-inch group at 10 meters.
At this point I would normally load a different pellet and shoot a third group, but I'm going to do something different today. I have been resting the rifle directly on the sandbag for these first two groups. Some of you may wonder how it would do with the artillery hold. I did, too, so I tried that next, by resting the forearm on my off hand, out by the start of the cocking slot.
The artillery hold
Ten rounds of RWS Superpoints fired using the artillery hold went into 0.911-inches at 10 meters. That's pretty convincing evidence that the 27 does best when rested directly on a sandbag.

When I used an artillery hold 10 RWS Superpoints made a 0.911-inch group at 10 meters.
Summary
That was a quickie test of the Diana 27. Next time I will take it apart so we can look inside. However today's report isn't finished.
MP40
Reader Halfstep asked me to try the Umarex MP40 on full auto with Hornady Black Diamond BBs again and try to hold it steady this time. Last time I said it got away from me in full auto. He is interested in it and wants to know if it's really that accurate.
I set up the range and shot two 10-shot groups of Black Diamonds on full auto. This was at 5 meters, like before. I used the UTG Monopod and held the gun tightly. My eyes were also clear for this test.
Second time was the trick
The first group is 8 shots in a 0.62-inch group, with two more that opened it to 2.708-inches. The tight main group told me this BB wants to shoot in full auto, so I shot a second group of 10. All 10 of those were in 1.183-inches, which is the best you are going to get from me today.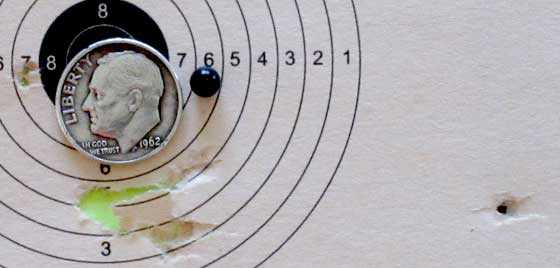 Eight of the 10 BBs went into 0.62-inches at 5 meters. The other 2 opened it to 2.708-inches. This shows promise!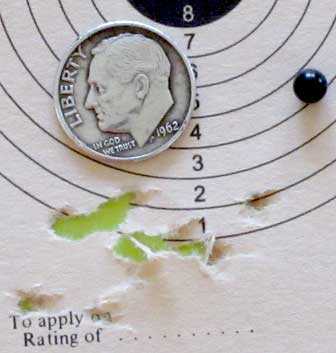 This time all 10 stayed together in a 1.183-inch group.
I hope this shows you what you wanted to see.