by Tom Gaylord
Writing as B.B. Pelletier
This report covers:
JSB Exact Heavy
H&N Baracuda Match with 4.50mm heads
Decision time
Crosman Premier 10.5-grain heavies
Another decision
JSB Exact Heavies
H&N Baracuda Match
Summary of this test
Bug Buster scope and P.O.I. mounts
Today we start looking at the accuracy of the new .177 caliber Umarex Gauntlet. I think this report will be interesting to many of you. Let's get started.
JSB Exact Heavy
The rifle was already sighted-in from the last report, so I loaded 10 JSB Exact Heavy pellets into the magazine and started shooting from 25 yards. Yes — I said 10 pellets. I forgot about skipping pellet number 2 and loaded the entire magazine. Shot one went fine but the mag jammed on shot 2. I didn't force it. I just pushed it out and resumed shooting. This target has 9 pellets instead of 10, and they made a very vertical group at 25 yards that measures 0.704 inches between centers.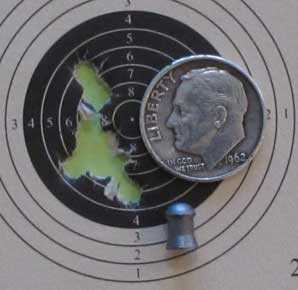 Nine JSB Exact Heavy pellets fired from the Gauntlet magazine made this vertical 0.704-inch group at 25 yards.
H&N Baracuda Match with 4.50mm heads
Next up were H&N Baracuda Match with 4.50 mm heads. Once again I loaded 10 into the magazine. This time it was out of pure stubborness. I just wanted to see if this pellet would feed through the mag. Pellet number 2 fed fine, but pellet 5 or 6 jammed and had to be removed. Once more this is a 9-shot group.
Notice how far to the left these pellets impacted. The scope setting wasn't changed for the entire test, because I also wanted to see where the other pellets would hit the target.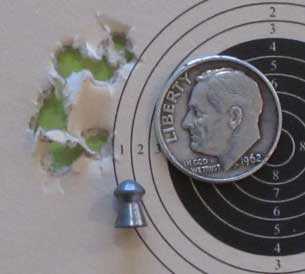 Nine H&N Baracuda Match pellets went into this 0.726-inch group. Notice how far to the left it landed.
Decision time
At this point I decided that the magazine that came with this Gauntlet is defective and I didn't want to waste any more time with it. If I owned this rifle I would be contacting the seller for a return of just the magazine — not the rifle that I now have adjusted very well. From what I read this problem is not common, so I don't think you need to worry about it.
Fortunately a single-shot tray came with the rifle, so I installed it and continued the test. Loading it is a little fiddly, because there isn't a lot of room in the trough. I use two hands to load each pellet, to keep from flipping them end-for-end.
Crosman Premier 10.5-grain heavies
I decided to give the Crosman Premier Heavy pellet a try for no special reason. These were all fired single-shot and I shot 10 this time.
Ten Premier heavies went into 0.456-inches at 25 yards. Now we are getting somewhere! Notice this group is not just the smallest one so far, it's also quite round, which means there are no adverse affects on the pellets as they leave the muzzle.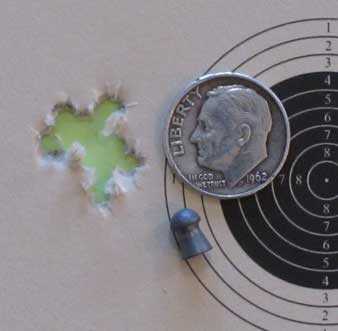 Ten Crosman Premier heavy pellets went into this very round 0.456-inch group at 25 yards.
Another decision
At this time I really wanted to try different pellets, but something told me I needed to give the first two pellets a retest with the single shot tray. Target shooters know that single-shot loading is the absolute best way to get the lest measure of accuracy, because no matter how good a magazine is, it always compromises somewhere. I still want to try different pellets in the Gauntlet, but today I will retest both of the first pellets.
JSB Exact Heavies
Next up were 10 JSB Exact Heavies. This time all 10 were loaded singly. The group they made is still vertical and it landed in the same place, but it measures 0.501-inches between centers. That's two-tenths tighter than the first 9 shots (0.704-inches to 0.501-inches). While that difference is small, and may be even smaller because of measuring errors, it is a smaller group than the first one that has one additional shot. I think that's significant.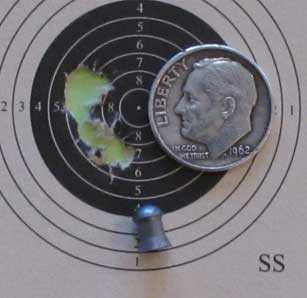 Fired single-shot, 10 JSB Exact Heavy pellets went into 0.501-inches at 25 yards. The group is still vertical, but visibly smaller.
H&N Baracuda Match
If I was going to retest one pellet with the single shot tray I had to retest both, so the H&N Baracuda Match pellets were next and also last. This time 10 pellets made a 0.566-inch group. Like the JSBs, this group is smaller than the first one and also has one additional pellet.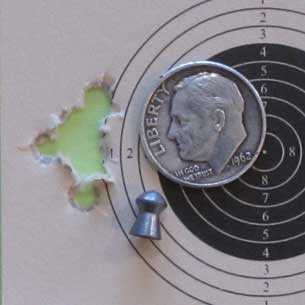 In the single-shot mode, 10 H&N Baracuda Match pellets went into 0.566-inches at 25 yards. Seven of the pellets are in 0.204-inches.
This time I thought I was going to use the trime for the picture, because the first 7 pellets went into about 0.204-inches. But shots 8, 9 and 10 all landed outside the central group. They are the holes at 6 o'clock, 9 o'clock and 12. I watched them fly through the UTG 3-12X32 Bug Buster scope.
Summary of this test
I believe this test demonstrates the accuracy of the Gauntlet rifle. Have I found the most accurate pellet? Probably not, but notice that when I shot them single shot, all the pellets did well. That speaks well for the rifle.
The trigger is adjusted perfectly for me. I have a positive 2-stage pull that is not supposed to be possible, but with careful adjustment of the overtravel screw I made it happen.
I shot this entire test — 48 shots — on a single fill of air. That tells you the Gauntlet has enough air for many shots in the field. But it does raise a question. Were my second groups of JSBs and Baracudas better just because they were single shot, or does less pressure in the reservoir have anything to do with it? I plan to conduct another test at 25 yards to find out.
Some people have said that the shots will walk as the pressure changes, but I don't see that today. So that's something else I want to test at 25 yards.
People have also said if the shroud is bumped the point of impact will shift. That's another test. So, there are a lot more things to learn about the Gauntlet before we go to 50 yards.
Bug Buster scope and P.O.I. mounts
Some readers thought the Bug Buster wasn't the scope to use on the Gauntlet. I think it's doing quite well so far, and the P.O.I. scope rings are superb!
I will say that the image of the target is not as sharp and crisp through the Bug Buster as it would be through a larger UTG scope. And the reticles are heavier, to give a hunter faster acquisition in the deep woods. So, on a brightly lit target, they look heavy. But the groups I got speak for themselves. The Bug Buster works well — despite all I had to do to mount it.
Good test so far, and there is still a lot to come.